(This post is sponsored by DeLallo.)
Somehow I seem to be a few years late to all of the best trends in life.
You know, amazingness like Friday Night Lights? Essential oils? My FitBit? Alabama Shakes? Shishito peppers? Anything by Gillian Flynn? Everlane? The Good Wife? Slow-cooked caramelized onions? Snapchat?
Oh yeah, pretty sure I've arrived at least three or so years "fashionably" late to the party with all of these. The same certainly goes for the vegetable phenomenon as of late that is "spiralizing". I've been watching cooks and bloggers I know rave about turning so many favorite veggies into gorgeous little spirals for years. But somehow I just hadn't gotten around to ordering a spiralizer for myself until my friend Ali, from Inspiralized, finally offered to send me one of hers.
Now, a few years late to the party, I finally get why everyone's obsessed.
Because now I'm the one who's totally obsessed.
Deliciously, beautifully, healthfully, can't-stop-won't-stop-spiralizing-everything-in-sight obsessed.
So today, I thought I'd finally join the rest of the food blogosphere and share my first spiralized recipe with you. It's a very simple one, but it's meant to be a base recipe that you can use and customize however you might like. Let's get to spiralizing!
The possibilities for spiralizing seem endless. But as a newbie, I decided to begin with the veggie that I had already tried (and loved) spiralized, that also happens to be bountifully in season — zucchini!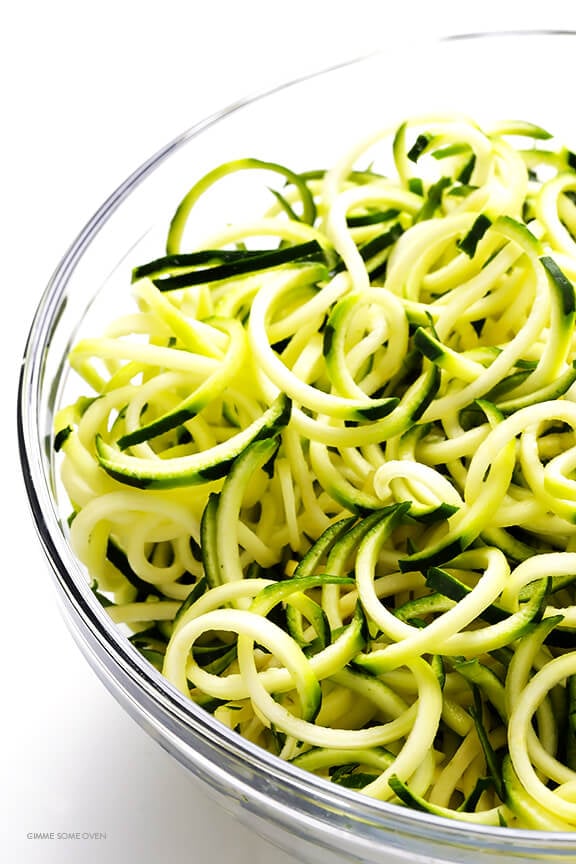 No carbs…no gluten…just a huge pot of gorgeous green zoodles that were ready to go in about 2 minutes!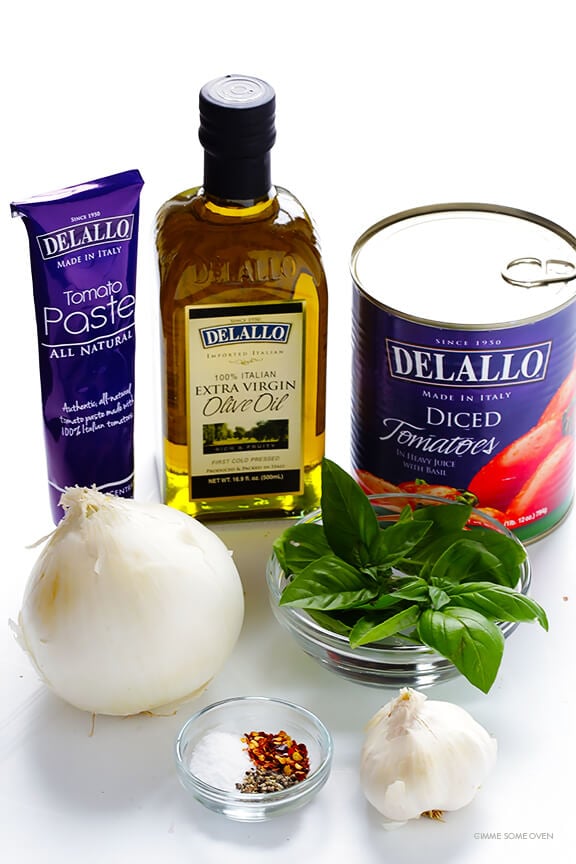 And to accompany these zoodles, I made a big steaming pan of marinara sauce, featuring some of my favorite tomatoes (and tomato paste in the tube — best invention ever!) from DeLallo. Since the ingredients are so simple, I really recommend investing in some good-quality ones, and fresh basil and garlic are a must.
Whip up the marinara sauce until it's nice and thick (<– very important, because the zoodles will release some water when they're added and thin out the sauce)…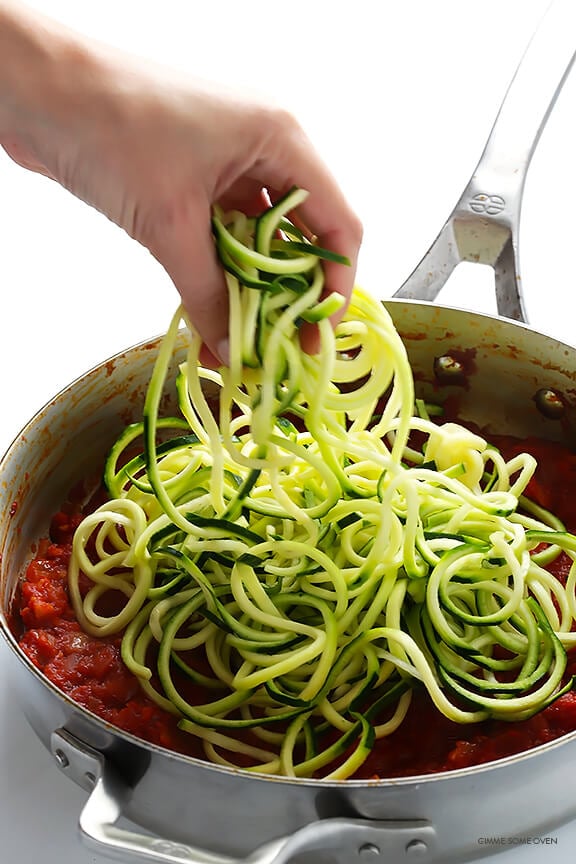 …then add in your zoodles and give them a good toss until everything's well-coated and let them cook for just a few minutes.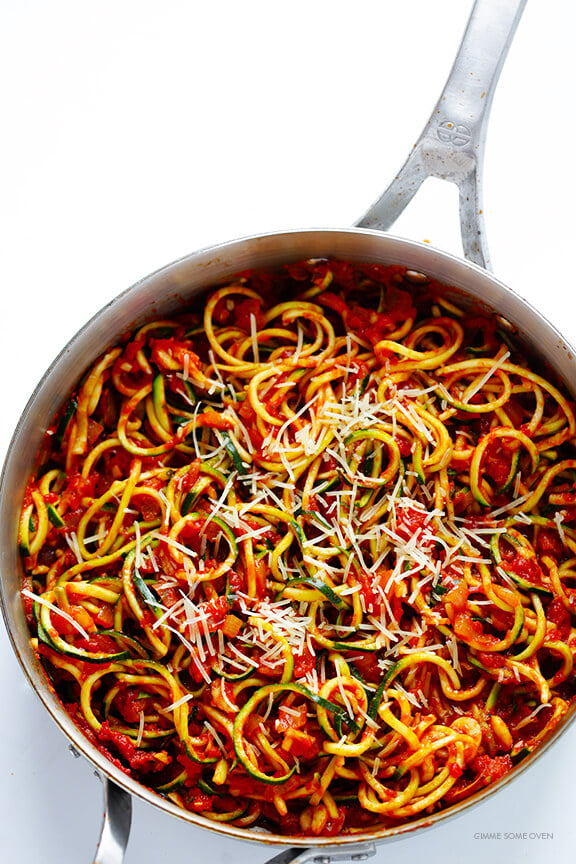 Then top everything with some Parmesan cheese…(because I top all things Italian with Parmesan cheese)…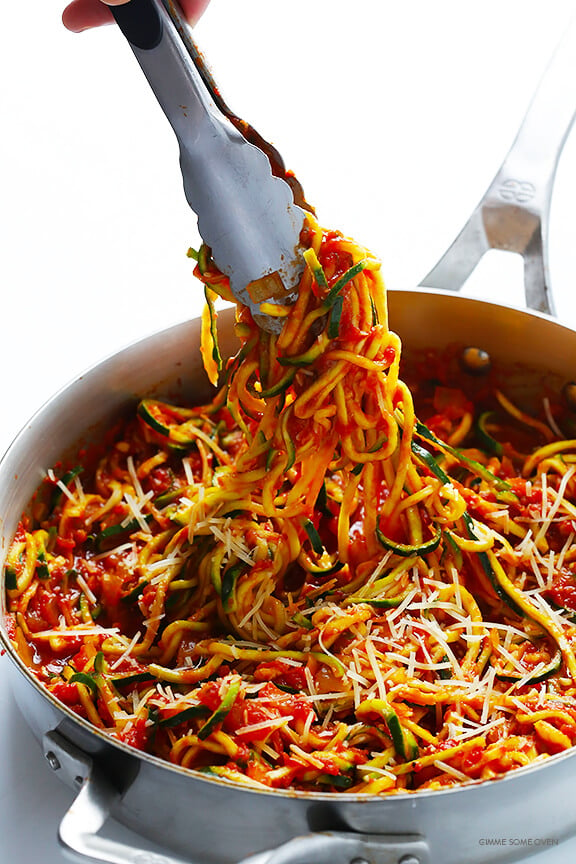 …and dish it up!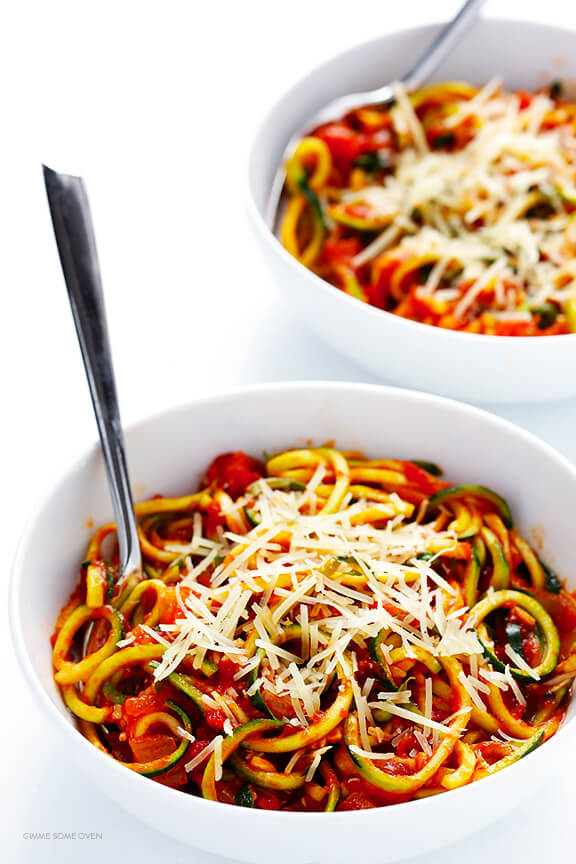 I actually enjoyed these zoodles marinara plain, but feel free to add in some cooked protein (chicken, shrimp, etc.) or extra veggies if you'd like. And of course, if you get creative with your spiralizer, there are plenty of other delicious veggies you could sub in for the zucchini. The options are endless!!
But the sauce — mmmm, that sauce — is a must. It tastes fresh, flavorful, and is the absolute perfect accompaniment to just about anything you might feel like spiralizing. (And if you make it, be sure to snap a picture and post it with the #gimmesomeoven hashtag on Instagram so that I can see it!)
And get ready, because I'm pretty sure that more spiralized recipes will be coming your way soon. 😉
Enjoy!
Print

Zoodles Marinara (Zucchini Noodles with Chunky Tomato Sauce)

Prep Time: 10 minutes


Cook Time: 20 minutes


Total Time: 30 minutes


Yield: 4 servings 1x
---
Description
This Zoodles Marinara recipe is super easy to make, super easy to customize, and SUPER delicious!
---
2 Tablespoons

 DeLallo extra virgin olive oil

1/2 cup

diced white onions

6

garlic cloves, peeled and minced (or pressed)

1

(28-ounce) can DeLallo diced tomatoes

2 Tablespoons

 DeLallo tomato paste

1/2 cup

roughly-chopped fresh basil leaves, loosely packed

1 1/2 teaspoons

coarse salt

1/4 teaspoon

black pepper

1/8 teaspoon

crushed red pepper flakes (or a pinch of cayenne)

2

large zucchinis, spiralized

freshly-grated Parmesan cheese, for grating
---
Instructions
Heat oil in a large saute pan over medium-high heat. Add onions and saute for 5 minutes, stirring occasionally, until the onions are soft and translucent.  Add garlic and saute for 1 minute, stirring frequently, until fragrant. Add in the tomatoes, tomato paste, basil, salt, pepper, and crushed red pepper flakes, then stir to combine. Continue cooking until the sauce reaches a simmer. Then reduce heat to medium-low and continue to let the sauce simmer for about 15 minutes, or until the oil on the surface is a deep orange and the sauce is reduced and thickened. Taste, and season the sauce with additional salt and pepper if needed.

Add in the spiralized zucchini and toss until it is evenly coated with sauce.  Continue to cook for 2-3 minutes until the noodles are slightly softened.  Remove from the heat and serve immediately, garnished with Parmesan cheese.
---
This post is sponsored by DeLallo, and contains affiliate links. I have been partnering with DeLallo this year to bring some new tasty Italian recipes to the blog, and all opinions are 100% my own as always. Thanks so much for continuing to support the brands that make this site possible!