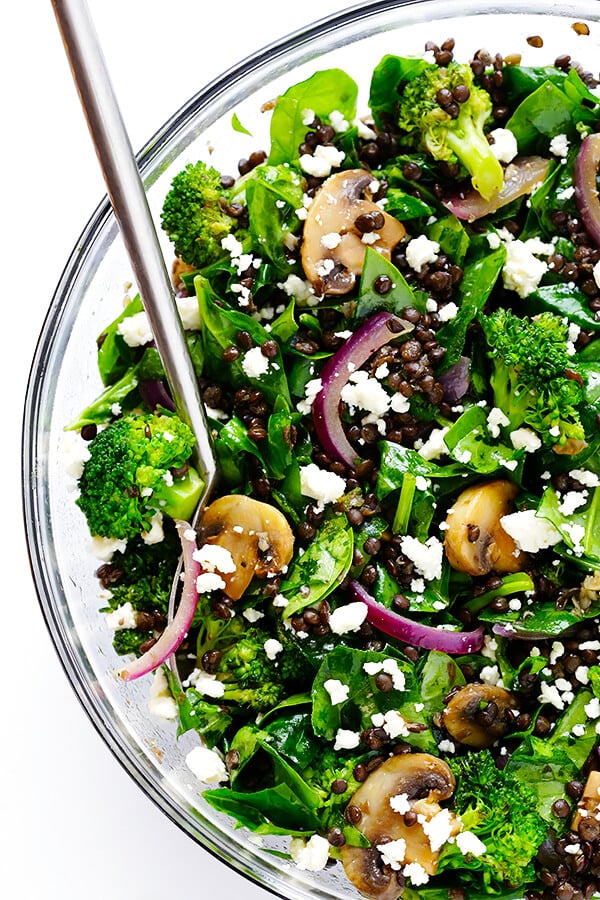 Honeys, I'm home! ?
After spending two unbelievably beautiful weeks in France, Barclay and I packed up our bags and made our way back across the ocean to Kansas City on Wednesday night. And I've been busy sleeping off the jet lag, catching up with friends and family, re-stocking my fridge, doing laundry, slugging through my inbox, sorting through the 1000+ photos we snapped, and making up for lost snuggle-time with my pup ever since. Goodness, I already miss France so much! But as always, it really does feel so good to be back.
Welllll, I should probably say that it mostly feels good to be back. On Friday night, an enormous storm decided to barrel through Kansas City and flood our neighborhood and overwhelm the roof of our apartment building…which resulted in literally buckets and buckets of sludgy water leaking down my walls and collapsing part of my ceiling…which promptly turned our dinner-and-a-movie date night "in" into an all-evening mopping and cleaning fest. Thank goodness we were home, or half of my apartment would have been completely flooded. But then, to add yet another layer to the craziness, I woke up on Saturday morning to a stuffy, smelly apartment and realized that my freaking air conditioner wasn't working! Gah! Turns out that it was completely fried during the storm, and won't be fixed until tomorrow, which means three whole days sans a/c during a 95-degree week.
Ha, talk about a "warm" welcome home. ?
Still, crazy apartment complications aside, I'm happy to get back into the swing of things this week. And it has felt so good to get back into my kitchen! After obsessing over French pastries and cheeses and baguettes and wine for two weeks, Barclay and I decided we were due for a healthy-eating "cleanse" during this first week back home. So we've substituted Pellegrino for wine, we're taking a break from bread, and I stocked my fridge full of all of my favorite fruits and veggies to cook us some ultra-fresh dinners for a week. My favorite one so far?!
This wonderful, simple, hearty, and très délicieux "zesty" lentil spinach salad.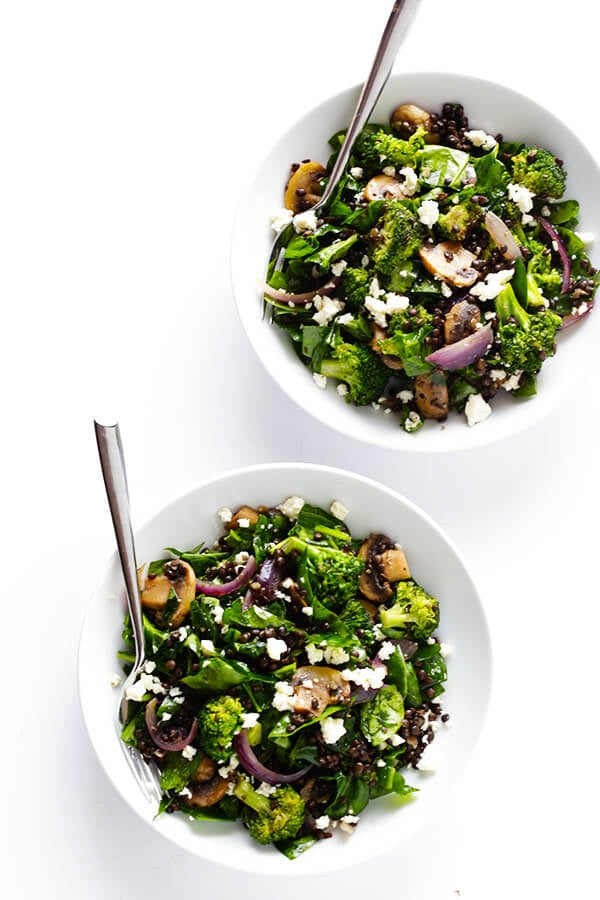 This recipe was actually at the top of my list to try when we got home from France. It was inspired by a lentil spinach salad that I had with my friend, Kathryne, at a new local place called tLoft right before we left on the trip. On the menu, the salad had so many things I love — lentils, spinach, broccoli, mushrooms, red peppers, feta, and a lemon vinaigrette. But when I ordered it and took a bite, the whole salad seemed wayyyy sweeter than I was expecting with just a small hint of lemon. I was craving something far more savory with a super bright, lemony twist.
So this past weekend, I decided to try making my own more savory version of this salad at home. And after two tries, I think I nailed it. 🙂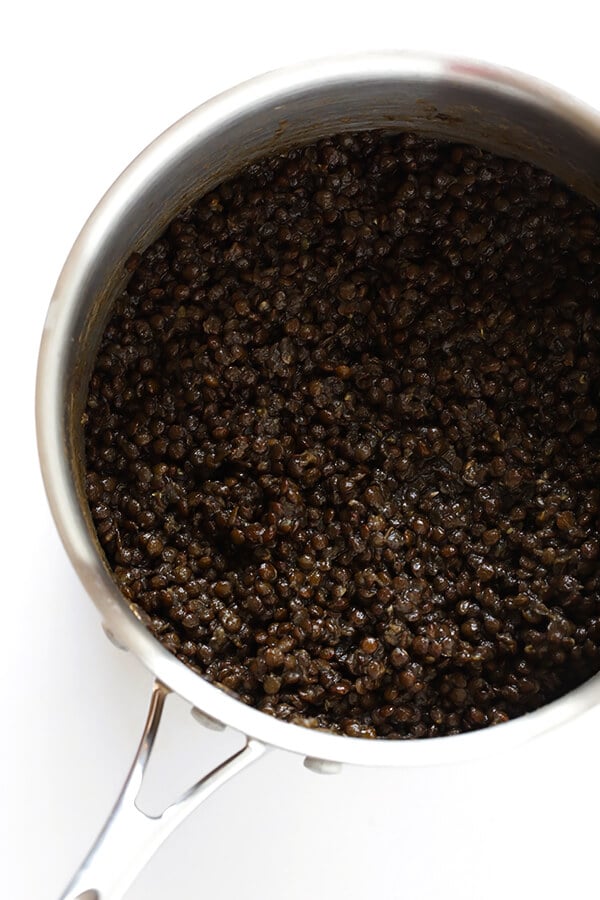 To make the salad, I simply popped a pot of lentils on the stove to simmer in some veggie stock. (I recommend using green (French) lentils or black (beluga) lentils here, as they will hold their shape more than their mushy red and yellow counterparts.)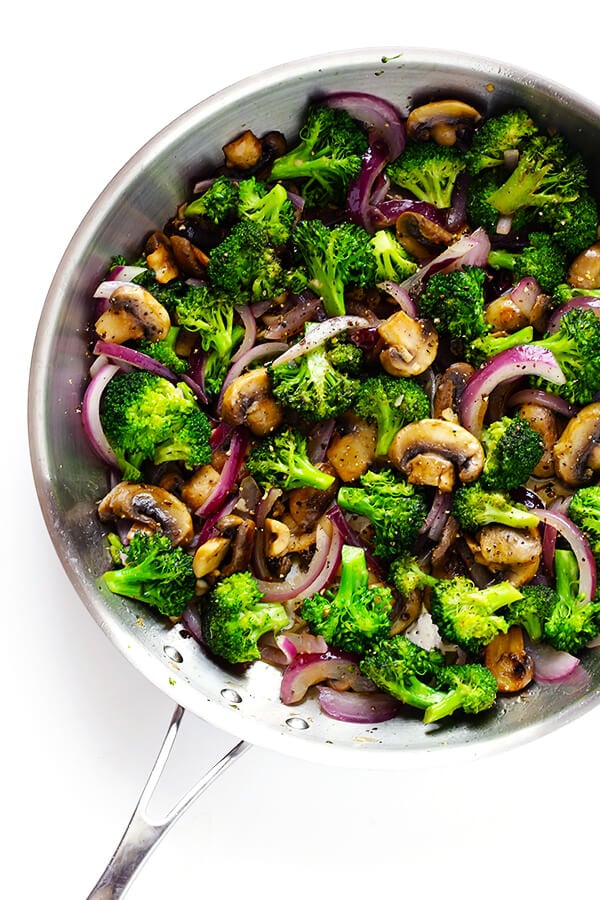 Then while the lentils were doing their thing, I sautéed up a bunch of broccoli, mushrooms (optional, if you don't like them), red onions and garlic until they were nice and cooked, but still a little bit crisp (versus being totally soft). Really, you can use just about any of your favorite veggies here, but I especially loved the broccoli and mushroom combo.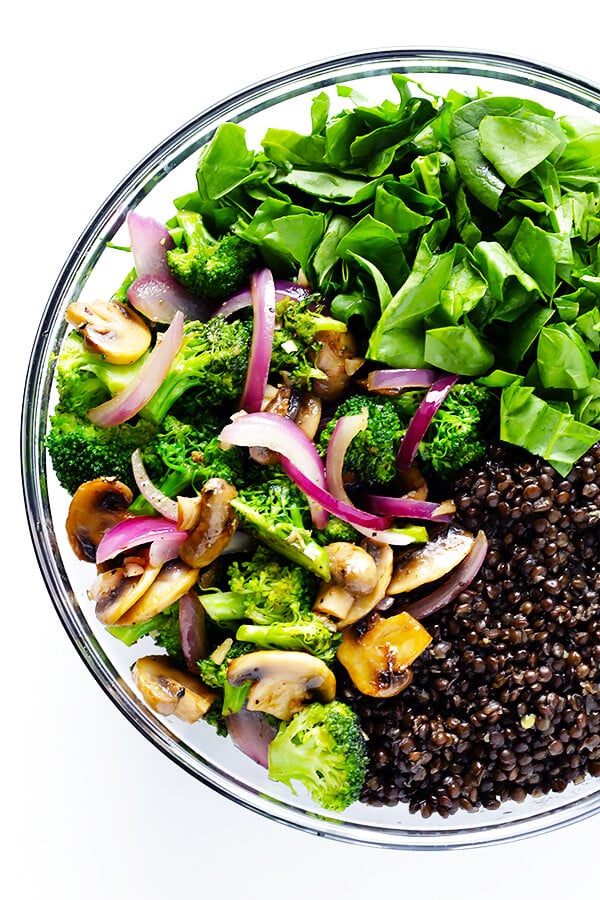 Then, I added everything together in a big bowl, along with an extra spoonful of olive oil and lots of freshly-squeezed lemon juice and zest.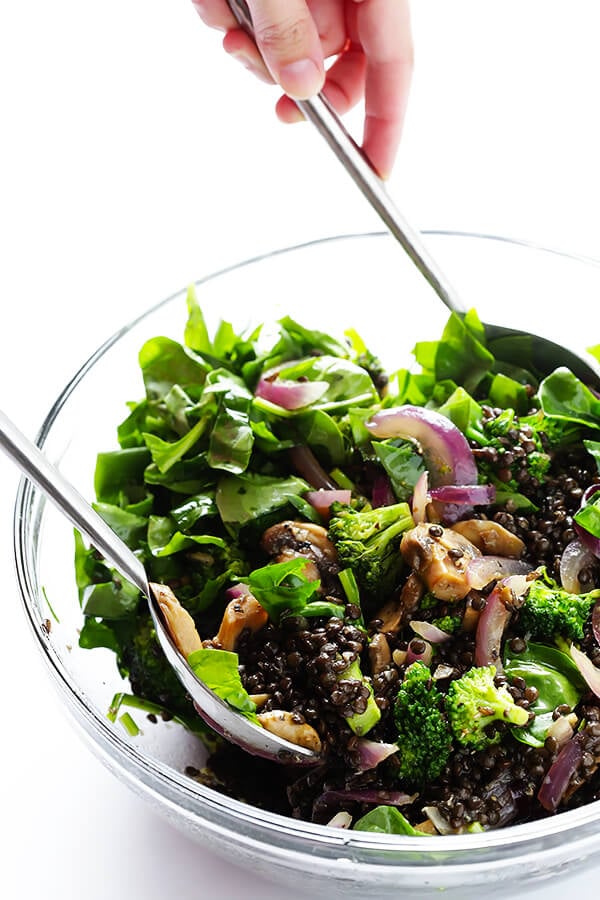 Gave it a good toss…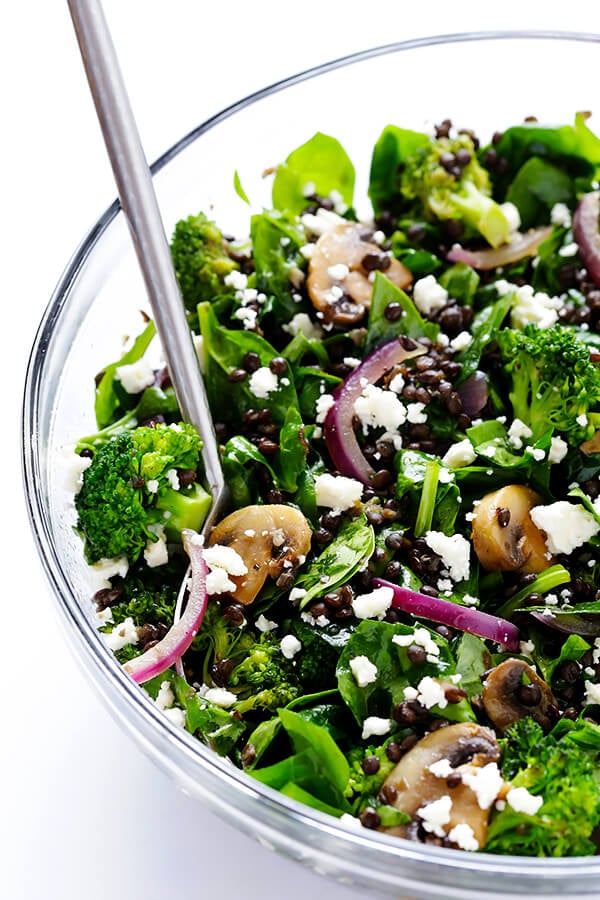 …sprinkled in some feta…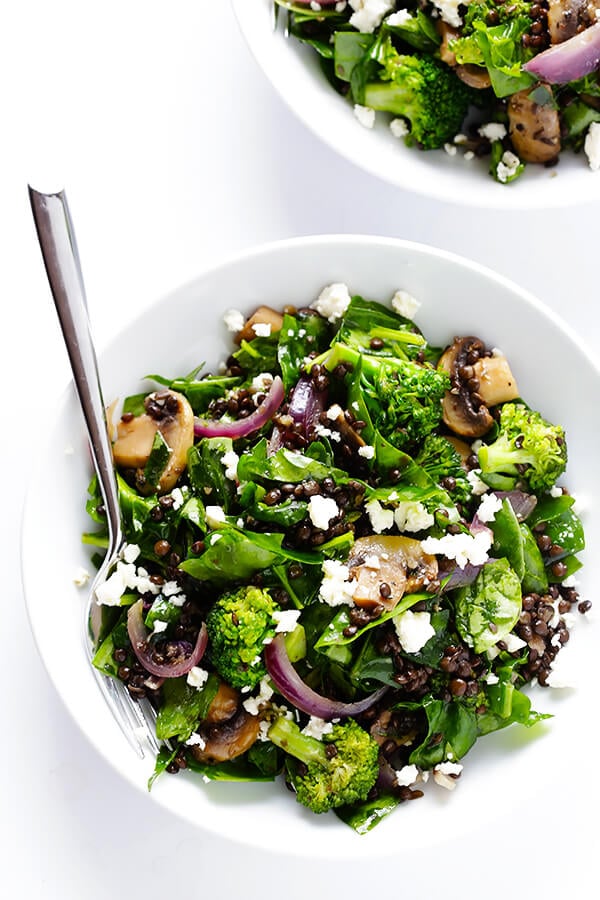 …and voila! In less than 30 minutes, this beautiful, healthy, savory, warm lentil spinach salad was ready to go.
And I absolutely loved it.
All of those garlicky veggies paired perfectly together with the savory lentils and fresh spinach. And while I toyed with the idea of whipping up a more complicated lemon vinaigrette, I found that the straight lemon juice cut through and balanced out out all of those other strong flavors on its own, and brightened the salad up deliciously.
Definitely the perfect meal to start our little week of extra-healthy eating. Although I must say that I'll be looking forward to another wine and cheese night as well sometime soon… 😉
Print

Zesty Lentil Spinach Salad

Prep Time: 5 minutes


Cook Time: 25 minutes


Total Time: 30 minutes


Yield: 4 –5 servings 1x
---
Description
This Zesty Lentil Spinach Salad is made with garlicky sauteed veggies, hearty lentils, fresh spinach, and some tangy lemon juice. It's delicious when served warm, and also makes great leftovers after being chilled.
---
1 cup

uncooked black (beluga) lentils or green (French) lentils

2.5 cups

vegetable or chicken stock (see below for tips on extra-delicious lentils)

4 tablespoons

olive oil, divided

8 ounces

baby bella or white button mushrooms, sliced

2

–

3

cups chopped broccoli florets (about

1

small head of broccoli)

half a

medium red onion, peeled and thinly-sliced

4

cloves garlic, peeled and minced

kosher salt and freshly-cracked black pepper

4 cups

loosely-packed baby spinach, roughly-chopped

juice and zest of one lemon, added to taste (about 3-4 tablespoons juice)

1/2 cup

feta cheese (or goat cheese) crumbles
---
Instructions
Rinse the lentils with water in a fine-mesh strainer, picking out and discarding any little stones that may have snuck in there.  Transfer the lentils to a medium saucepan, and stir in the stock.  Cook over medium-high heat, until the mixture reaches a boil.  Reduce heat to medium-low and simmer for 20-25 minutes, stirring occasionally, until the lentils are tender.  Drain, and set aside.

Meanwhile, as the lentils are cooking, heat 2 tablespoons olive oil in a large sauté pan over medium-high heat.  Add the mushrooms and broccoli and sauté for 3-4 minutes, stirring occasionally.  Stir in 1 additional tablespoon olive oil, red onions and garlic, and season with a generous pinch of salt and pepper.  Continue sautéing for 2-3 minutes, stirring occasionally, until the garlic is fragrant and the veggies are cooked to your desired level of tenderness.  (I liked keeping the broccoli and onions slightly crisp, and not completely soft.)  Remove from the heat and set aside.

In a large bowl, combine the cooked (and drained) lentils, veggie mixture, spinach, lemon juice and zest, remaining 1 tablespoon olive oil, and feta cheese.  Toss to combine.

Serve warm, garnished with extra feta cheese, if desired.
---
Notes
For extra delicious lentils, I recommend also adding in a generous pinch of salt and pepper, a pinch of crushed red pepper flakes, and a pinch of garlic powder when you add in the vegetable stock.
This post contains affiliate links.