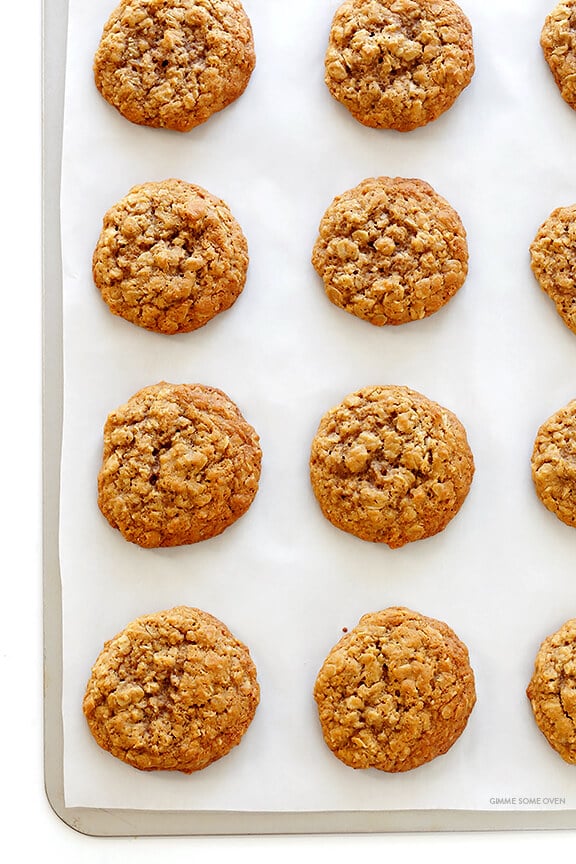 Ok, before we get to this soft and chewy whole wheat oatmeal cookie recipe — which you'd better stick around for, because it's incredible — I just had to pop in and say an enormous THANK YOU to all of you who took the time to read my post last weekend about the handsome new guy in my life.
First off, good grief. I had no idea that so many people would read that post!! (I checked, and it has now officially topped the charts as my most-viewed new post ever in my history of blogging — by a landslide.)  But I'm thrilled that it was, and that the cat's now outta the bag. Much more though, I'm just so honored and thankful for all of you who tuned in, especially for those of you who responded with such encouraging comments, emails, messages, texts, etc. My phone was lighting up all weekend long with responses to the post, and I couldn't stop reading them. And smiling. And maybe tearing up just a few times.
Because while it's one thing for me to be excited about him and this new thing called "us", it feels like a such a special thing to have other people I love be excited with me. Maybe even especially at this point, having met him a little later in life. I think one of my weird secret fears about being single for so long was that everyone would be so "past" this stage of life by the time I possibly ever reached it — you know, that me going on dates and falling for a cute guy might seem like trivial or old news, compared to cute babies being born and second houses being bought and all of the adventures of parenting happening around me. I know — that's totally not true. And if anything, I've always felt like I get far more excited for friends finding matches later in life. But your responses still wonderfully caught me a little bit by surprise, and made me so happy.
So for the thousandth time — THANK YOU. You're the best, and I'm so thankful to be walking through this crazy life with you. And baking up some crazy delicious cookies with you!!
I'm usually of the opinion that desserts are desserts, and shouldn't be tinkered around with and "lightened" up too much. But when you can sneak a bunch of whole wheat flour into a cookie recipe, cut out granulated sugar completely, yet still have a batch of the most perfect, soft, chewy, warm, and absolutely irresistible cookies come out of the oven?
As Barclay likes to say, "I'm on board with that." 🙂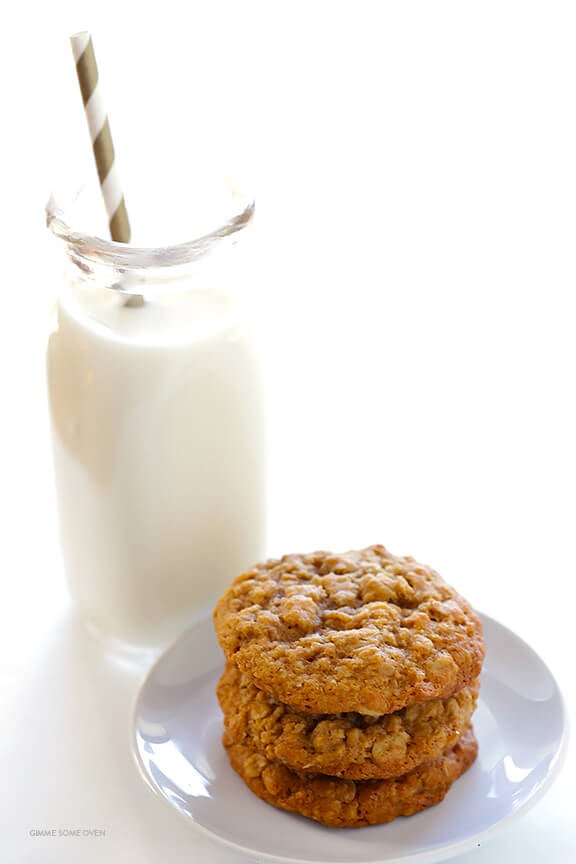 I definitely am too.
These cookies are absolutely amazing! I've whipped up a few batches of them this month to take to various events — including a Royals watch-party since our team is going to the World Series again!!! — and they are always a hit.
Better yet? No one believes me when I tell them that they're whole wheat!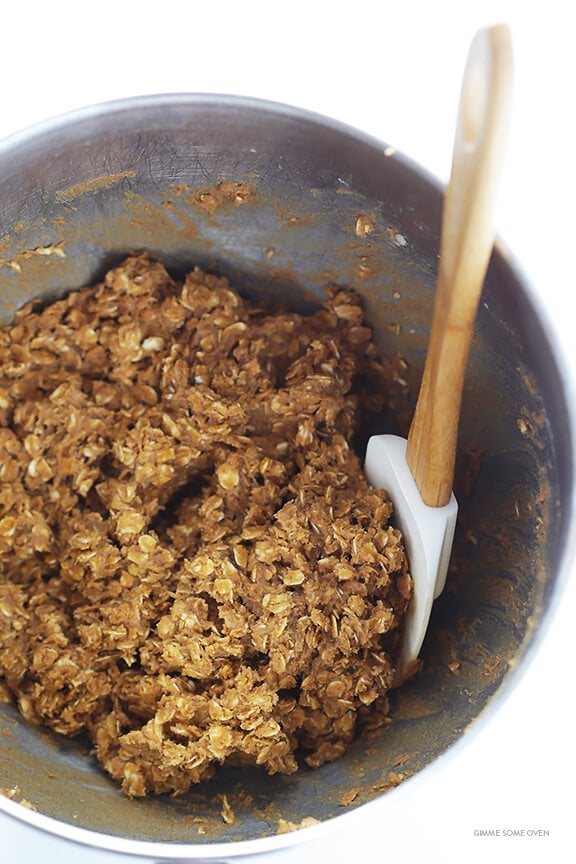 My secret, of course, is using white whole wheat flour, which always tends to bake up and taste much more like traditional all-purpose flour. But when paired with a lot of old-fashioned oats, lots of vanilla, and brown sugar (instead of granulated), I'm convinced these cookies actually taste even better than the ones we ate growing up.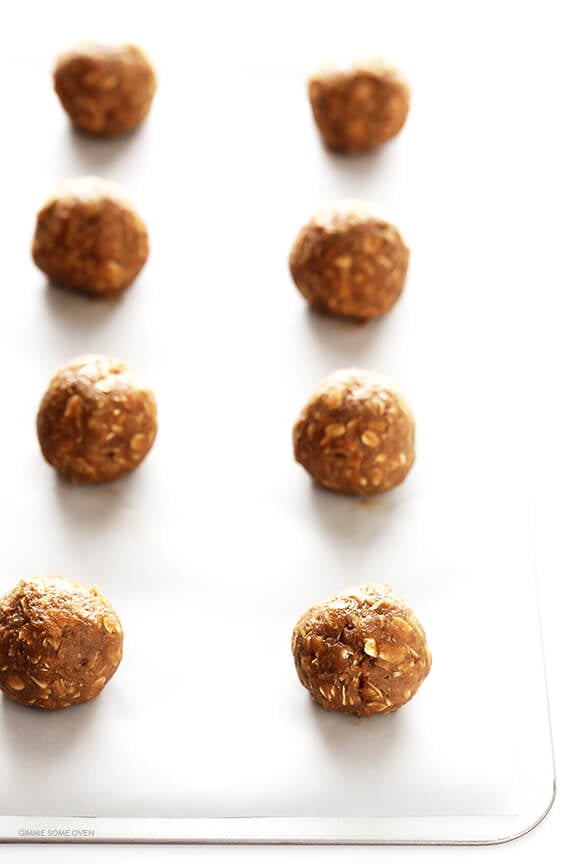 They're also wonderful soft and chewy, with a tiny bit of crispiness around the edges, which is just how I like 'em. Just be sure to refrigerate the dough (or dough balls) before baking to get that butter nice and chilled so that the cookies don't become too flat.
Although if you like flat cookies — or are just feeling impatient — you're welcome to pop that dough right in the oven. It's win = win with this recipe. 😉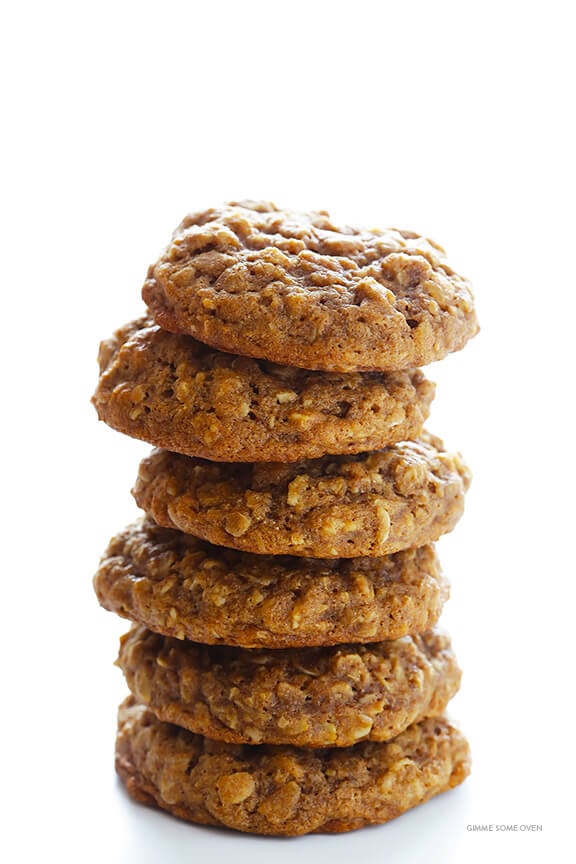 You are also, of course, more than welcome to add in chocolate chips or raisins or nuts or dried fruit or whatever else might turn these into your idea of a "perfect" oatmeal cookie. I'm definitely a purist, and love my oatmeal cookies best just plain. But my mom and Barclay would both have preferred that I tossed in some dark chocolate chips. Next time. 😉
So if you're looking to do some baking this week, or for the upcoming holidays, or any ol' time you're craving an oatmeal cookie, I hope that you enjoy these ones!
And thanks again, everyone!
Print

Whole Wheat Oatmeal Cookies

Prep Time: 30 minutes


Cook Time: 10 minutes


Total Time: 40 minutes


Yield: 2 dozen 1x
---
Description
This Whole Wheat Oatmeal Cookies recipe is simple to make, made with whole wheat flour and no granulated sugar, and it's perfectly soft and chewy and delicious!
---
1 cup

(

2

sticks) butter, softened to room temperature

1 1/4 cups

packed brown sugar

2

eggs

2 teaspoons

vanilla extract, store-bought or homemade

1 1/2 cups

white whole wheat flour

1 1/2 teaspoons

ground cinnamon

1 teaspoon

baking soda

1 teaspoon

cornstarch

1/2 teaspoon

salt

3 cups

old-fashioned oats

Optional add-ins*: chocolate chips (semisweet, butterscotch, etc.), chopped nuts (walnuts, pecans, etc.), dried fruit (raisins, cranberries, chopped apricots, etc.)
---
Instructions
Preheat oven to 350°F.  In the bowl of a stand mixer, use the paddle attachment to cream together the softened butter and sugar on medium-high speed until light and fluffy, about 3 minutes.  Add egg and vanilla, and mix until combined, about 1 minute.

In a separate bowl, whisk together the flour, cinnamon, baking soda, cornstarch and salt until combined.  Add in this flour mixture gradually to the butter mixture, and mix on medium-low speed until combined.  Add the oats, and continue mixing on medium-low speed until combined.  If you are using any add-ins (up to 2 cups), fold them in on low-speed until just combined.  Do not overmix.

Use a heaping small cookie scoop (a little over 1 Tablespoon) or a spoon to shape the dough into balls, and place them on a parchment-covered baking sheet.  Chill in the refrigerator for at least 10-20 minutes.

Bake for 10-12 minutes until the edges are just set and are lightly golden. Cool cookies on the baking sheet for about 5 minutes, then transfer to a wire rack to finish cooling.

Serve immediately or store in a sealed container for up to 1 week. You can also freeze the cookies for up to 3-4 months.
---
Notes
**I recommend adding no more than 2 cups total of add-ins to these cookies.  Or you can totally just bake them plain without any add-ins.
Adapted from Sally's Baking Addiction.