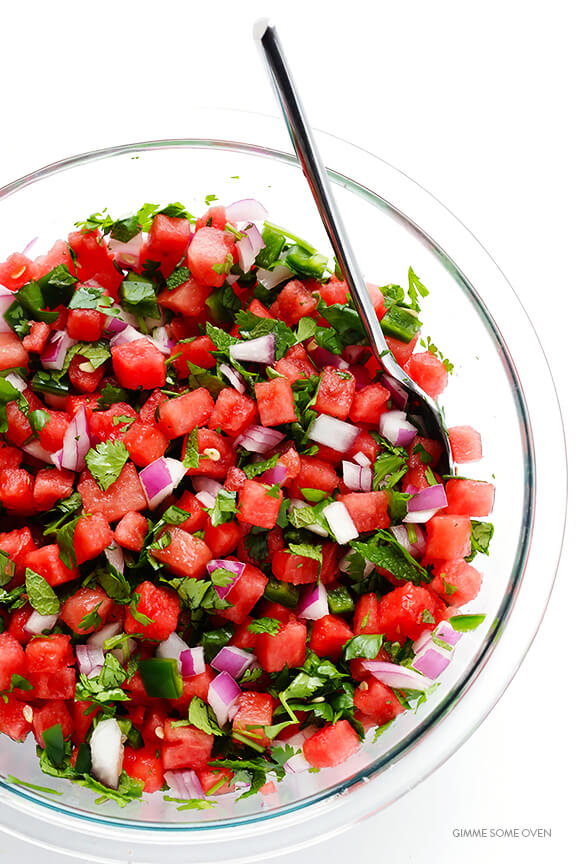 It's no secret that chips and salsa are my ultimate foodie love language.
I regularly drag my friends to Mexican happy hours as often as possible, have my recipe for restaurant-style salsa memorized after making it so often, have themed my birthday parties all around chips and salsa for as long as I can remember, and never ever (everrrrr) get tired of it. But that said, as much as I love a good tomato-based salsa, summertime also equals fruit salsa time in my kitchen. Because when all of my favorite sweet, juicy, and oh-so-refreshing fruits are in season, they absolutely must be celebrated in salsa-style. 🙂
I've already shared recipes before on the site for my favorite mango salsa, strawberry salsa, blueberry salsa, pineapple avocado salsa, and pear pomegranate salsa. But last weekend big enormous green melons were on sale at my neighborhood farmers' market, so the result was inevitable — watermelon salsa!
On a 95-degree July day, nothing sounded better. So I picked some mint and cilantro from our garden, came back inside to the blissful a/c, kicked on some summer tunes, and got to work chopping up a juicy storm. The result?
Basically the most refreshing, delicious, summer salsa ever.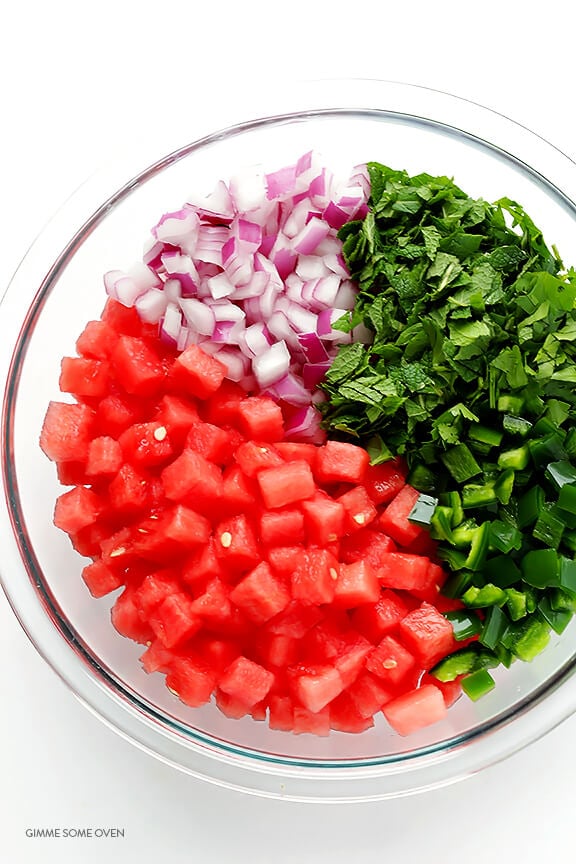 I mean, really, it's pretty impossible to go wrong with anything involving mint and watermelon in my book. But once you add in some sweet red onion, spicy jalapeno (as much as you'd like), fresh cilantro, and a juicy lime….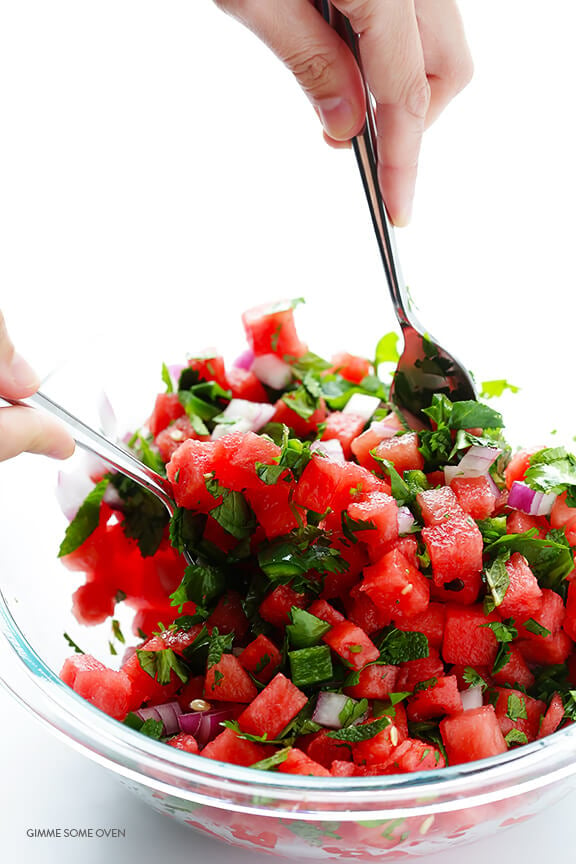 …and toss them all together…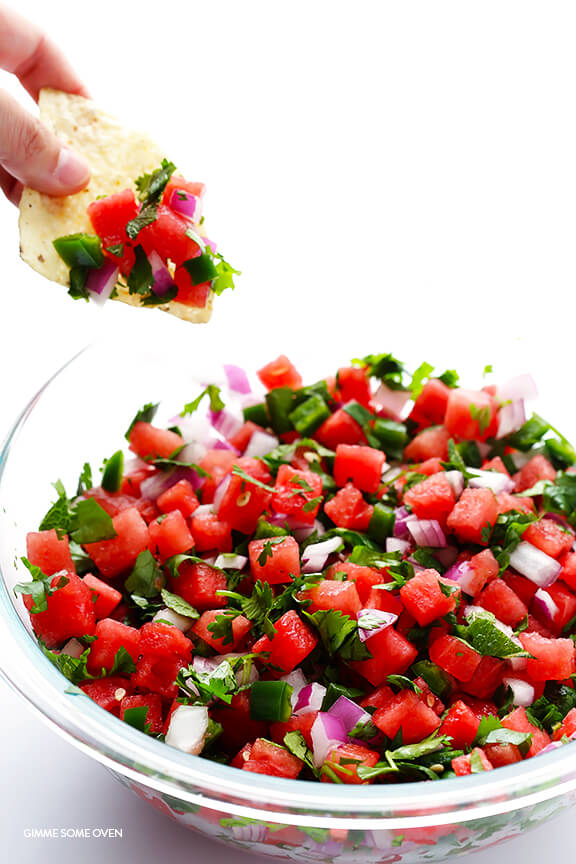 …let's just say that the result tastes even more lovely than it looks. (Which is pretty darn lovely, if you ask this lover of colorful food.)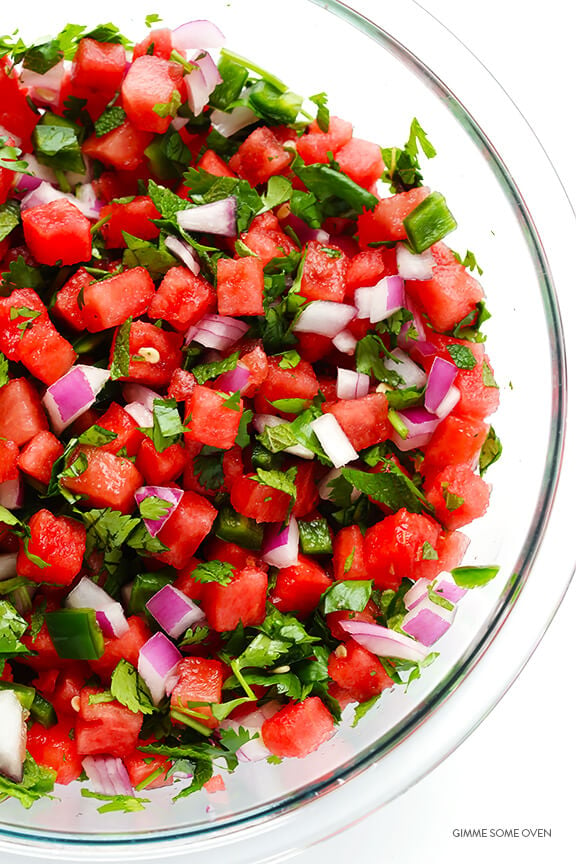 It's just the right mix of sweet and savory, it has however much kick you'd like from the jalapeno, the herbs and lime juice give it the perfectly light and fresh taste of summer, and — best part! — the fresh watermelon makes every bite extra deliciously juicy and refreshing.
I brought this salsa to gatherings with friends two nights in a row (it keeps well overnight!), and everyone raved about it. Definitely a new staple to add to my summer fruit salsa rotation, for sure.
Enjoy!
Print

Watermelon Salsa

Prep Time: 10 minutes


Total Time: 10 minutes


Yield: 6 –8 servings 1x
---
Description
This fresh watermelon salsa recipe is quick and easy to make, and tastes so refreshing!
---
4 cups

 diced seedless watermelon

1 cup

diced red onion (about

half a

medium red onion)

2/3 cup

chopped fresh cilantro leaves

1/2 cup

chopped fresh mint leaves

1

–

2

jalapeno(s), seeded and finely diced (add more/less to taste)

zest and juice of 1 lime
---
Instructions
Toss all ingredients together until combined.  Serve immediately, or cover and refrigerate for up to 2 days.
---