Hey friends! I'm back today with one final holiday appetizer for the season that I think you're going to love.  
I mean, at least, it's everything that I love about holiday cooking.
It's incredibly easy to prepare with just 5 main ingredients, and takes only a few minutes to assemble. (<– And bonus, it can be prepped up to a few days ahead of time if you'd like. ?)  It's red and green and oh-so-festive and will totally stand out on a crowded buffet table. (<– A friend said it looks like Christmas confetti!? )  It's the perfect blend of sweet and savory ingredients that can work well as an appetizer or it can even double as a dessert (nix the onions and serve with crackers or a sweeter dipper ?).
And most importantly, it is very delicious, and very sure to be a hit with all of your friends and family.
It's my Very Merry Cranberry Cream Cheese Dip!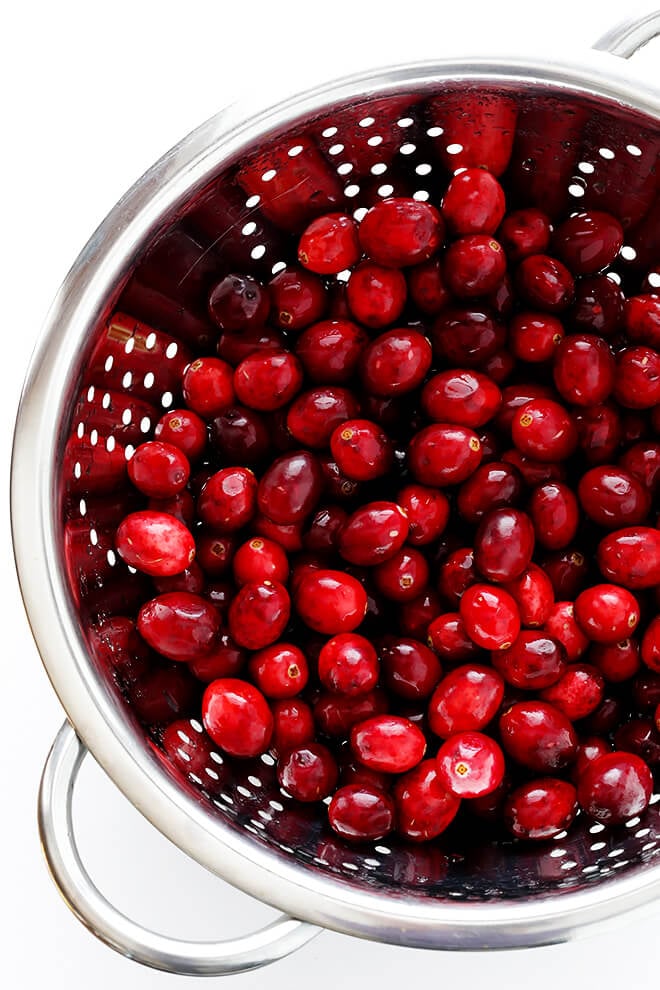 Seriously, if you're looking for something to whip up quickly this season that's sure to be a crowd-pleaser, I think that this may just be the dip for you.
To make it, begin by whipping up a quick batch of cranberry sauce. I've included a classic recipe below, but really, you can use just about any cranberry sauce for this recipe. (I love making mine in the slow cooker.)  Once it has cooked, let it cool off in the refrigerator until it's completely chilled.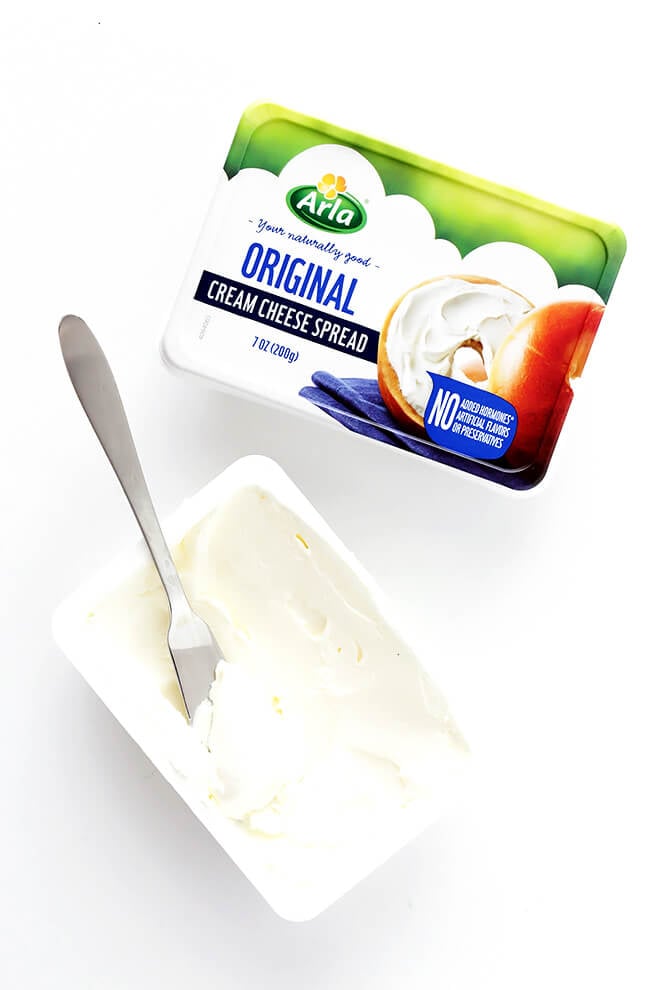 Then it's time to assemble the dip!
Begin by spreading an even layer of cream cheese out on a large plate or shallow bowl. As I've mentioned on the blog before, I'm a big fan of Arla cream cheese, which I used in this recipe. Because by contrast to the leading name brands of cream cheese that we all grew up with, I really value the fact that Arla cream cheese is made with just four simple ingredients (cream, skim milk, salt and cheese culture). Plus it's free of added stabilizers, thickeners, artificial flavors and preservatives. And it is absolutely delicious.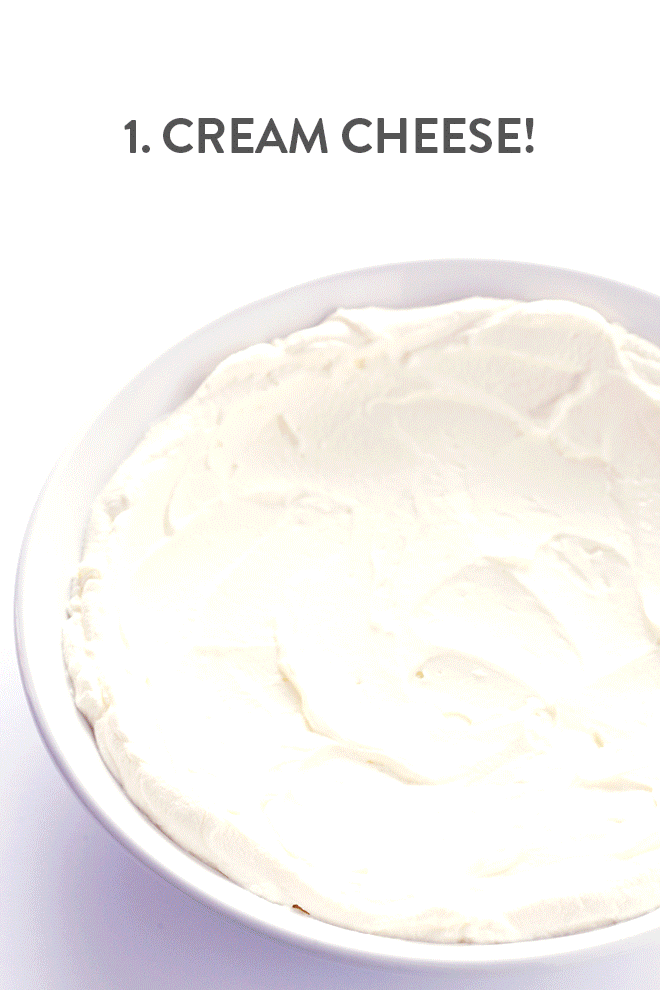 So, just spread two packages of the cream cheese out on your serving dish for the base layer.
Then on top of that, spread your chilled cranberry sauce, and all of that delicious red and green "confetti" (pomegranate arils, chopped jalapeño, and sliced green onions).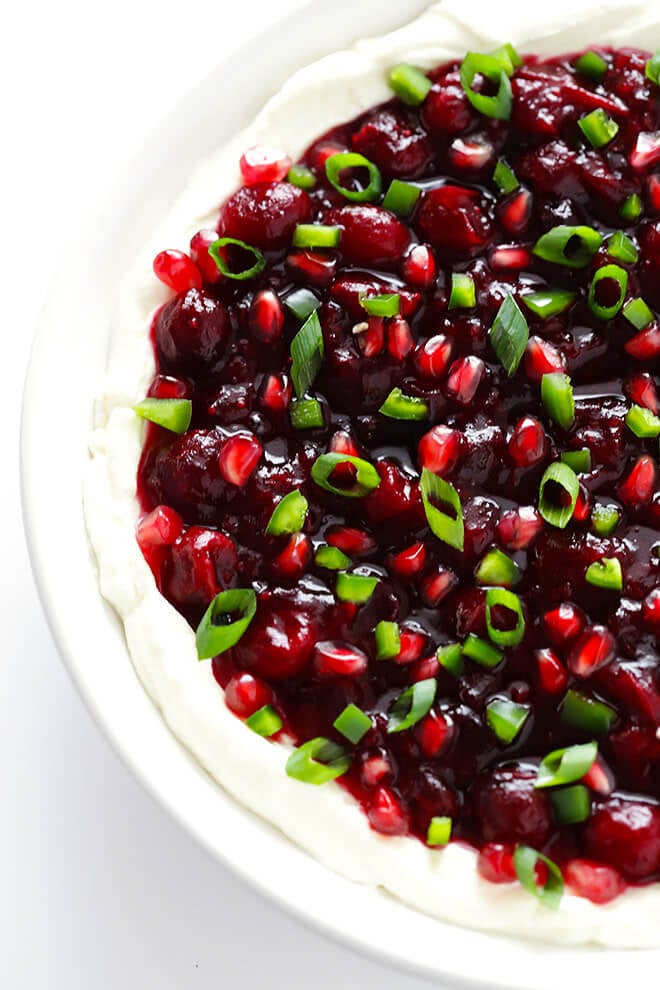 Then just serve it up with some crackers, or whatever dippers sound good.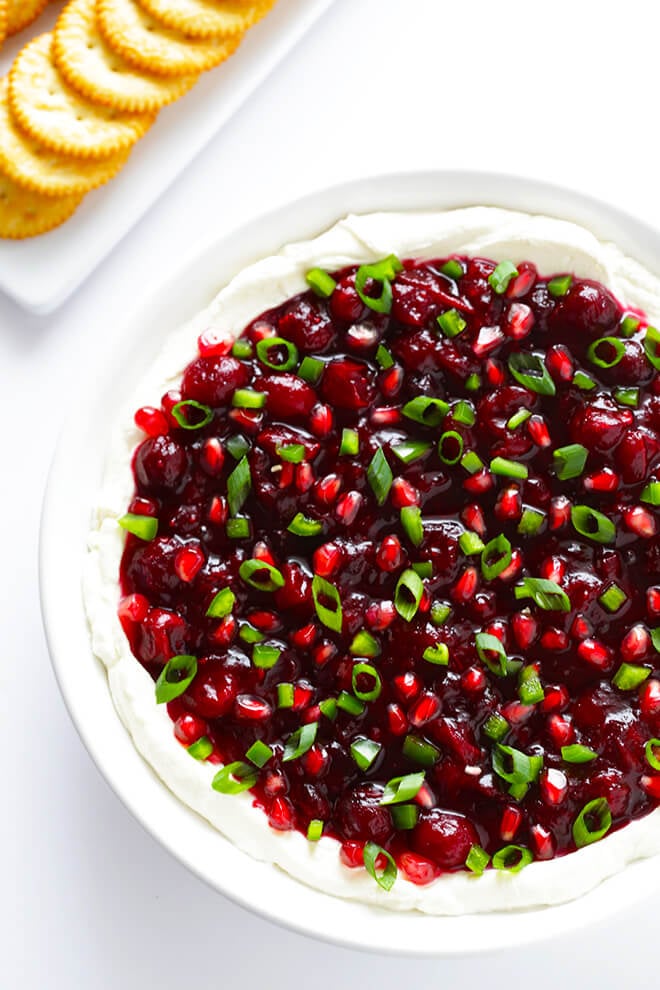 And take a bite before it all disappears!
Seriously, people freaking love this dip. And I can attest that — as the cook — it's all the more delicious knowing how simple it was to prepare. So if you're looking for a great dip to share this season, I think this one will definitely make your gathering all the merrier.
Enjoy, everyone!
Print

Very Merry Cranberry Cream Cheese Dip

Prep Time: 10 minutes


Cook Time: 15 minutes


Total Time: 25 minutes


Yield: 10 –12 servings 1x
---
Description
This Very Merry Cranberry Cream Cheese Dip is SUPER easy to make, and the perfect appetizer (or dessert!) for entertaining around the holidays!
---
Dip Ingredients:
2

packages 

Arla Original Cream Cheese

1

batch cranberry sauce (see below*)

1/2 cup

 pomegranate arils**

1

small jalapeño, cored and finely-diced

1/2 cup

thinly-sliced green onions

crackers, for dipping
Cranberry Sauce Ingredients:
12 ounces

fresh cranberries

1/2 cup

orange juice

1/2 cup

water

1/3 cup

granulated sugar (or your desired type of sweetener)
---
Instructions
To Make The Dip:
Spread the cream cheese in a single layer in a large serving bowl or plate.

Spread the cranberry sauce on top of the cream cheese in a single layer, followed by the pomegranate arils, diced jalapeño, and green onions.

Serve immediately, with crackers for dipping.
To Make The Cranberry Sauce:
Add cranberries, orange juice, water and sugar to a medium saucepan, and stir to combine. Bring to a boil over high heat, then reduce heat to medium-low and simmer for 10 minutes or until most of the cranberries have popped.

Remove from heat.  Chill the cranberry sauce in a sealed container in the refrigerator until completely chilled, about 2 hours.  (Or you can make the cranberry sauce up to 3 days in advance.)
---
Notes
*You're welcome to use any kind of cranberry sauce for this recipe.  I also have a slow cooker version that's easy and delicious!
**Here is my video tutorial for how to open and de-seed a pomegranate.
***If you'd like to prepare the dip in advance, I recommend making the cranberry sauce up to 3 days in advance.  Then refrigerate it in a sealed container, along with the prepared pomegranate arils, chopped jalapeno and thinly-sliced green onions (those last three ingredients can be stored together).  Once you're ready to serve the dip, just assemble all of the dip layers, and serve!
This post is sponsored by Arla, maker of my favorite cream cheese spread (made with ingredients I can actually pronounce and feel good about). Thanks for supporting the brands who continue to make this blog possible! ♥