This Veggie Lovers' Pasta Salad recipe is easy to whip up with whatever veggies you have on hand, it's tossed with a simple white balsamic vinaigrette, it's easy to make ahead of time, and — of course — it's absolutely delicious!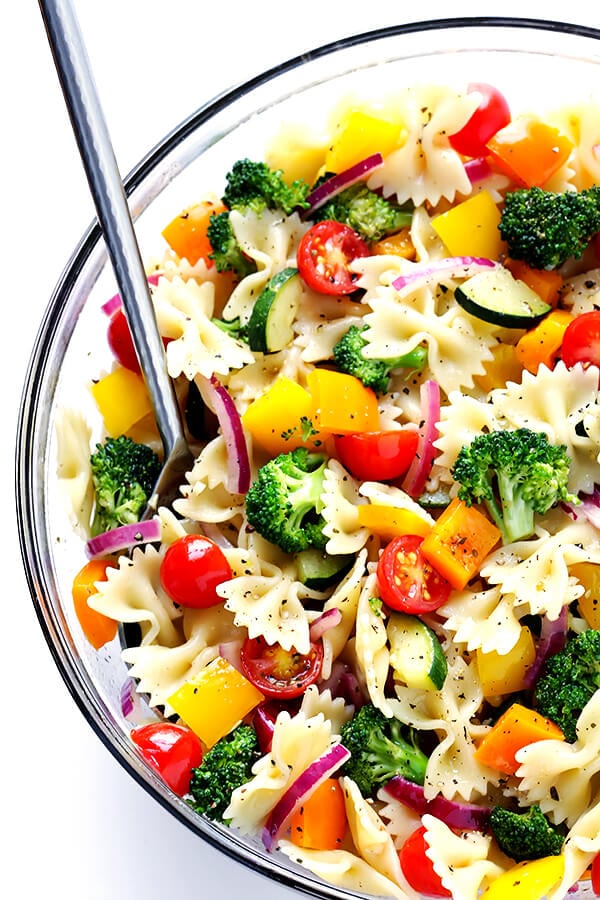 Soooo, after majorly slackin' on our book club picks these past six months or so, I'm happy to report that I finally finished the book in time for book club last Friday night!
And when I say "in time", I mean just "in the knick of time", with about 3 minutes to spare before I had to fly out the door to get there.
(Oh yeah, old high school procrastination habits die hard.)
But hey, finished is finished! Which meant that I was actually able to keep up with and contribute to the discussion about the book — Margaret Atwood's The Handmaid's Tale — which was absolutely faaaaascinating. Have any of you read that one?! It's a dystopian novel that's definitely on the darker side (not your normal "light summer reading"), but I absolutely could not put it down. And with all of the political and social head-scratchers it brought up, I also could not wait to discuss it with my friends. (And see the new Hulu miniseries of the book starring Elisabeth Moss when it is released!)
Per usual, the conversation at book club was rich and awesome, and made me all the more thankful to have these friends and this long-running book club in my life. (And, um, definitely strengthened my resolve to get back on the finish-the-book-in-time wagon! No more slacking!)  And per usual, there was an impressive buffet of delicious snacks and drinks to fuel our evening together.
I'd happened to be cleaning out the fridge earlier that day and had cooked up a bunch of veggies that needed to be used. So since this is apparently my Summer Of Pasta Salads, I tossed them together with some farfalle and a white balsamic vinaigrette to make this fresh and tasty pasta salad. And it was absolutely delicious.
So I'm calling it my Veggie Lovers' Pasta Salad, and thought I'd share it with you too. 😉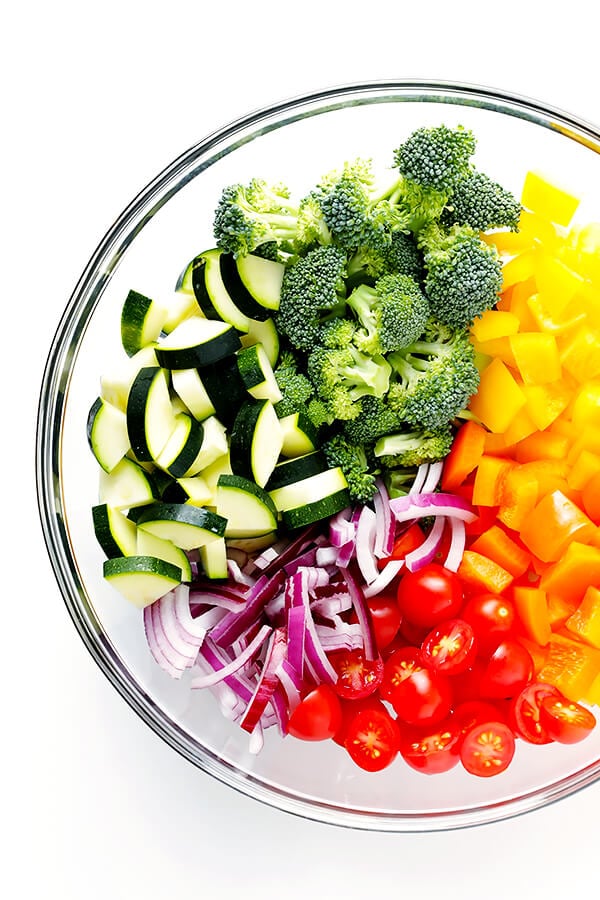 Really, this one is much more of a method than a recipe.  Just take whatever leftover fresh veggies you have on hand. (Seriously, just about any will do — I used zucchini, broccoli, bell peppers, tomatoes and red onion.)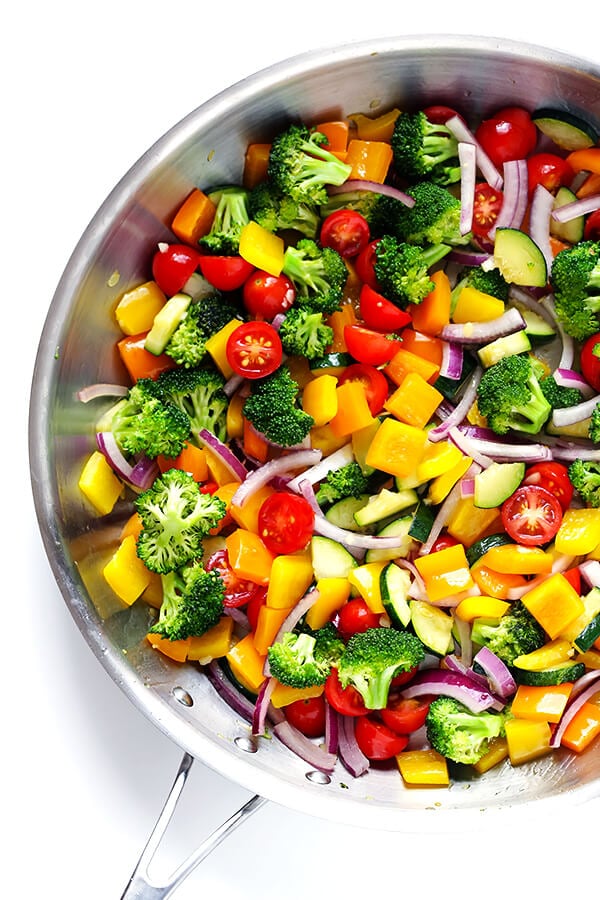 Then cook them up however works for you. Roast 'em, grill 'em, or just saute 'em in a skillet like I did. (<– Also, I should note that I cooked mine until they were nearly done, but still had a little bit of a bite and held their shape so that they didn't turn to mush.)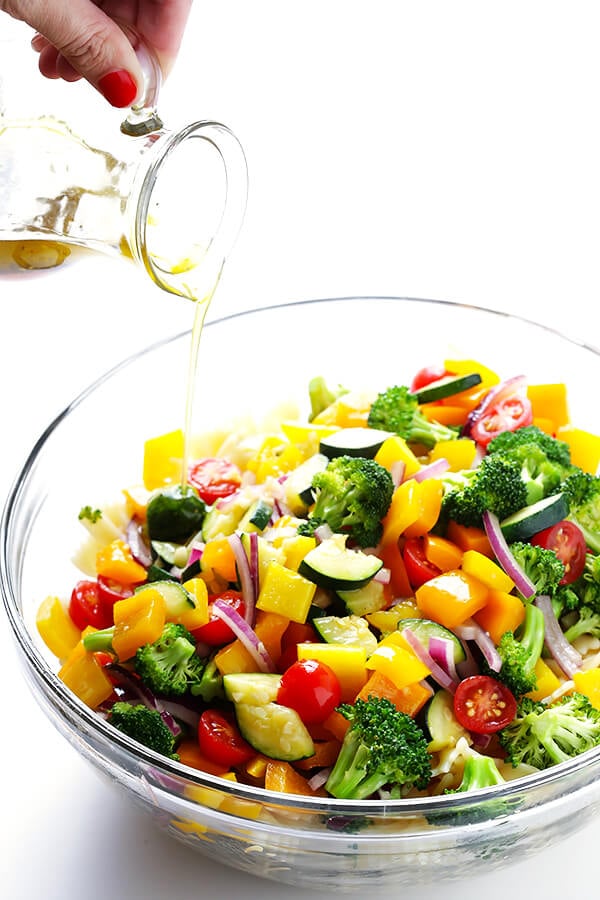 Then toss the pasta and cooked veggies together with whatever vinaigrette or dressing sounds good. (I made a quick batch of this yummy white balsamic vinaigrette.)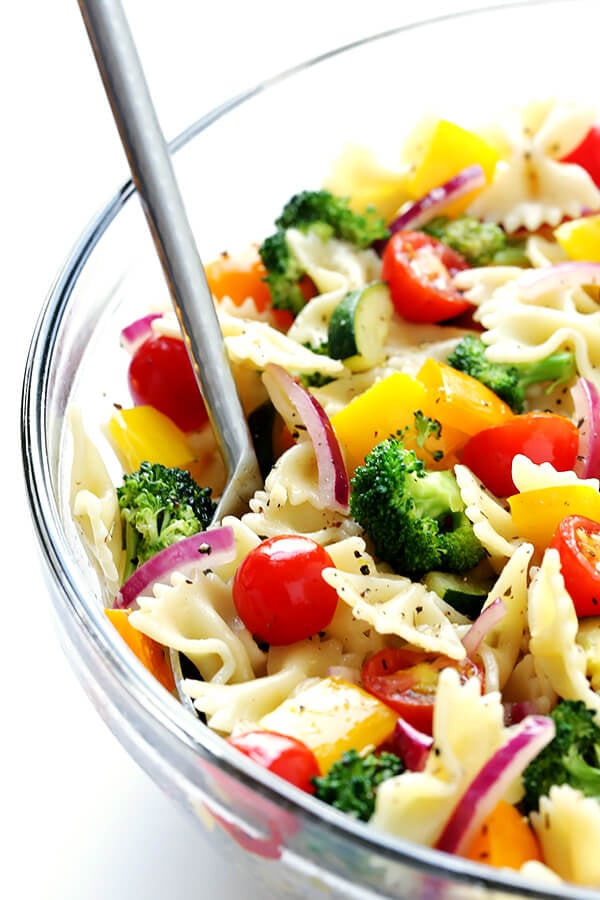 And then — voila! A bright, fresh, colorful, and oh-so-delicious pasta salad will be ready to share and enjoy.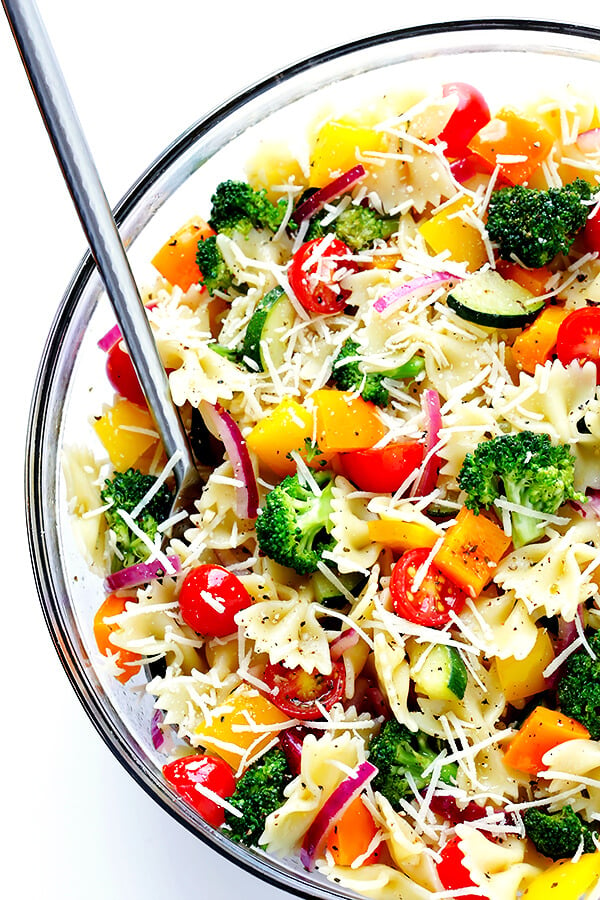 Oh, I did top mine with a big handful of freshly-grated Parmesan at the last second, because…I love cheese. 😀  But if you want to keep it vegan, just nix that.
So cheers to great food, great friends, and great books. And hey, if any of you have been wanting to start a book club, I just wanted to toss out a link to my tips on How To Start A Book Club (That Lasts). Ours has been going for, gosh, maybe 8-9 years now? And even when I don't get the books read in time, it's still always one of the absolute highlights of my month. Highly recommend being a part of one.
Alright, have a great week everyone!
Print

Veggie Lovers' Pasta Salad

Prep Time: 15 minutes


Cook Time: 20 minutes


Total Time: 35 minutes


Yield: 6 –8 servings 1x
---
Description
This Veggie Lovers' Pasta Salad recipe is easy to whip up with whatever veggies you have on hand, it's tossed with a simple white balsamic vinaigrette, it's easy to make ahead of time, and — of course — it's absolutely delicious!
---
12 ounces

dry pasta (I used farfalle)

2

–

3

tablespoons olive oil

1

zucchini, cut into bite-sized pieces

3 cups

chopped broccoli florets (about

1

small head of broccoli)

2

bell peppers, cored and diced into bite-sized pieces (I used

1

yellow and

1

orange bell pepper)

1 cup

cherry or grape tomatoes, halved

3

cloves garlic, peeled and minced

salt and pepper

half a

small red onion, peeled and thinly-sliced

1/2 cup

 white balsamic vinaigrette (or any favorite balsamic or Italian dressing)

optional topping: grated Parmesan cheese
---
Instructions
Cook the pasta in a large stockpot of generously-salted water al dente according to package directions.  Drain pasta and rinse under cold water for about 20-30 seconds until no longer hot.  Set aside.

Meanwhile, as your pasta water is heating and then your pasta is cooking, heat 1 tablespoon of oil in a large saute pan over medium-high heat.  Add the zucchini and broccoli florets and saute for 3 minutes, stirring occasionally.  Stir in the remaining oil, then add the bell peppers, tomatoes, garlic, and a few generous pinches of salt and pepper, and stir to combine.  Continue sauteing for 4-5 more minutes, stirring occasionally, until the vegetables are cooked to your desired level of doneness.  (I liked mine still slightly undercooked, so that they didn't get too soft and mushy.)  Stir in the red onion and saute for 1 more minute.

Then once the veggies and the pasta are all cooked, add them together in the large stockpot and drizzle with the vinaigrette.  Toss until the pasta and veggies are evenly coated with the vinaigrette, and toss and then top with extra Parmesan if you'd like.

Serve immediately, or refrigerate in a sealed container for up to 3 days.
---