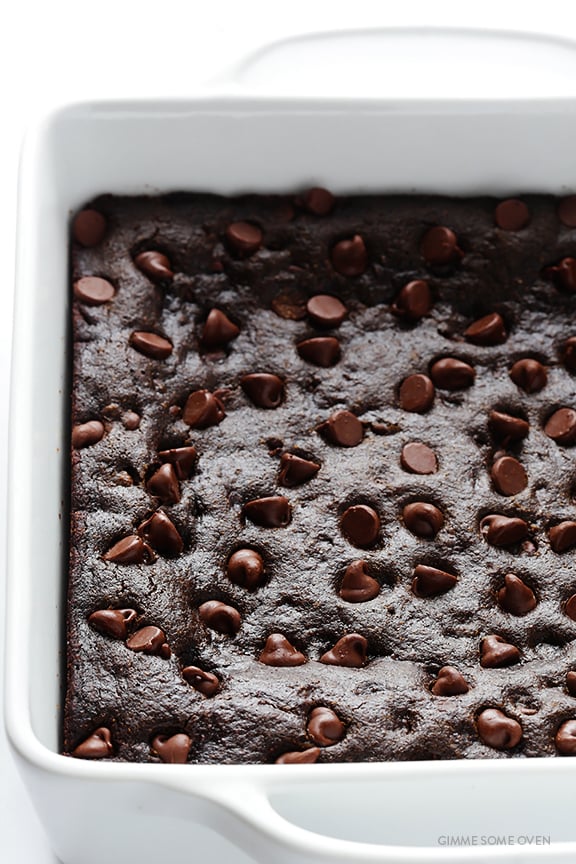 I'm the first to admit that I'm not the hugest fan of chocolate . I enjoy it on occasion, but somehow I was born into that 0.00001% percent of the female population who usually prefers something fruity, caramel-y, cinnamon-y, or (my favorite!) vanilla-y when it comes to dessert.
I know.
My chocolate-obsessed mom still cannot understand how we're related.
Don't get me wrong, I still totally like chocolate. It has just always felt super rich to me, and I'm usually satisfied after a few bites. But that said, whenever those chocolate cravings do pop up, there is one recipe I love to make that always comes to the rescue. It's quick and easy to bake, it calls for simple everyday ingredients, it includes some healthier ingredients (including olive oil and avocado!), it just so happens to be naturally dairy-free and vegan, and it is basically everything you could ever want in a rich, warm, fudgy, chewy, decadent chocolate dessert.
Yes, you have got to try these vegan brownies.
Vegan Brownie Recipe | 1-Minute Video
I actually posted this vegan brownies recipe on the blog back in 2012, after making them for a vegan friend's party. I snapped this photo above (back in the days when I was in my linen phase!), carried them off to the party, and watched as everyone absolutely demolished them.
And by everyone, I mean everyone — vegans and non-vegans alike. And I have made them dozens of times since, and the response is always the same. People LOVE these brownies!!!
Our readers over the past 3 years have been quite the fans of them too, as you can see from the comments below. And I couldn't agree more.
As I said already, they are perfectly fudgy, chewy, rich, and chocked full of chocolate. But I also love knowing that they're made with a few healthier ingredients, like mashed avocado, and avocado oil or olive oil (instead of butter), white whole wheat flour (or you could use all-purpose), and I've recently been trying out cane sugar in place of granulated. And they still taste like a ridiculously decadent treat.
Bonus — they're also vegan!
So whether you fall in the once-in-a-while or the omg-gimme-all-the-chocolate camp, I highly recommend making a batch. I think you're going to love 'em!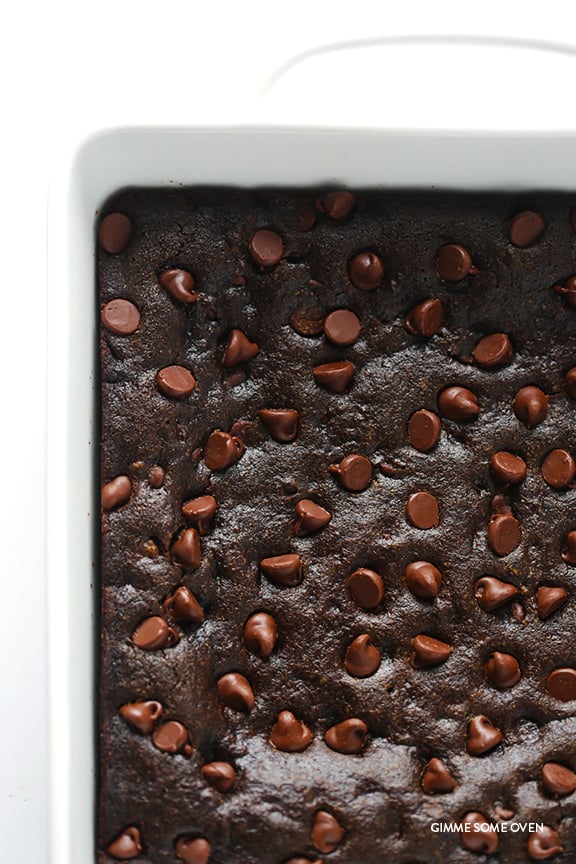 Print
Vegan Brownies

Prep Time: 10 minutes


Cook Time: 20 minutes


Total Time: 30 minutes


Yield: 12 –16 servings 1x
---
Description
These vegan brownies are fudgy, chewy, and uber chocolatey. Plus they're quick and easy, and made with everyday ingredients!
---
1/4 cup

pureed or well-mashed avocado

1/4 cup

 avocado oil or extra-virgin olive oil

1 cup

white whole wheat flour (or all-purpose flour)

1/2 cup

unsweetened cocoa powder

3/4 cup

cane sugar (or granulated sugar)

1 teaspoon

baking soda

1/2 teaspoon

salt

3/4 cup

water (I like to instead use

1/2 cup

brewed coffee +

1/4 cup

water)

1 1/2 cups

 vegan chocolate chips
---
Instructions
Preheat oven to 350 degrees F (180 degrees F). Grease an 8-inch square pan with cooking spray.

In a large mixing bowl, whisk together the pureed avocado and olive oil until smooth. Add in the flour, cocoa powder, sugar, baking soda, salt, and water (or coffee + water). Stir until smooth. Fold in 1 cup of the chocolate chips.

Pour into the prepared pan and spread the batter evenly throughout the pan. Sprinkle with an additional 1/2 cup of dark chocolate chips on top. Bake for 15-20 minutes, or until a toothpick inserted into the center comes out mostly clean (there may be some melted chocolate chips in there).  If you overbake, the brownies will have a cake-like texture.

Remove and let the brownies sit out for at least 20 minutes before serving. Cut and serve, or cover and store for up to 3 days.
---
Notes
Adapted from The Pastry Affair.
This post contains affiliate links.