This Tuscan White Bean, Sausage and Kale Soup is quick and easy to make, and full of the coziest Italian flavors. It's also naturally gluten-free and freezes beautifully.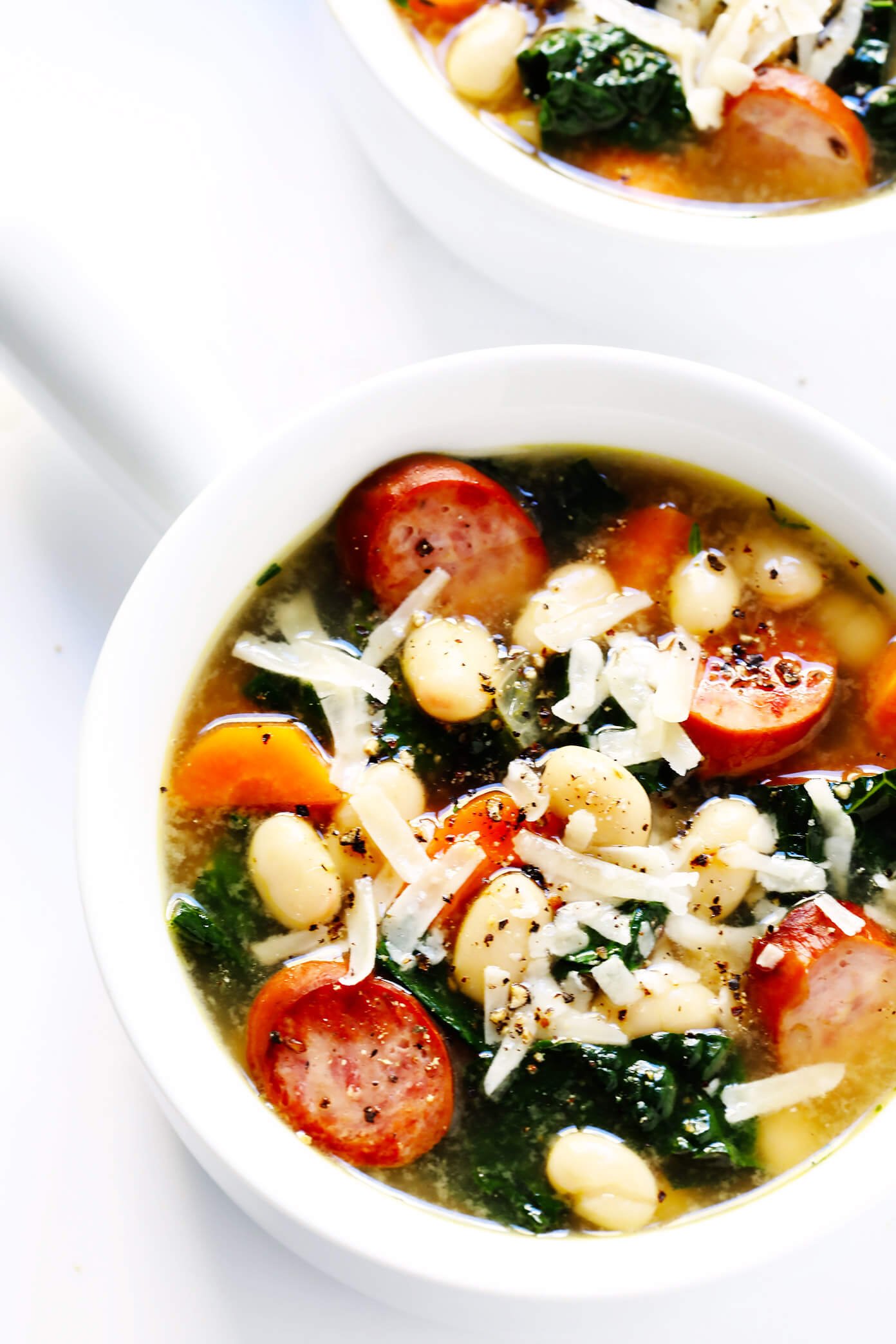 There are a zillion big and little differences about the grocery stores here in Barcelona that we've have come to know and love during our time here. (Ok, plus plenty that I don't love — hello, having-to-wait-in-line-to-weigh-and-print-a-receipt-for-every-single-piece-of-produce-you-purchase before going to the register to check out, bah.)  Still, from the various kinds of lockers located at the front of each store, to the quirky little grocery carts here, to the abundance of good cheeses and breads and leeks and fresh seafood, not to mention the crazy affordability of good wines and nut milks and roasted red peppers, to digestives galore (holla!) and zillions of gin and tonic decorations (G&Ts are all the rage here) to literal walls full of zee Spanish meats (mmm), to the streamlined checkout systems everywhere you go — grocery shopping here always feels like a fun adventure, and I inevitably come home from each trip with new discoveries to share. One of my favorite said discoveries?
All of the beans here in Spain are sold in clear glass jars. ?
I know — it's the randomest, tiny detail about grocery shopping here. But it was one of the first things we noticed on our first trip grocery shopping here. And three months later, every time I pass by a bean aisle and see all of those legumes proudly displayed in their gorgeous glass jars, they still make me ridiculously happy. (And also make me wonder — why on earth do we hide our beans in the United States? They're so pretty in jars!)
So of course, naturally, our pantry has been well-stocked with a beautiful selection of impulse bean-buys ever since we moved here. And last month on a chilly day when I was craving some comfort food, one such jar ended up being the starring ingredient in a simmering pot of warm Italian soup. This Tuscan White Bean, Sausage and Kale Soup.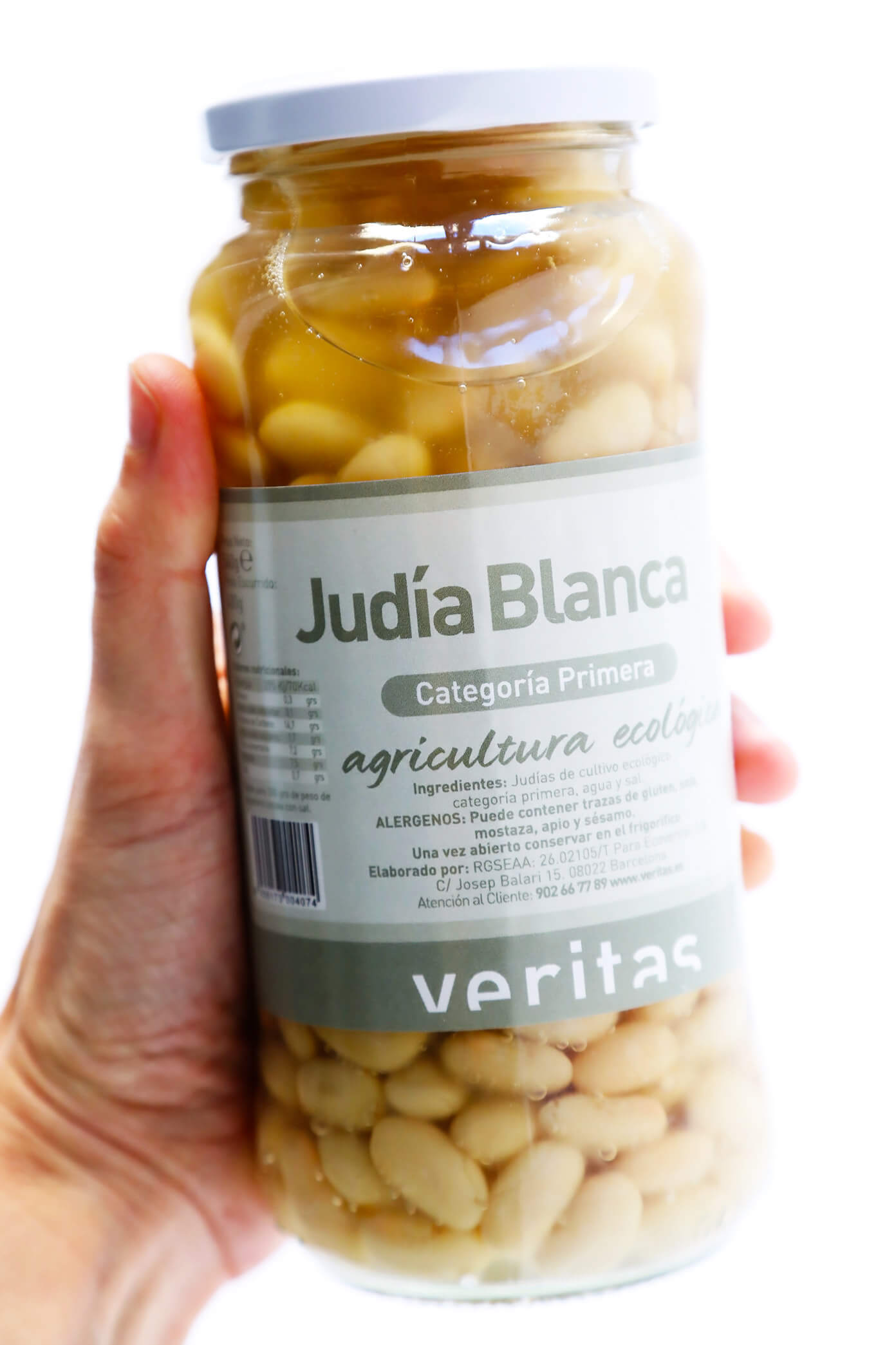 I actually photographed and meant to post this recipe about a month ago, intended to be a quick and simple meal that you could simmer during the busy holiday season. But then, life got busy because of, well, said holidays…and I totally spaced this one off. ?  But hey, sounds like this is better timing anyway with all of these bomb cyclones and arctic blasts and whatnot making headlines lately.
So let's talk about this soup!
It's a classic, and one that I have loved for years. I've made it with various greens (kale, spinach, collards, you pick), various proteins (crumbled Italian sausage, smoked sausage, chicken, etc.), various veggies (love tossing in leftover zucchini, bell peppers, eggplant, etc.), and seasonings (fresh Italian herbs, dried seasoning, or pesto). But most of the time, I find myself coming back to this combo of classic Tuscan ingredients. And they have a way of hitting the spot…every time.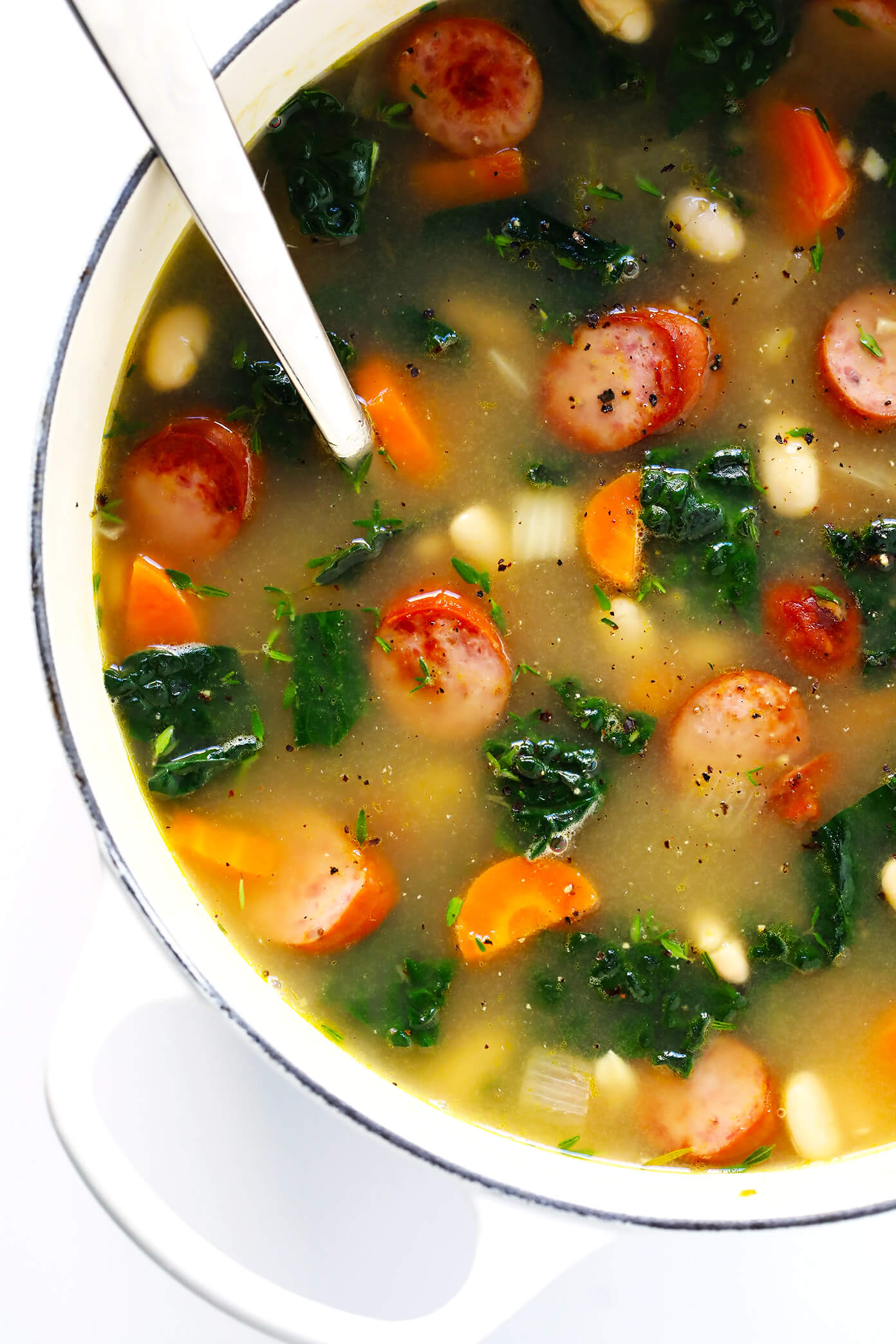 I've included instructions below for how to make this one in the stovetop, slow cooker or Instant Pot. But honestly, there's so little to it that the classic stovetop version will require just as much work as the other two. So feel free to take your pick.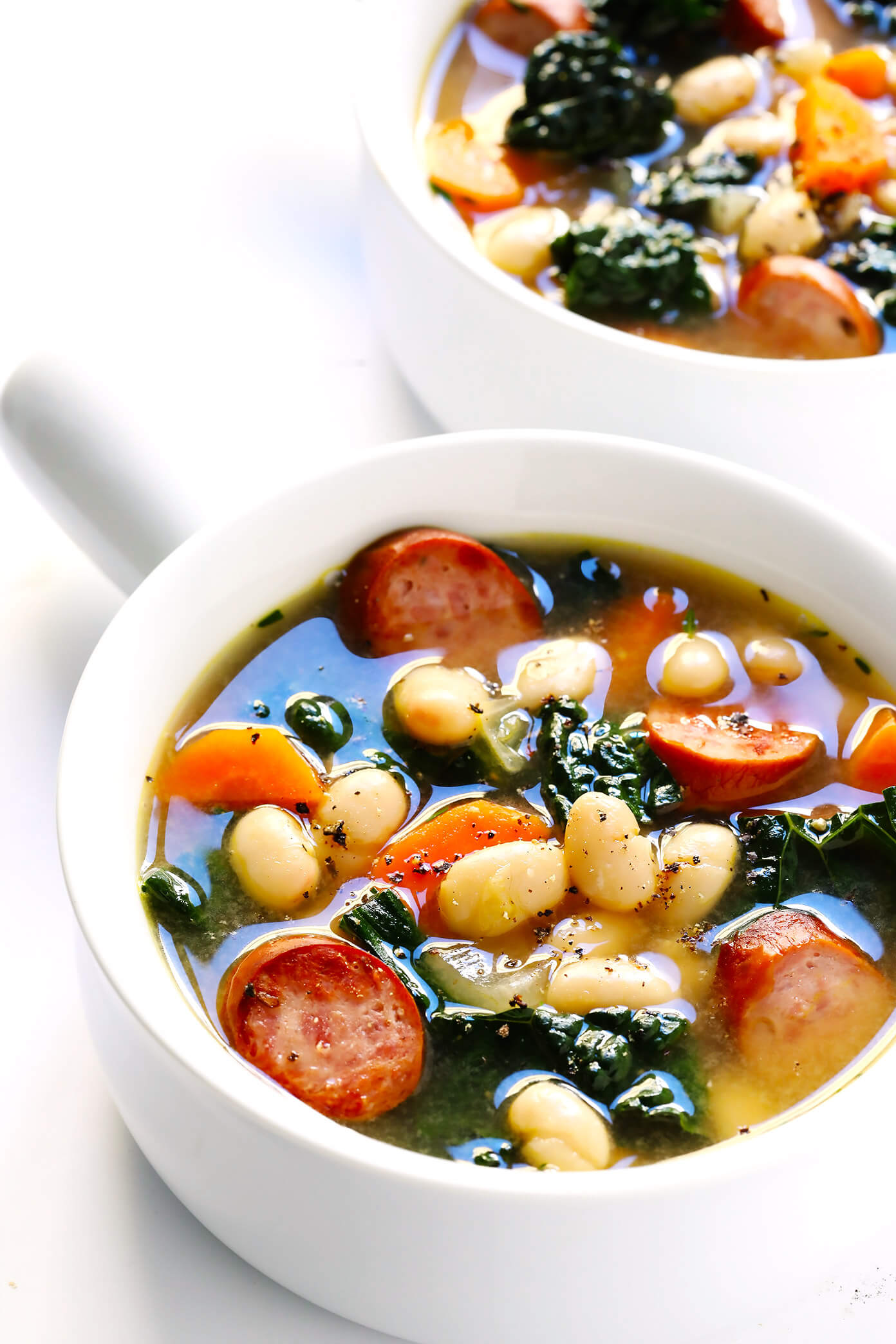 I like to serve mine with extra freshly-ground black pepper on top…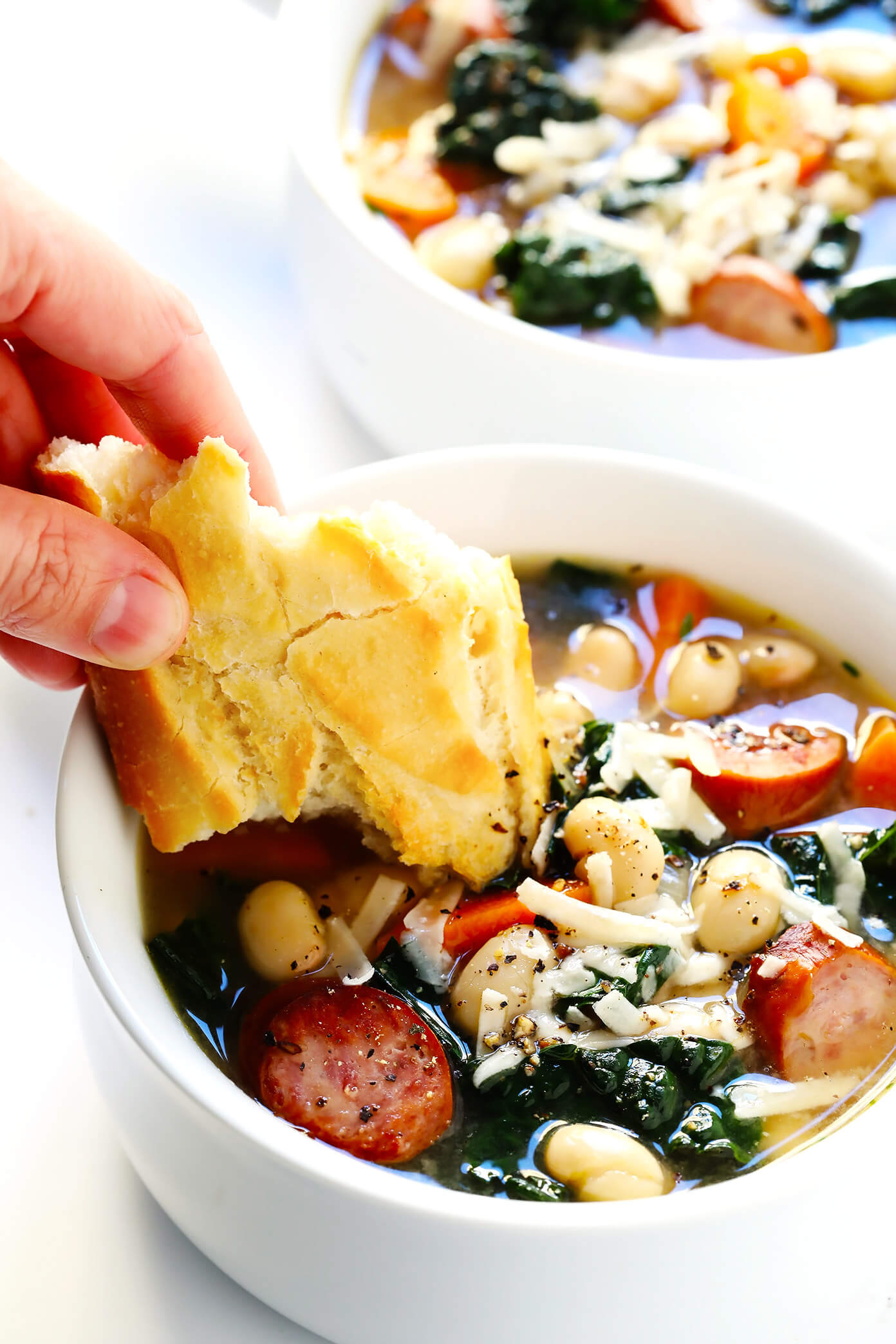 …plus a generous sprinkle of freshly-grated Parmesan. And if you happen to have a baguette or crusty loaf of bread around, bring it on.
Enjoy, everyone! And hope that you're all staying warm out there!
Print

Tuscan White Bean, Sausage and Kale Soup

Prep Time: 10 minutes


Cook Time: 20 minutes


Total Time: 30 minutes


Yield: 6 –8 servings 1x
---
Description
This Tuscan White Bean, Sausage and Kale Soup is quick and easy to make, and full of the most comforting Italian flavors.  It's also naturally gluten-free and freezes beautifully.
---
2 tablespoons

olive oil, divided

1

pound smoked sausage*

1

 medium white onion, peeled and diced

2

medium carrots, peeled and diced

6

cloves garlic, peeled and minced

8 cups

chicken stock

2

(15-ounce) cans white beans (canneloni or Great Northern)

2

sprigs fresh rosemary + 2 sprigs fresh thyme (**or see dried seasoning options below)

1

bunch lacinato or curly kale, roughly chopped with tough stems removed

sea salt and freshly-cracked black pepper

freshly-grated Parmesan cheese
---
Instructions
Heat 1 tablespoon oil in a large stockpot over medium-high heat.  Add sausage and sauté for 5 minutes, stirring and flipping occasionally, until browned.  Use a slotted spoon to transfer the sausage to a clean plate, and set aside.  Discard any remaining grease.

Add the remaining oil to the stockpot.  Add onion and carrot and sauté for 7 minutes, stirring occasionally, until the onion is soft and translucent.  Stir in the garlic and sauté for 1-2 more minutes, stirring frequently, until fragrant.

Add in the chicken stock, white beans, herbs, and cooked sausage and stir until combined.  Continue cooking until the soup reaches a simmer.

Stir in the kale, cover and cook for 5 minutes, or until the kale has softened a bit.

Taste, and season with a few generous pinches of salt and pepper as needed.

Serve warm, garnished with lots of Parmesan cheese.  Or transfer to a sealed container(s) and refrigerate for up to 3 days, or freeze for up to 3 months.
---