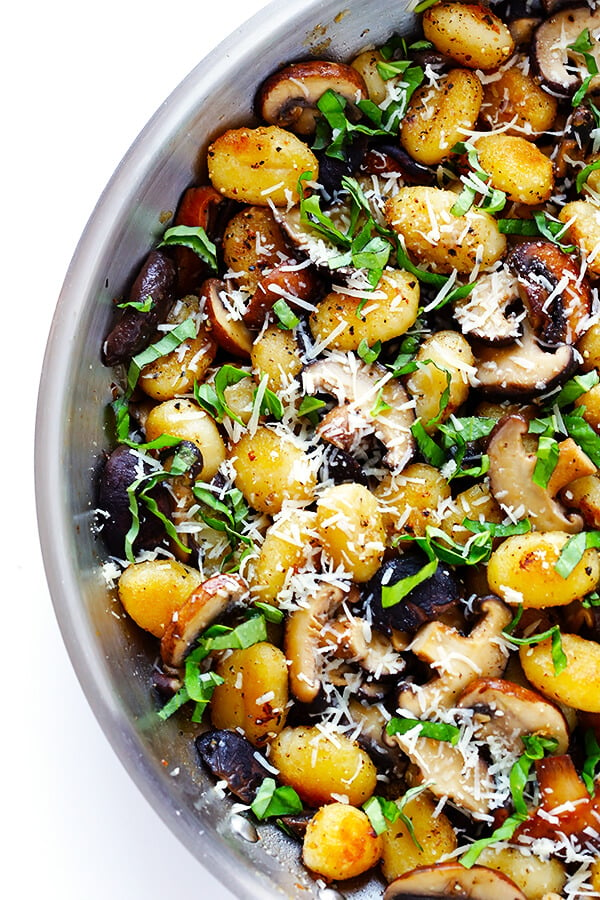 So, do you fall in the pro-mushrooms or anti-mushrooms camp?
In my experience entertaining and cooking for people for years, most people tend to passionately fall in one camp or the other. Which means that I rarely find myself cooking mushrooms when people are coming over, just to be safe. But when it's just me — or me and Barclay (thankfully I'm dating pro-!) — eating dinner together, I find myself tossing mushrooms into a recipe as often as possible. Can't get enough of 'em!
That said, for the first twenty years of my life, my mom will be the first to tell you that I was firmly in the anti-fungii camp. Whenever she would try and cook recipes with a can of cream of mushroom soup, I would dissect my plate for the entire first half of the meal, trying to pick out those microscopic mushrooms. And of course, I wouldn't even come near any dish where mushrooms were left whole and easy to spot. No way, Jose.
But I still remember — yes, of all the moments in life, weirdly this memory stuck with me — that all changed one night at Chili's. I had just moved to Kansas City after college, and was out with friends for a late dinner after church, and a friend had ordered some steak fajitas. Knowing how much I love steak, she offered me a few bites, and I reached over and picked up a piece of steak with my fork. But once I took a bite, I realized it was definitely not steak, and instead was the biggest bite of a portobello mushroom I'd ever had in my life. And — much to my surprise — I loved it!!!
Ever since that night, I've been very happily in the pro- camp, happily taste-testing any new mushroom I come across. And I love tossing as many of them into a dish as I can — like in this tasty gnocchi recipe! I decided to go the "descriptive" route and name it Toasted Gnocchi with Mushrooms, Basil and Parmesan. But let's be real, this is totally a Mushroom Lovers' Gnocchi. 🙂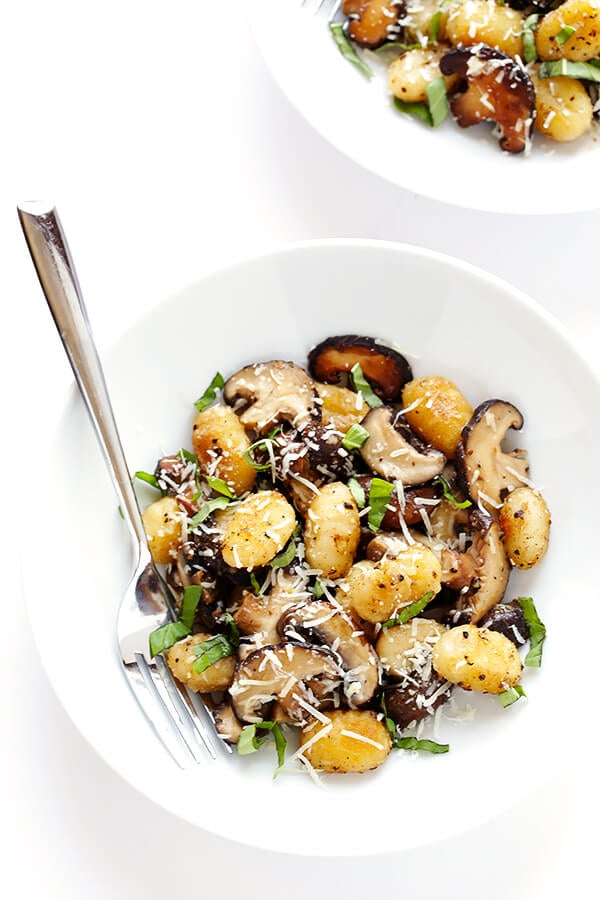 I randomly came up with this one awhile back when I was craving mushrooms galore, and wanted something hearty besides pasta. I always keep a few boxes of gnocchi in the pantry, so I grabbed one of those, and decided to make something happen.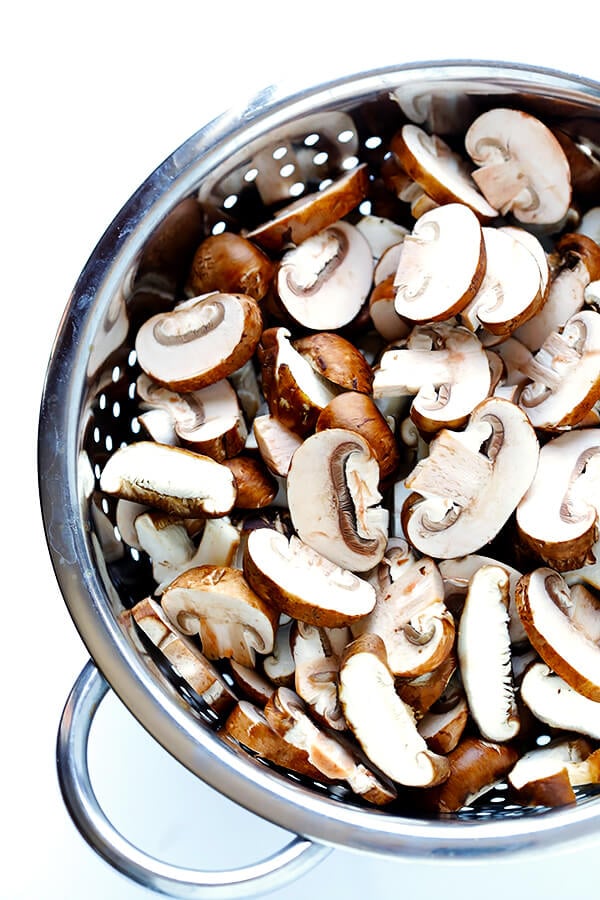 Well, first, I took a quick walk down to our enormous Asian market in my neighborhood to grab some mushrooms. They always have about 10 different kinds for sale, which I love experimenting with. But for this recipe, I kept it simple and just picked up a carton of shiitakes and baby bellas. (Feel free to use whichever a mix of any kinds you like, though!)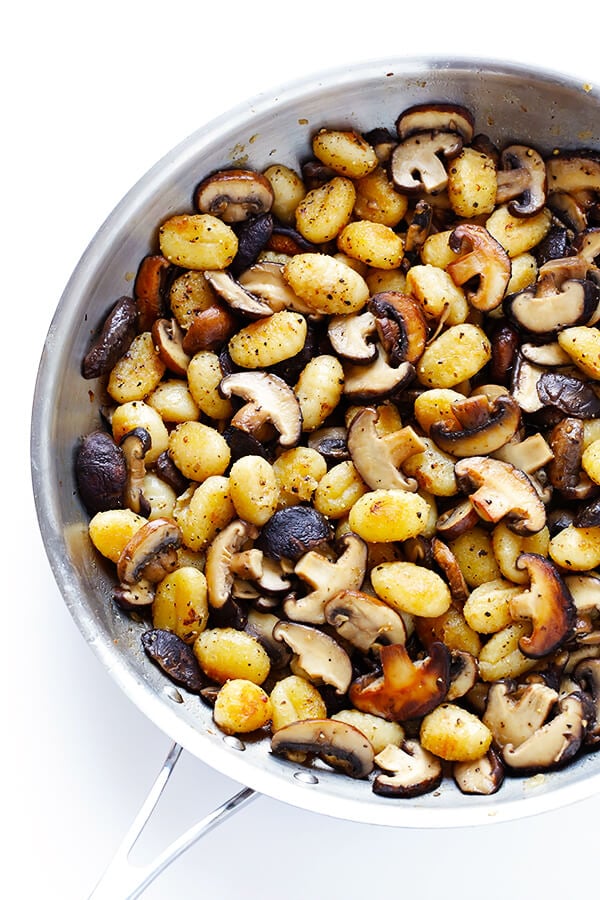 Then I sauteed them with some butter while the gnocchi cooked. Then added the gnocchi and lots of garlic to the pan and sauteed it until it got nice and toasted and browned. Then came some white wine, then some basil, then some Parmesan, and…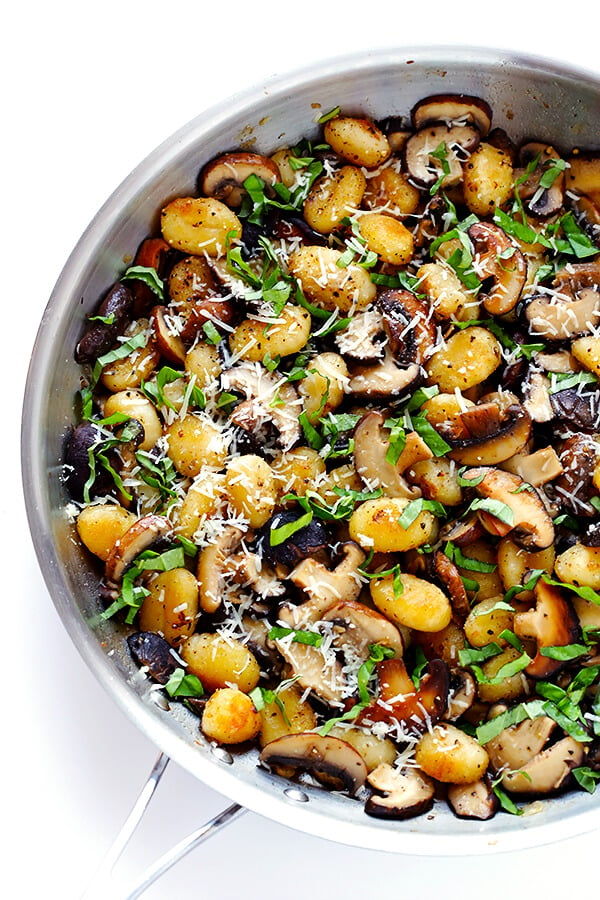 …voila! This delicious dish was the result.
It only took about 20 minutes to make, it's wonderfully rich and hearty (trust me, you meat-eaters won't miss a thing!), and it's full of the most delicious, rich, fresh, savory flavors. I loved it so much I made a second batch later that week, just to "test" it — and by that, I mean eat so much of it — one more time. And it's definitely a winner.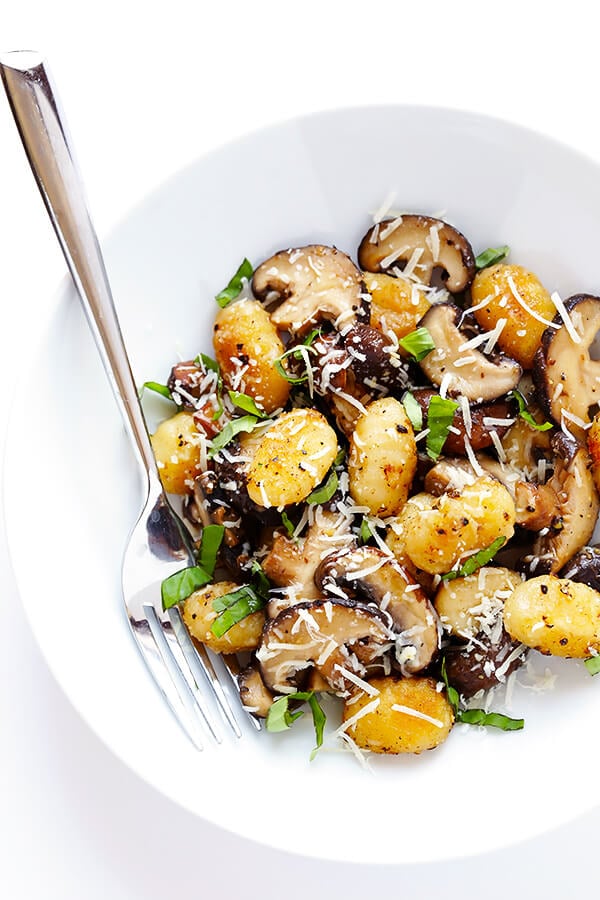 So if you are pro-mushrooms and love them as much as I do, I wholeheartedly recommend giving it a try. Enjoy, friends!
Print

Toasted Gnocchi with Mushrooms, Basil and Parmesan

Prep Time: 10 minutes


Cook Time: 20 minutes


Total Time: 30 minutes


Yield: 4 servings 1x
---
Description
This recipe for Toasted Gnocchi with Mushroom, Basil and Parmesan is quick and easy to make, nice and hearty, and full of rich and delicious flavors.
---
1

pound (uncooked) potato gnocchi*, homemade or store-bought

8 ounces

baby bella 

or

 white button mushrooms, sliced

8 ounces

shiitake mushrooms, sliced

3 tablespoons

butter

3

garlic cloves, minced

2/3 cup

dry white wine

1/2 cup

julienned or roughly-chopped fresh basil leaves, loosely-packed

1/2 cup

freshly-grated Parmesan cheese, plus extra for serving
---
Instructions
Cook gnocchi according to package directions in a large stockpot of generously-salted boiling water.  Drain, and set aside.

Meanwhile, as the gnocchi is cooking, melt the butter in a large sauté pan over medium-high heat. Add the mushrooms and sauté for about 3 minutes, stirring occasionally, until the mushrooms are soft and slightly browned.  Then add in the cooked gnocchi and garlic and continue cooking, stirring occasionally, until the garlic is fragrant and the gnocchi is lightly toasted and browned around the edges.

Carefully add in the wine, and give the mixture a good stir.  Continue cooking for 3-4 minutes, until the wine has reduced by half.

Remove pan from the heat, stir in the fresh basil and Parmesan until combined.

Serve immediately, garnished with extra Parmesan if desired.
---
Notes
*If you'd like to make this recipe gluten-free, be sure to use cook or purchase GF gnocchi.