This Three Potato Soup is kicked up a notch with the sweet and savory combination of red, sweet, and Yukon gold potatoes. It's also quick and easy to make, naturally vegetarian, lightened up a bit, and totally delicious! This post is also sponsored by McCormick, maker of the Kitchen Basics stocks that I love to use in soups.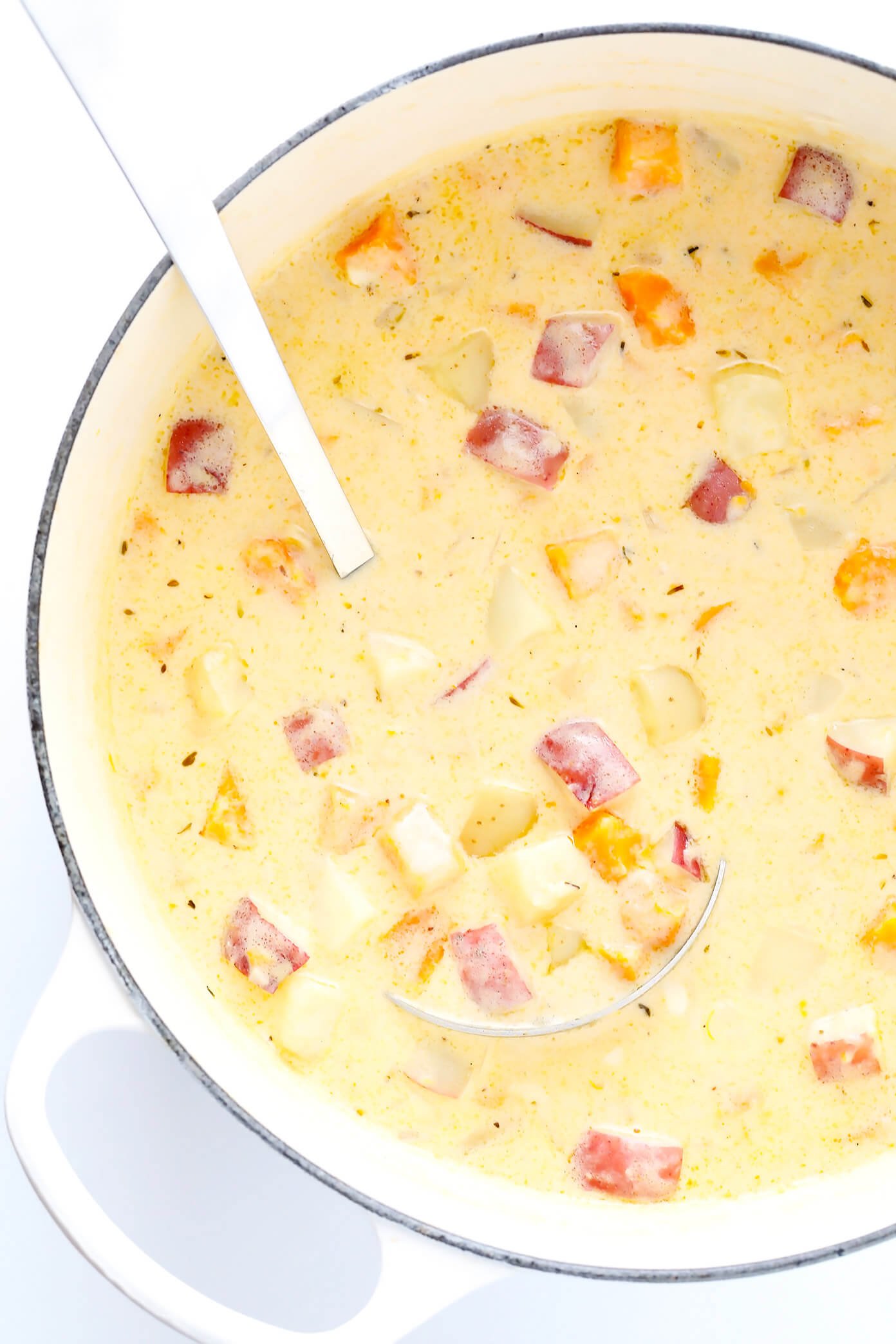 So, I've gotta tell you — one of my nerdy favorite things about meeting (and marrying!) Barclay has been getting to introduce him to dozens upon dozens of my favorite recipes over the past 2+ years. And — being that I've been food blogging for 8+ years now, and have literally over 1400+ recipes here on the site — ha, let's just say that there's been no shortage of recipes to choose from. ?
However, as I've mentioned before, Barclay's a vegetarian. So when the weather cooled off recently and we both found ourselves craving that first cozy autumn bowl of potato soup, I realized that my traditional bacon-based recipes weren't the right fit.
So instead, I decided to whip up a recipe idea that I've been meaning to try out for years now — a "three potato" soup, featuring a blend of red potatoes, sweet potatoes and Yukon gold potatoes. I've always thought that the sweet and savory potato combination would taste great in a creamy soup. And in lieu of bacon, I added in some extra garlic and a few teaspoons of Old Bay for extra seasoning, to keep things vegetarian. Also, in lieu of heavy cream, I lightened things up per usual with milk and Greek yogurt. And the result??
A total win, you guys.
And also, total comfort food.
To make the soup, begin by rounding up three kinds of 'taters — red potatoes, Yukon gold potatoes, and sweet potatoes. You're welcome to peel any or all of them, or just give them a good scrub and leave the skins on. (I only peeled my sweet potatoes.)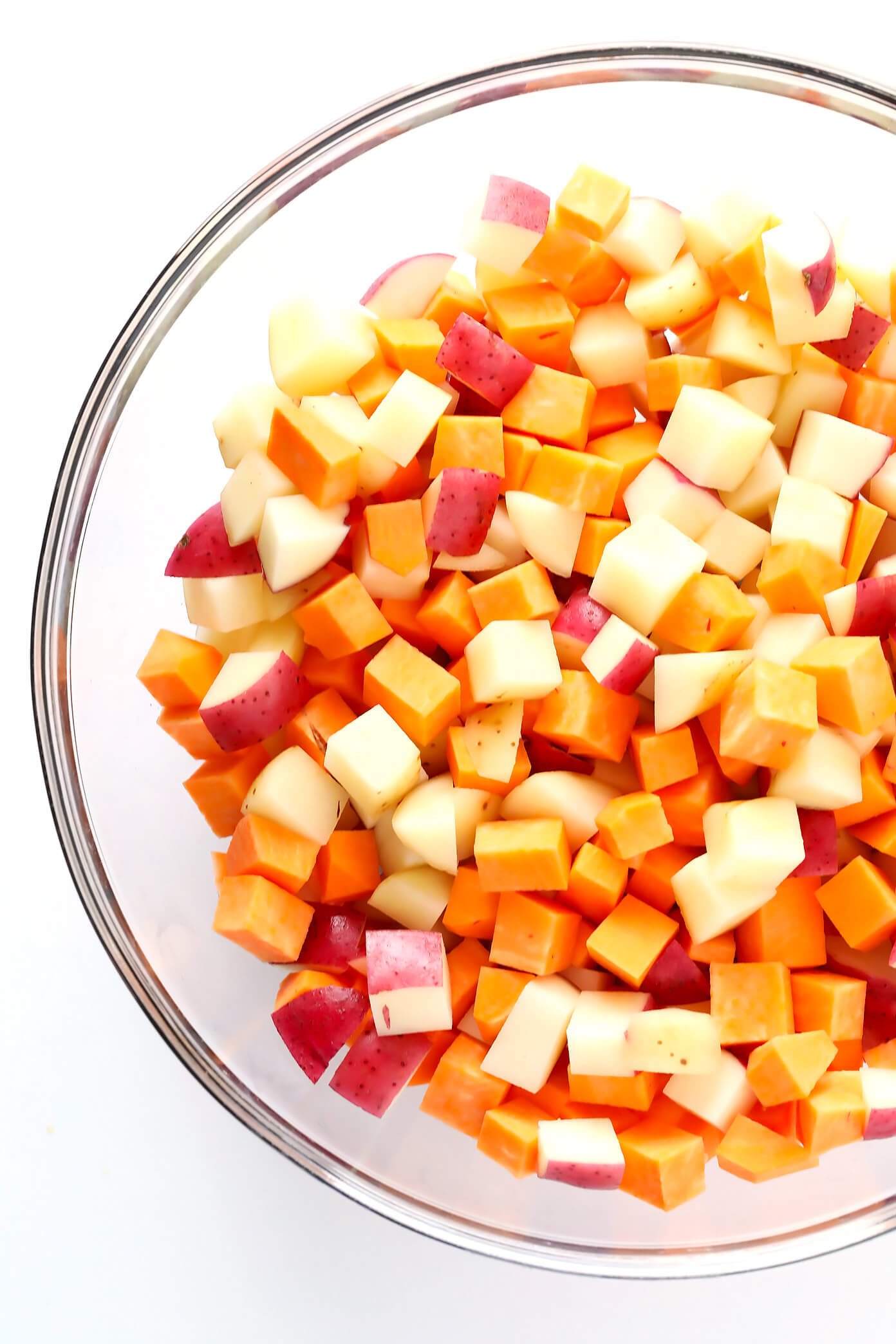 Dice them all up into bite-sized pieces, then simmer them along with the rest of the soup until they're nice and tender.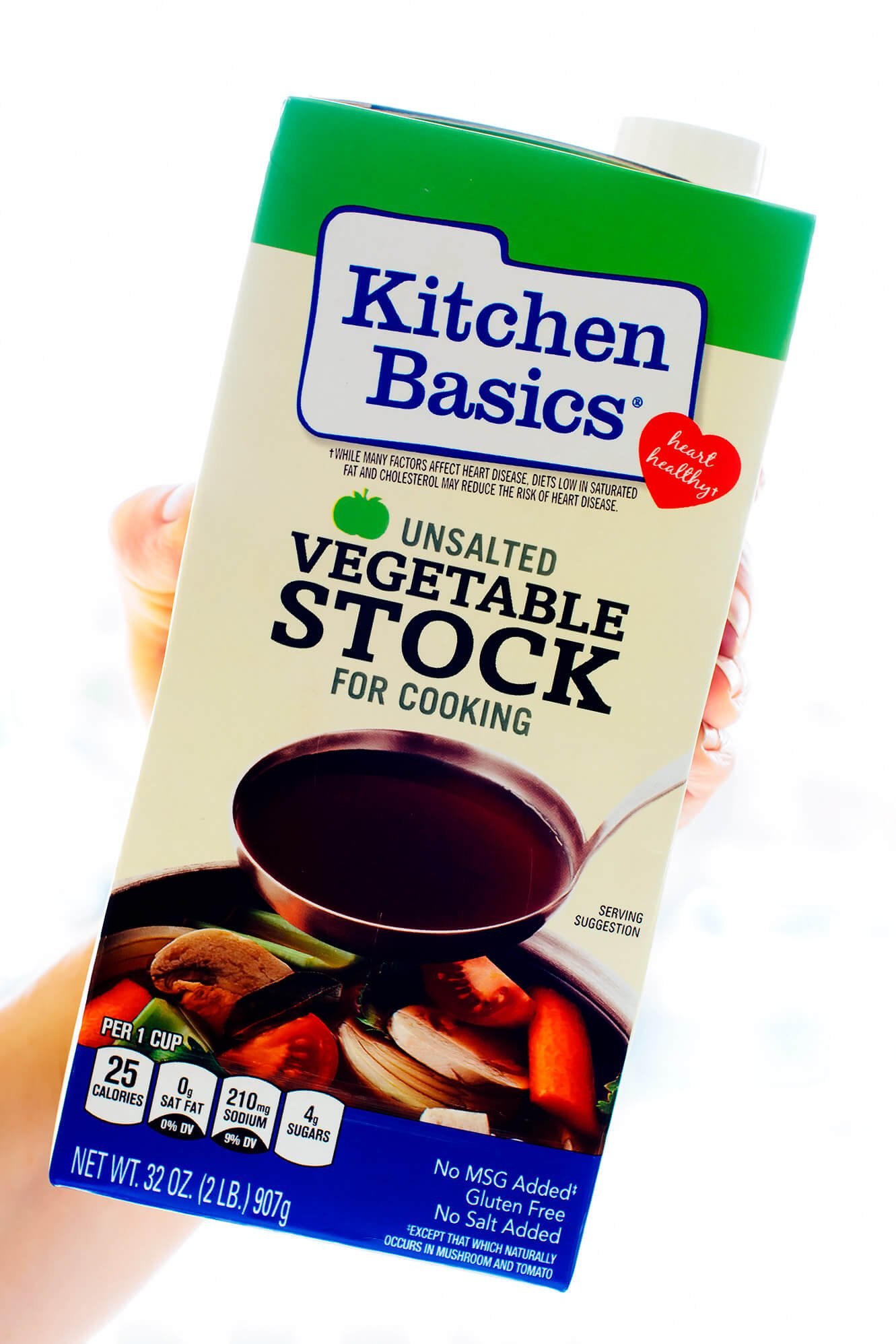 Also, since this soup is made with a relatively short list of simple ingredients, I wanted to note that your brand of veggie (or chicken) stock will make a significant difference in the overall flavor. Readers are always asking what brand of stock I recommend, and I'm happy to say that one of my favorites — Kitchen Basics — is sponsoring this recipe. I regularly keep their Original Chicken Stock and Vegetable Stock "stocked" (<– hehe, cooking joke) in my pantry, and really love the flavors they consistently bring to my soups. So feel free to go with either of those here, depending on whether or not you'd like the soup to be vegetarian.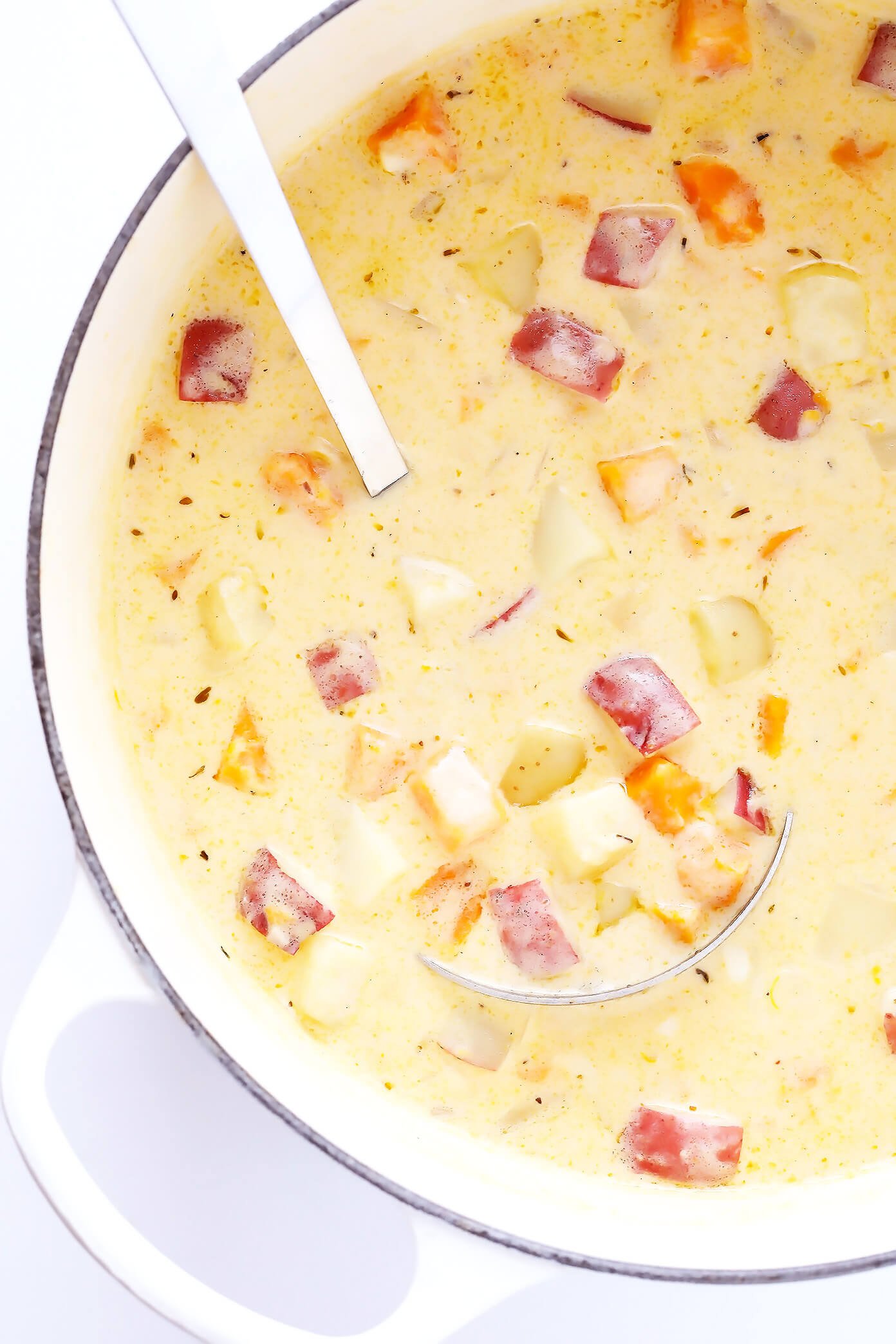 Then, once the soup is cooked through and ready to go…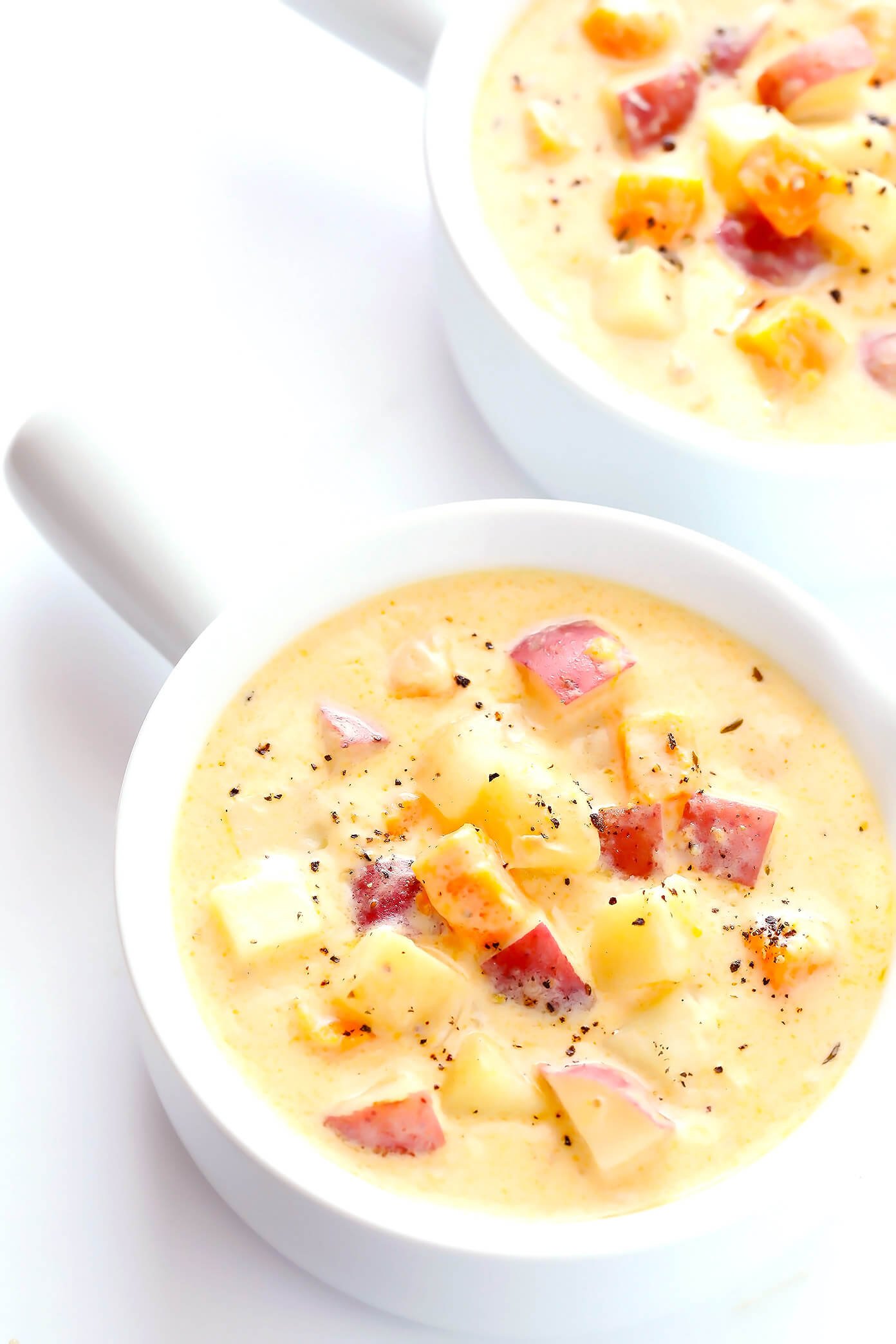 …ladle it up with your desired toppings (anything from a simple crack of black pepper to "the works" with cheese and green onions and sour cream and bacon will work here)…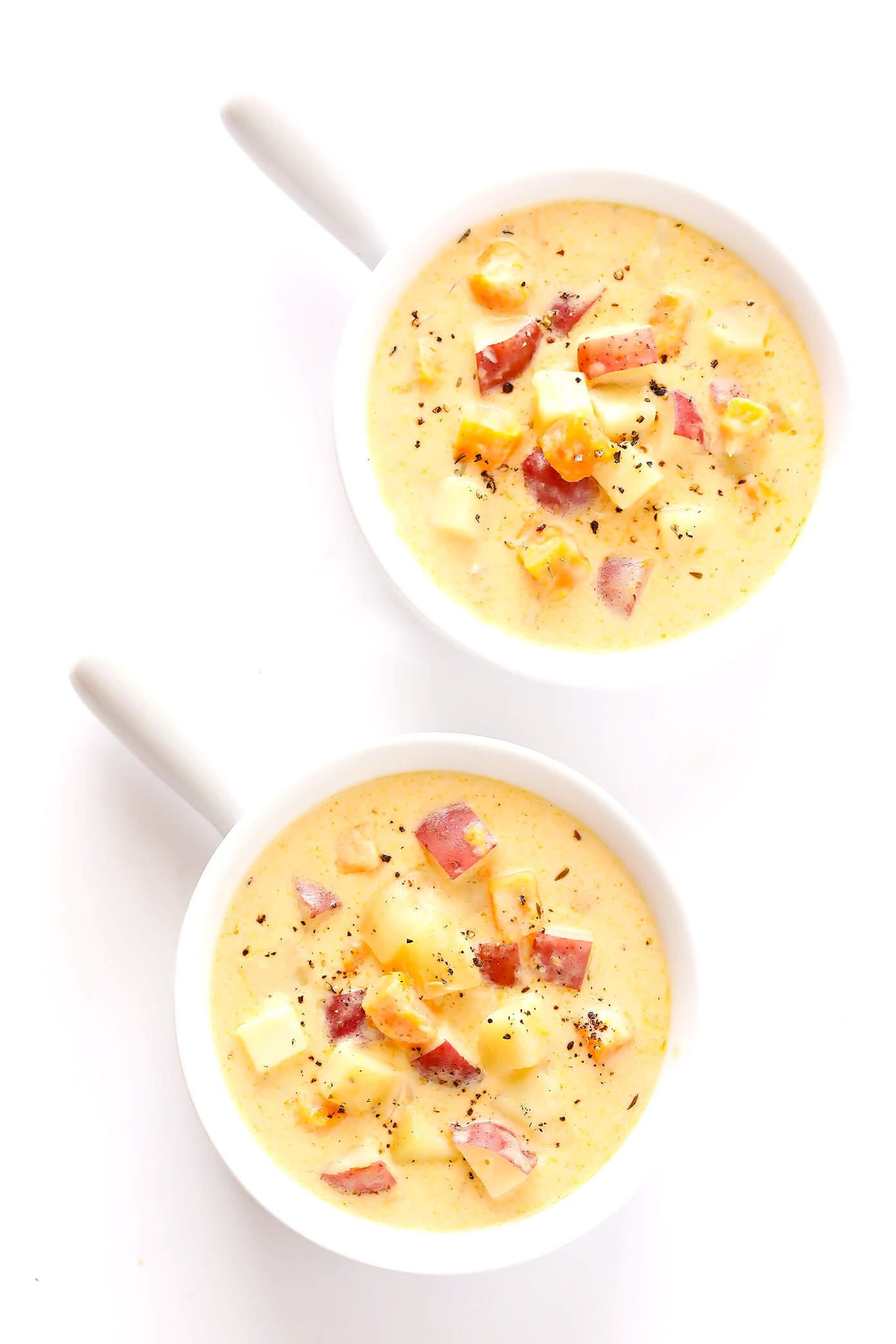 …and serve!
Seriously, if you're a potato soup fan — and especially if you're a sweet and savory fan — I think you're going to love this one. It's definitely going in the rotation at our place for chilly days to come.
Enjoy, everyone! And stay warm! ?
Print

Three Potato Soup

Prep Time: 15 minutes


Cook Time: 20 minutes


Total Time: 35 minutes


Yield: 6 –8 servings 1x
---
Description
This Three Potato Soup recipe is made with three of my favorite potatoes — Yukon gold, red, and sweet — and is so creamy and comforting and delicious.
---
3 tablespoons

olive oil or butter

1

 small white onion, diced

4

cloves garlic, minced

1/4 cup

all-purpose flour

2 cups

 Kitchen Basics® Unsalted Vegetable Stock (or Original Chicken Stock)

2 cups

 milk, warmed

1/2

pound 

each:

 red potatoes + (peeled) sweet potatoes + Yukon gold potatoes, diced

1 cup

shredded sharp cheddar cheese*

1/2 cup

 plain Greek yogurt or sour cream

2 teaspoons

Old Bay seasoning (or Cajun seasoning)

1 teaspoon

Kosher salt, or more to taste

1/2 teaspoon

freshly-cracked black pepper

optional toppings: thinly-sliced green onions or chives, extra shredded cheese, sour cream
---
Instructions
Heat oil in a large stockpot over medium-high heat.  Add onion and sauté for 5 minutes, stirring occasionally, until soft.  Stir in the garlic and sauté for an additional 1-2 minutes, stirring occasionally, until fragrant.  Sprinkle the flour on top of the onion, and stir until combined.  Sauté for an additional minute to cook the flour, stirring occasionally.  Then gradually pour in the stock, and stir until combined.  Add in the milk and potatoes, and stir until combined.  Continue cooking until the mixture reaches a simmer, but is not boiling.

Reduce heat to medium-low, cover, and simmer for about 10-15 minutes or until the potatoes are soft, stirring every few minutes so that the bottom of the pot does not burn.  (The smaller you dice your potatoes, the faster they will cook.)

Once the potatoes are tender, stir in the cheddar cheese, Greek yogurt (or sour cream), Old Bay, salt, and pepper until combined.  Taste, and season with additional salt or pepper if needed.

Serve warm, garnished with your desired toppings.  Or, transfer to a sealed container and refrigerate for up to 3 days.
---