My all-time favorite Tex-Mex migas recipe! It's super-simple to make with leftover chips and salsa, and always a crowd fave.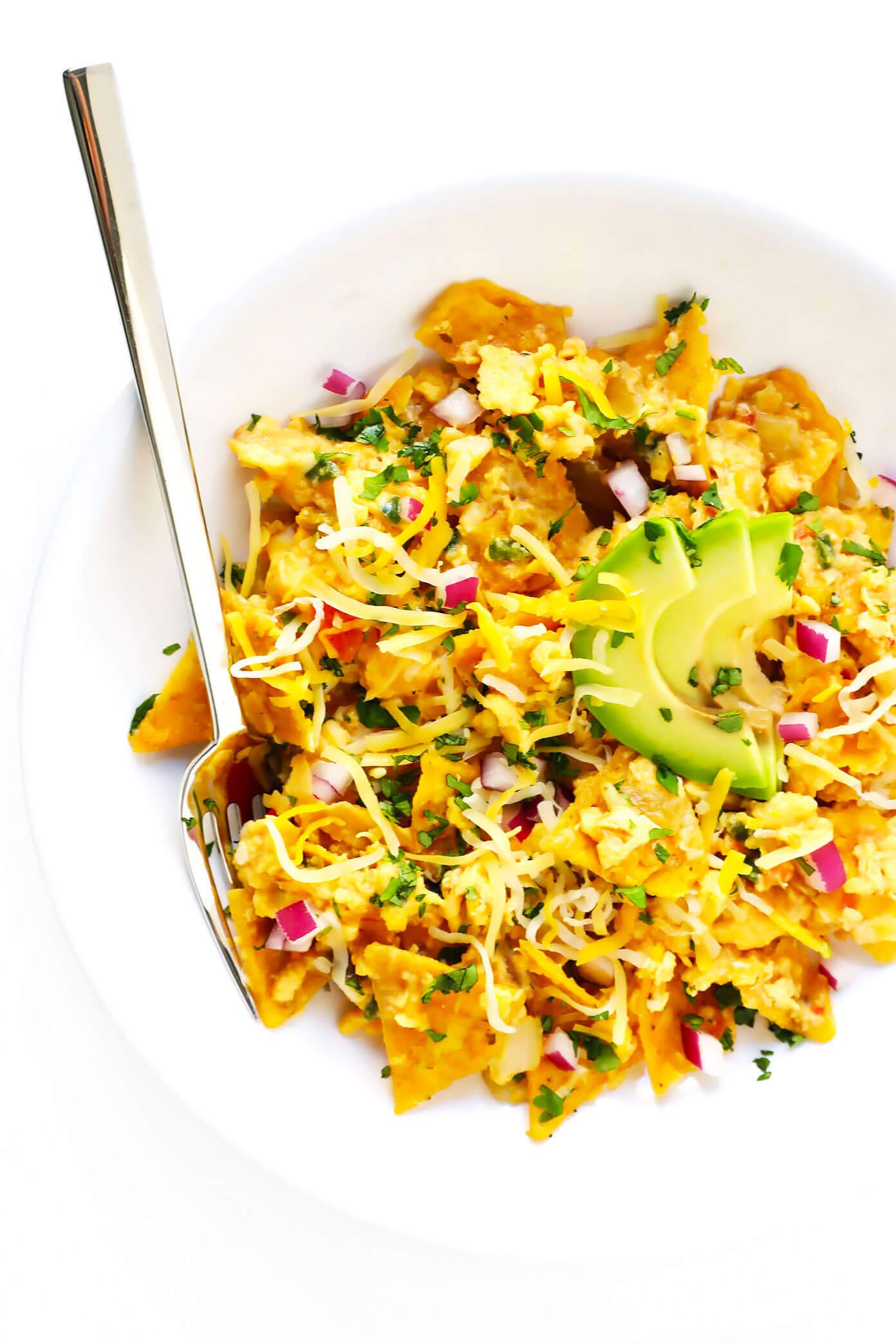 I first posted here on the blog about migas five years ago after visiting Austin for the first time, when I was introduced to their brilliant, iconic Tex-Mex scramble. Then proceeded to fall even more in love with them two years later, when my friend, Kathryne, and I spent a month snowbirding and eating all the tacos in Austin. And ever since, they have become one of my go-to brunch recipes that we make around here constantly — especially when serving a crowd.
But! I've been meaning to pop back in here and update this recipe for years because I recently figured out a shortcut to this already-simple recipe that I have been loving lately. Authentic migas are supposed to be made with leftover corn tortillas, which are then cut into small strips, and fried in oil until crispy — which is a delicious way to go. But since I often do not have leftover tortillas on hand — yet always have a bag full of corn tortilla chips in the pantry — I've been making migas with crumbled chips instead. And it has turned this dish into just about the easiest migas recipe ever.
Just scramble up some eggs and veggies, add in some cheese, salsa and the tortilla chips, load the scramble up with your favorite toppings, and a mega delicious plate of migas will be yours to enjoy in no time. Here's how to make them!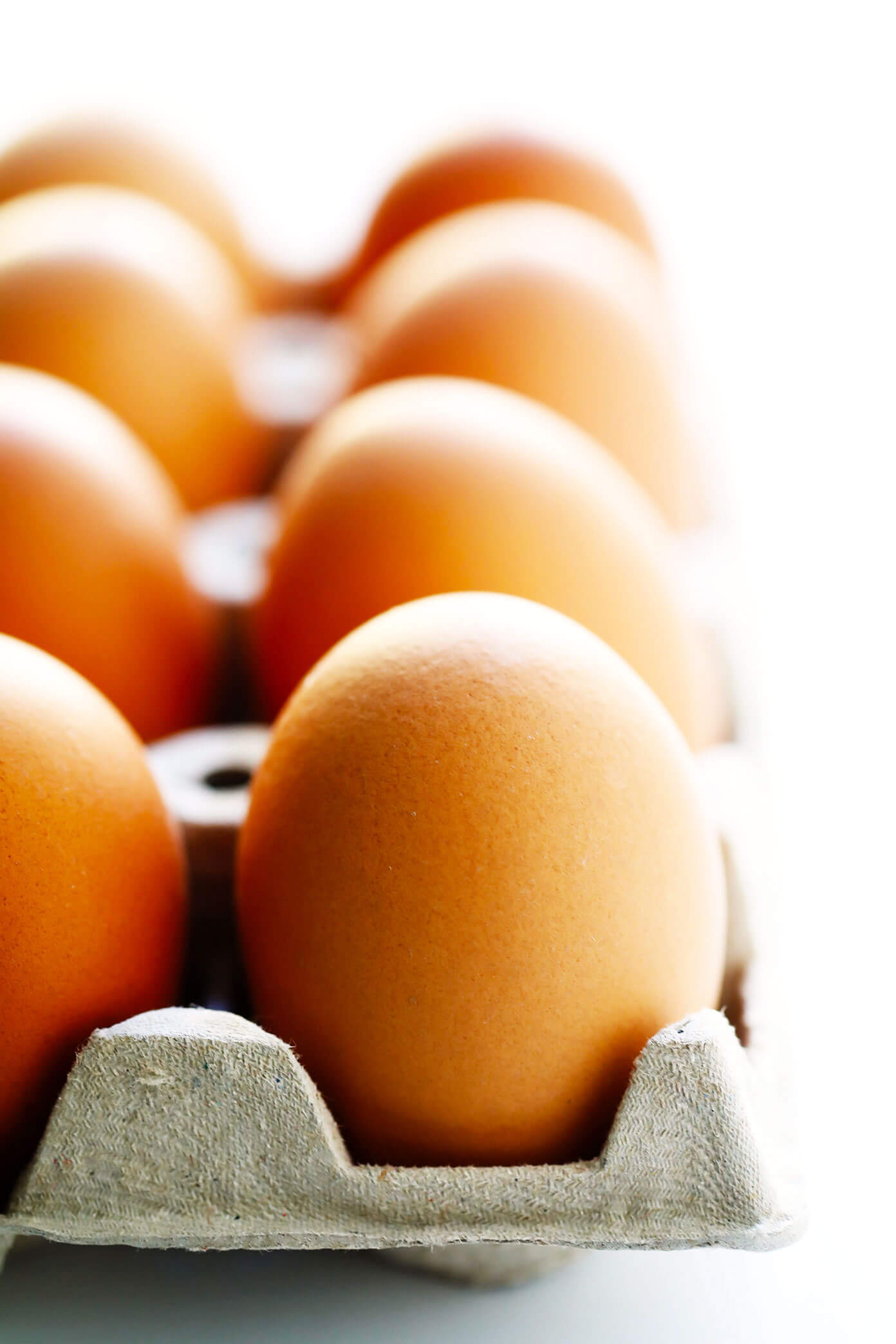 Migas Ingredients:
The best thing about migas is that you probably already have these ingredients on hand! You'll just need:
Eggs: Which we will soft scramble. (I like to add a bit of milk to my eggs to make them extra creamy.)

Onion, Jalapeño and Garlic: I like adding these in to give the eggs some extra flavor and texture. But you can skip this step if you're in a hurry and just add a bit of extra salsa instead.

Corn Tortilla Chips: Traditional migas call for frying up leftover corn tortillas, which you're welcome to do. But more often, I just crumble up leftover tortilla chips, which is much speedier. Plus I always (like, always) have them on hand.

Salsa: Any red or green salsa that you have on hand will do!

Cheese: I like to use shredded cheese for the egg scramble, but you could also add some crumbled queso fresco or cotija if you prefer.

LOTS of Toppings! A must, in my book. 🙂  Chopped fresh cilantro, diced red onion, sliced avocado, diced tomato, extra salsa — whatever sounds good!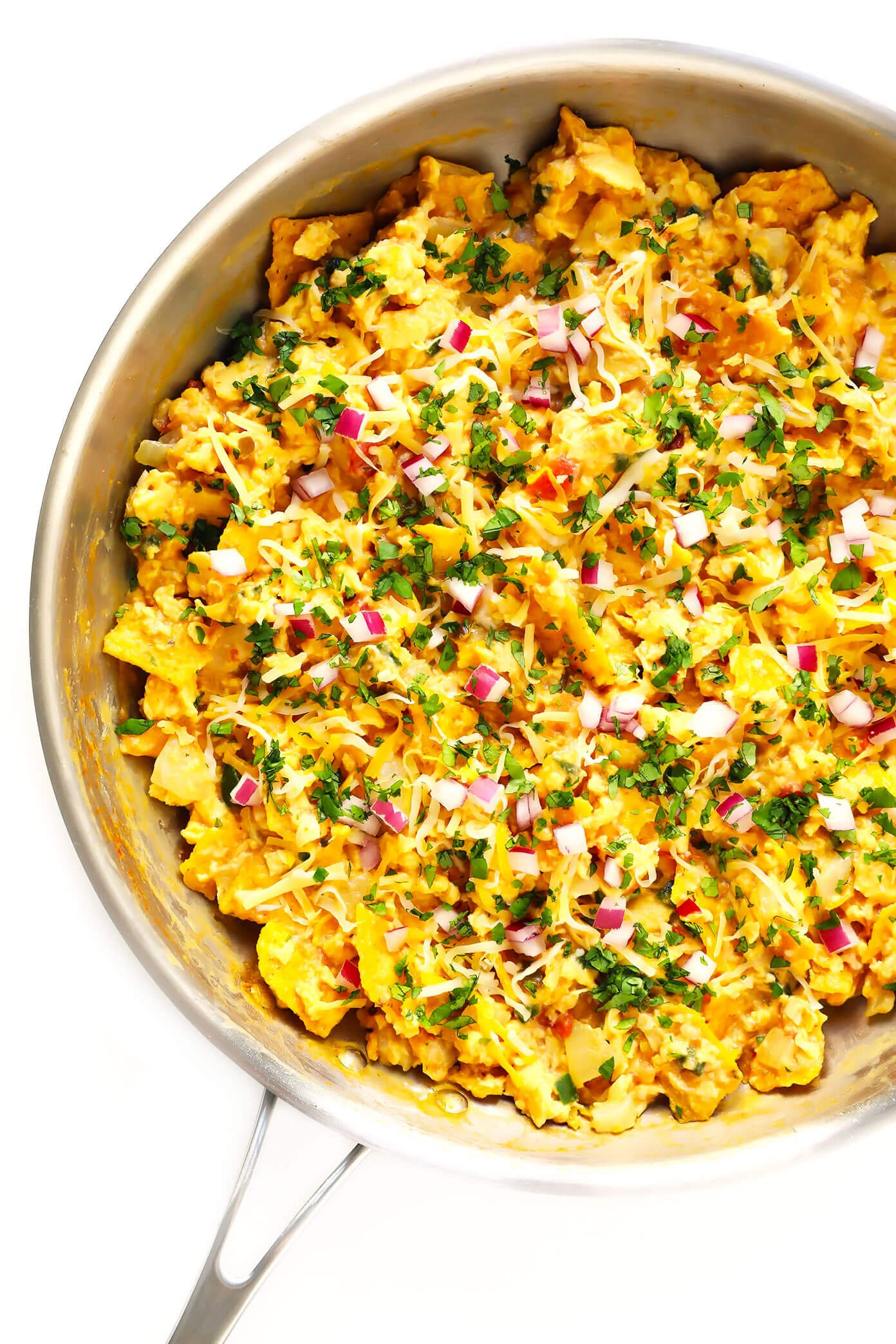 How To Make Migas:
As I said, these Tex-Mex migas are ridiculously easy to make. Simply:
Sauté the onion, jalapeño and garlic: In a large sauté pan, cook until they are nice and soft.

Add eggs: And slow scramble until they are cooked to your desired consistency.

Add cheese, tortilla chips and salsa: Stir until combined, then cook for 1 or 2 minutes to warm through.

Serve and garnish: Serve warm, and garnish with lots and lots of your favorite toppings!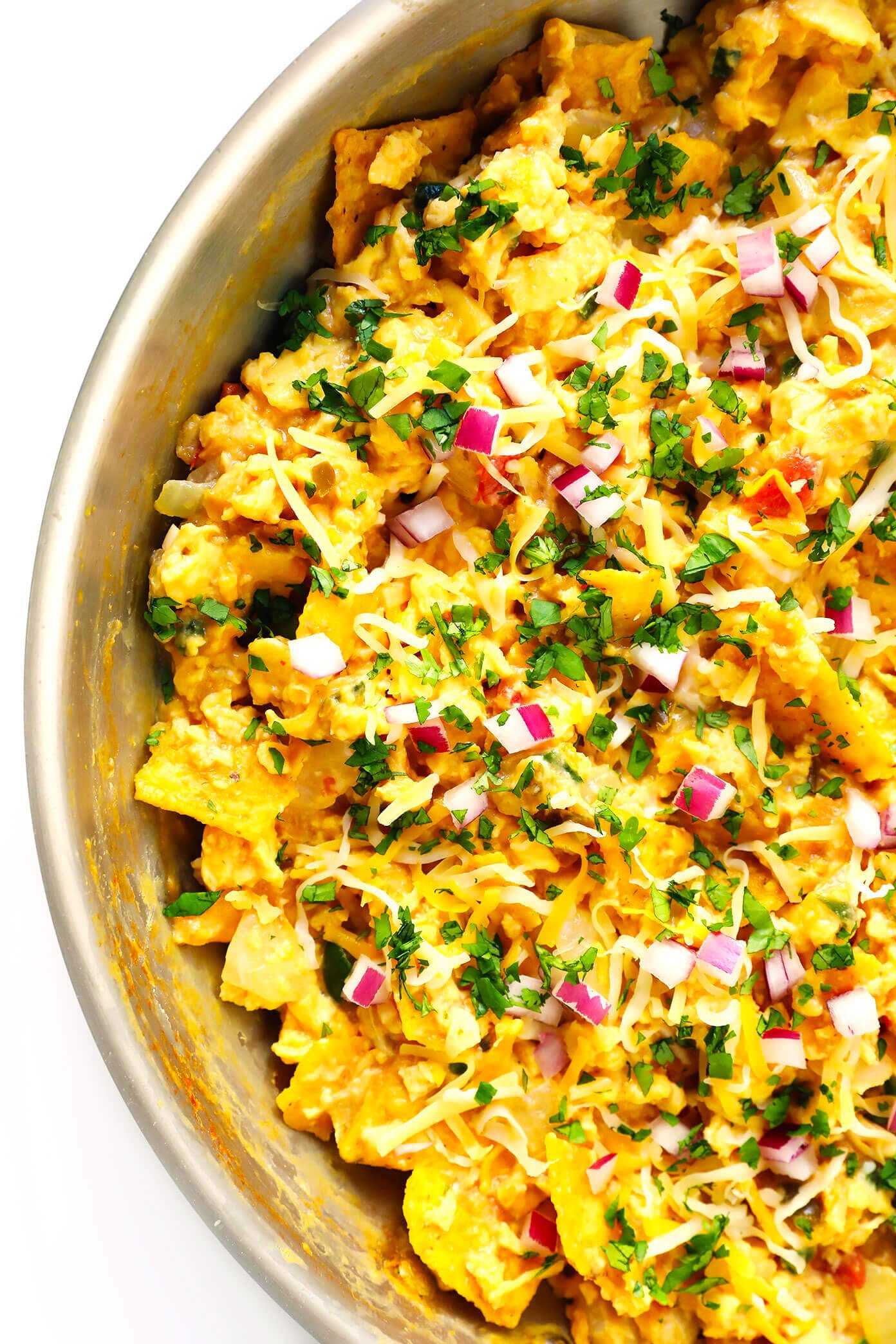 How To Serve Migas:
There are all sorts of ways you can serve up migas, including:
Plain: My favorite — just served up as below in a big bowl, with lots and lots of toppings.

Breakfast tacos: Serve your migas in corn tortillas to have migas tacos.

Breakfast burrito: Wrap your migas up in a big flour tortilla for an easy migas burrito.
Potential sides could also include:
Beans: Black or pinto beans are a traditional side in Texas, either served refried or soupy.

Fresh fruit or smoothie: The sweetness is a nice balance to the savory.

Iced coffee: My favorite side to go with migas in the morning. 😉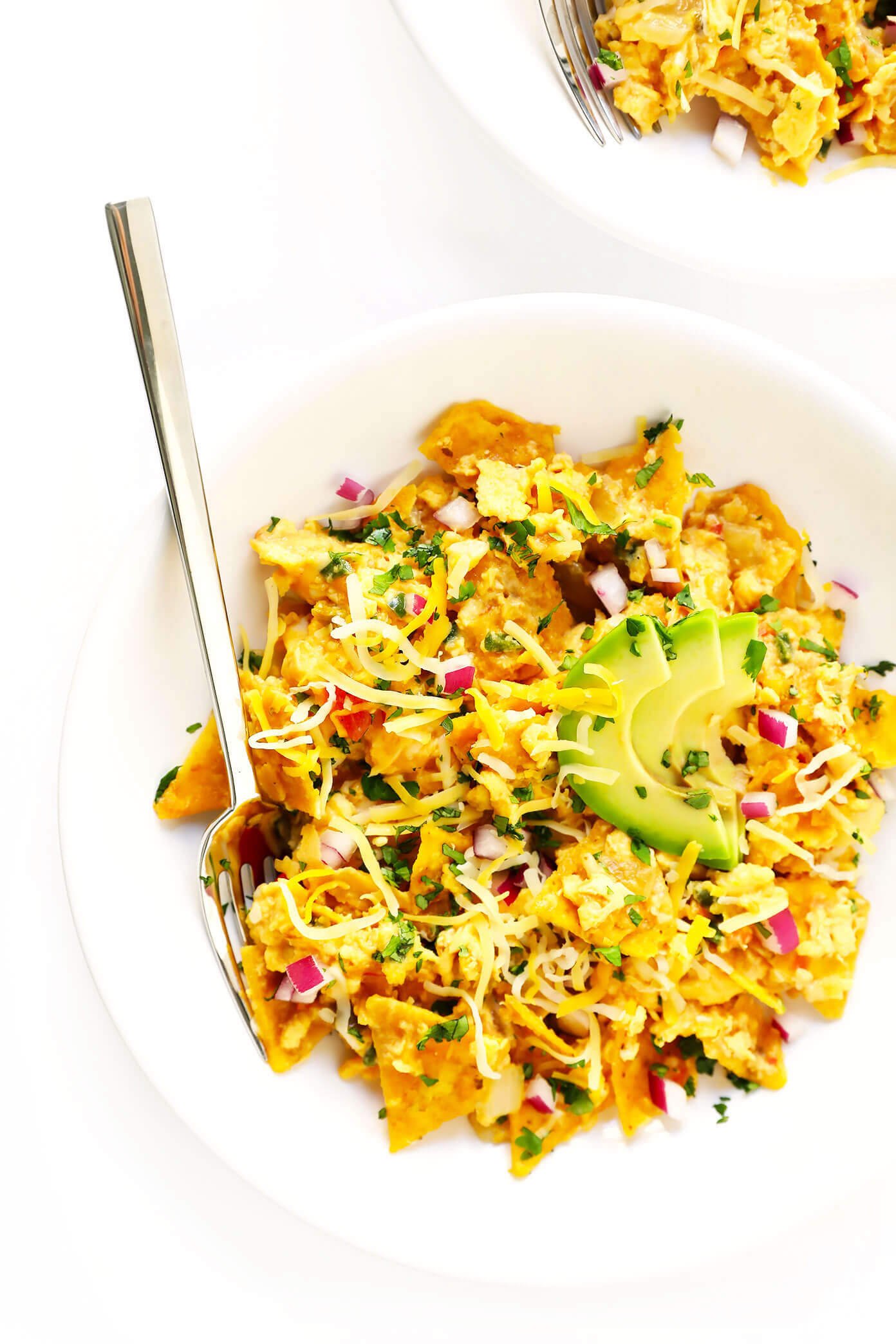 Print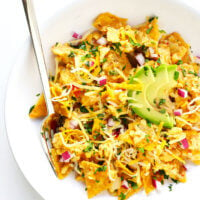 The Best Tex-Mex Migas Recipe

Prep Time: 8 minutes


Cook Time: 12 minutes


Total Time: 20 minutes


Yield: 0 About 4-6 servings 1x
---
Description
Tex-Mex styled migas are the ultimate breakfast comfort food…with a kick!
---
12

large eggs

1/4 cup

milk

1/2 teaspoon

 

each

: ground cumin, fine sea salt, freshly-cracked black pepper

1 tablespoon

olive oil

1

small white onion, peeled and diced

1

jalapeño, seeded and finely chopped

3

cloves garlic, minced

2

large handfuls corn tortilla chips, roughly crumbled

2/3 cup

salsa, homemade or store-bought

2/3

 cup shredded Mexican-blend cheese, plus extra for serving

toppings: chopped fresh cilantro, diced red onion, sliced avocado, diced tomato, extra salsa
---
Instructions
In a large bowl, whisk together eggs, milk, cumin, salt and pepper.  Set aside.

Heat oil over medium-high heat in a large sauté pan.  Add onion and jalapeño and sauté for 5 minutes, stirring occasionally, until the onion is soft and translucent.  Add garlic and sauté for 1-2 additional minutes, stirring occasionally, until the garlic is fragrant.

Add the egg mixture, and reduce heat to medium.  Cook for 5-6 minutes, stirring frequently, until the eggs are completely scrambled.  Stir in the tortilla chips, salsa and cheese.  Cook for 2 minutes, stirring occasionally.  Taste and season with extra salt and pepper if needed.

Serve warm, garnished with your desired toppings.  (I say the more, the merrier!)
---
Notes
*Recipe updated in July 2018.