This recipe is sponsored by Old El Paso.
Oh my goodness, these potatoes.
I know that I write about food all the time, but I don't even know where to begin telling you about the freaking magic that is this Tex-Mex Mashed Potatoes recipe. Let me just advise you to run, not walk, to your local market and pick up some spuds to try them tonight.  Or hey, if you're feeling like mixing things up a little for Thanksgiving in two weeks, I can pretty much promise you now that every single guest will thank you tremendously.
Because I'm pretty sure these potatoes are going to change your life.
Or at least, they definitely changed mine. 😉
Strangely enough, even with my lifelong obsession with Mexican food, it had never even occurred to me to try a Mexi twist on mashed potatoes until I first visited Abuelo's while living in Dallas. First, I fell madly in love with their salsa, which is my barometer for any good Mexican restaurant, so I knew this place had promise. But when I ordered my entree, I distinctly remember being surprised when the waiter asked if I wanted rice, beans, or "papas con chile". Potatoes?! At a Mexican restaurant?? He assured me they were one of the most popular items at the restaurant, so I gave them a try…and then promptly asked for extras to-go. Their Tex-Mex potatoes were brilliant!!!  And they still are, actually. One of the first things I noticed upon moving to Kansas City 10 years ago was that there was actually another Abuelo's on the north side of town. And while I usually eat local when it comes to Mexi food, I regularly drag just about everyone I know up north so that we can eat their potatoes and salsa. Life = changing.
Of course, the recipe developer in me has been meaning to try whipping up a homemade version of these for years. And after a few close-but-not-quite attempts, I'm happy to report that I finally nailed it.  And then promptly texted all of my friends pictures and emojis and bitmojis to spread the good news. Annnnd then promptly made another batch "just to be sure".
I'm sure. And I'm pretty positive you're surely going to love them just as much as I do.
So, as Barclay likes to say, close your eyes and think really hard right now about how your life is before these potatoes…because it's about to be changed. 🙂
MmmmmYES. I can hardly upload these photos without already wanting to make another batch.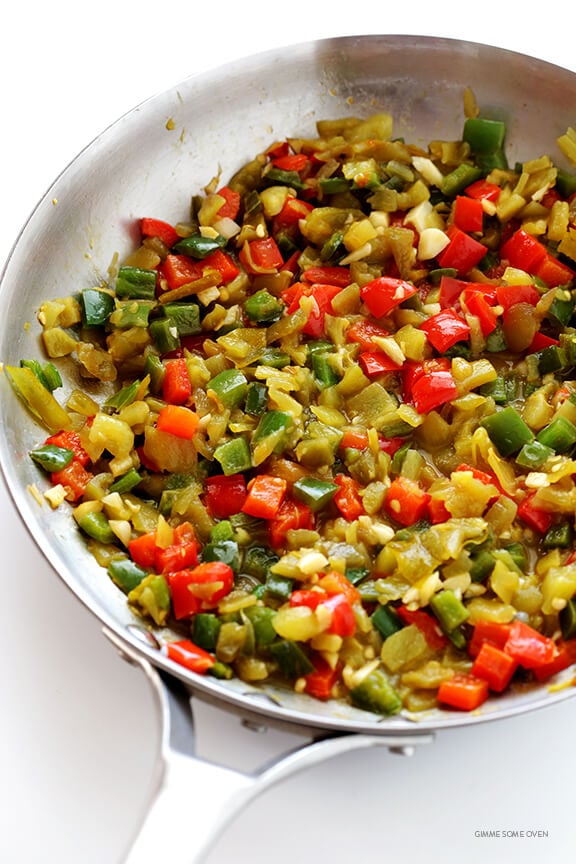 So the key to these potatoes is, of course, all of the Tex-Mex magic thrown inside. Namely, green chiles.  You're going to use two entire cans of Old El Paso chopped green chiles for this recipe, and I'm convinced that their subtle heat and flavor absolutely make this dish. Just saute them with some red and green bell peppers and a bit of onion. (And if you want some extra heat, like I did, saute a seeded jalapeno with everything too!)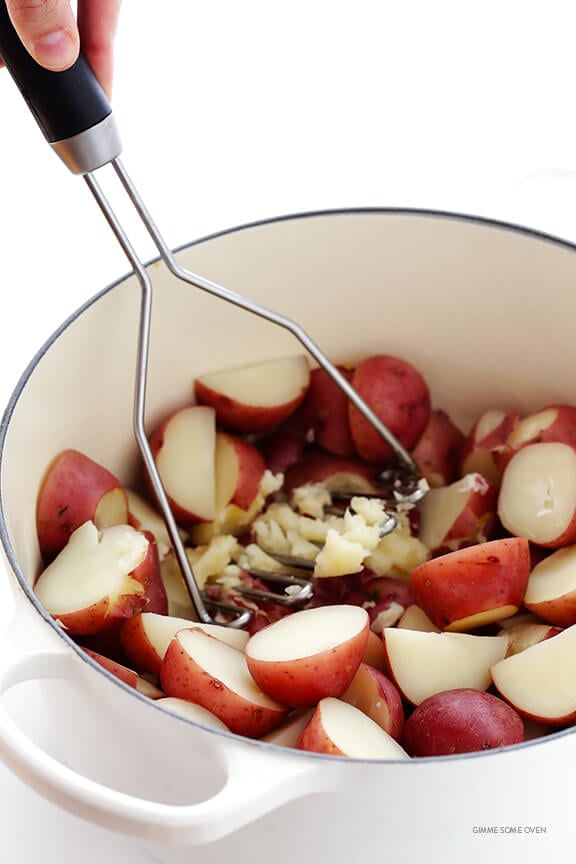 Then boil a few pounds of red potatoes until they're nice and soft. (And I highly recommend leaving the skins on for extra nutrition and color, but that's up to you.)
Mash 'em up, and then stir in the green chile mixture along with some milk and sharp cheddar cheese…
…and then take a bite. And — poof! — I'm pretty sure your life is never going to be the same again. 🙂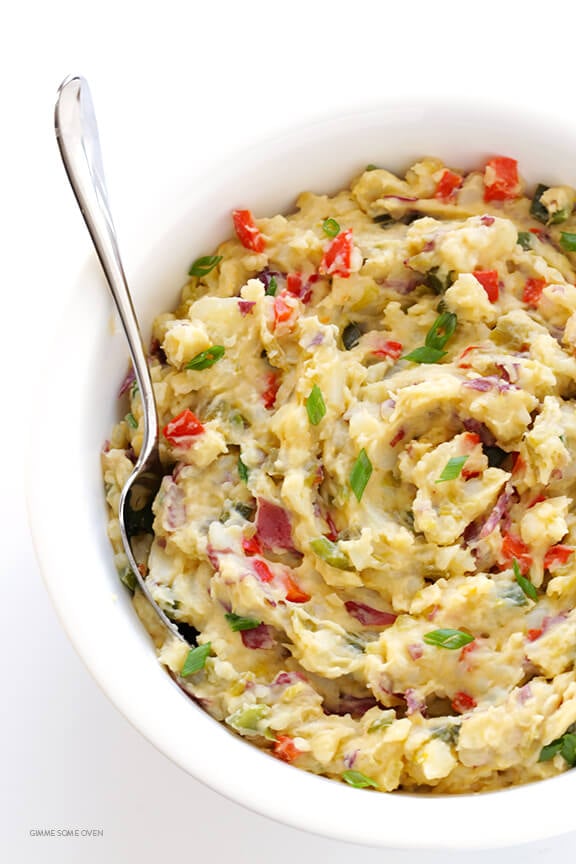 Seriously, as much as I love traditional mashed potatoes (especially my slow cooker mashed potatoes), there's really no contest once you add some Tex-Mex flavors to the mix. So flavorful, so simple to make, and SO GOOD.
Happy mashing! 🙂
Print

Tex-Mex Mashed Potatoes

Prep Time: 15 minutes


Cook Time: 20 minutes


Total Time: 35 minutes


Yield: 8 servings 1x
---
Description
These Tex-Mex Mashed Potatoes (a.k.a. Papas Con Chile) are simple to make, naturally gluten-free, full of the most amazing flavors, and MUY delicioso!
---
3

pounds red (or Yukon Gold) potatoes, roughly cut into

1

-inch pieces

4 tablespoons

(¼ cup) butter, divided

1

small white onion, peeled and diced (about

1 cup

)

1

small green bell pepper, cored and diced (about

1 cup

)

1

small red bell pepper, cored and diced (about

1 cup

)

1

jalapeno, seeded and finely diced

2

(4-ounce) cans Old El Paso chopped green chiles

1 ½ cups

shredded sharp cheddar cheese

¾ cup

milk, warmed (add more if needed)

1 teaspoon

salt, or more to taste

½ teaspoon

black pepper, or more to taste

(optional toppings: thinly-sliced green onions, extra shredded sharp cheddar cheese)
---
Instructions
Add potatoes to a large stockpot and cover with water.  Heat over high heat until the water reaches a boil.  Reduce heat to medium-high and continue boiling until the potatoes are fork-tender (can mash easily with a fork).  Drain, and then return the potatoes to the stockpot.

Meanwhile, while the potatoes are cooking, heat 1 tablespoon butter in a large saute pan over medium-high heat until melted.  Add onion and saute for 5 minutes, or until soft and translucent, stirring occasionally.  Stir in green bell pepper, red bell pepper, and jalapeno, and continue cooking for another 4-5 minutes or until the peppers are soft and cooked through, stirring occasionally.  Stir in the green chiles.  Remove pan from heat and set aside.

When the potatoes are cooked and ready, add in the onion mixture, cheese, milk, salt, pepper, and the remaining 3 tablespoons of butter (cut into small pieces) to the stockpot.  Then use a potato masher to mash the potatoes and stir the mixture together until combined.  Taste, and season with additional salt and pepper if needed, and feel free to add in extra warmed milk if you would like creamier potatoes.

Serve warm, garnished with chopped green onions and/or extra shredded cheese if desired.
---
This post is sponsored by Old El Paso. I am partnering with them this year to develop some tasty new Mexican recipes — my FAVORITE — and all opinions are my own as always. Thanks for continuing to support the brands who help make this blog possible!