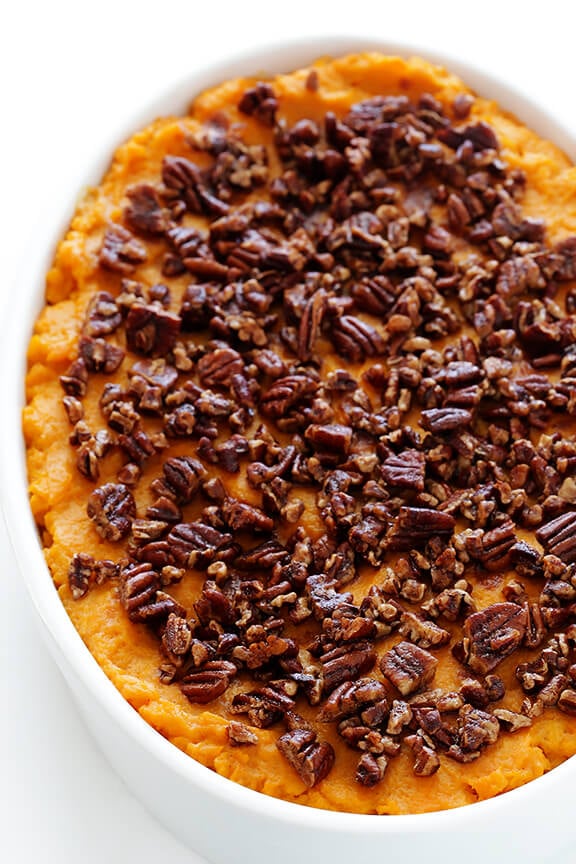 What's chocked full of gorgeous sweet potatoes, naturally-sweetened, made with lighter ingredients, sprinkled with a tasty crunchy pecan topping, and deliciously marshmallow-free?
THIS sweet potato casserole recipe, that's what.
Oh my goodness, for the first few decades of my life, I didn't even think I liked sweet potato casserole because of the killer-sweet marshmallow bombs that usually graced the buffet on Thanksgiving. I mean, I love a good toasted marshmallow on a s'more as much as the next girl. But it wasn't until finally nixed the puffy white topping and tried making a naturally sweet potato casserole that this dish finally made sense to me.
And as it turns out, when made with a few healthier ingredients (including a few tweaks that make this recipe naturally vegan and gluten-free), I think it's even more delicious than the original.
Who wants some?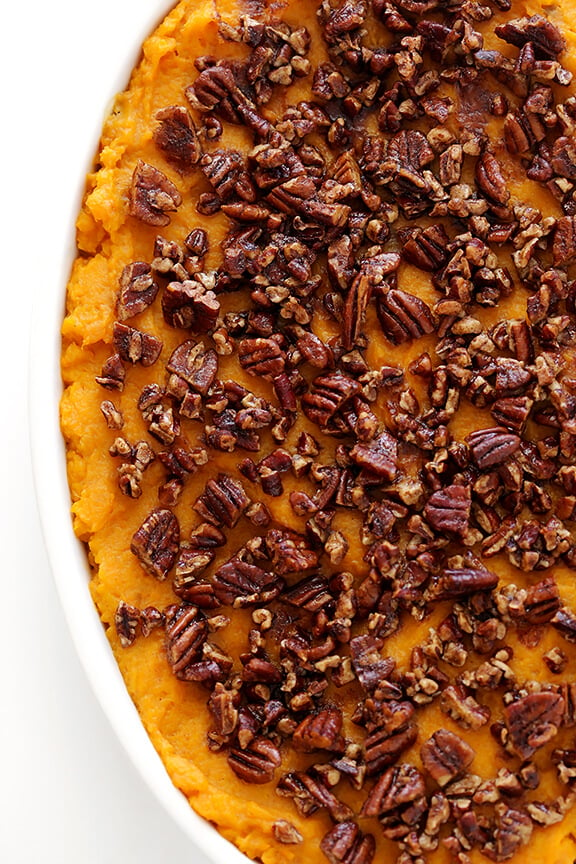 Really, the best news about sweet potato casserole is that you can customize the dish just about however you'd like. Just mash up your sweet potatoes with your desired ingredients — however sweet or savory you'd like — and then top them with whatever sounds good!
If it were up to me, I'd probably go with a 100% savory sweet potato casserole recipe, maybe just mashed with some seasoned salt and smoked paprika for flavor, and topped with some toasted pecans. But I'm guessing that most people are still craving the cinnamon-and-sugary classic dish, so don't fear — I wrote this recipe for you! There's still plenty of cinnamon, but the cup of sugar is swapped out for just a hint of delicious maple syrup, which complements the sweetness of the potatoes perfectly. Then when mashed with a few other healthier ingredients, and sprinkled with an easy maple-cinnamon pecan topping, I'm tellin' you — no one is even going to miss those marshmallows. 😉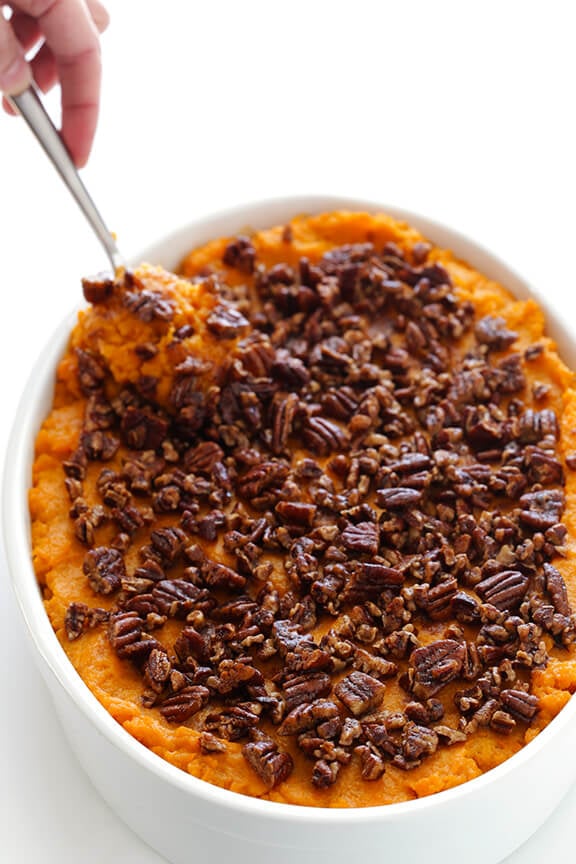 Another bonus? This sweet potato casserole recipe is naturally vegetarian/vegan and gluten-free. So hopefully even more people at your Thanksgiving feast will be able to enjoy it with you.
So cheers to being able to actually taste and see the sweet potatoes in our sweet potato casseroles this year!!
Print

Sweet Potato Casserole

Prep Time: 10 minutes


Cook Time: 30 minutes


Total Time: 40 minutes


Yield: 10 –12 servings 1x
---
Description
This Sweet Potato Casserole recipe is easy to make, it's naturally sweetened with a hint of maple syrup (no marshmallows!), it's vegetarian and gluten-free, and it's SO delicious!
---
Sweet Potato Casserole Ingredients:
4

pounds sweet potatoes, peeled and chopped into large chunks

1 cup

milk, warmed (I used 2%, but any milk will work)

2 Tablespoons

butter (or coconut oil, to make this vegan)

1

–

2

Tablespoons maple syrup, to taste

1 teaspoon

ground cinnamon

1 teaspoon

salt

1/2 teaspoon

black pepper

maple cinnamon pecan topping (see below)
Maple Cinnamon Pecan Topping:
1 cup

 chopped raw pecans

1 Tablespoon

maple syrup

1 teaspoon

ground cinnamon

1/4 teaspoon

salt

pinch of cayenne (optional)
---
Instructions
To Make The Sweet Potato Casserole:
Preheat oven to 375°F.

Add sweet potato chunks to a large stockpot and cover with water.  Heat over high heat until the water reaches a boil.  Reduce heat to medium-high and continue boiling until the potatoes are fork-tender (can mash easily with a fork).  Drain, and then return potatoes to the stockpot.

Add in the warmed milk, maple syrup, butter, cinnamon, salt and pepper.  Use a potato masher to mash the potatoes, and stir the mixture together until everything is well-combined and the potatoes reach your desired level of smoothness.

Transfer the potato mixture into a baking dish, then top with the maple cinnamon pecan topping.

Bake for 12-15 minutes, or until the pecans are toasted and fragrant.

Serve warm.
To Make The Maple Cinnamon Pecan Topping:
Stir all ingredients together until combined.
---