These magical Oaxacan Cheese Quesadillas only take about 3 minutes to make, and are made with 3 surprise ingredients that pack in some BIG delicious flavors!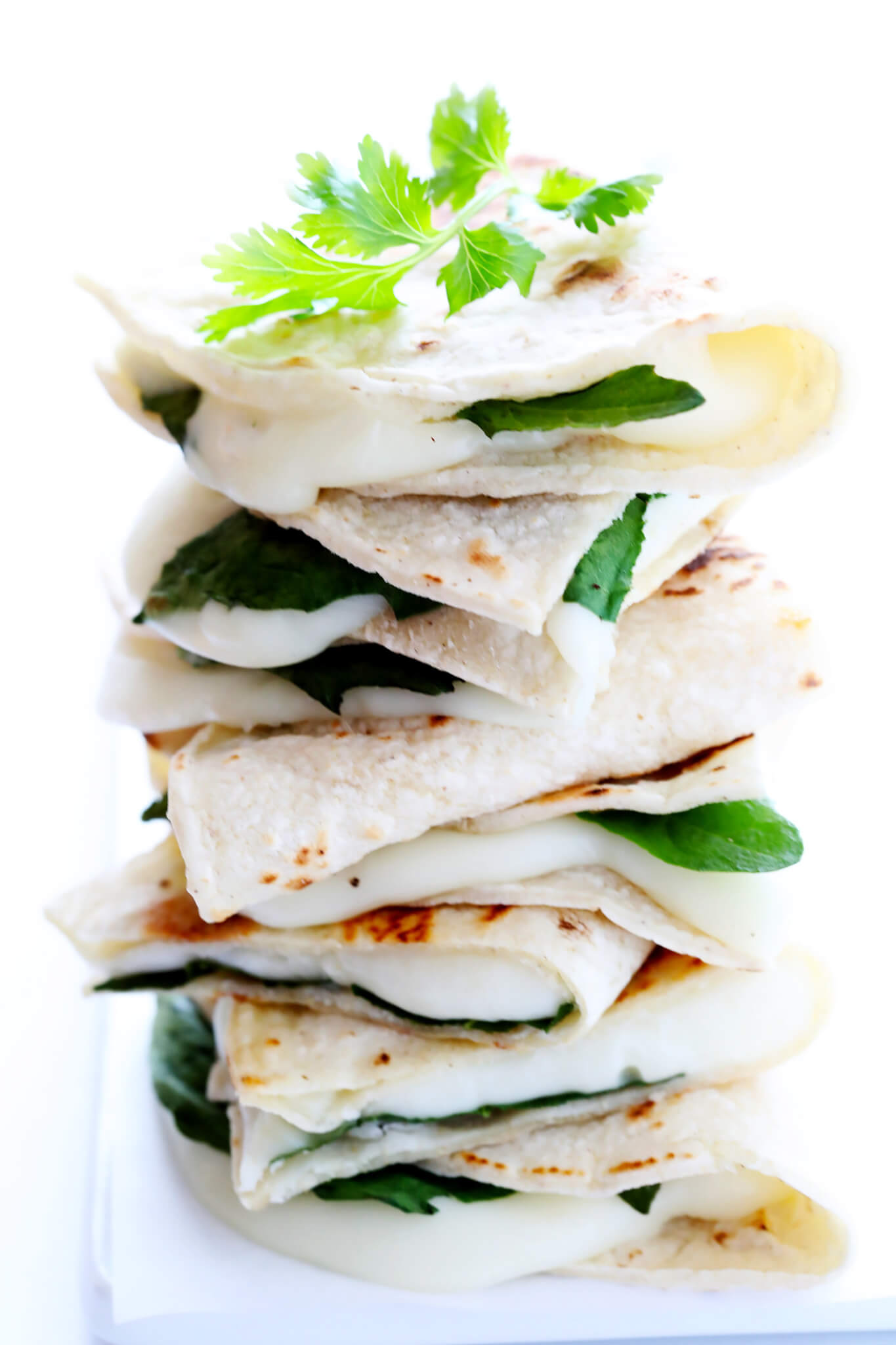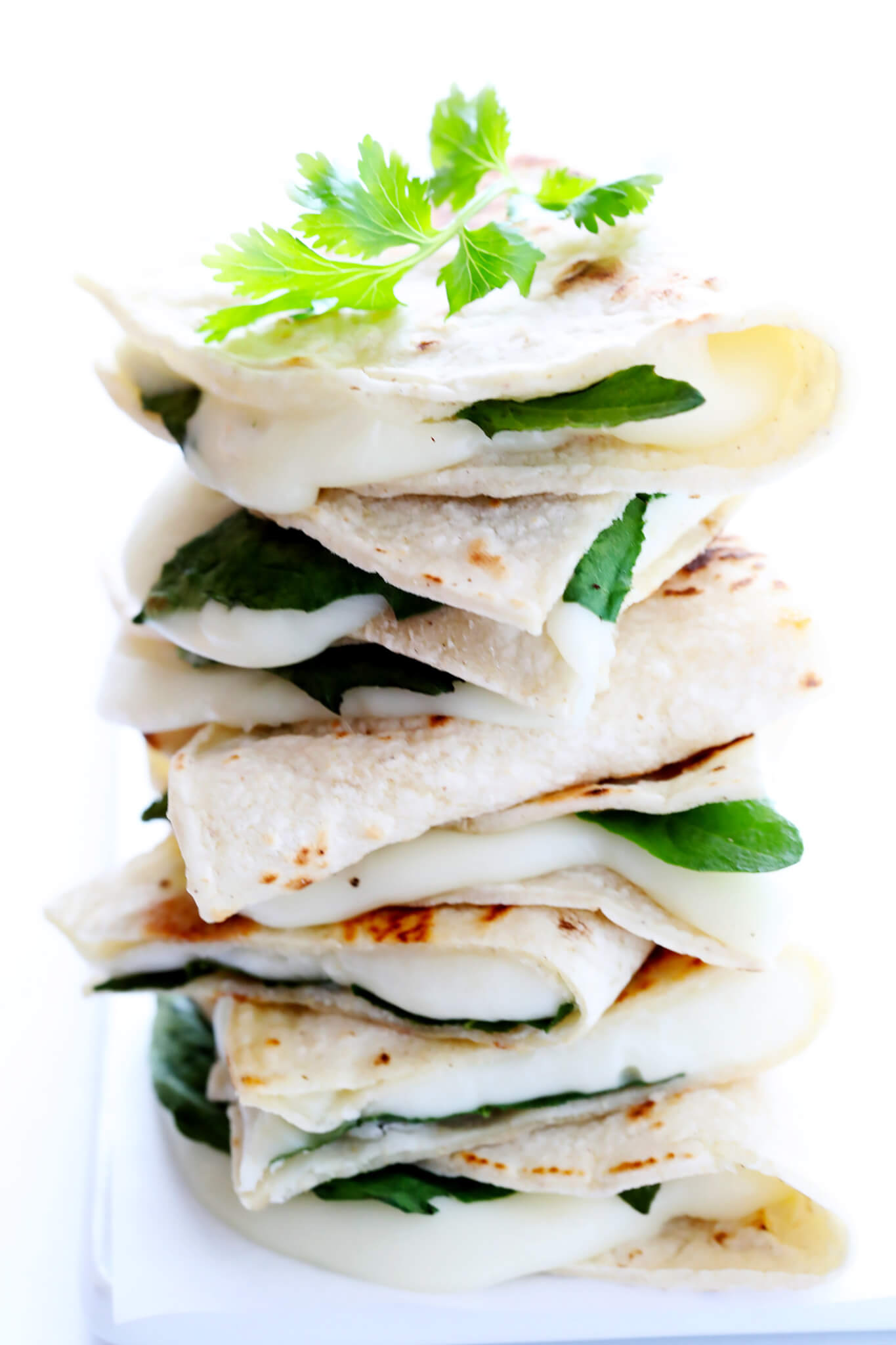 Ever since our honeymoon in Oaxaca, I have been on a mission to re-create all of the stellar Mexican breakfast dishes that we had for breakfast there each morning.
I think I've nailed enfrijoladas and enchiladas and chilaquiles (<– coming soon!). I've been making various versions of Mexican omelettes for years. I'm coming along on my huevos rancheros and sopes and molletes. Whenever I have the patience to make my favorite mole sauce again, I'm anxious to try some enmoleadas.
But to be honest, one of our surprise favorite breakfasts on our honeymoon ended up being one of the absolute simplest meals they offered:
Oaxacan Cheese Quesadillas
But oh — before you turn away and move onto a more exciting recipe, let me just assure you — these were anything but your typical cheese quesdaillas. Thanks to two surprise ingredients in there, these basic little quesadillas had every hotel guest going from "meh" to "omg, ¡más, por favor!", and were easily one of the most popular menu items at the restaurant. Even better? They each take less than 3 minutes to make and call for just 3 main ingredients.
Can you guess the secret ingredients?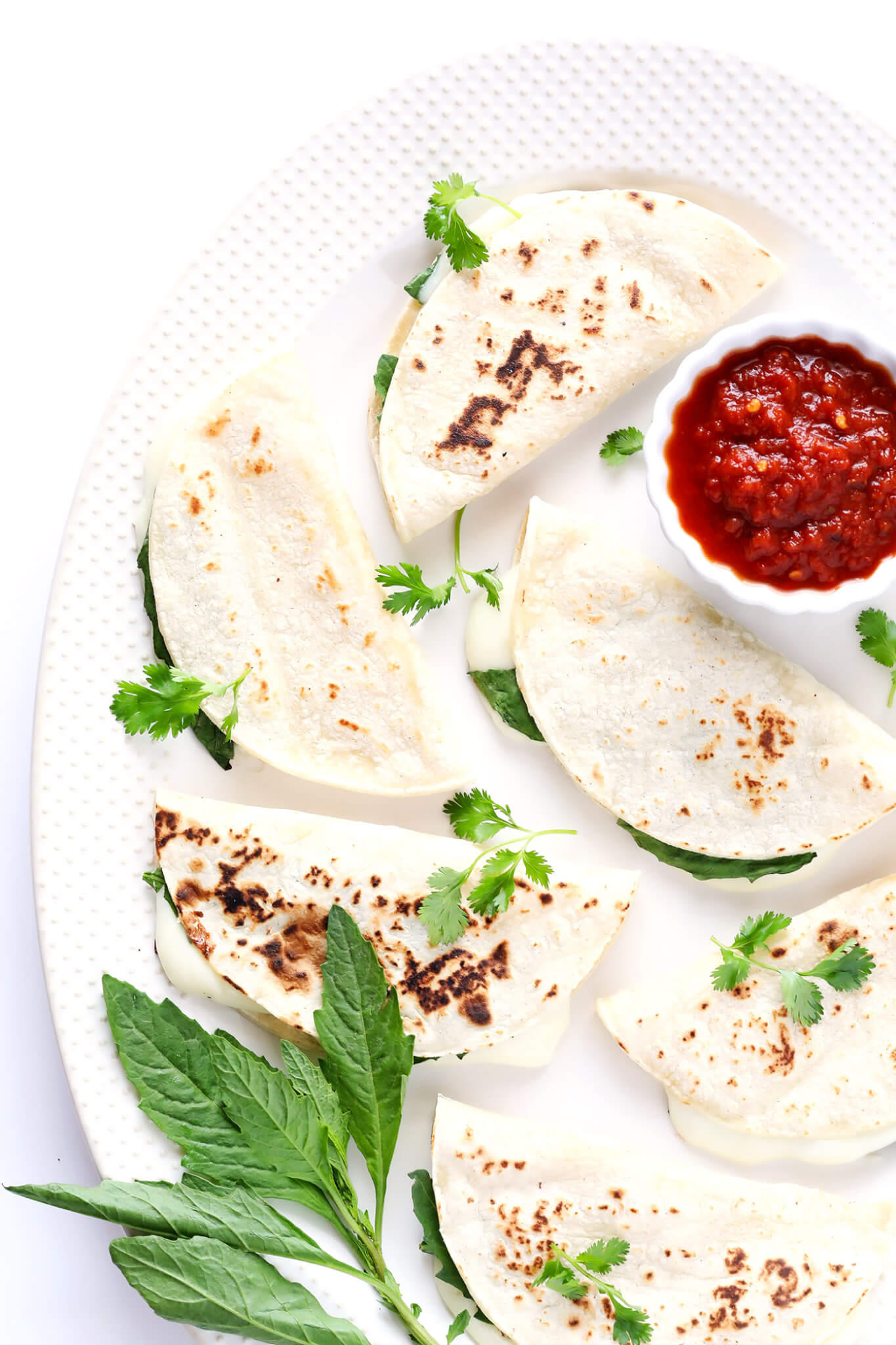 Well, coming from Oaxaca, the first ingredient may not come as a total surprise — queso de Oaxaca!
Have you guys tried Oaxaca cheese before?!
Ever since this trip, it has become an absolute staple in my fridge. It's a magical cheese that tastes like the best fresh mozzarella, it pulls apart like string cheese if you're wanting a fun snack, and it melts like an absolute dream. Oh, and it comes all rolled up in this fun little coil, so all you need to do is cut off a little 2-inch piece to pop inside of your quesadillas. SO delicious.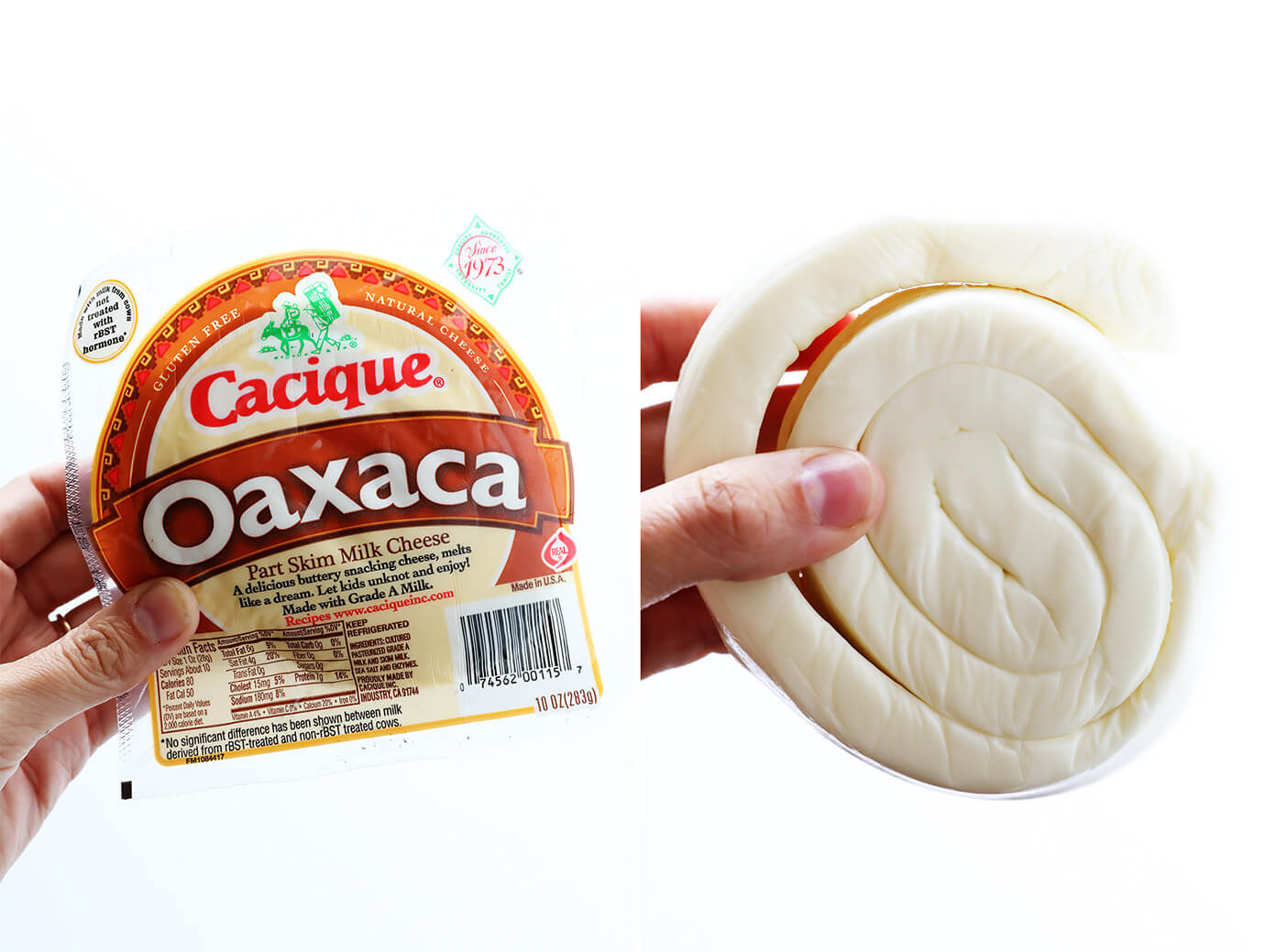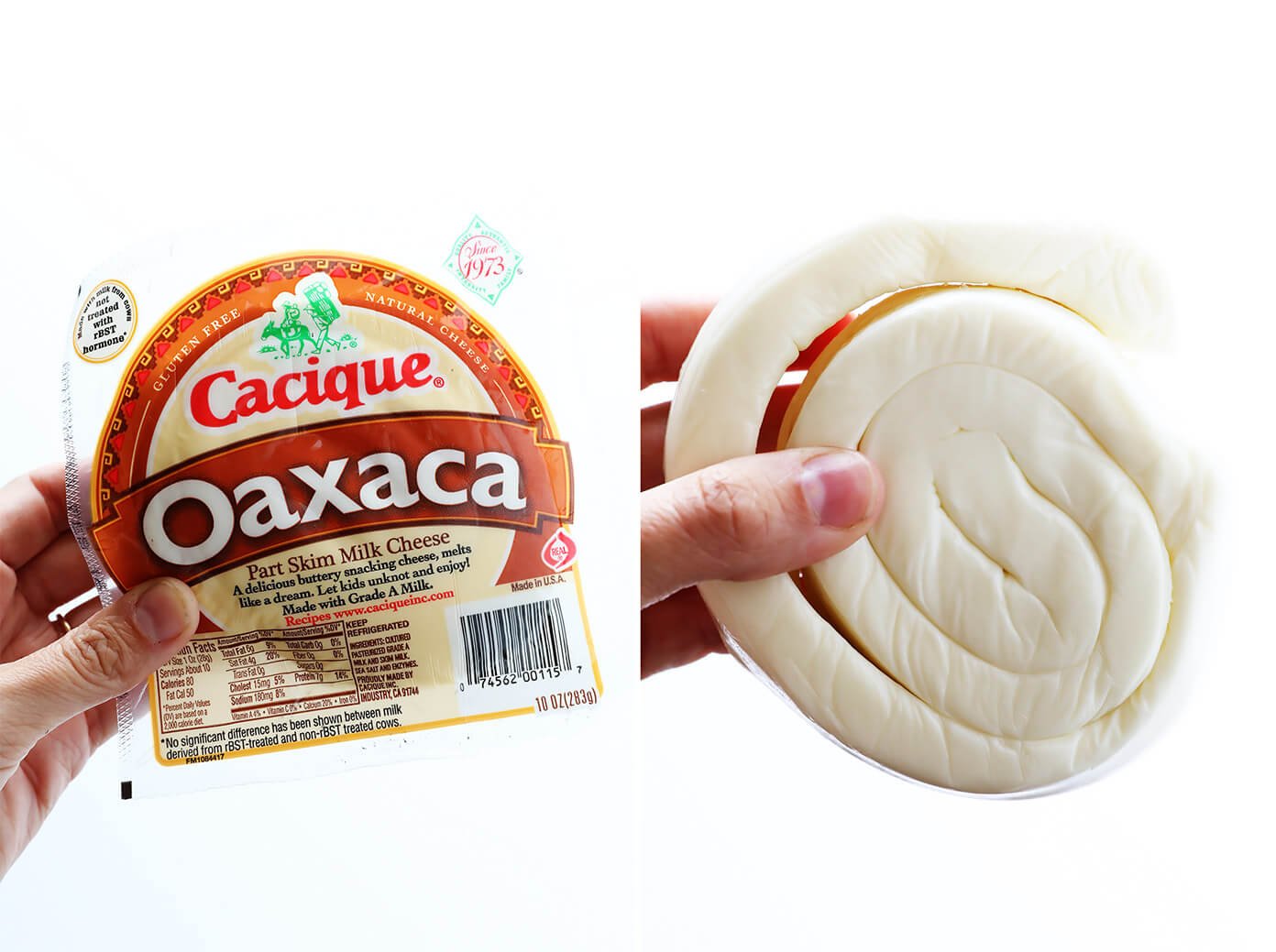 Then the other surprise ingredient?
Fresh epazote. ? ? ?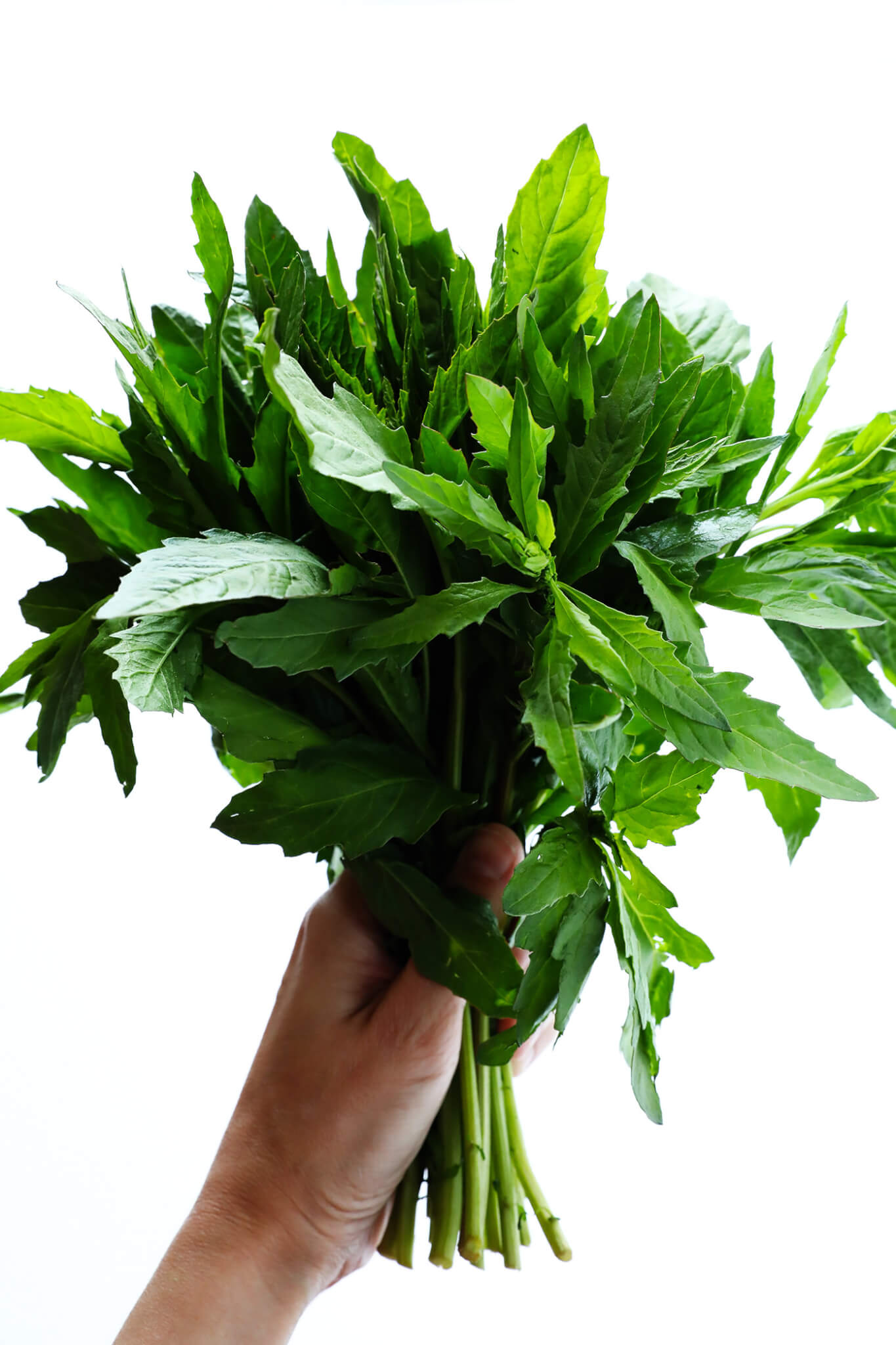 Without a doubt, these simple little leaves — which pack big flavors — were the starring ingredient of these quesadillas.
In case you're unfamiliar with epazote, it's an herb that's popular in southern Mexican cooking with a very distinctive flavor that tastes like some crazy combination of basil, oregano, anise, citrus, pine, mint, and mustard greens. It's often cooked with black beans in Mexico and Central America because of its carminative properties, which help to relieve the gassy properties of the "magical fruit". And in Oaxaca, it also happens to be a very popular ingredient in cheese quesadillas!
In the United States, you can usually find fresh epazote bunches near the fresh cilantro or parsley in the grocery stores (especially in Latino-focused grocery stores). Or dried epazote is also available in jars, but honestly I would recommend using mostly fresh cilantro plus just a little sprinkle of the dried epazote if you can't find it fresh.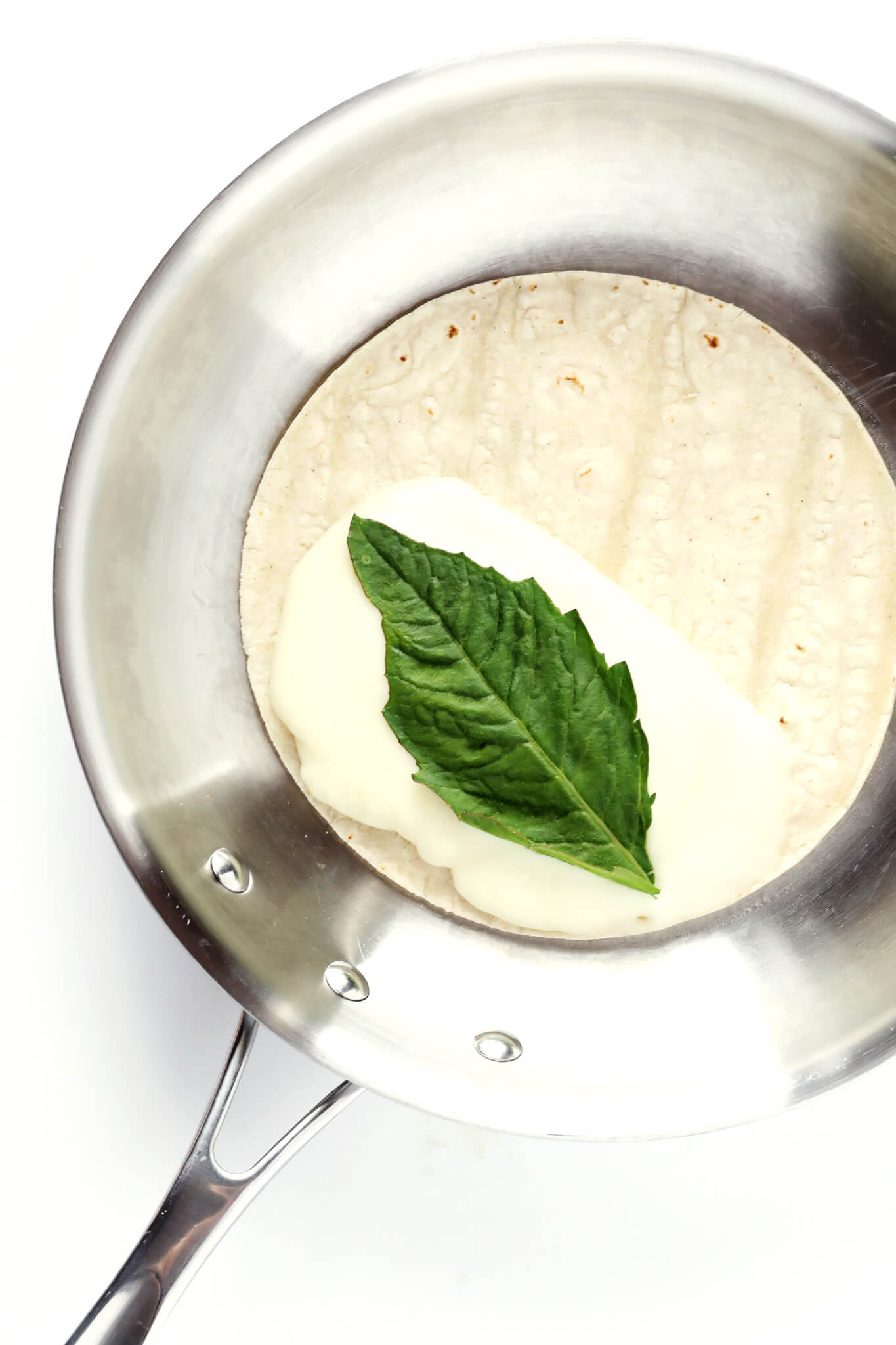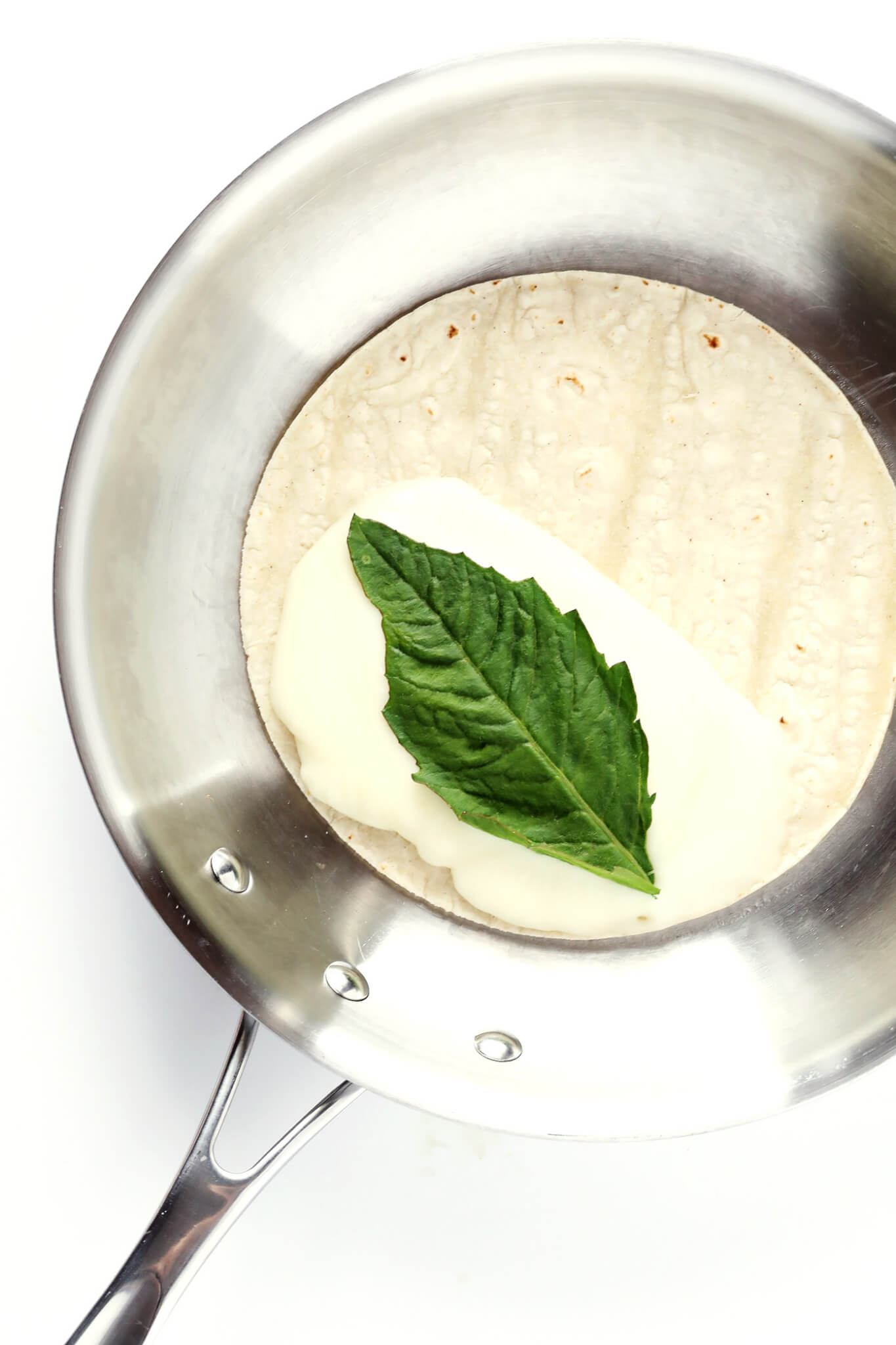 Then just grab some corn tortillas (or flour, if you insist), and you're ready to go!
To make the quesadillas, heat some melted butter or oil in a small sauté pan. Then add a tortilla, topped with a few inches of the Oaxaca cheese and a fresh epazote leaf or two. Cook the tortilla briefly until the cheese begins to melt. Then fold it up and cook the quesadilla on each side for 30 seconds or so until the tortilla gets a little crispy and the cheese is melted.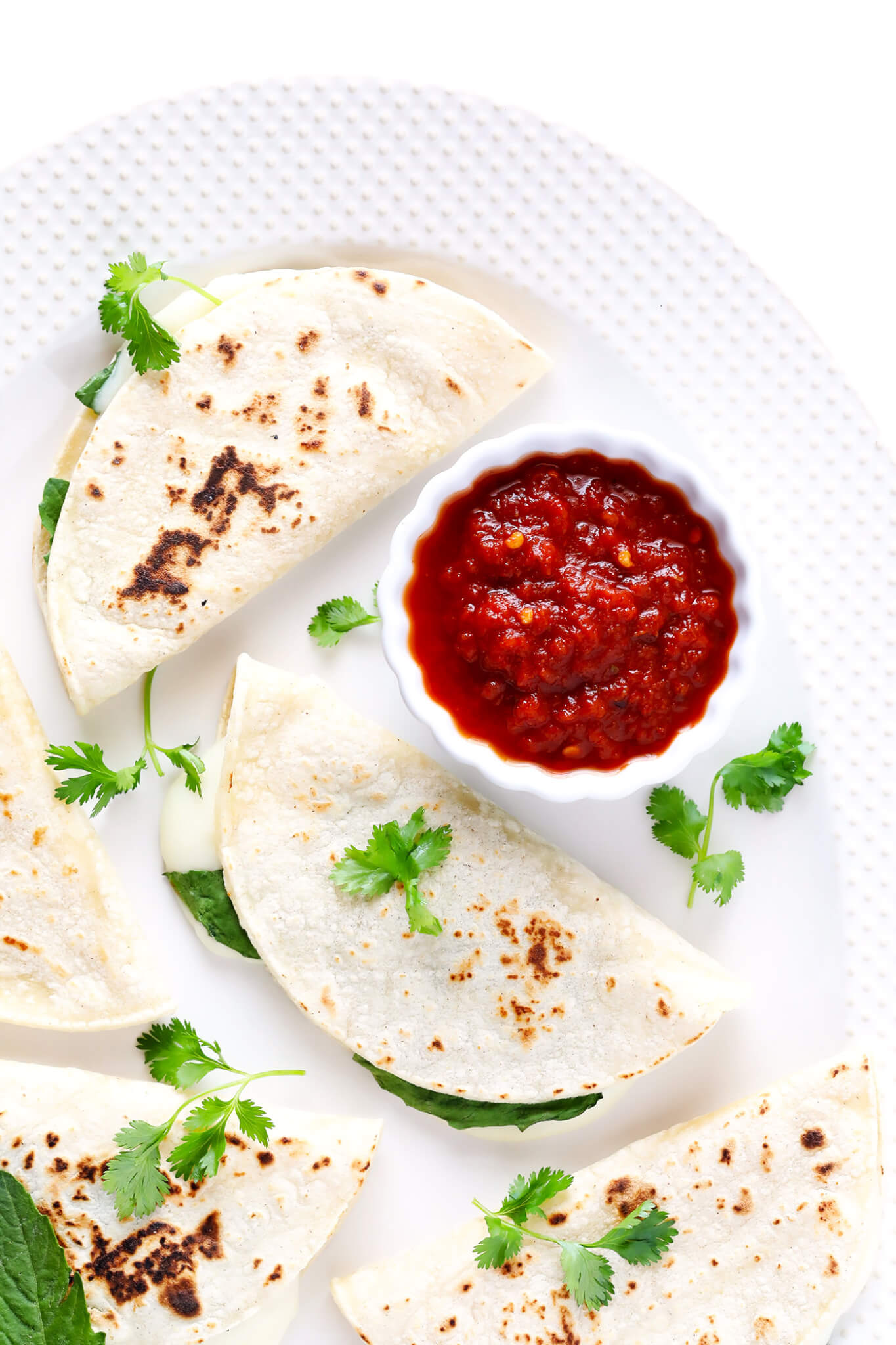 Then serve it up with your favorite salsa for dipping, and…that's it! SO simple!!!
And as you'll find once you take a bite…also SO flavorful.
Seriously, I love nothing more than a fully-loaded quesadilla. But between that power-packed epazote, and creamy Oaxaca cheese, and crispy corn tortilla, these plain Oaxacan cheese quesadillas really do stand on their own.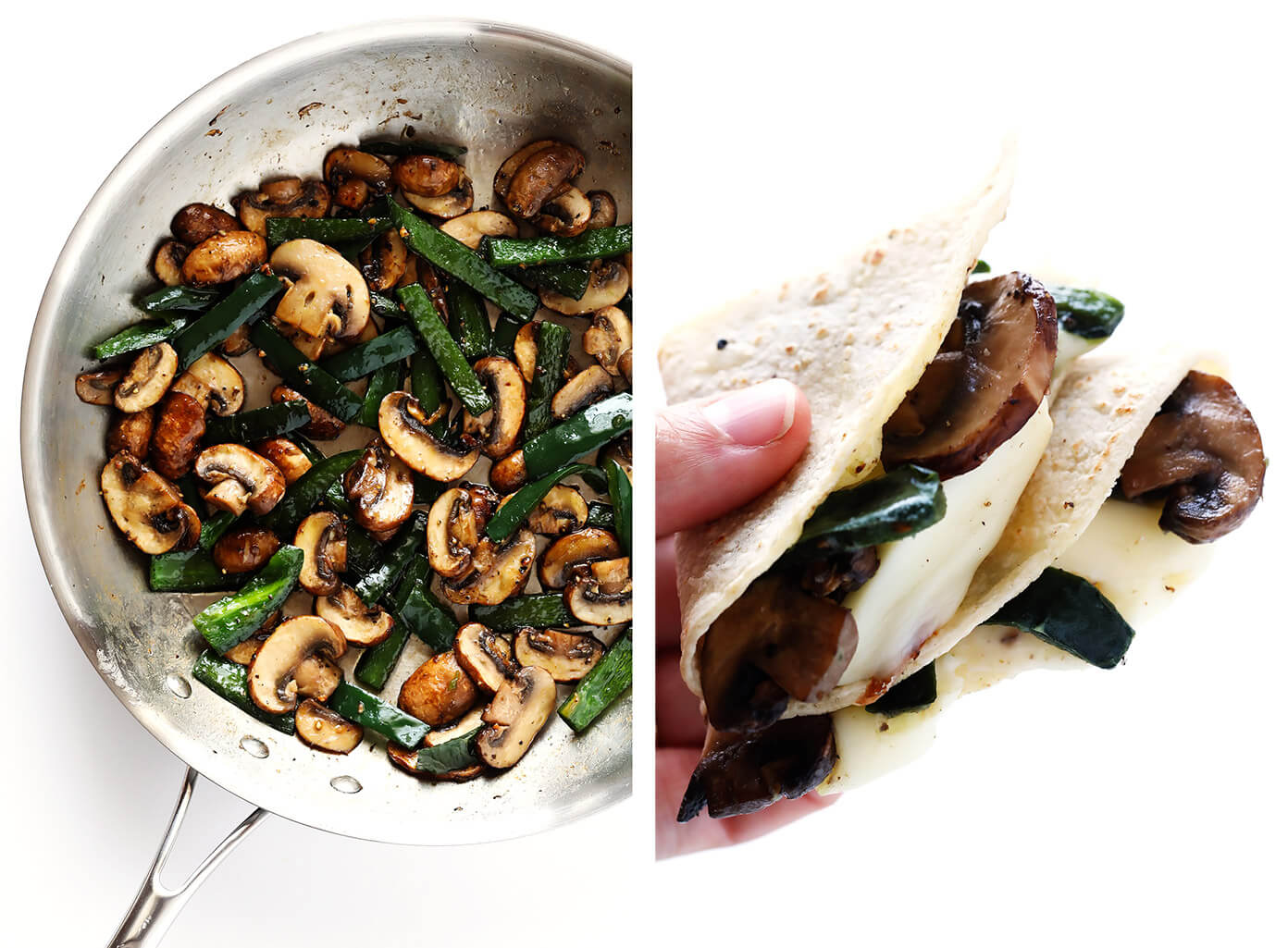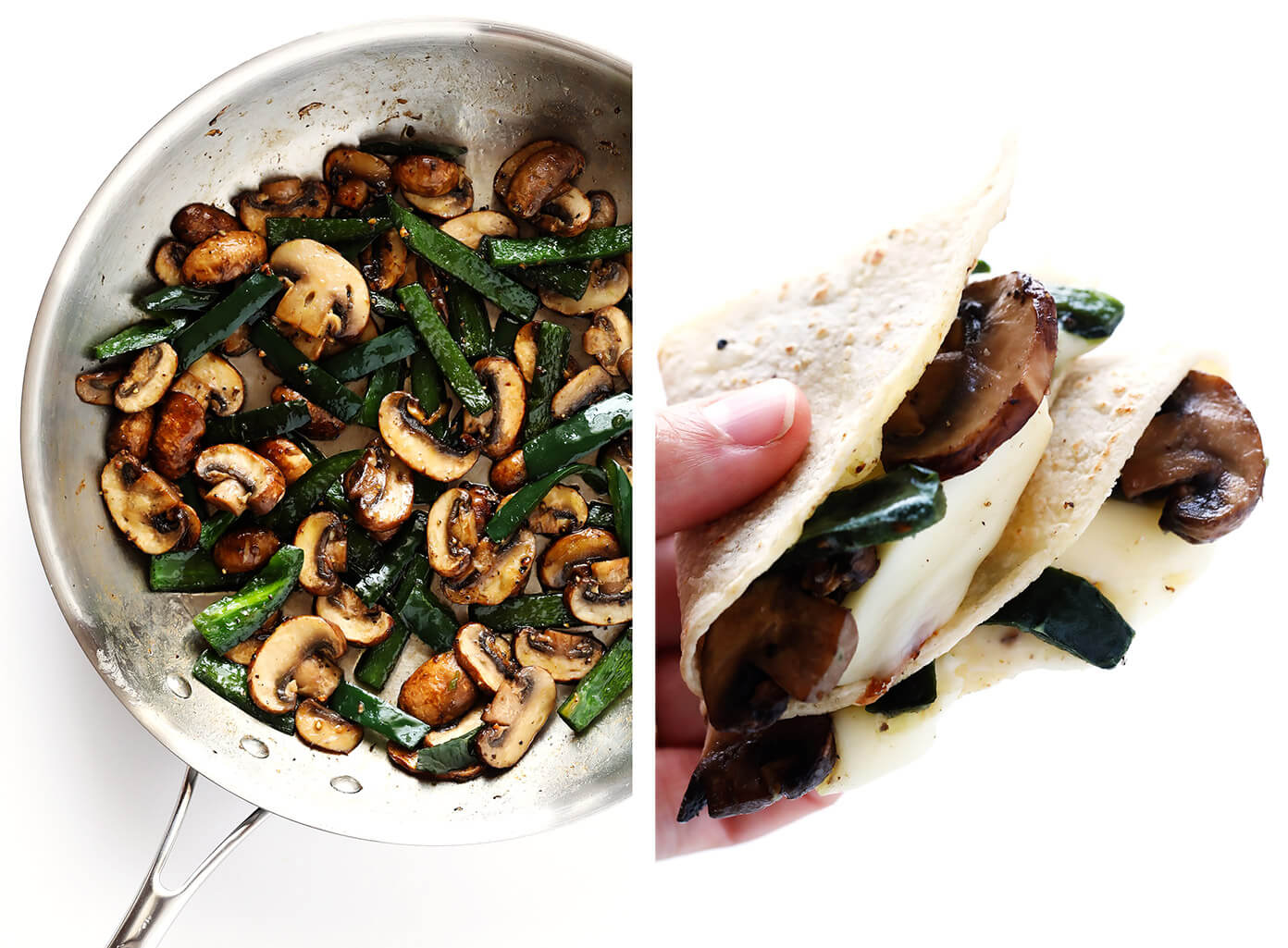 Or…of course…you could toss in some of your favorite add-ins. I made a batch last week with sautéed mushrooms and poblano, which were delicious. And tried another batch last month with shrimp and kale and avocado, which were awesome. But Barclay and I have been serving just the plain quesadillas at our little mezcal parties that we've been hosting since our honeymoon (to share the mezcal we brought home from our trip with friends!)…and the quesadillas have been a hit every time. (Ha, also, those parties usually involve a round of epazote show-and-tell, since the #1 question we get from people is asking what's in those quesadillas!)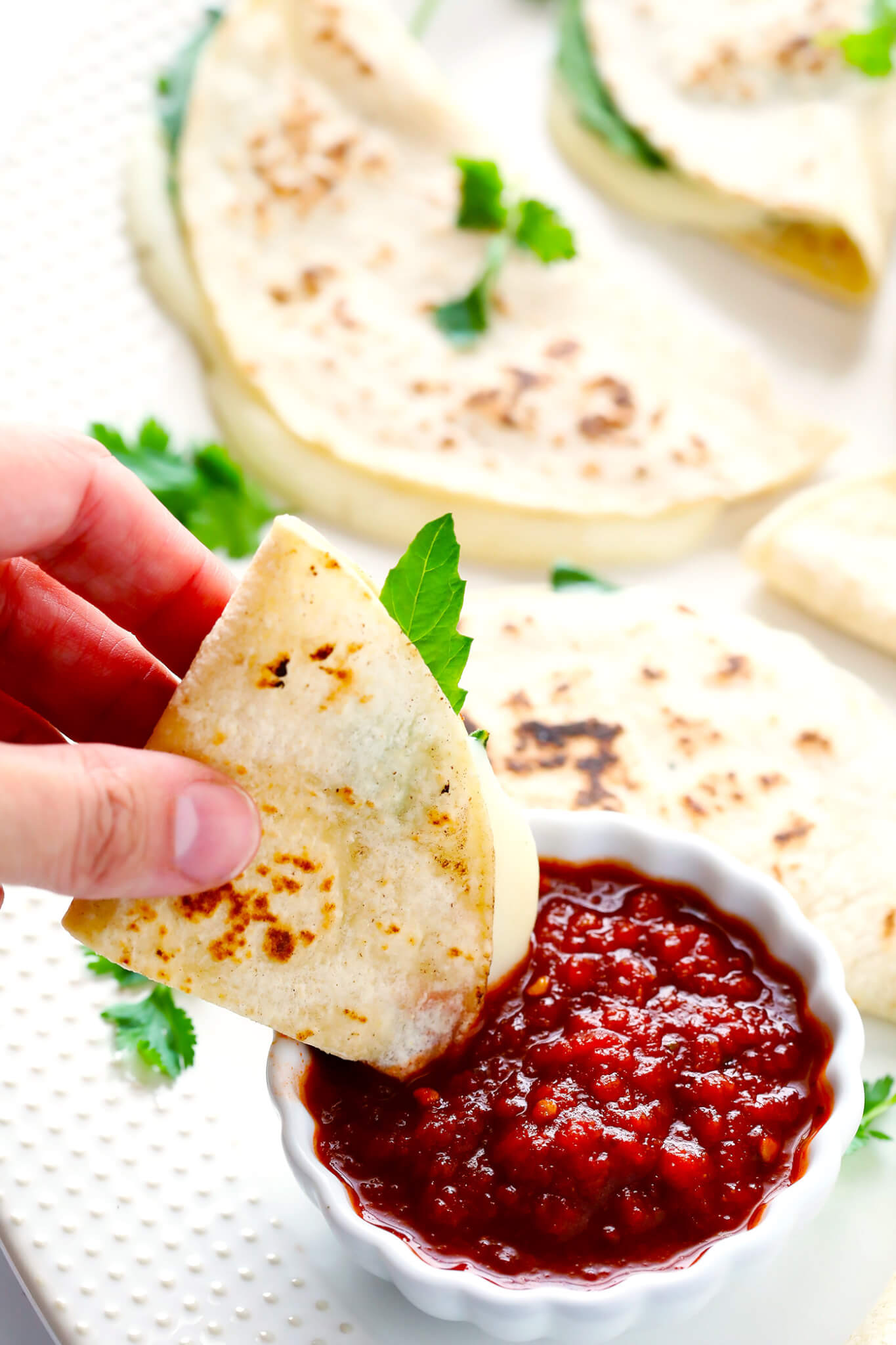 So of course, I had to share the recipe with all of you as well. Hope that you enjoy it as much as we have, and please report back on any other add-ins that you're enjoying!
Print

Surprise-Ingredient Cheese Quesadillas

Prep Time: 1 minutes


Cook Time: 2 minutes


Total Time: 3 minutes


Yield: 1 serving
---
Description
These magical Oaxacan Cheese Quesadillas only take about 3 minutes to make, and are made with 3 surprise ingredients that pack in some BIG delicious flavors.  Feel free to include any of the extra add-ins below as well!
---
butter or oil

corn (or small flour) tortillas

Oaxaca cheese*

fresh epazote leaves

your favorite fresh salsa, for serving
---
Instructions
Heat 1 teaspoon butter or oil in a medium sauté pan over medium-high heat.

Lay the tortilla flat in the pan, and place a chunk of Oaxaca cheese (I use about a 2-inch long strip) on one half of the tortilla, topped with an epazote leaf or two.

Sauté for 30 seconds or so, until the cheese begins to melt.  Then fold the (non-cheese) half of the tortilla over to form a little folded pocket.  Sauté for an extra 30 seconds or so per side, flipping once, until the tortilla is lightly browned and the cheese is completely melted.  (

Transfer to a serving plate and serve immediately with your favorite salsa.
---
Notes
Some optional add-ins could include any mix of the following:
cooked protein (shrimp, chicken, beef, carnitas, etc.)

sautéed or roasted veggies (poblano peppers, mushrooms, corn, squash, cauliflower, etc.)

raw veggies (sliced avocado, diced red onion, chopped fresh cilantro, etc.)

beans (black, pinto, etc.)

I also like sprinkling on a tiny pinch of sea salt to the melted cheese for extra flavor
*I highly recommend using Oaxaca cheese for these quesadillas.  (I'm usually able to make 7-10 quesadillas per package.)  But if it's not available at your grocery store, fresh pepperjack or mozzarella would also be delicious.