I've been on a bit of a mission lately to expand my brunch repertoire.
Barclay and I have been hard at work this week experimenting with my new espresso machine, trying to learn how to create our very own little repertoire of cappuccinos, lattes, americanos, and (our favorite) flat whites that would pass the taste-test of his relatives in New Zealand. But in all of our over-caffeinated excitement telling everyone about this espresso machine, I think we've invited just about everyone we know at some point to come over for brunch or a coffee date. 😉  Which makes my little entertainer's heart very happy. But which also means I'm going to be serving a lot of brunch food coming up to go with all of that espresso!
So I've been experimenting with some fun new recipes in the mornings, many of which (you may have noticed lately) seem to center around my beloved puff pastry sheets that I always keep stocked in my freezer. But today's recipe is a much more savory pastry recipe — which is always what I reach for at brunches when given the choice — inspired by those lox bagels we all love. It's quick and easy to make, it's easy to customize with your favorite ingredients, and my goodness, is it delicious.
Allow me to introduce you to these cute little smoked salmon and cream cheese pastries!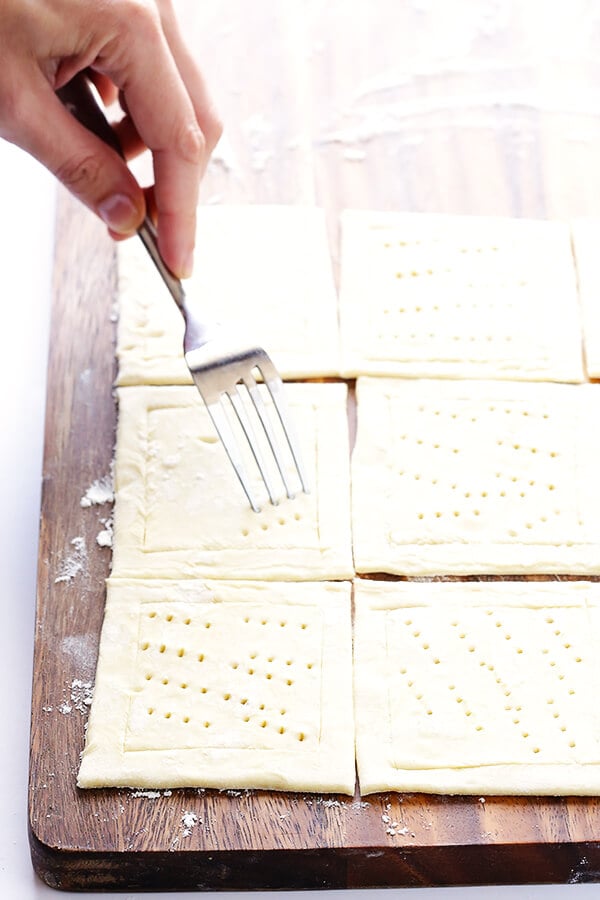 Like I said, the base ingredient for this recipe couldn't be easier — just one sheet of frozen puff pastry.
Let it thaw out, and then use a rolling pin to briefly smooth down those creases. Then cut the sheet into your desired sizes of pieces. I went with nine little squares, which I then scored around the edges to make a border, and poked a few times with a fork so that the puff pastry won't get too puffy. (<– If it does, no worries, just pat it down with a spatula or something.)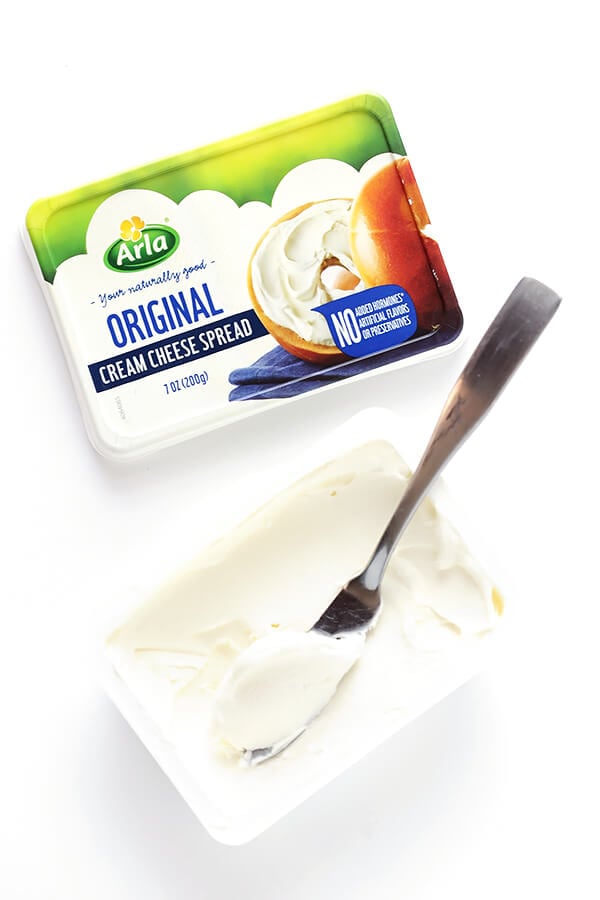 But the main ingredient I wanted to tell you guys about here is actually this stuff — Arla cream cheese. As opposed to many other brands of cream cheese, I can actually pronounce and feel good about all four of the ingredients in this cream cheese (<– cream, skim milk, salt and cheese culture, for anyone interested). Plus it's free of added stabilizers, thickeners, artificial flavors and preservatives. And most importantly, it tastes great.
I brought a few flavors of Arla cream cheese spreads (original, light, herbs and spices, blueberry and peppercorn) along on my trip to the lake last weekend with some girlfriends for breakfast, and they all agreed that they taste remarkably fresh and delicious. They definitely kick these pastries up a notch!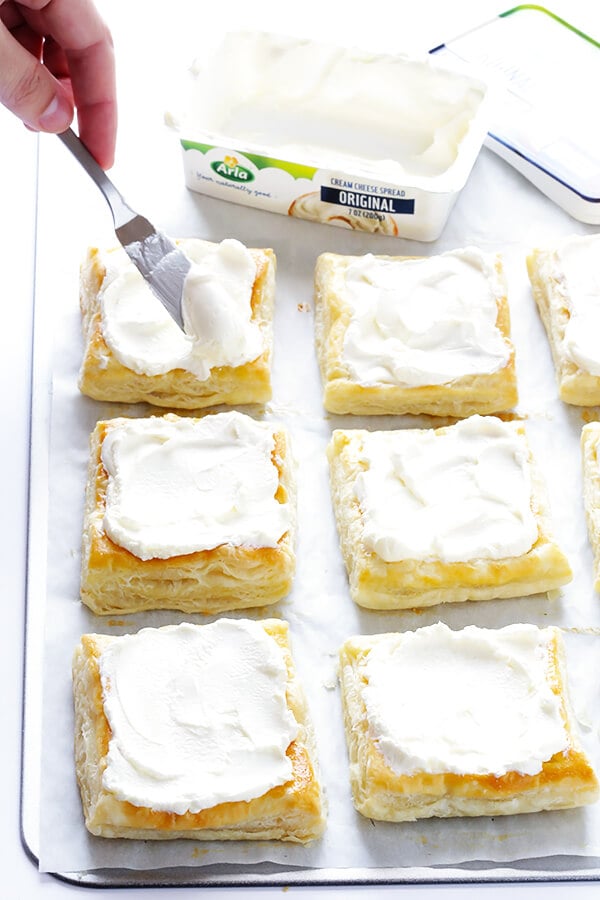 Ok, so moving on! To make these, simply spread some cream cheese on top of the pastries once they have come out of the oven and cooled slightly. Then add a piece of smoked salmon or two on top, along with a sprinkling of your favorite herbs or capers or such.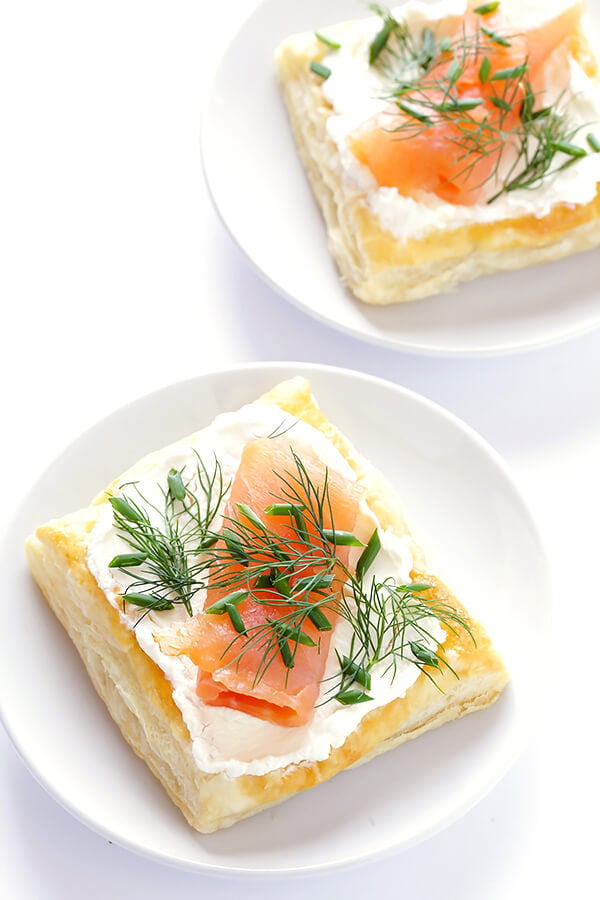 And then within minutes, these adorable little pastries will be ready to go!
So for any of my friends out there who might be reading this, get ready because I'm pretty sure these little guys are going to make multiple brunch appearances at my place this summer. 😉
Enjoy!
Print

(Super-Easy!) Smoked Salmon and Cream Cheese Pastries

Prep Time: 10 minutes


Cook Time: 10 minutes


Total Time: 20 minutes


Yield: 9 servings 1x
---
Description
These Smoked Salmon and Cream Cheese pastries are super-easy to make with buttery, flaky, delicious puff pastry. And when topped with my favorite cream cheese, smoked salmon, and variety of toppings, they're always a hit with a crowd!
---
1

sheet frozen puff pastry, thawed

1

(8-ounce) package Arla cream cheese spread (I used the Original variety*)

1

(5-ounce) package smoked salmon

optional toppings: fresh dill, chopped fresh chives, capers, or anything else that tasty good to you
---
Instructions
Preheat oven to 400°F.  Line a baking sheet with parchment paper, and set aside.

Lay out the thawed** puff pastry sheet on a floured surface, and gently use a rolling pin to even out the creases.  Use a pizza cutter or a knife to cut the sheet into 9 equal squares.  Use a knife to score a very thin border around the outside of each square, then use a fork to poke lots of holes into middle of pastry, to minimize inflation.  Transfer the puff pastry squares to the prepared baking sheet.

Use a pastry brush to brush the whisked egg whites all over the top of the puff pastry squares.  Then transfer them to the oven and bake according to package directions until golden, about 10-12 minutes, keeping an eye on it while baking to be sure that they doesn't puff up.  (If they do, just pull the baking sheet out of the oven and use a spatula to pat the squares back down until they are flat, repeating if needed.)  Remove and let cool for 5 minutes.

Spread your desired amount of cream cheese on top of each pastry square, followed by a piece of smoked salmon.  Sprinkle with your desired toppings.

Serve immediately.
---
Notes
*Although I'd also highly recommend trying Arla's Herbs & Spices or Peppercorn varieties of cream cheese in this recipe if you're interested!
**Recipe time does not include the time needed for the puff pastry to thaw, which generally takes 20-30 minutes.
This post is sponsored by Arla, maker of my favorite cream cheese (made with ingredients I can actually pronounce and feel good about). Thanks for supporting the brands who continue to make Gimme Some Oven possible!