Should we call this thing a tart? A pastry? A danish?
You pick — I couldn't decide.
But what I do know is that this wonderfully delicious little creation is perfect for breakfast, brunch, dessert, or — if you happened to catch my Snapchat yesterday afternoon — a tasty little afternoon snack.
Again, you pick.
I also know that this lovely little tart happens to be incredibly easy to make, thanks to some (brilliant) puff pastry, a simple honey cream cheese spread (that also transforms into a glaze), and a delicious sprinkling of fresh blueberries, toasted coconut, and some surprise almonds (that may just steal the show).
So berry delicious. Lemme show you how I made it!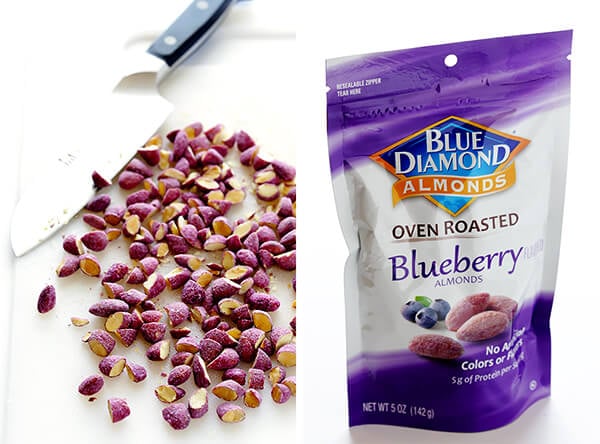 First off, let's address the mystery of these magical purple almonds. I'm guessing many of you have tried them before, but if you haven't, then friends — let me introduce you to Blue Diamond Oven-Roasted Blueberry Almonds!
These almonds have been one of my favorite snacks the past few years when I'm looking for a healthier way to satisfy my sweet tooth craving. They're perfectly blueberr-y and sweet (without being too sweet), they're perfect for popping for breakfast or a quick snack, and — as it turns out — they're also perfect for crumbling on top of baked treats like this little tart. (Plus, who am I kidding, the color-lover in me can't get over that pop of purple. So pretty.)
Sure, you could really use any flavor of almonds to make this recipe. But I thought it would be fun to try the blueberry-on-blueberry combination with this tart.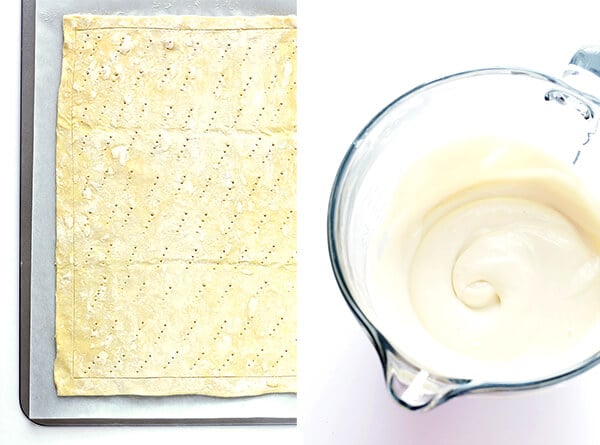 So I baked up a sheet of puff pastry to serve as the base. (I always keep a box of this stuff in the freezer for impromptu desserts — it's the best!)  Then while that was in the oven, I whisked together some cream cheese, Greek yogurt, vanilla extract and honey to make a simple (and somewhat lighter) cream cheese spread…
…and then I layered everything up to make this lovely, fresh, and oh-so-blueberrry-y tart.
It did seem a little incomplete, though, without something drizzled or sprinkled on top. I usually just dust some powdered sugar on top of these kind of desserts (which would be delicious), but I was trying to nix adding extra refined sugar to this recipe. So instead, I just reserved about 1/4 cup of the cream cheese spread and thinned it out with an extra teaspoon or two of milk, and voila! Easy glaze, with no extra ingredients needed. So delicious!!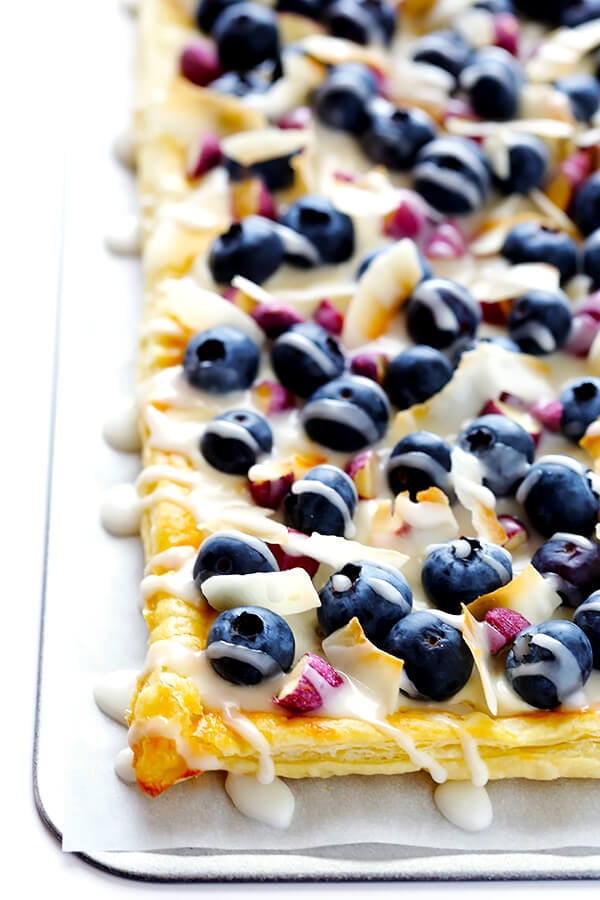 Just makes you want to dive in, eh?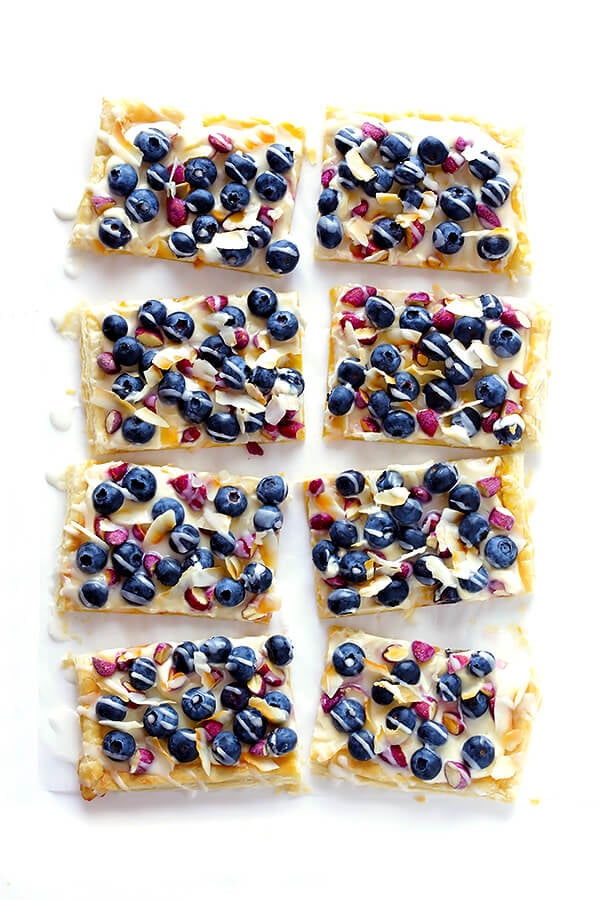 I agreed. This one sure didn't last long at my place. 🙂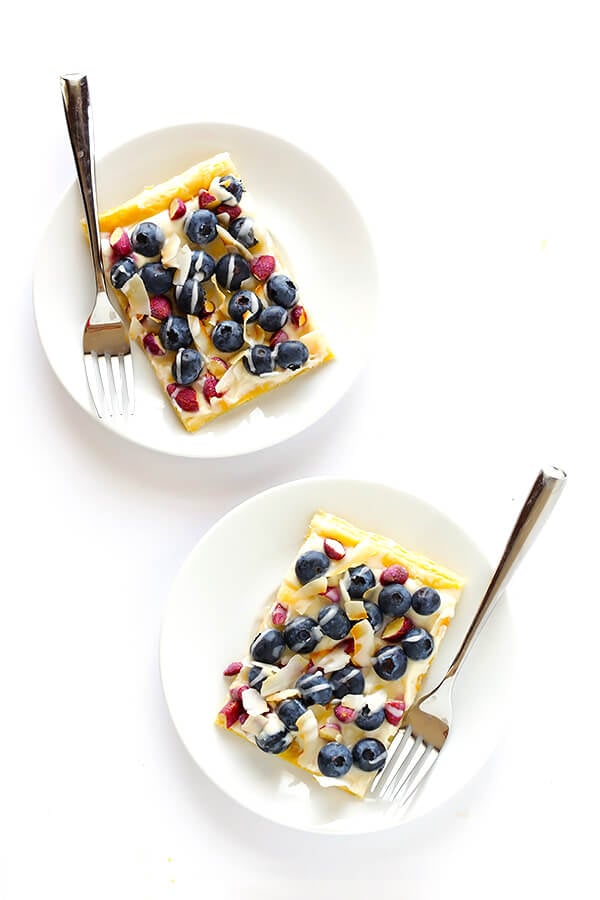 So if you're looking for a quick and easy new brunch or dessert recipe to make use of all of those fresh blueberries that are in season right now (<– or hey, you could easily make this with any berries or most fruits), I highly recommend giving this one a try. Enjoy!!
Print

Super-Easy Blueberry Almond Tart

Prep Time: 15 minutes


Cook Time: 10 minutes


Total Time: 25 minutes


Yield: 8 servings 1x
---
Description
This Super-Easy Blueberry Tart is simple to make, easy customizable with your favorite fruits and toppings, and perfect for brunch or dessert!
---
Blueberry Almond Tart Ingredients:
1

sheet frozen puff pastry, thawed

1

egg white, whisked

1

batch cream cheese spread/glaze (see below)

2 cups

fresh blueberries

1 cup

 Blue Diamond Oven-Roasted Blueberry Almonds, roughly-chopped

2/3 cup

toasted coconut flakes
Cream Cheese Spread/Glaze Ingredients:
1/2 cup

low-fat cream cheese, softened

1/2 cup

non-fat plain Greek yogurt

2

–

3

tablespoons honey (add more/less to taste)

1 teaspoon

vanilla extract, store-bought or homemade

(add later: 1-3 teaspoons milk)
---
Instructions
To Make The Blueberry Almond Tart:

Preheat oven to 400°F.  Line a baking sheet with parchment paper, and set aside.

Lay out the thawed puff pastry sheet on a floured surface, and gently use a rolling pin to even out the creases and roll it out until it forms about an 11 x 18-inch rectangle.  Transfer the puff pastry to the prepared baking sheet.  Use a knife to score a very thin border around the outside of puff pastry.  Then use a fork to poke lots of holes into middle of pastry, to minimize inflation.

Use a pastry brush to brush the whisked egg whites all over the top of the puff pastry.  Then transfer it to the oven and bake according to package directions until it is turns golden, about 10-12 minutes, keeping an eye on it while baking to be sure that it doesn't puff up.  (If it does, just pull it out of the oven and use a spatula to pat it back down until it's flat, repeating if needed.)  Remove and let cool for 5 minutes.

While the puff pastry is baking, prepare your cream cheese spread, reserving part of it (as directed below) to make a glaze.

Once the puff pastry is ready, spread the cream cheese spread evenly on top of the pastry.  Then sprinkle the fresh blueberries, blueberry almonds, and toasted coconut evenly on top of the cream cheese.  Drizzle the glaze evenly on top.

Slice and serve immediately.

To Make The Cream Cheese Spread/Glaze:

Whisk all ingredients together in a bowl or measuring cup until smooth.  Taste, and add extra honey if needed to sweeten.

Transfer 1/4 of the cream cheese spread mixture to a separate bowl, and whisk in a teaspoon at a time of milk until the mixture reaches more of a glaze-like consistency.  (If it accidentally gets too thin, you can add in a few spoonfuls of powdered sugar to thicken.)  This will be your glaze for the final step of the recipe.
---
This is a sponsored post in partnership with Blue Diamond Almonds. They are the yummy company behind these blueberry almonds, and all opinions here are my own as always. Thanks for continuing to support the brands that make this site possible! ♥