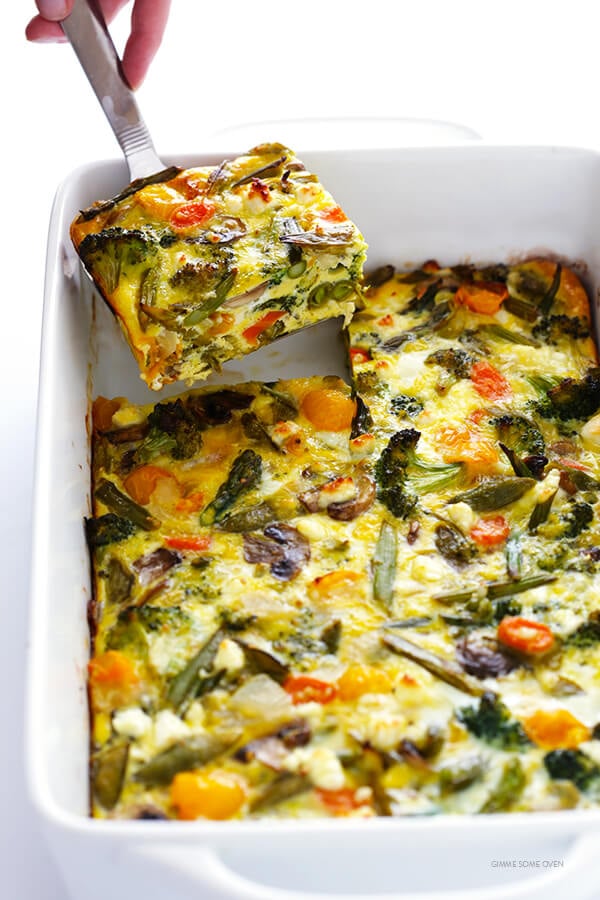 I love that on Easter…we brunch.
Nothing against mega Christmas dinners, or 4th of July grill-outs, or Thanksgiving all-day-eat-a-thons. They're all well and good. I just especially love that on Easter — after going to church in the morning, and celebrating this wild and wonderful promise of hope that was discovered on a morning long ago, that we come back home (yes) in the morning and — we brunch.
It seems pretty perfect to me.
So for any of you who are still finalizing your plans for Easter brunch, or if you just happen to be looking for a tasty seasonal recipe that just happens to be vegetarian and gluten-free and super-customizable with your favorite ingredients, I've got a winner for you today. Oh, and bonus? You can even make it the day ahead of time if you want your holiday to be all the more stress-free.
So friends, allow me to introduce you to this beautiful Spring Vegetable Egg Casserole. ♥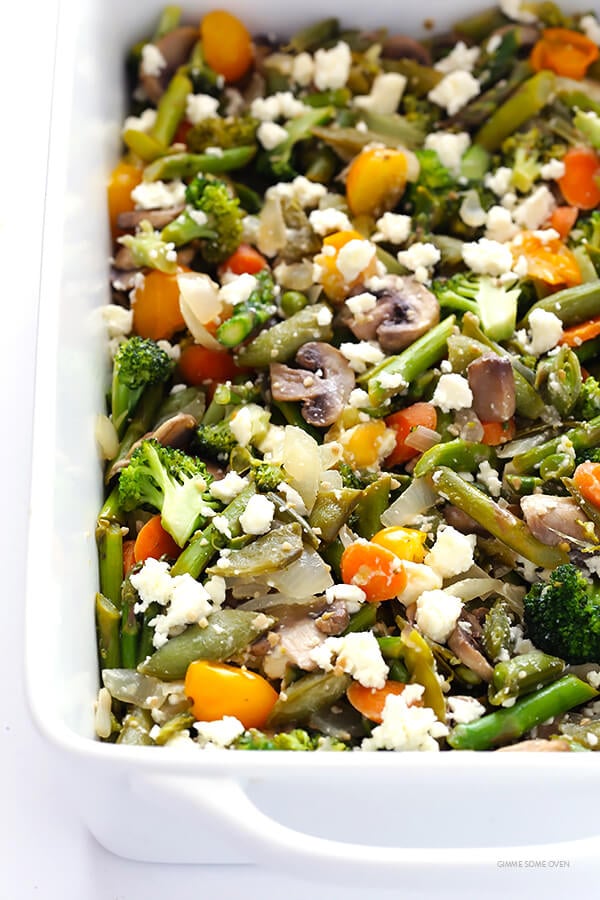 Or maybe I should have named it, The Saute-Up-All-Of-Your-Favorite-Seasonal-Veggies-And-Bake-Them-Up-With-Eggs-And-Cheese Casserole. Because really, that's about all it is.
I just gathered up all of my favorite spring veggies, sauted them with some garlic, layered them in a baking dish with some crumbled feta…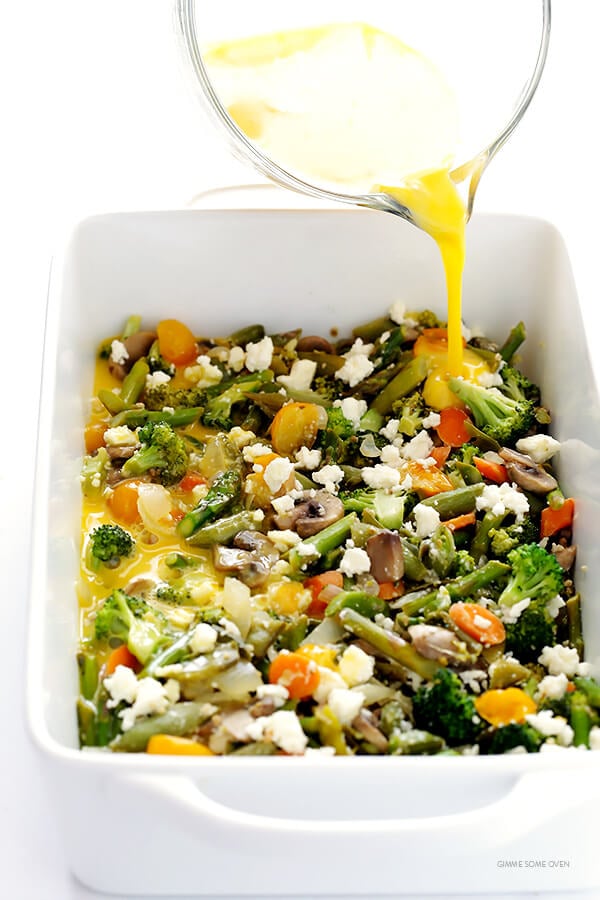 …and then poured a whisked egg mixture on top, and popped it in the oven until everything was baked through.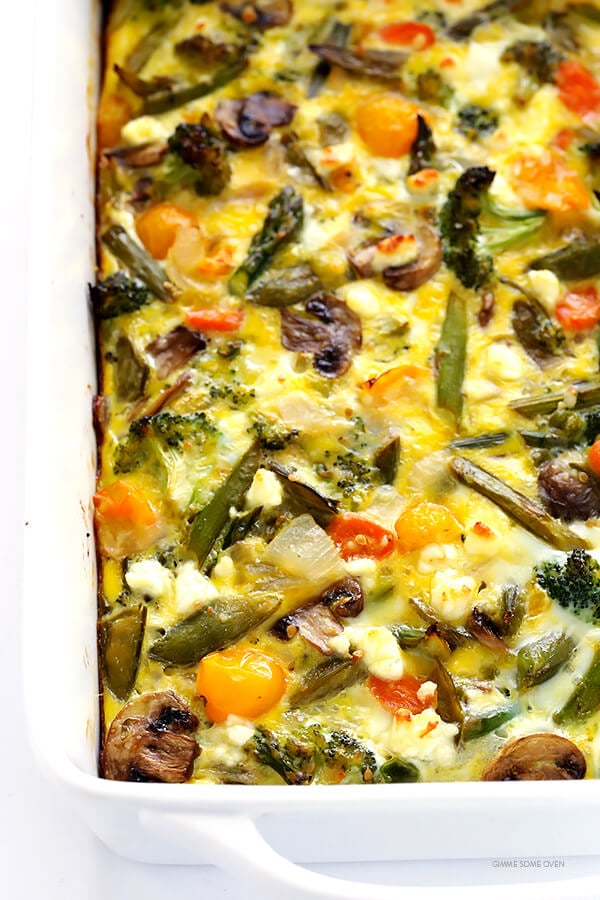 And then look at that! This gorgeous, colorful, fresh casserole was the result. So simple, so tasty, and so perfect for a crowd. 🙂
See the directions below if you would like to make it a day in advance. And please — please — feel free to use any of your own favorite fresh seasonal veggies or your favorite cheeses in the casserole. I sauteed all of my veggies together on the stovetop, but you could also roast yours in the oven, or use up some leftover cooked veggies, or whatever sounds good to you. The general rule of thumb is just that the veggies need to be pretty well cooked-through before you add them to the baking dish.
So feel free to make this dish your own and personalize it with whatever sounds good to you, and enjoy!
Print

Spring Vegetable Egg Casserole

Prep Time: 10 minutes


Cook Time: 45 minutes


Total Time: 55 minutes


Yield: 12 servings 1x
---
Description
This Spring Vegetable Egg Casserole is the perfect way to highlight all of your favorite seasonal veggies. And when paired with zesty feta cheese, and baked up into an easy casserole, it's the perfect make-ahead dish to serve a crowd.
---
2 tablespoons

olive oil

1

small white onion, peeled and diced

1

large carrot (or

1 cup

 of baby carrots), peeled and diced

1

pound asparagus, cut on the diagonal into bite-sized pieces

4 ounces

sugar snap peas, halved

3

–

4

cups chopped broccoli florets (about

1

medium head of broccoli)

2

cloves garlic, minced

8 ounces

baby bella mushrooms, sliced

1 pint

cherry tomatoes, halved

4 ounces

crumbled feta cheese

12

large eggs, whisked

1/2 cup

milk

salt and pepper
---
Instructions
Preheat oven to 350°F.  Grease a 9 x 13-inch baking dish with cooking spray.

Heat 1 tablespoon oil in a large saute pan over medium-high heat.  Add onion and saute for 4-5 minutes, or until it is soft and translucent.

Add the remaining 1 tablespoon of oil, carrot, asparagus, snap peas, broccoli and garlic, and stir to combine.  Continue cooking for about 8-10 minutes, stirring occasionally, until the veggies have softened and cooked through.  Add the mushrooms and cherry tomatoes, and stir for another 3-4 minutes.

Transfer about half of the veggie mixture to the prepared baking dish, and spread the veggies out in an even layer.  Sprinkle evenly with half of the feta cheese.  Repeat by adding the remaining veggies on top in an even layer, followed by the rest of the cheese.

In a separate mixing bowl, whisk the eggs and milk and a generous pinch of salt and pepper together until combined.  Then evenly pour the egg mixture over the veggies.

Bake for 30-40 minutes, or until a toothpick inserted in the middle of the casserole comes out clean.  Serve immediately.
---
Notes
*If you would like to make this casserole in advance, just cover and refrigerate the casserole for up to 1 day before baking.  Then remove the cover, let the casserole rest out at room temperature while the oven is heating up, then bake as directed.
*Feel free to add any of your other favorite spring vegetables to this recipe, too.  The idea is just to be sure that they are cooked through before combining them with the egg mixture.
*If you would like extra seasoning with this casserole, you could whisk some seasonings to the egg mixture.  For example, you could use 1 teaspoon Italian seasoning, or 1/4 cup basil pesto, or a few tablespoons chopped fresh basil — whatever sounds good!