This Spanish Chorizo Spaghetti Carbonara is a super-tasty Spanish twist on the Italian classic, made with lots of zesty Spanish chorizo and Manchego cheese.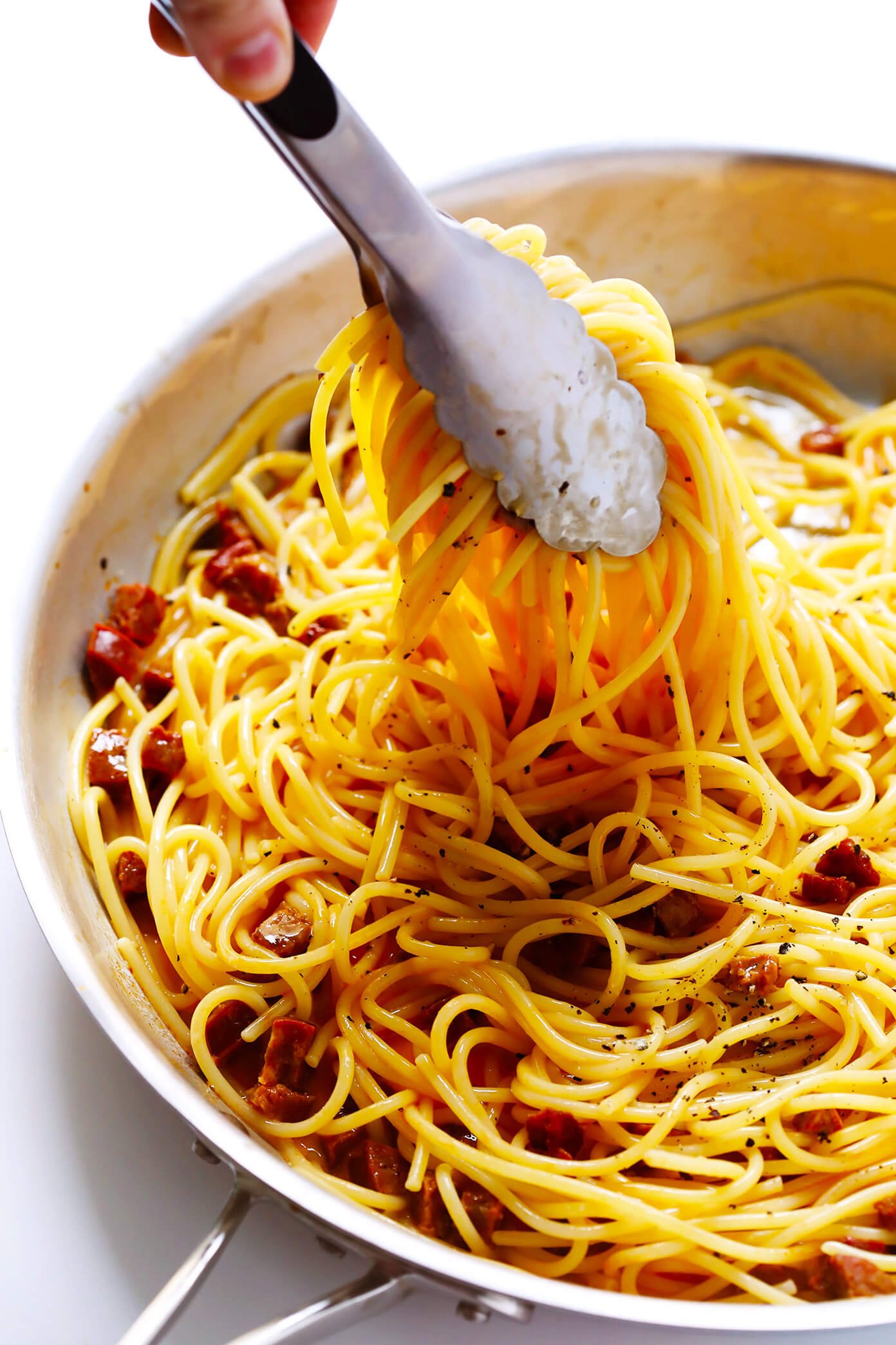 Barclay and I are both huge fans of Manchego cheese. Back in the States, it was always our main splurge at Costco, and we loved adding it to cheese boards, bringing it along on picnics, adding it to salads, quiches, pastas, soups…you name it. Big fans.
So as you can imagine, moving to the Land of Manchego was a big of a bit of a dream come true for us. And as I walked out the door that first morning here to make my inaugural trip to our neighborhood grocery store, I promised Barc that I would bring us home a nice big wedge and some cava to celebrate our big move. Fast forward a half hour, and I was still standing there at the store reading the labels on a zillion different kinds of cheeses…and could not find the Manchego. I saw just about every other kind of cheese imaginable, from the gouda to brie to cheddar, pecorino, provolone, mascarpone, and so many more that I recognized…but zero Manchego.
That said, I did notice an entire wall of cheeses that looked familiar, but there was no mention of the name of the cheese packages themselves. Only descriptions like "curado" (cured), "semi-curado" (semi-cured), "viejo" (old/aged) and "gran reserva" (grand reserve). You can guess where this was going.
Turns out…they were ALL MANCHEGO. Like, an entire wall of Manchego. Nearly as big as the entire wall devoted to Spanish hams and chorizos on the other side of the store. All beautifully displayed there, row after row, on the shelves. All just a fraction of the prices we used to pay in the States. And all totally, irresistibly delicious.
Spain, man. ???
Anyway, suffice it to say, we have been bringing home no shortage of Spanish cheeses and hams and chorizos ever since. And while they end up on our cheese boards about 90% of the time (more ideas on those to come!), I've also been having fun playing around with them in actual recipes. And in honor of us being in Rome today as this post goes live, it seemed like the perfect time to share with you my Spanish twist on one of my all-time favorite classic Roman recipes…
…spaghetti carbonara!
Made with (yep) all of the Spanish chorizo and Manchego a heart could desire. And even better, ready to go in just about 20 minutes. Perfecto.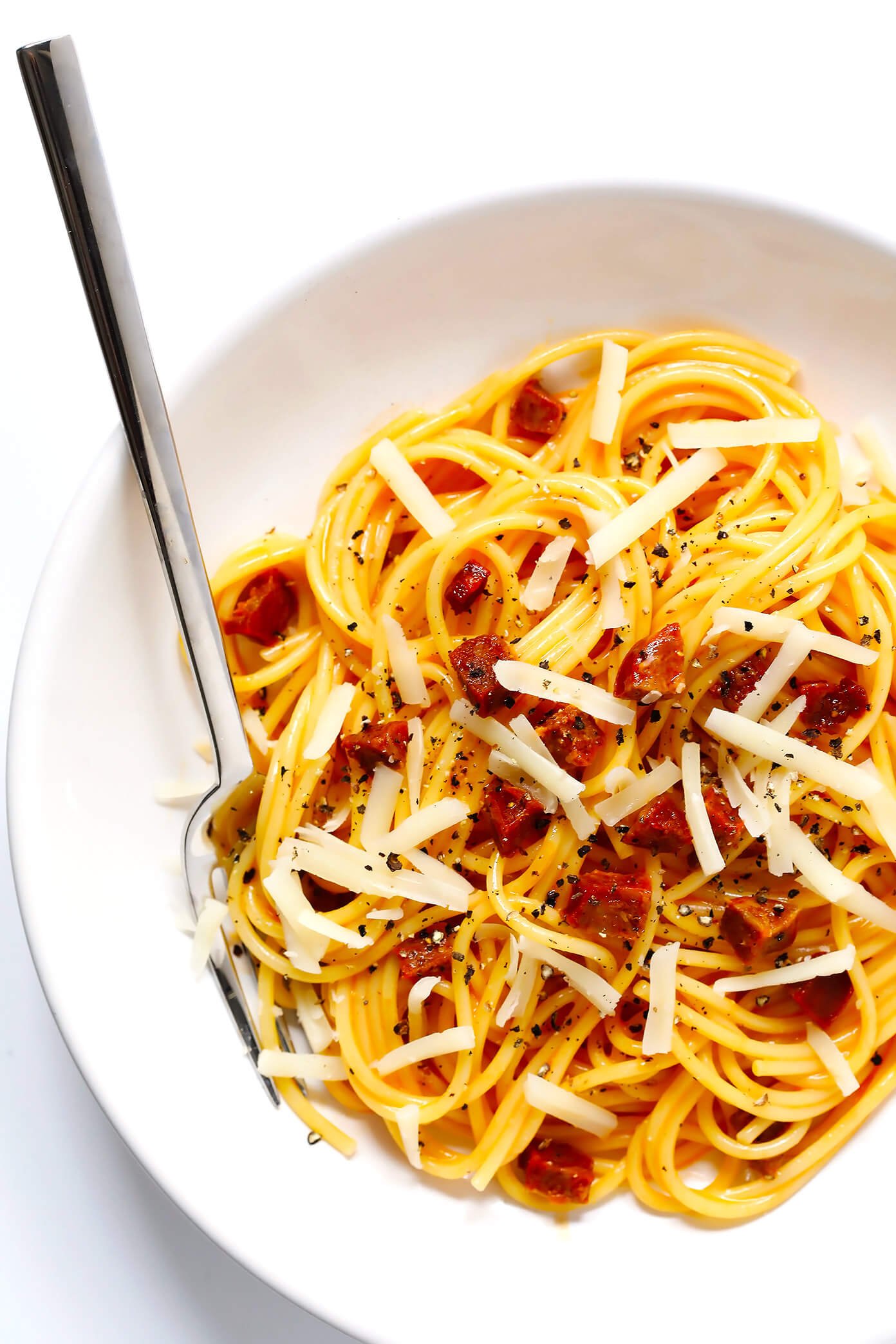 I've been a mega-fan of Italian spaghetti carbonara ever since my professor's wife, Joni, introduced me to it back in college. She had lived for a time in Italy, and had a reputation around our college town for making the most heavenly Italian food. And the first time I was invited over to their house for the classic "eggs and bacon pasta", I fell head over heels in love with this classic dish…and immediately begged for the recipe.
Fifteen years later, it's still probably one of my top 10 favorite recipes that we make often around our place. But since our main Spanish grocery stores here don't carry Italian meats (nor American-style bacon), I had the idea recently to try making it with hard spicy (or you could use sweet) Spanish chorizo instead. Tossed and topped with lots of Spanish Manchego cheese (or you could still sub in Parmesan, if you prefer.)
The result?!
Fantástico.
The process to make it is pretty much exactly the same as the Italian version. Just whisk together a handful of eggs, milk, cheese, salt and pepper.
Then while your spaghetti water is heating, and the spaghetti is cooking, sauté a batch of diced Spanish chorizo until crispy. Drain off the excess grease. Then once the pasta is ready, reserve a cup or so of that precious starchy pasta water on the side, and drain the pasta. Then immediately toss the hot pasta, egg mixture, and chorizo together until the heat of the pasta has completely cooked the eggs. (Be sure to toss it quickly, otherwise the eggs can scramble.)  If you need to thin out the sauce a bit, just pour some of that starchy pasta water back in.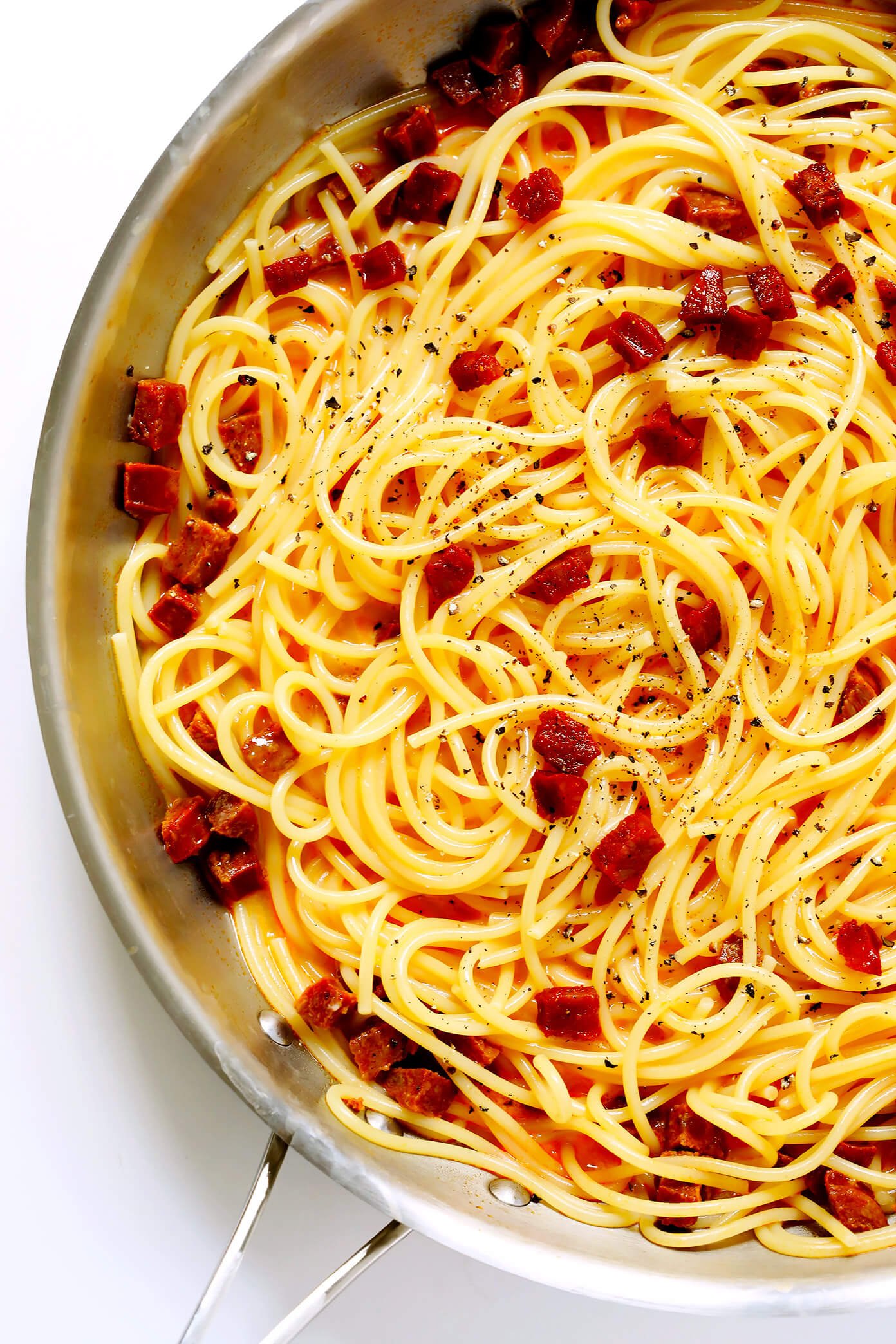 Then give it a good sprinkle with some extra black pepper and cheese…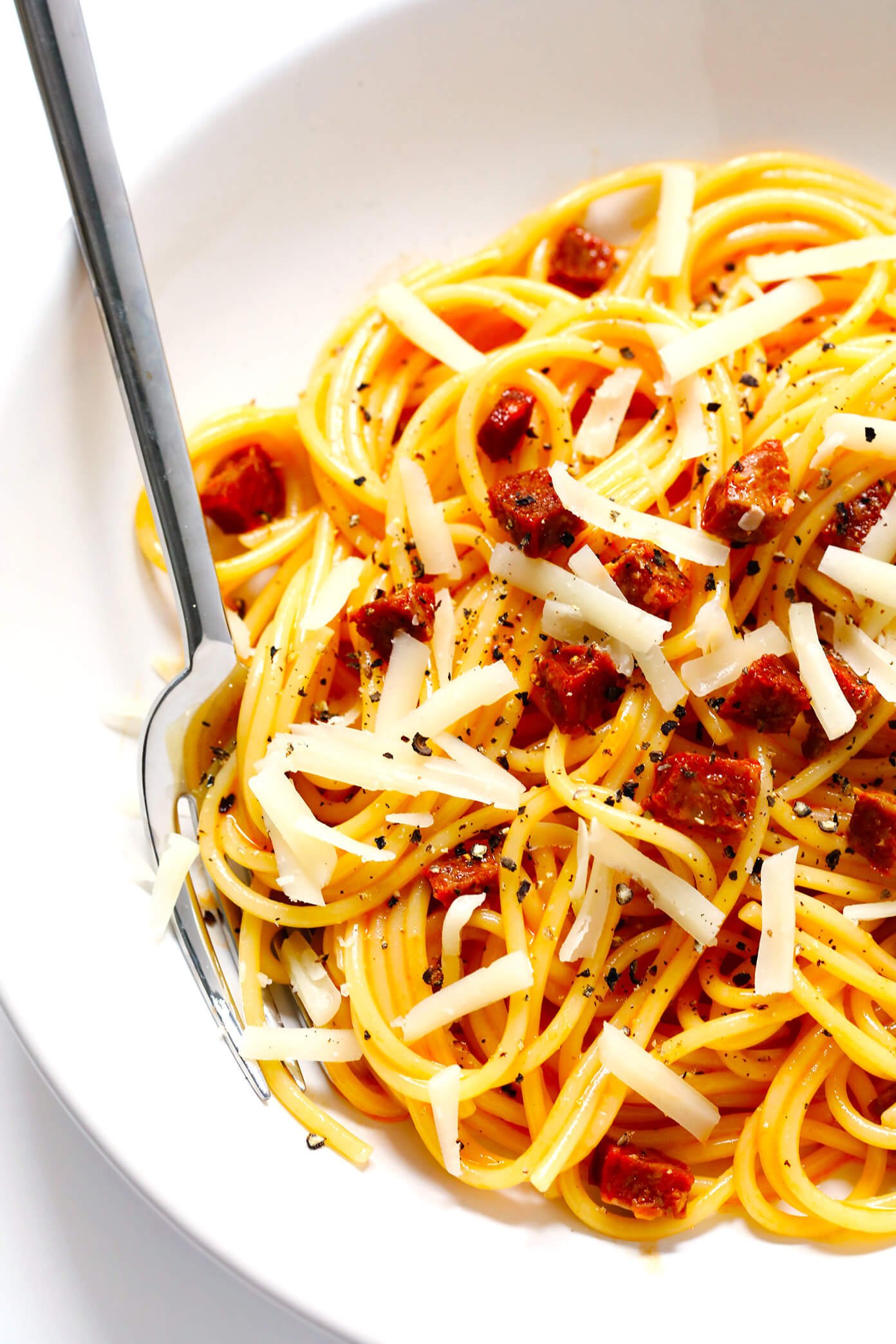 …and buen provecho.  Dinner is served.
If you love Italian food and Spanish food, I'm convinced this one is the best of both worlds. Enjoy, everyone!
Print

Spanish Chorizo Spaghetti Carbonara

Prep Time: 5 minutes


Cook Time: 15 minutes


Total Time: 20 minutes


Yield: 4 –6 servings 1x
---
Description
This Spanish Chorizo Spaghetti Carbonara is a super-tasty Spanish twist on the Italian classic, made with lots of zesty Spanish chorizo and Manchego cheese.
---
8 ounces

uncooked spaghetti

3

eggs

2 tablespoons

milk (or heavy cream)

1/3 cup

freshly-grated Manchego cheese, plus extra for topping

Kosher salt and freshly-cracked black pepper

4 ounces

spicy (or sweet) Spanish chorizo, finely diced
---
Instructions
To Make The Pasta: Cook the pasta in a large stockpot of generously-salted water according to package instructions.  Reserve 1/2 cup of the starchy pasta water for later, then drain the remaining water, and set the pasta aside.

To Make The Sauce: Meanwhile, as the pasta water is heating, whisk together the eggs, milk, 1/3 cup cheese, plus a generous pinch of salt and pepper in a small bowl until smooth.  Set aside.

To Make The Chorizo: At the same time that you add the pasta to the boiling water, add the chorizo to a large sauté pan.  Sauté over medium heat for 5-6 minutes, stirring and flipping occasionally.  Remove from heat, drain off excess grease, and leave the cooked chorizo in the pan.

Once the pasta is drained and ready to go, transfer it immediately (you want the pasta to still be very hot!) to the sauté pan with the chorizo.  Then slowly pour the sauce mixture into the pasta, while tossing the pasta continually with a pair of tongs, until the pasta is evenly coated and the sauce is creamy and cooked.  (It's very important that you toss the pasta while the sauce is being added, otherwise the eggs can scramble.)  If you think that the sauce seems too thick, you're welcome to add in a bit of the reserved starchy pasta water until the sauce reaches your desired consistency.

Serve immediately, garnished with extra Manchego and black pepper, if desired.
---