This slow cooker lasagna recipe is quick and easy to prep, and made with the classic ingredients we all love!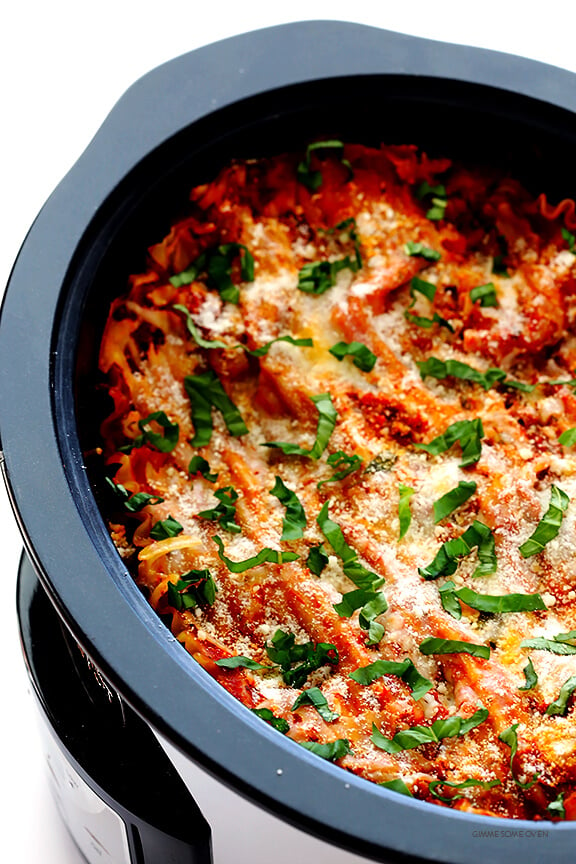 A few months ago, I attended my first ever "Lasagna Fest". Or as the organizer called it, "Lasagnapocalypse".
About 30 or so friends gathered in an enormous loft downtown, armed with bottles of wine, side salads, crusty bread, and tiramisu. And then we gathered around the longest dining table ever (read: 5 folding tables all squished together) and prepared to unleash our inner Garfields on some epic pans of lasagna. Because at a Lasagna Fest, rest assured — there was so much lasagna.
There was Mike's famous homestyle lasagna. There was the meat-lovers lasagna piled high with every kind of Italian sausage imaginable. There was the vegetarian lasagna chocked full of enough spinach to make Popeye's day. There was lasagna with extra sauce. There was lasagna with extra cheese. There was so much lasagna.
And as I watched people go back for seconds, and occasionally thirds, it became a very clear reminder to me that people love some good lasagna.
I'm guessing you are some of those people too. 🙂
So I made a batch of my own to share with you today. But since I'm guessing that everyone has headed back to work and school today, I thought I'd make it a wee bit easier to have this on the table by dinnertime without having to thaw and bake a batch when you get home from work. That's right — we're talking Slow Cooker Lasagna.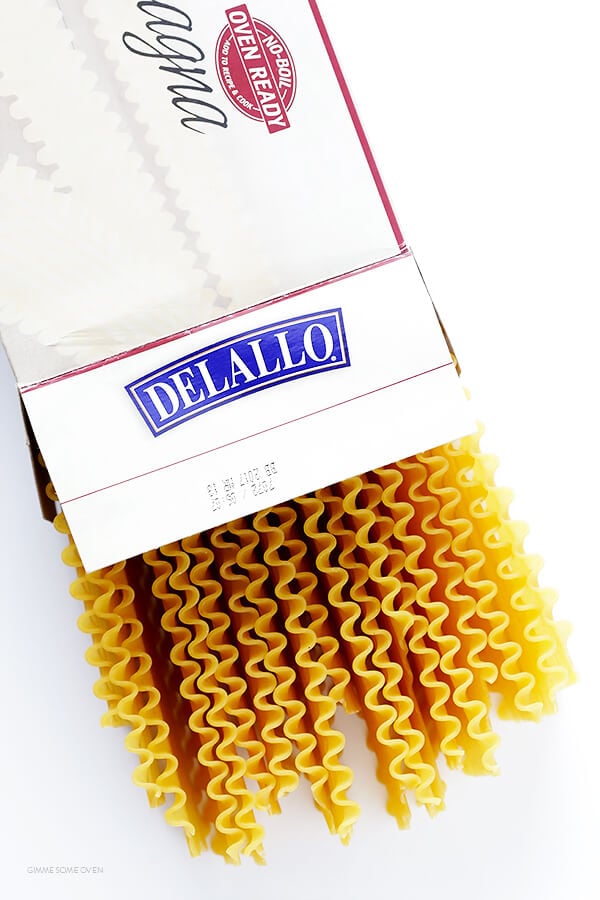 Crock pot lasagna recipes have definitely been making the rounds on Pinterest these past five or so years, which had always piqued my interest. (I've had a slow cooker lasagna recipe from Recipe Girl sitting in my bookmarked to-make list since 2011!)  But it wasn't until this past fall that I finally gave a few a try for myself. And I'll admit — you don't get quite the golden bubbly cheese topping and the crispy edges that I love with the oven-baked lasagna recipes. But getting to layer everything in the slow cooker and then fogetaboutit for hours until it's ready is definitely a worthy tradeoff. Especially on busy weekdays, or nights when you're entertaining and just don't want to be stuck by the stove while your guests are arriving. Once again — slow cooker for the win. 🙂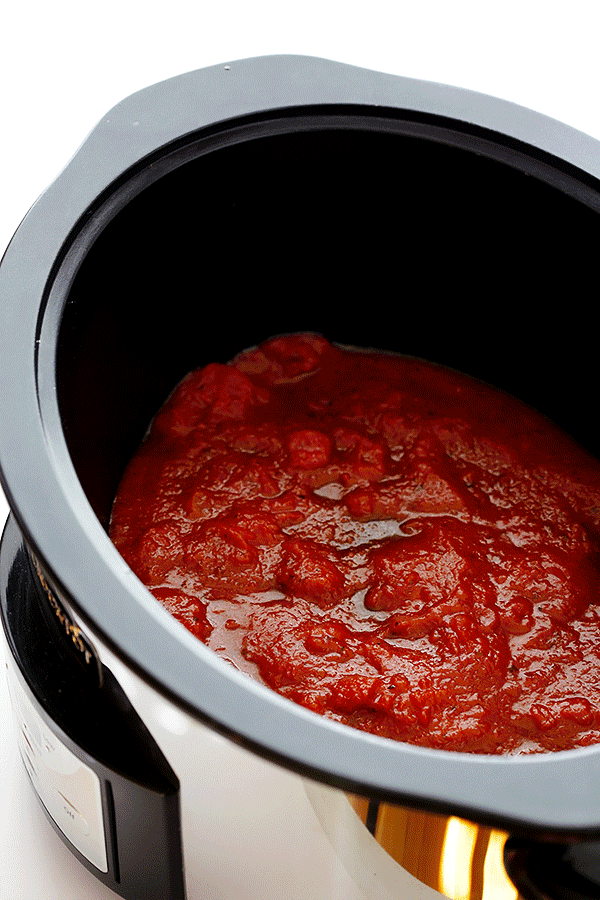 I just went with my favorite traditional lasagna ingredients with this recipe, including some zesty Italian sausage, fresh spinach, creamy ricotta, mozzarella, Parmesan, and fresh basil. But really, the sky's the limit on whatever ingredients you'd like to include. You can make this vegetarian and nix the meat. You can go veggie-happy and toss in lots of (thinly-sliced) fresh veggies. You can layer it up with your favorite kinds of cheese. You can use whatever jarred or homemade pasta sauces you'd like.
Up. To. You.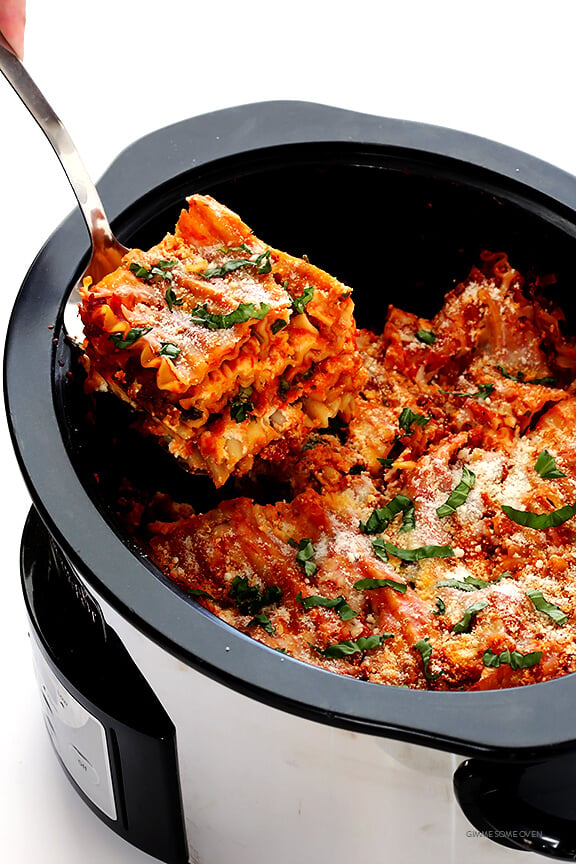 This one is definitely more of a "method" than an actual recipe. But that's the brilliance of it — the slow cooker method really does work with lasagna! It can either cook low and slow for 6-8 hours, or quickly on high for 3-4 hours. Again, up to you.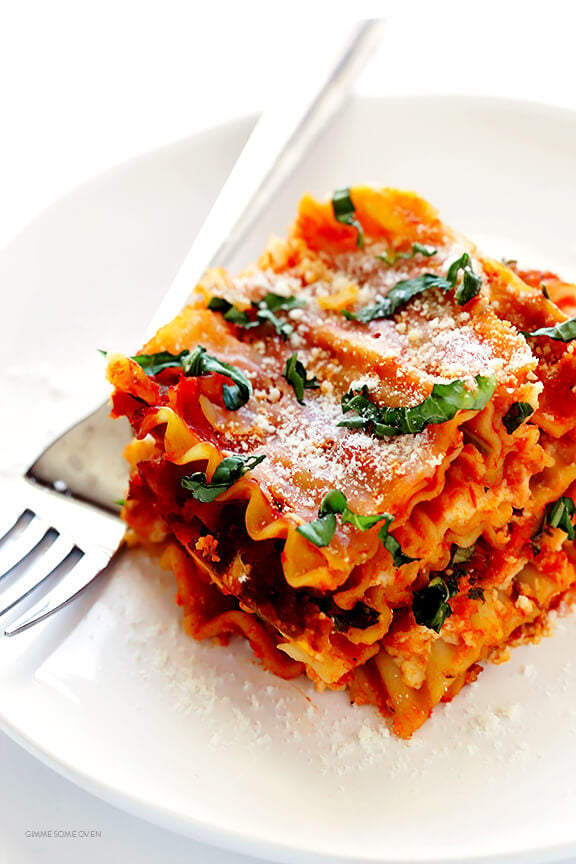 Then once it's cooked, just dish it up and you're good to go. Perfect for a winter weeknight, or hey, even a Lasagnapocalypse. 😉
Print

Slow Cooker Lasagna

Prep Time: 25 minutes


Cook Time: 240 minutes


Total Time: 265 minutes


Yield: 10 –12 servings 1x
---
Description
This Slow Cooker Lasagna recipe is easy to make and customize with your favorite ingredients in the crock pot!
---
1

pound ground Italian sausage (I used spicy) or ground beef*

2

(24-ounce) jars of good-quality Italian pasta sauce**

16

uncooked no-boil lasagna noodles

32 ounces

part-skim ricotta cheese

2 cups

shredded Mozzarella cheese

1/2 cup

grated Parmesan cheese

2 cups

chopped fresh baby spinach

1/4 cup

finely-chopped fresh basil
---
Instructions
Add the ground Italian sausage (or ground beef) to a large saute pan, and cook over medium-high heat until browned and cooked through, using a large spoon to stir and break up the meet into small crumbles as it cooks.  Remove from heat and drain off any excess grease.  Set aside.
Meanwhile, as the meat is cooking, go ahead and get ready to assemble the lasagna.  Begin by spraying the insert of a large 6-quart slow cooker with cooking spray.  Then layer the ingredients in the following order:
Spread 1 1/2 cups pasta sauce evenly along the bottom of the slow cooker.

Layer about 4 lasagna noodles — breaking them into smaller pieces as needed to fit — evenly over the sauce to cover the bottom of the slow cooker.

Layer about 1/3 of the ricotta cheese (a little over 1 cup) evenly on top of the noodles.  (I found it was easiest to do this in small spoonfuls, and then spread them out with a spatula.  It's totally ok if it's messy and uneven!)

Sprinkle 1/2 cup of the shredded Mozzarella cheese and 2 Tablespoons of the Parmesan cheese in an even layer on top of the ricotta.

Layer about 1/3 of the cooked ground meat in an even layer on top of the cheeses.

Layer about 1/3 of the chopped spinach in an even layer on top of the ground meat.

Layer 1 cup of pasta sauce in an even layer on top of the spinach.

Repeat with another layer of noodles, ricotta, Mozzarella/Parmesan, ground meat, spinach, and sauce.  Then repeat with another layer of noodles, ricotta, Mozzarella/Parmesan, ground meat, spinach, and sauce.  Then add one more layer of noodles, sauce, and Mozzarella.

Place the lid on the slow cooker and cook on high for 3-4 hours or on low for 6-8 hours, or until the noodles are tender.

Turn off the heat, and sprinkle the top of the lasagna evenly with the remaining Parmesan and fresh basil.  Serve immediately.  (Or if you let the lasagna sit and rest for 30 minutes, it will cut into pieces much more easily.)
---
Notes
*Feel free to omit the meat if you would like to make this vegetarian.  You're also welcome to add in a layer of thinly-sliced vegetables if you'd like, such as bell peppers, mushrooms, zucchini/squash, onions, etc.
**Also feel free to use your favorite kind of pasta sauce for this recipe.  Just about any red sauce will work!
Adapted from Recipe Girl and Pinch of Yum.