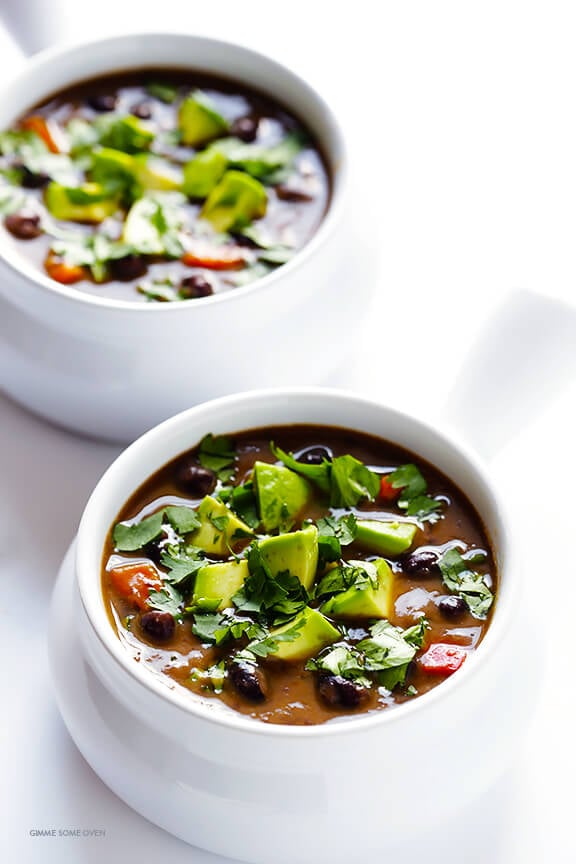 Happy Monday, friends!
At the time this post goes live, I will be on the final stretch of a 13-hour road trip heading off the grid into the Smokey Mountains for a week of cabin life. I can't say that I'm super-looking forward to the 13 hours. But after four back-to-back trips this month, I am soooooo looking forward to arriving in the land of no wifi, switching off my screens, heading out into the sunshine for some long hikes, coming home to cook some leisurely (and photo-free!) meals, cozying up with in the evenings with slippers and some good books, and spending lots of time with this guy after being apart for nearly three weeks.
Can't. Wait. 🙂
So I may be happily out of touch for awhile. But of course, I wanted to leave you with a few recipes while I'm gone. The first is a crock pot version of one of my all-time vegetarian comfort meals, which always seems to perfectly hit the spot this time of year. It's incredibly simple to make, packed with protein and healthy ingredients, naturally vegetarian, vegan, and gluten-free, and it is wonderfully comforting and delicious.
It's my Slow Cooker Black Bean Soup.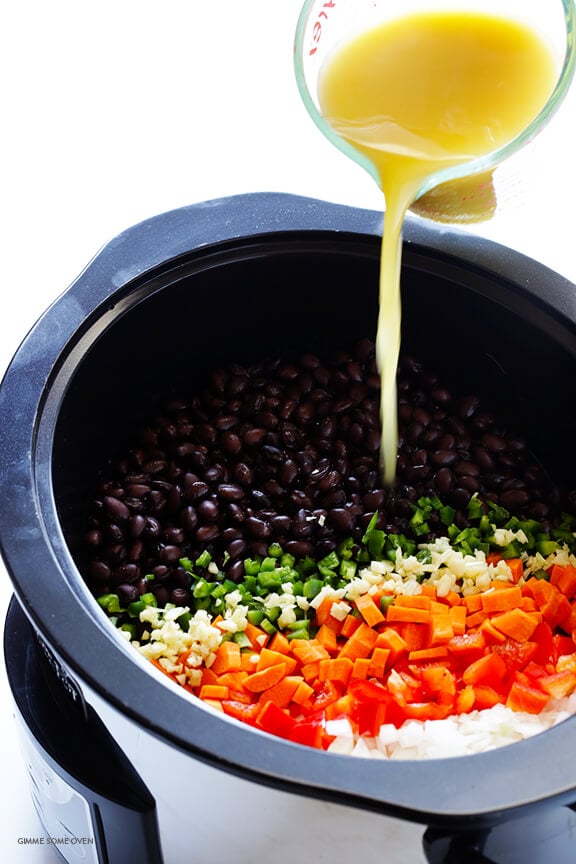 Most people just think of black bean soup as a big bowl of brown mush. But lest we ever forget, there's usual a rainbow of fresh ingredients that go into it. The usual suspects are present — onions, carrots and lots of garlic. But I'm also a big fan of adding chopped red peppers (or a jar of roasted red peppers) to the mix, as well as some fresh jalapeno for a little heat.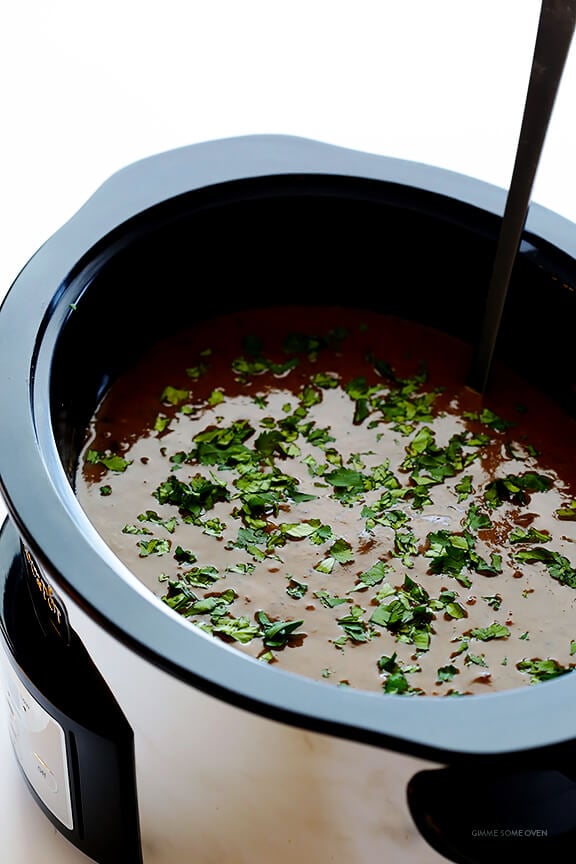 Once the Crock Pot does its work and cooks everything until tender, you have the option of either:
serving the soup as-is (brothy and chunky)

pureeing the soup completely (uber-thick and smooth)

or — my favorite — pureeing about half of the soup so that it's thick and smooth but still a little chunky
Totally up to you. If you with the second or third options, you can either puree part (or all) of the soup with an immersion blender. Or you can transfer it in small batches to a blender or food processor, and puree until smooth. (Always be careful blending hot liquids, though, since they will expand in the process. I recommend pureeing in small batches, never letting your blender or food processor be more than halfway-filled.)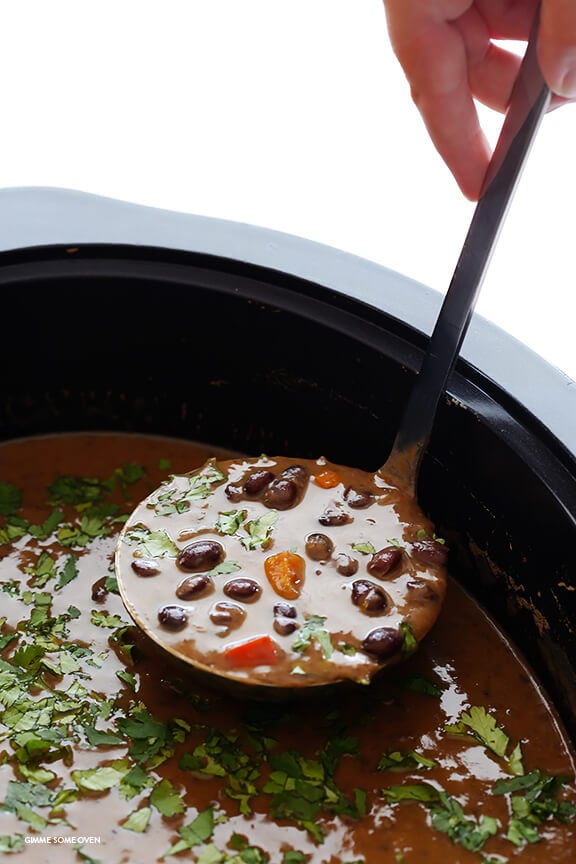 Then once the soup is blended (or not) to perfection, dish it up! I love just topping mine with some simple fresh cilantro and avocado, but a dollop of sour cream, some chopped red onions, a sprinkling of crushed tortilla chips, or any other toppings would also be tasty. Whatever sounds good to you sounds good to me. 🙂
Have a great week, everyone!
Print

Slow Cooker Black Bean Soup

Prep Time: 10 minutes


Cook Time: 240 minutes


Total Time: 250 minutes


Yield: 6 –8 servings 1x
---
Description
This Slow Cooker Black Bean Soup recipe is easy to make, protein-packed, and SO comforting and delicious! It's also naturally vegan, vegetarian and gluten-free.
---
1

large white or yellow onion, chopped

2

red bell peppers, cored and chopped

2

carrots, chopped

5

cloves garlic, minced

1

–

2

jalapeno peppers, seeded and diced

4 cups

good-quality vegetable stock

4

(15-ounce) cans black beans, rinsed and drained

1

bay leaf

2 teaspoons

ground cumin

2 teaspoons

chili powder

2 teaspoons

kosher salt

1/2 teaspoon

cayenne

optional toppings: chopped fresh cilantro, crumbled corn tortilla chips, diced avocados, sour cream and/or shredded cheese (dairy-free, if making this soup vegan)
---
Instructions
Combine all ingredients in the bowl of a slow cooker, and stir to combine.  Cook on low for 6-8 hours, or on high for 3-4 hours, until all of the vegetables are cooked and tender.  Remove the bay leaf.
At this point, you can either:
serve the soup as-is (brothy and chunky)

use a blender or food-processor to puree the soup completely (uber-thick and smooth)

use a blender or food processor to puree about half of the soup (so that it's thick and smooth but still a little chunky)

Serve the soup warm, garnished with your desired toppings.  Or refrigerate in a sealed container for up to 3 days, or freeze in a sealed container for up to 3 months.
---