This Slow Cooker Beef Ragu recipe is easy to prep and simmered in the most delicious tomato sauce. Serve it over pasta, polenta, or whatever sounds good. ♥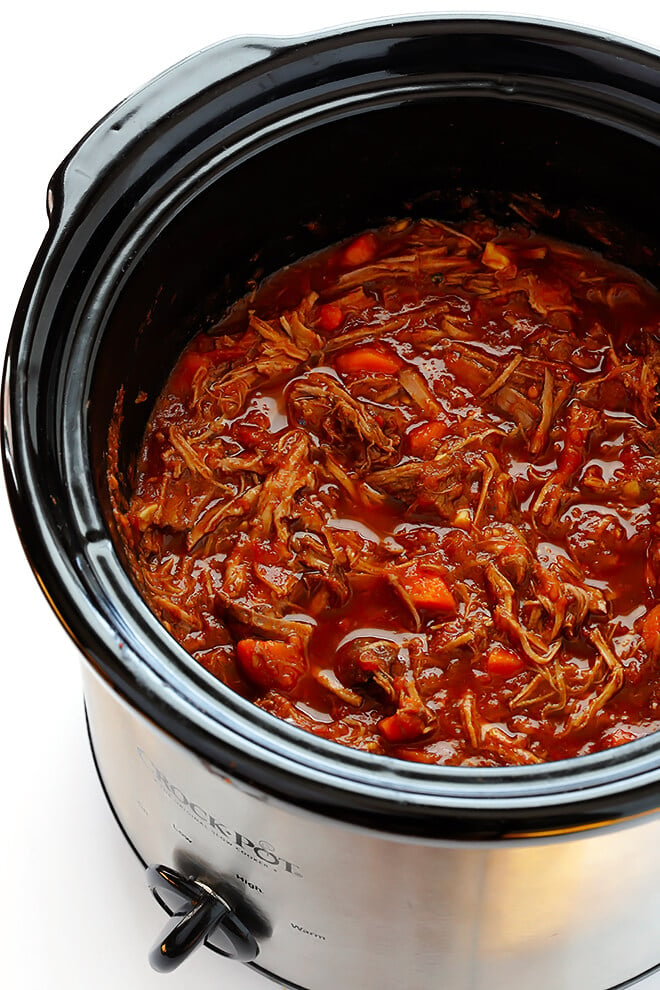 Whew, October, you have been quite the ride so far.
I've had a somewhat steady month — well, minus finding a note on the door a weeks ago saying that our loft building had sold and that the new owners were raising my rent 50% (yes, 50) effective December 1, which was so disheartening, to say the least. Still trying to figure out what to do there. But honestly, I feel like that's small potatoes compared to what some of my friends are going through.
Literally, in just this past month or so, some of my closest friends' lives have been this roller coaster of incredible highs and heartbreaking lows. We've celebrated new jobs, engagements, signing leases and mortgages on new homes, bridal showers, new puppies and more. And then right alongside those, I've had some dear friends walking through the first stages of divorce, family members' passing, sad medical news, lost jobs, depression, and — now — it looks like most of my favorite neighbors are going to be forced to move out of their homes in my building. Of course, all of these sorts of highs and lows in life have a way of overlapping in some of the most beautiful and brutal — or as Glennon says, "brutiful" — of ways, don't they?
My heart's definitely a little overwhelmed right now, mostly just wanting to love and support those who are struggling. I always wish there was a magic button to know what the most helpful thing is to do or say in a situation. But I've learned — as we probably all have by this point in life — that the most important thing is usually just to be there and listen and love one another as best we all can. And that it's often the seemingly simple things — like, swooping in to clean a friend's house and do their laundry, or babysitting the kids for a few hours — that can be most helpful, if there is anything to be "done". But, I've also learned that just about everyone appreciates a quick drop-off of a freezer meal that they can stash away for later. Whether it's a friend in the final weeks of wedding prep, or the friend who just lost his job, quick and easy freezer meals always seem to come in handy. And I love any chance to feed and nourish and bring a smile to a friend's face. ♥
So last week as I was flipping through my friend, Gina's, new cookbook and trying to decide what to make, I spotted this easy Slow Cooker Beef Ragu recipe that I knew would bring a smile to a friend's face. And I also happened to notice that the ingredients would freeze well. So before the weekend, I cooked up a batch with lots of love, and then spooned it up in some tupperware to share with a good friend who needed a good meal. And Gina did a great job with the recipe — it really was a good one.
Actually, this entire cookbook — Skinnytaste Fast and Slow: Knockout Quick-Fix and Slow Cooker Recipes — seems to be full of good ones. 🙂
I'm guessing that most of you are familiar with Gina, creator of the wildly popular blog, Skinnytaste, and author of now TWO New York Times bestselling cookbooks. (Freaking amazing – yay Gina!)  But if her blog and cookbooks are new to you, I would wholeheartedly recommend that you pop over and check them out. Her feel-good recipes are beautiful, healthy approachable, family-friendly, and every single one that I've tried is consistently delicious. And Gimme Some Oven readers, I know how much you love your Crock-Pots. So if you're looking for some new slow cooker recipes this winter, I feel like her new cookbook would be right up your alley. Just sayin'.
Gina also happens to be one of my favorite bloggers behind-the-scenes — always humble, always generously supporting and encouraging those around her, and always just such a delight to be around. And during a few moments in the past when I've been the one having a hard time with something, she has definitely been that friend who has offered a kind listening ear and just the words I needed to hear. So it seems extra apropos that her recipes be some of the ones that I get to share with friends…and with you all today!
I think you're going to love it. You pretty much just toss some flank steak (a leaner choice for ragu) and a bunch of veggies in the Crock-Pot, then let it work its magic while you're working during the day. Then come dinnertime…
…this amazing pot of ragu will be ready to shred…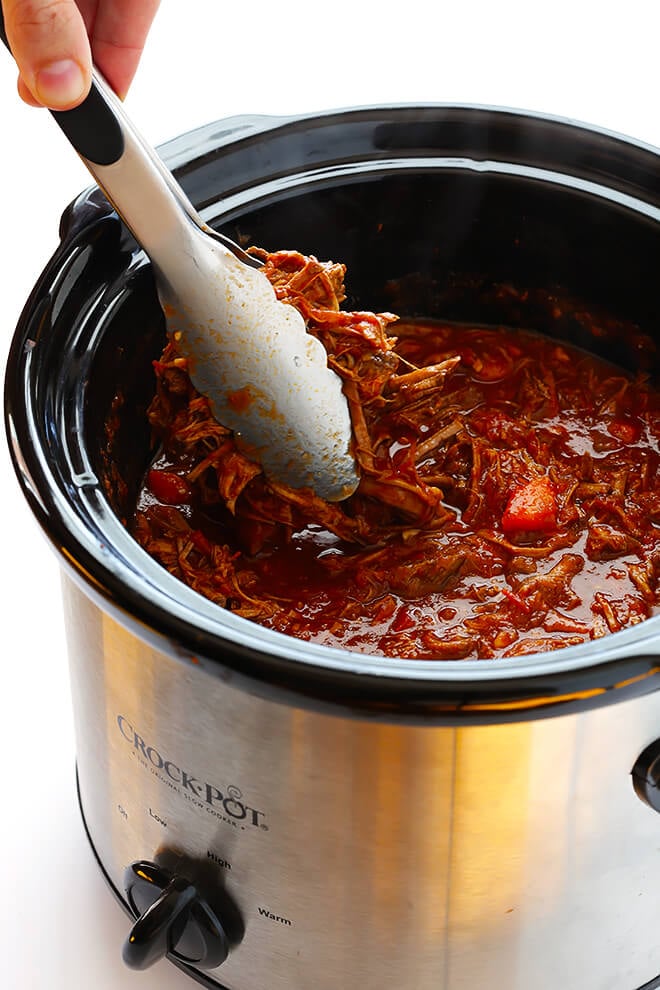 …serve up over pasta or polenta or whatever sounds good…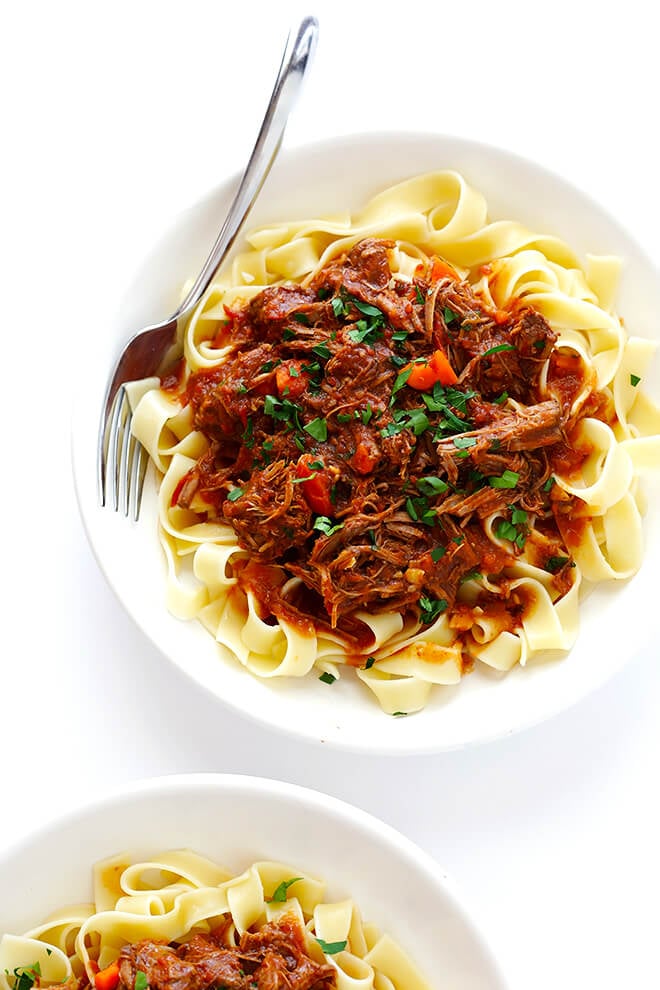 …and enjoy.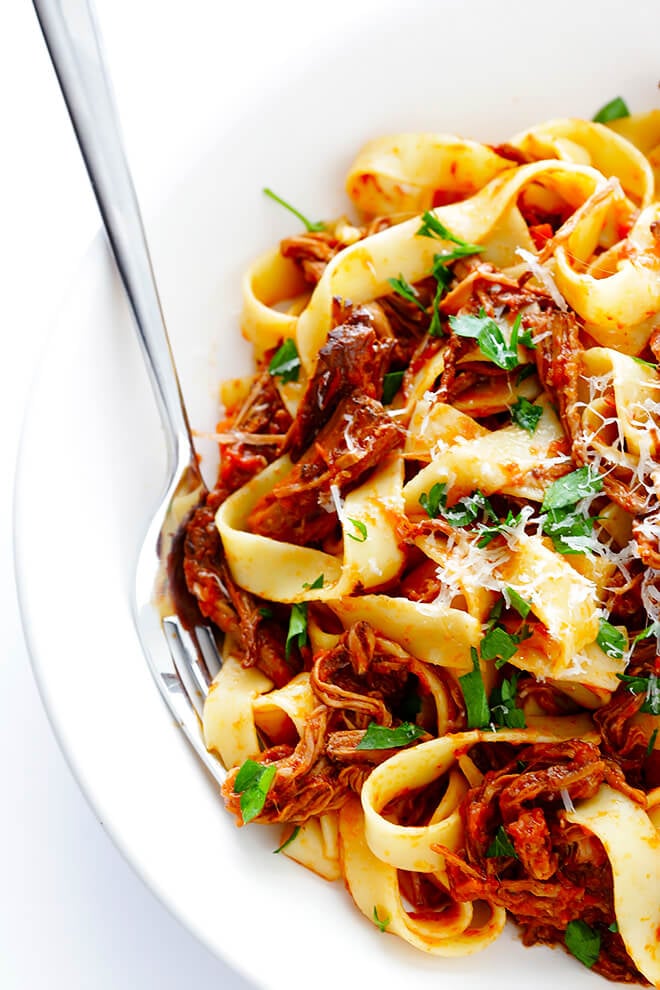 And if you feel like sharing or saving some for later, this recipe also freezes very well. And I can vouch that it's total comfort food.
So thanks to Gina for a great recipe and congrats on the new cookbook! And to everyone else, I say hug your loved ones a little extra longer this week. Because it's our privilege to do this life thing together, and we need all the love we can get. Hugs to each of you today!
Print

Slow Cooker Beef Ragu

Prep Time: 15 minutes


Cook Time: 360 minutes


Total Time: 375 minutes


Yield: 8 servings 1x
---
Description
This Slow Cooker Beef Ragu recipe is easy to prep and simmered in the most delicious tomato sauce.  Serve it over pasta, polenta, or whatever sounds good.
---
1 teaspoon

olive oil

6

garlic cloves, smashed slightly

1 1/2

pounds flank steak, cut against the grain into

4

pieces

Kosher salt and freshly-ground black pepper

1

(28-ounce) can crushed tomatoes

1/4 cup

 beef stock (or I used dry red wine)

1

medium carrot, finely chopped

2

bay leaves

2

sprigs of fresh thyme

16 ounces

pappardelle pasta (or any kind of pasta will do)

1/2 cup

freshly-grated Parmesan cheese, for serving

1/2 cup

part-skim ricotta cheese, for serving (optional)

chopped fresh parsley, for garnish
---
Instructions
In a small skillet, heat the oil over medium-high heat.  Add the garlic and cook, stirring, until golden and lightly browned, about 2 minutes.

Season the beef with 1 teaspoon salt and pepper to taste.  Transfer to a 5- to 6-quart slow cooker.  Pour the tomatoes and broth over the beef and add the garlic, carrots, bay leaves and thyme.

Cover and cook on high for 6 hours, or on low for 8-10 hours.  Discard the herbs and shred the beef in the pot using two forks.

Bring a large pot of salted water to a boil.  Add the pasta and cook until al dente according to package directions.  Drain, return to the pot, and add the sauce from the slow cooker.  Increase the heat to high and cook, stirring, until the pasta and sauce are combined, about 1 minute.

Divide among 8 pasta bowls and top each with 1 tablespoon Parmesan and (optional) 1 tablespoon ricotta.  Sprinkle with parsley and serve hot.
---
Notes
Recipe used with permission from Skinnytaste Fast and Slow: Knockout Quick-Fix and Slow Cooker Recipes by Gina Homolka.