Hey, friends! As this post goes live today, I will be flying high somewhere above the Pacific Ocean, en route to go visit two of my dearest friends who recently moved to South Korea. And oh my goodness, I could not be more excited about this trip! ♥
First off, I absolutely cannot wait to see my friends, Nathan and Kerry. These two had an amazing thing going in the Kansas City area, having lived and worked here for the past decade or so, while gathering an amazing community of friends around them. But midway into their 30s, they decided they wanted a new adventure. So they courageously packed up and moved beyond their comfort zones (quite literally) halfway around the world to begin working at an international school, and have now developed a rich and full new life over there. So while we miss them like crazy back here in the Midwest, I can't wait to go and see their new home and their new people in Korea!
And let's be real — friends moving abroad is always good motivation to do some traveling. 😉
So while they're there, my good friend, Sarah, and I decided to take the opportunity to go and visit. This will be my first time ever traveling to Asia, and I can't to soak up all of the sights and sounds and smells, and get the full friend-tour of Seoul. We've already planned to hit up a bunch of the popular spots in the city, take a day trip out to the DMZ, signed up for a Korean cooking class, and of course, try out my very first Korean BBQ. Then, while Nathan and Kerry are at work during the week, Sarah and I are going to be popping over to Japan for a few days on our own. Then we'll wrap up the trip with a final weekend back in Seoul, and arrive back in the States in time for Thanksgiving. Cannot wait. I'll be posting trip pics on my personal Instagram account, which you're welcome to check out if you'd like to follow along. And you can count on the fact that there will definitely be plenty of Korean and Japanese recipes hitting the blog when I return, since — let's be real — the food is half of what I'm looking forward to.
But in the meantime while I'm gone, I do have a handful of recipes that will be popping up on the blog while I'm away, since everyone I know is in the throes of holiday meal planning and I didn't want to leave you hangin'. So on that topic, we begin today with the perfect make-ahead autumn recipe that — surprise! — turns out that you can totally make easily in the crock-pot.
Who wants some Slow Cooker Apple Crisp?!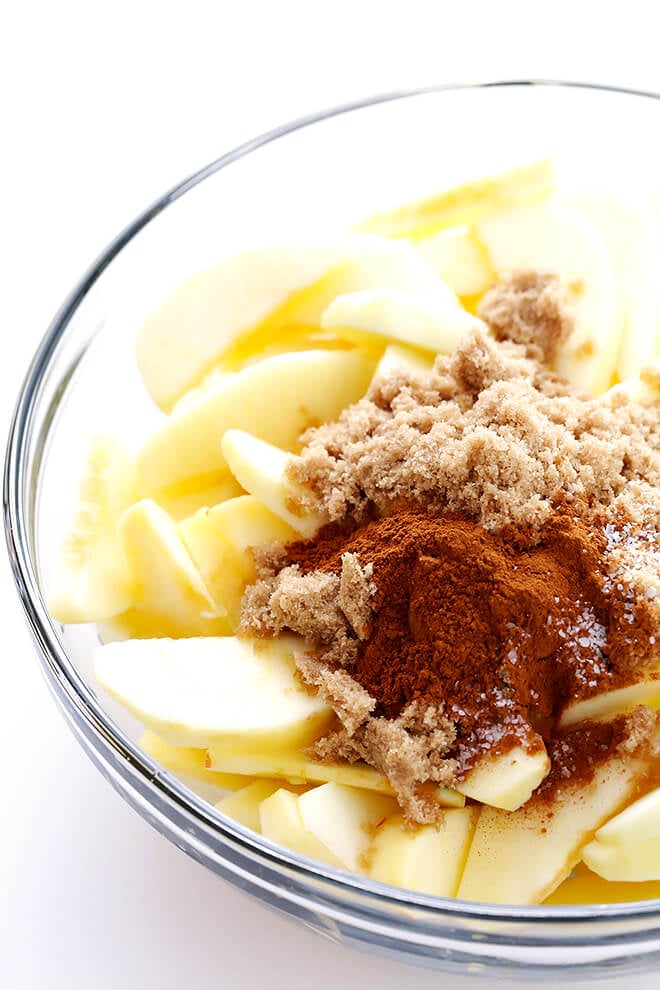 Yes, that's right. Apple crisp that is legitimately crisp — even when made in the slow cooker!
Simply whip up some cinnamon and sugar apples, which will serve as your yummy base for the recipe. And — pro tip — be sure to invest in some good cinnamon, since it's the main spice used in this recipe.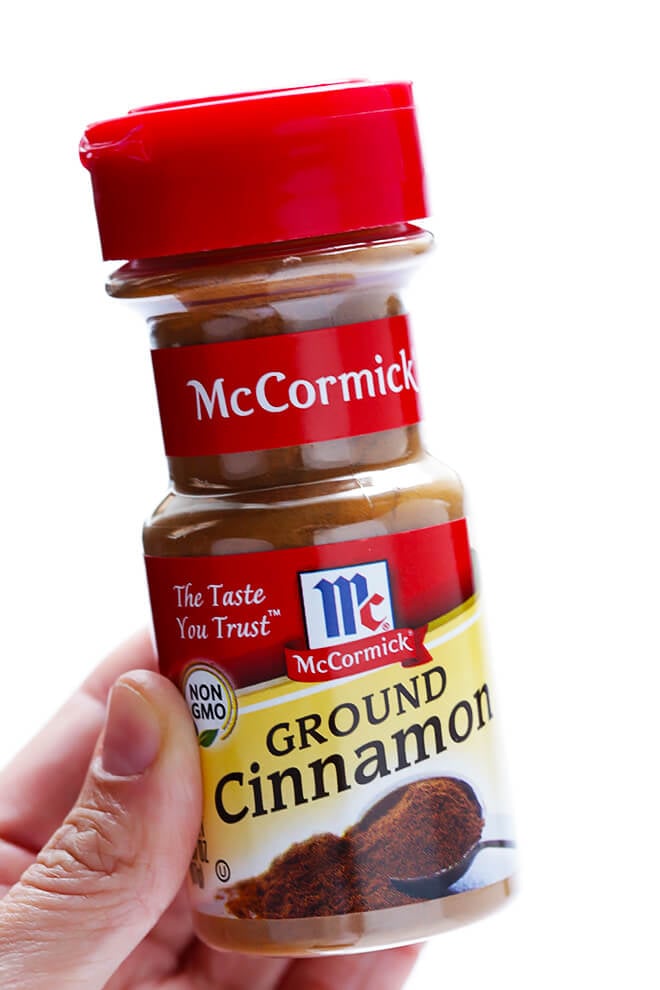 I actually attended a little "cinnamon class" recently with McCormick (<– over which I seriously geeked out, love my job!), where my observation was confirmed that all ground cinnamon you buy at the store is not created equal. I've observed some major flavor differences before with different brands, and have never quite known what to buy. But they advised that pure cinnamon should have:
a dark, mahogany tone

even coloring throughout

an aroma that is intensely warm and woody

a punch of red-hot cinnamon heat
So if you happen to be in the market for a new bottle of cinnamon, those are good tips to keep in mind so that you don't get stuck with a bland, old batch that might not work as well with a recipe. I used a fresh bottle of McCormick Ground Cinnamon for the apples and the crispy oat topping in this recipe, and it worked like a charm.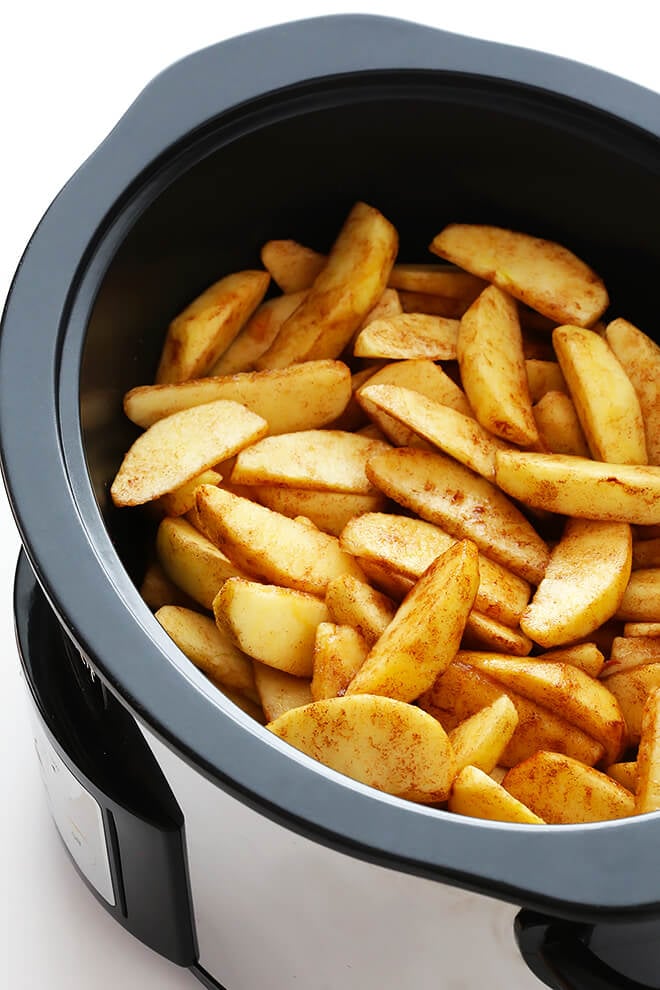 Once you have the apples and topping ready to go, just spread the apples out in an even layer in the bottom of a large slow cooker. (I used this one.)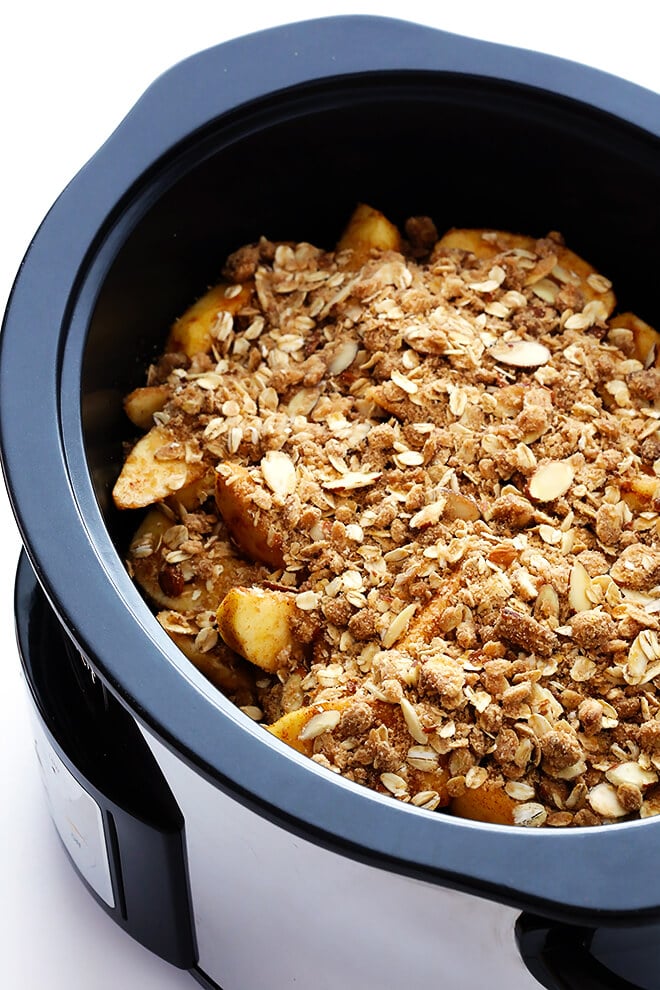 Then sprinkle the crispy oat topping all over the apples. And then — here's the trick to keeping it actually crispy — lay a kitchen towel or a few paper towels on top of the slow cooker and THEN place the lid on top of the towel(s). That way, any of the condensation that gathers on top of the lid won't drip down and get the topping all soggy, and the heat from the slow cooker and cook it up so that it's nice and crispy. I've used this method dozens of times with various recipes, and it has always worked well! (That said, see notes and disclaimer in the recipe section about using the towel method.)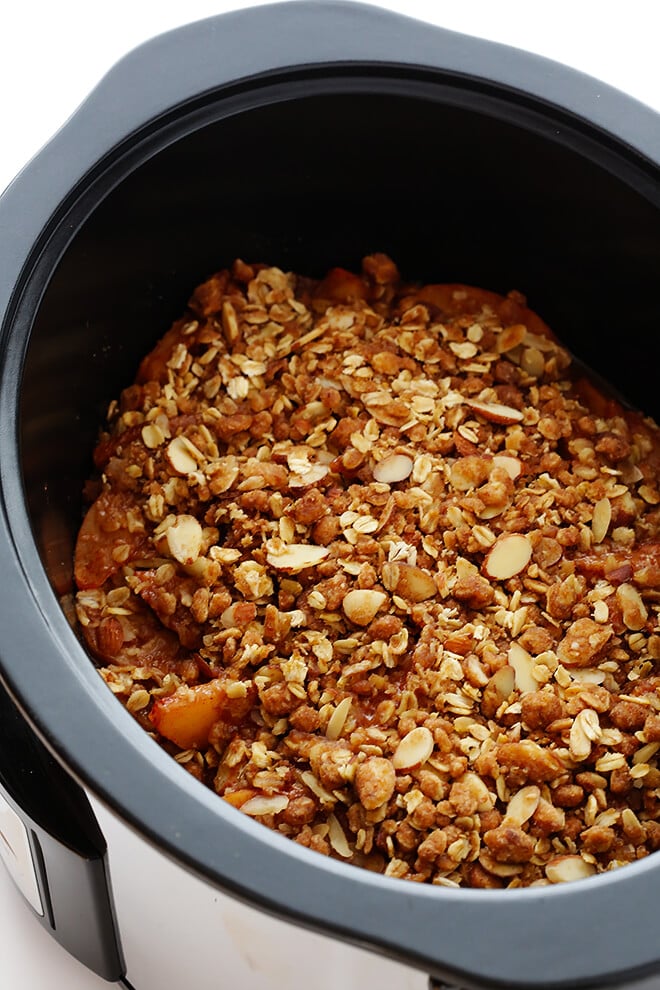 Then once it's time for dessert…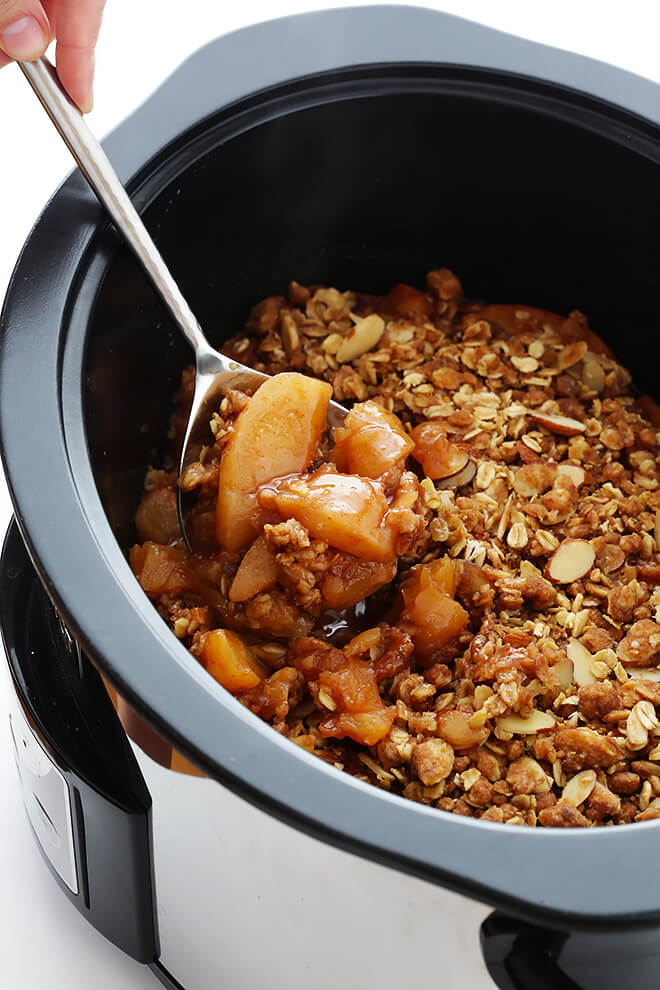 …remove the lid and the towel(s), and dish up a nice big scoop of warm cinnamon apples with that crispy almond-oat topping…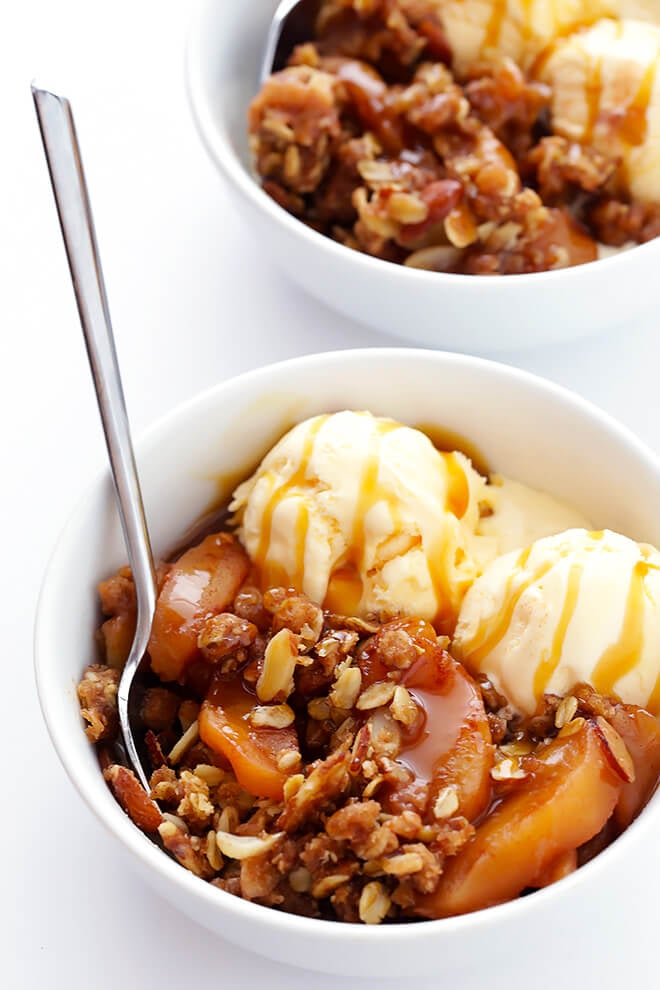 …and this gorgeous dessert will be yours to enjoy. If you want to kick things up a notch, I highly recommend serving this up with some vanilla ice cream and a drizzle of caramel sauce. But go with whatever sounds good to you — you really can't go wrong here. 😉
So if you're looking for ways to simplify your day on Thanksgiving, or for a holiday party, or anytime you just happen to be craving some apple crisp, try this out in the slow cooker! I think you're going to love it!
Print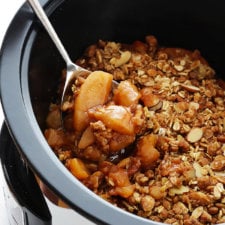 Slow Cooker Apple Crisp

Prep Time: 15 minutes


Cook Time: 180 minutes


Total Time: 195 minutes


Yield: 8 servings 1x
---
Description
This Slow Cooker Apple Crisp recipe is made with warm cinnamon apples, a delicious oatmeal-almond topping, and baked until it's nice and "crispy" in the crock-pot. So delicious!
---
Slow Cooker Apple Crisp Ingredients:
8

apples, peeled, cored and thinly-sliced

1 tablespoon

lemon juice

1/3 cup

packed brown sugar

2 teaspoons

 McCormick Ground Cinnamon

pinch of salt

cinnamon crumble (see below)

optional serving suggestions: vanilla ice cream, warm caramel sauce
Cinnamon Oat Crumble Ingredients:
1 cup

 (uncooked) old-fashioned oats

2/3 cup

sliced almonds

1/2 cup

all-purpose flour

1/3 cup

packed brown sugar

1 teaspoon

 McCormick Ground Cinnamon

pinch of salt

4 tablespoons

melted butter or coconut oil
---
Instructions
To Make The Slow Cooker Apple Crisp:
Add apples and lemon juice to a large mixing bowl, and toss to combine.  Sprinkle the brown sugar, cinnamon and salt evenly on top, and toss until completely combined.  Pour the entire mixture into the bowl of a large slow cooker, and spread everything out so that it is in an even layer.

Prepare the cinnamon oat crumble (see below), and sprinkle it evenly on top of the apple mixture.

Place a dish towel or a few paper towels on top of the slow cooker, and place the lid on top of the towel(s).  The towels will help soak up the condensation that forms along the top of the lid, and keep that oat crumble nice and crisp.

Cook on high for 3-4 hours, or on low for 6-8 hours until the apples are soft and cooked through.  Remove the lid and the towel(s), and serve the apple crisp immediately.
To Make The Cinnamon Oat Crumble:
In a large mixing bowl (you can use the same one you used for the apples), whisk together the oats, almonds, flour, sugar, cinnamon and salt until evenly combined.  Drizzle the melted butter (or coconut oil) over the mixture, and then whisk until combined.
---
Notes
*If making this recipe vegan, use coconut oil in place of butter (and be sure to use vegan ice cream and/or caramel sauce for serving).  If making this recipe gluten-free, be sure to double-check that all of your ingredients are certified gluten-free.
**I also have to legally disclaim that using your towel with a slow cooker could be a fire hazard, and you do so at your own risk.  I have done it dozens of times with different recipes, and have never had a problem.  But different slow cookers heat up to different temperatures.  So if this is your first time using the towel method, I recommend checking it an hour into cooking to be sure that the towel is not too hot.
This post has been sponsored by McCormick, maker of the ground cinnamon that I always keep stocked in my pantry. Thanks for continuing to support the brands who help make this site possible! This post also contains affiliate links.