This post is sponsored by Reynolds Kitchens.
Whenever I tell people that I'm a food blogger and cook at home for a living, inevitably there is one question that always follows:
"What on earth do you do with all of that food?!?"
My answer is simple:
"I have neighbors!!"
And not just any neighbors — I happen to think that I have the coolest neighbors in the world who absolutely love our city, love our little neighborhood, and love our #neighbornights. They're pretty much the best. But notably, they also happen to have some of the best appetites of any friends I know, which works out perfectly for me.
All I need to do is post on our neighborhood Facebook page that I have leftover lasagna or cookies or margaritas from a day of recipe testing, and within minutes, someone is knocking on my door ready to "help out". It's pretty great. Everyone always shows up more than ready to taste-test the day's fare. But I must say, they don't always show up with a plan for how to transport the day's fare back to their places. This used to be the cause for many a missing dish in my house.
But I learned my lesson early on, and now have an entire shelf in my pantry devoted to storage containers that I likely will never see again. My latest favs?! These brilliant little Heat & Eat Containers from Reynolds. And my latest favorite recipe that I sent home with some hungry neighbors? This brilliant Shrimp Pasta with a Creamy Tomato Basil Sauce.
Win = win.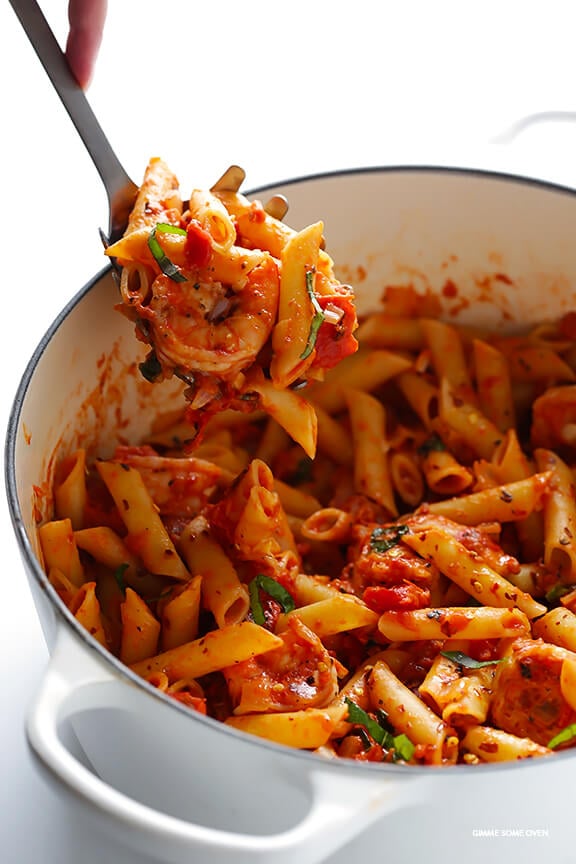 This pasta was actually so good that I made it twice in one week — first for a date night in with this cute guy. And second for lunch with my friend, Rachel, just to double-check and "make sure" that it was good enough for the blog.
Both times we all ate until we were blissfully full.
And both time, we had leftovers to share.
Enter…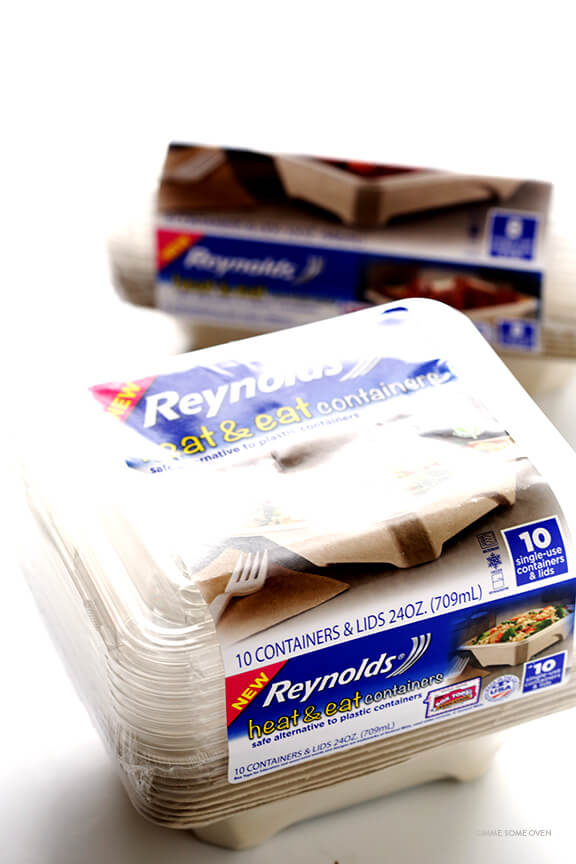 …these fabulous new Heat & Eat Containers from Reynolds.
For years, I have been looking for storage containers that are:
affordable (because I go through a lot of these in a month)

sturdy and well-made (because those don't always mix with "affordable")

single-serving sized (because let's be practical)

BPA-free (because I care about my neighbors)

environmentally-friendly (because I care about our world)
Surprisingly, it's been hard to find products that fit my little list of qualifications. But when I saw these Heat & Eat Containers on the shelves at my grocery store recently, I was sold! They remind me so much of the to-go containers at some of my favorite environmentally-friendly restaurants. But now they're available for me to use in my own little kitchen, filled with my own food. 🙂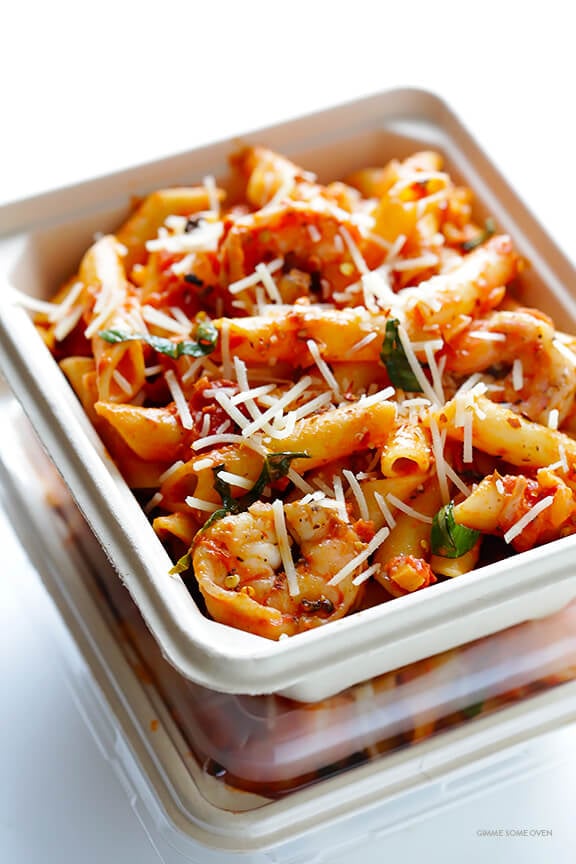 Most recently, I loaded them up with this delicious pasta.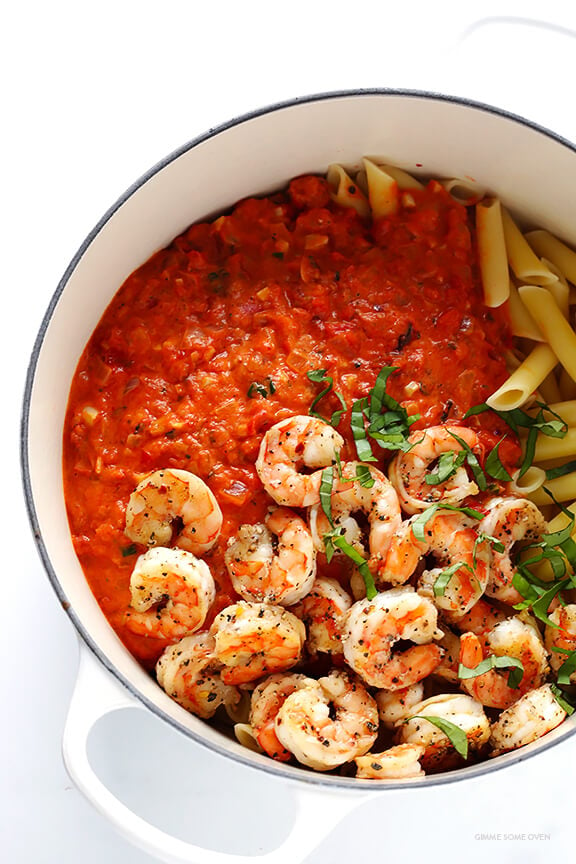 Since Barclay is a pescetarian, we've been eating a lot of fish and seafood together lately. And when I learned that he was especially fond of red pasta sauces, I decided to whip up a simple creamy tomato basil sauce.
I usually love adding in tons of crushed red pepper to my tomato sauces, but he's a little more cautious than I am about spice. So I went a little lighter on the pepper this time, and added in a little bit of cream to round things out, along with some fire-roasted tomatoes and fresh basil for some extra depth of flavor.
The result?!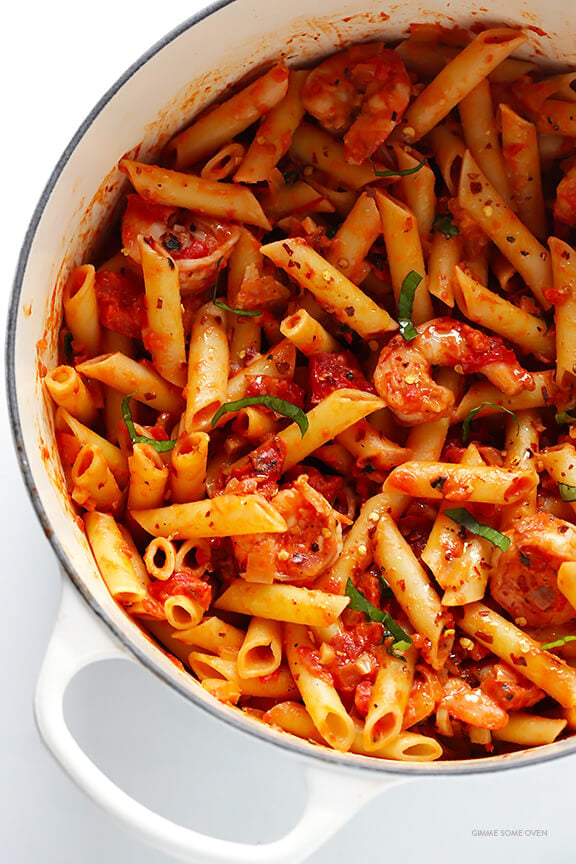 Pasta magic.
Seriously, this pasta was so good that I went back for seconds, and Barclay even went back for thirds. We couldn't stop eating it! The sauce was the perfect mixture of everything savory, slightly sweet, creamy, herby, and even (yes) a little spicy that we love. And when paired with some simple sauteed shrimp, al dente pasta, and some freshly-grated Parmesan on top, it was absolute perfection. We enjoyed every last bite on our plates…and then my neighbors enjoyed every last bite in these cute little containers (which I must say, heat up the food back up beautifully).
Hope that you enjoy the pasta as much as we did! And if you have leftovers to share with friends (or your fridge), I highly recommend checking these out these new containers. I'm now a total convert!
Print

Shrimp Pasta with Creamy Tomato Basil Sauce

Prep Time: 10 minutes


Cook Time: 25 minutes


Total Time: 35 minutes


Yield: 6 –8 servings 1x
---
Description
This Shrimp Pasta with Creamy Tomato Basil Sauce recipe is simple to make, full of delicious flavors, and it also happens to make for GREAT leftovers!
---
12 ounces

dried pasta (I used penne)

2 Tablespoons

extra-virgin olive oil

1

pound jumbo shrimp, peeled and deveined

1 teaspoon

sea salt, divided

1

 teaspoon freshly-ground black pepper, divided

1

 cup diced white onion (about

1

small onion)

6

garlic cloves, minced

1

(14-ounce) can crushed tomatoes

1

(14-ounce) can diced fire-roasted tomatoes, drained

3 Tablespoons

julienned or chopped fresh basil leaves

1/4 teaspoon

crushed red pepper flakes, plus extra for sprinkling

1/4 teaspoon

dried oregano

pinch of granulated sugar (optional)

1/3 cup

heavy cream

optional toppings: freshly-grated Parmesan cheese, extra fresh basil, extra crushed red pepper flakes
---
Instructions
Cook pasta al dente in a large stockpot of generously-salted boiling water according to package instructions.  Drain and set aside.

Meanwhile, as the pasta water is heating, heat 1 Tablespoon olive oil in a large saute pan over medium heat.  Add shrimp and season evenly with 1/2 teaspoon salt and 1/2 teaspoon black pepper.  Then saute for 4-6 minutes, flipping once or twice, until the shrimp are cooked through and pink and no longer translucent.  Transfer the shrimp to a separate plate and set aside.

Return the saute pan to the stove and increase heat to medium-high.  Add the remaining 1 Tablespoon olive oil, then add the onion and give it a stir to coat it evenly with the olive oil.  Saute for 4-5 minutes until the onion is soft and translucent, stirring occasionally.  Then stir in the garlic, and saute for an additional 1-2 minutes or until the garlic is fragrant, stirring occasionally.  Add in the crushed and diced tomatoes, basil, crushed red pepper flakes, oregano, sugar, and the remaining 1/2 teaspoon of salt and 1/2 teaspoon of black pepper, and stir to combine.  Bring the mixture to a simmer, then reduce heat to medium and simmer (uncovered) for 8-10 minutes, or until the mixture is reduced and is fairly thick.  Stir in the heavy cream until combined.

Then once the pasta is cooked and drained, combine it with the creamy tomato basil sauce and the cooked shrimp, and toss until combined.

Serve immediately, with the optional toppings if desired.  Or transfer to a sealed container (such as Reynolds Heat & Eat Containers) and refrigerate for up to 3 days, or freeze for up to 3 months.
---
This post is sponsored by Reynolds Kitchens. I am partnering with them on this post because I genuinely am a fan of their product, and use these containers all the time! All opinions are 100% my own as always. So thanks for supporting the great brands who continue to make this site possible!