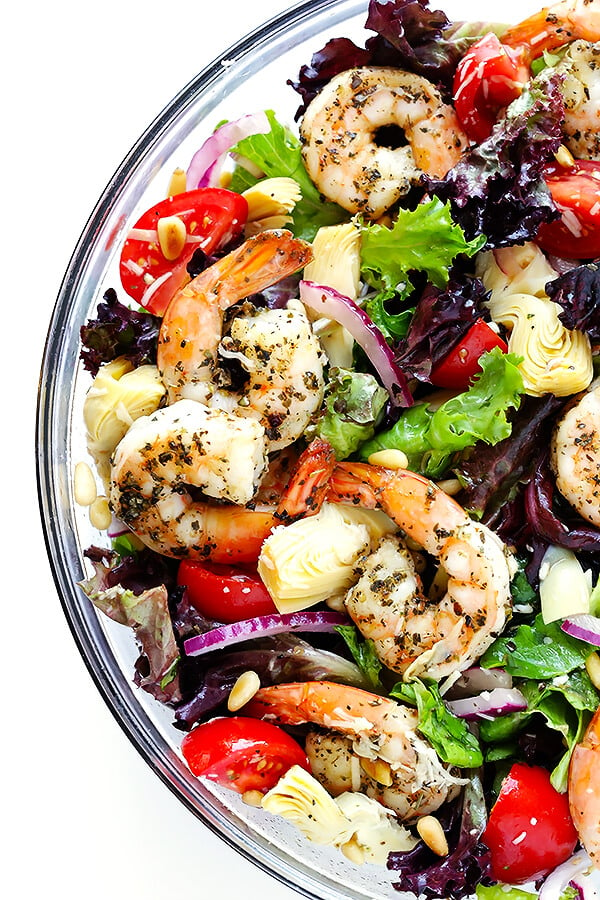 Oh my goodness, you guys, this salad.
I am absolutely obsessed with it. And that says a lot, coming from the girl who usually reserves that word to describe chips and salsa, versus a big bowl o' greens. But I mean it. I've made it three times this past week, and am still not tired of it.
It all began last week when I was craving this salad, but realized only had spring greens in my fridge. So I tossed them in a huge bowl along with lots of Parmesan, toasted pine nuts, lemon juice, and olive oil. And then…peeked in the fridge and decided to add in some leftover tomatoes and artichoke hearts that I needed to use up. And then…I added in some red onion, because I seem to be convinced that all salads need red onion. And then…I was randomly feeling a little low on energy, so I decided to use my pine-nut-toasting skillet to quickly saute up a few shrimp with Italian seasoning. And…ba da bing, ba da boom…this random salad somehow ended up being my lunch.
And then it was so freaking delicious, that I had to make it be my lunch twice more this past weekend.
That's right. Can't stop, won't stop with the lemony salads. ♥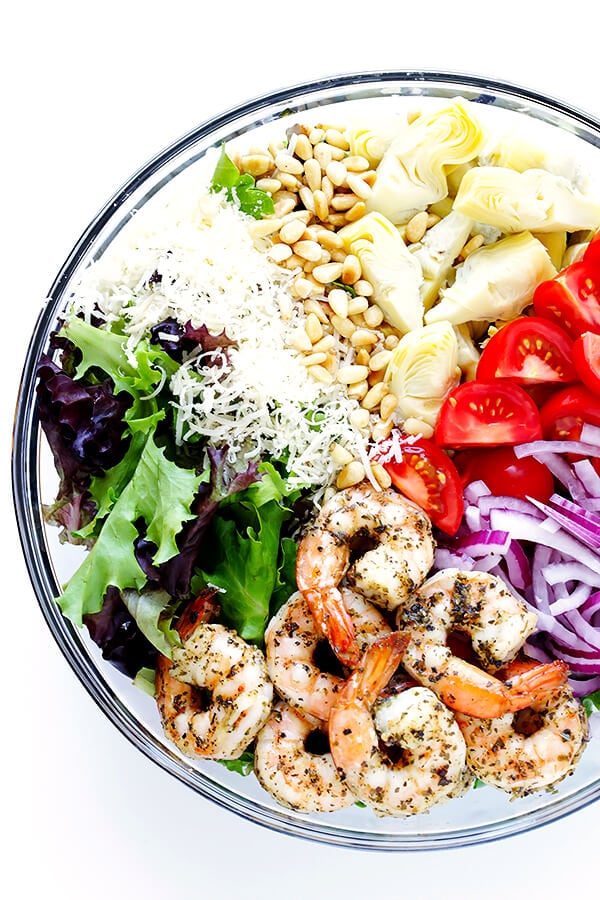 I mean, seriously, just look at all of those yummy ingredients. I don't know this salad couldn't be a winner. Especially with those zesty shrimp, which are one of my favorite little secrets that always seem to impress a crowd. People always seem to think they're so fancy and flavorful. But all you literally need to make them is some olive oil (or butter), a generous sprinkling of freshly-cracked black pepper and Kosher salt, and lots of Italian seasoning, and voila — these herby flavorful shrimp will make any meal all the tastier. 🙂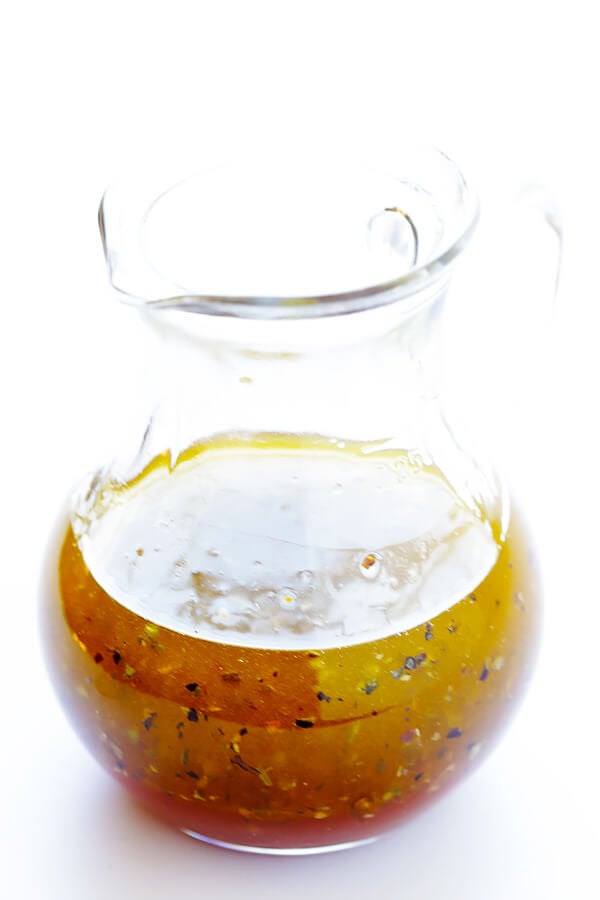 Also, let's talk for a second about the vinaigrette. The first and third times that I made this salad, I just used lots of freshly-squeezed lemon juice and olive oil and tons of black pepper…which was delicious, and I highly recommend.  But the second time, I put 2 more minutes worth of effort into it and whisked together a more legit lemony vinaigrette, which definitely added a little more depth of flavor. I've included that recipe below, but just know that you have options. 😉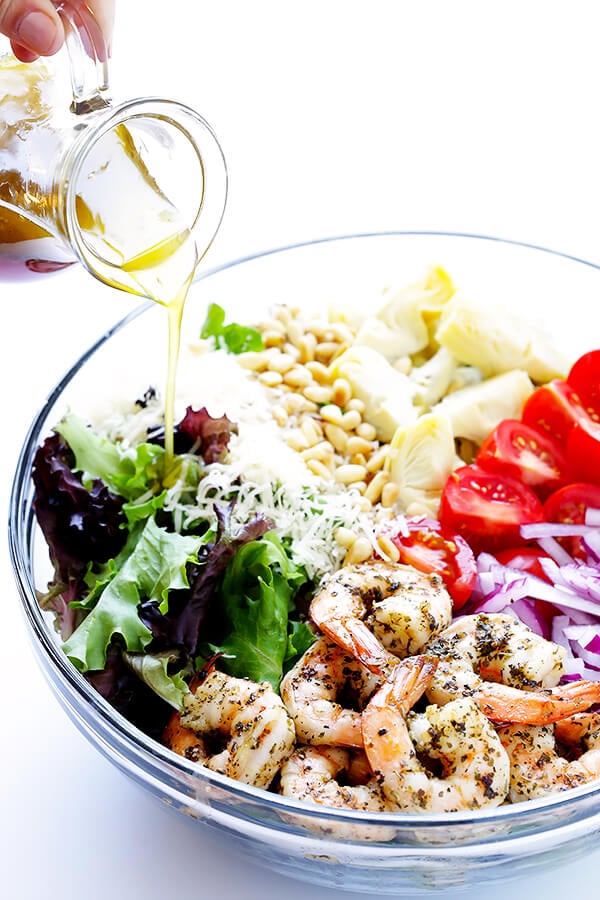 Then, drizzle however much vinaigrette you'd like on top of the salad…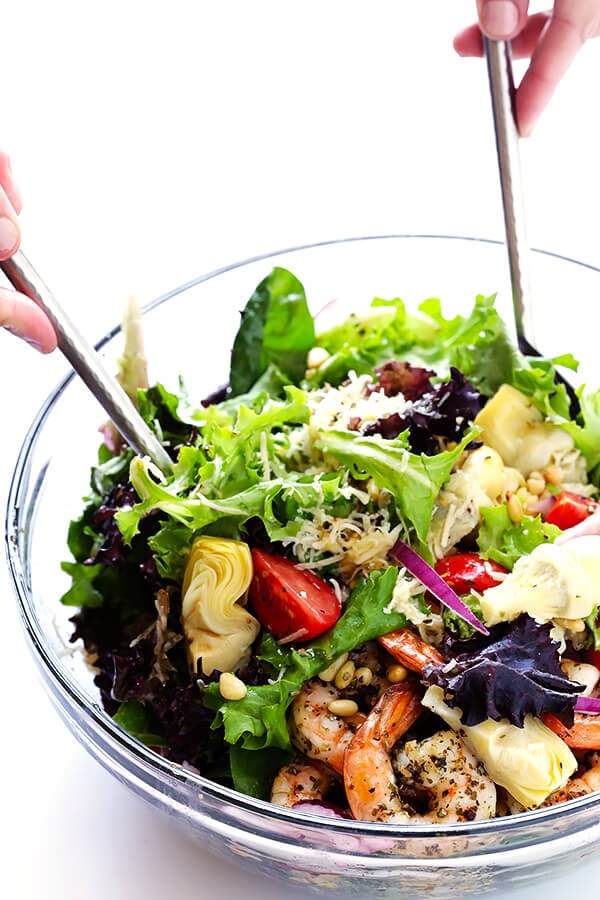 …and give it a toss until everything is nice and evenly coated with the vinaigrette…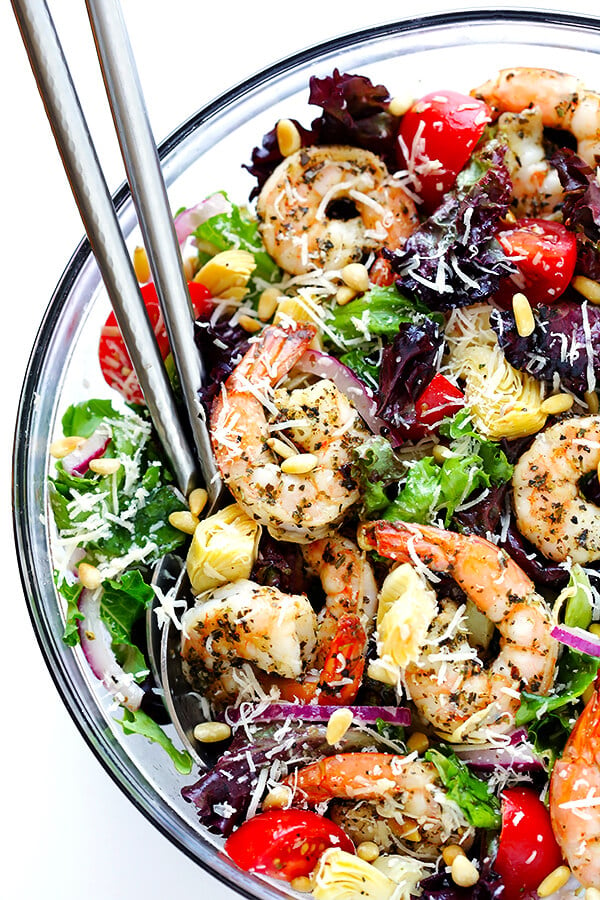 …and then get ready for your tastebuds to fall in love. 😉
Truly, this is yet another salad for me that falls more in the savory category and isn't too sweet, which I'm finding seems to be my preference lately with greens. (Ok, let's be honest, and food in general.)  And I love how fresh and light it feels, while still being nice and hearty as an entree. Definitely my kind of salad right now, and I expect it to be for many more years to come.
Enjoy, friends!
Print

Shrimp and Artichoke Green Salad with Lemony Vinaigrette

Prep Time: 20 minutes


Cook Time: 5 minutes


Total Time: 25 minutes


Yield: 4 –6 servings 1x
---
Description
This Shrimp and Artichoke Green Salad is made with quick and easy Italian-herb shrimp, lots of artichoke hearts, fresh tomatoes, toasted pine nuts, and then it's all tossed together with a zesty lemon vinaigrette. So simple, yet so much flavor!
---
Green Salad Ingredients:
1

batch Italian herb shrimp (see below)

1

batch Lemony Vinaigrette (see below)

5 ounces

(about

5

–

6

cups) spring greens

2 cups

diced tomatoes, cut into bite-sized pieces

1

(14 ounce) jar quartered artichoke hearts, drained and roughly chopped

half of a

small red onion, peeled and thinly-sliced

1/2 cup

toasted pine nuts

lots of freshly-grated Parmesan cheese
Italian Herb Shrimp Ingredients:
8 ounces

(

1/2

pound) raw shrimp, peeled (or tail-on), deveined, and thawed

1 tablespoon

 Italian seasoning, store-bought or homemade

salt and freshly-cracked black pepper

1 tablespoon

extra-virgin olive oil
Lemony Vinaigrette Ingredients:
1/3 cup

extra-virgin olive oil

3 tablespoons

red wine vinegar

3 tablespoons

freshly-squeezed lemon juice

1 teaspoon

Italian seasoning, store-bought or homemade

1/2 teaspoon

Kosher salt

1/2 teaspoon

freshly-cracked black pepper

1

garlic clove, pressed or minced

(optional: 1 teaspoon honey, if you'd like a sweeter dressing)
---
Instructions
To Make The Green Salad:
Add all ingredients together in a large bowl, and toss until evenly combined.  Serve immediately, garnished with extra Parmesan cheese and freshly-cracked black pepper if desired.
To Make The Italian Herb Shrimp:
Sprinkle shrimp evenly on both sides with the Italian seasoning, and a few generous pinches of salt and pepper.

Heat oil in a large saute pan over medium-high heat.  Add shrimp and cook for 4-5 minutes, stirring and flipping occasionally, until the shrimp are pink and cooked through and no longer opaque.  Remove from heat and serve immediately.
To Make The Lemony Vinaigrette:
Whisk all ingredients together until combined.
---