Man, do you ever have those days when your heart feels so happy and full that it just calms you down to your bones? Like, in the best and most peaceful of ways?
Yesterday was one of those for me. ♥
I woke up early in the morning feeling thankful and so dang loved after a beautiful birthday evening with all of my favorite people the night before — milling around the kitchen enjoying a dreamy buffet of chips and salsa, keeping the refills coming on everyone's glasses with fresh margaritas, sitting around the table talking and laughing and enjoying these wonderful people until late in the evening. It was my kind of a birthday, and I'm still smiling about it!
Then, even better, I stepped outside in the morning to one of those gorgeous spring days that you dream about all winter long. The air was perfectly warm and breezy, the sun was bright and shining all day long, and it felt like blooms were flowering everywhere you turned. I immediately threw open the windows and left them open, and Henry faithfully scootched his naps across the floors following the sunbeams all day long.
Of course, it was way too gorgeous a day to stay inside. So I sent a shout-out to my neighbors seeing if people wanted to hang out by the picnic tables out back after work. And even with little planning, we had a crowd.  So fun!! Everyone was almost giddy to be back outside after a winter of neighbor-nighting indoors, and stayed outside passing around chicken wings and (my leftover!) chips and salsas and cookies and beer until long after the sun had set. We even had a handful of new neighbors show up, which always makes me so happy to see our little tradition living on.
Anyway, it was one of those really good ones. And made me hopeful about this next year of life. And made me feel like I'm right where I'm supposed to be.
So I soaked it up! And I made a big batch of these springy sesame noodles to share at neighbornight, because naturally noodles are what you bring to celebrate a perfect spring day, right?! 😉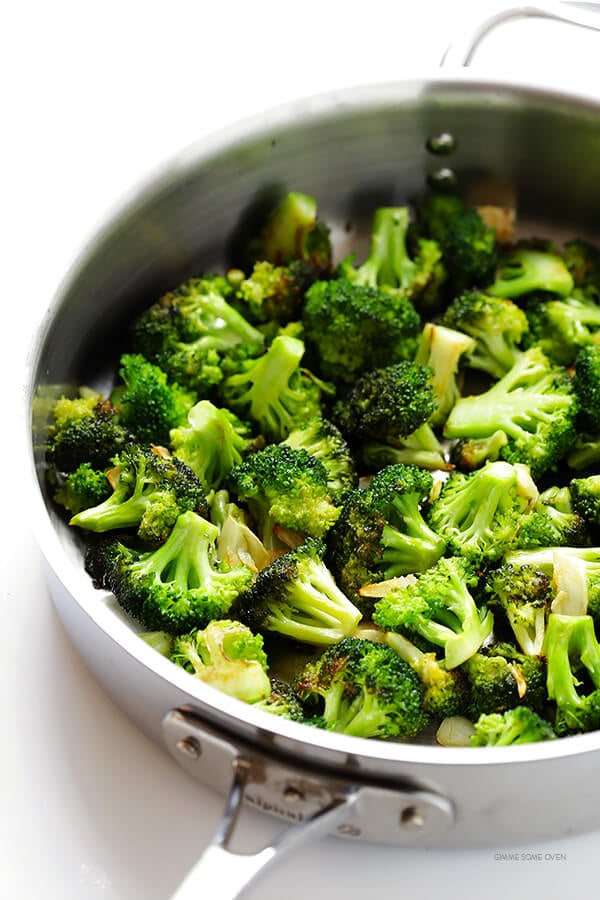 They sure are in my book, at least! 🙂
Actually, I've been craving sesame noodles for awhile now, and happened to have a huge head of broccoli waiting for me in the fridge. So I chopped it up Dana Carvey-style and sauteed it up with some garlic while the noodles cooked.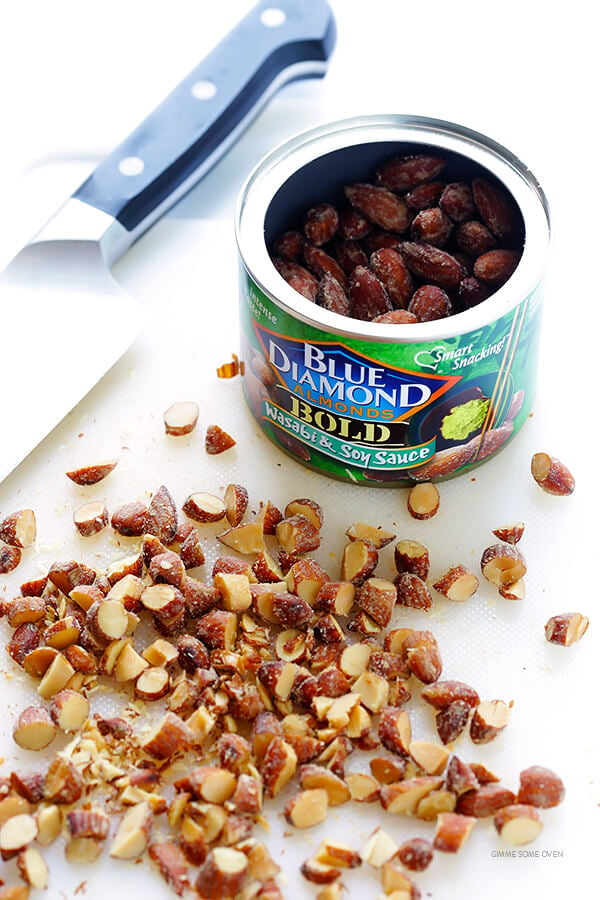 Then, in a moment of brilliant inspiration, I decided to chop up a bunch of these Wasabi and Soy Sauce almonds from Blue Diamond and add them to the mix for an extra kick. (<– Oh my goodness, I am absolutely obsessed with snacking on these things lately. They're my new fix when I have a sushi craving, and they are the absolute best.)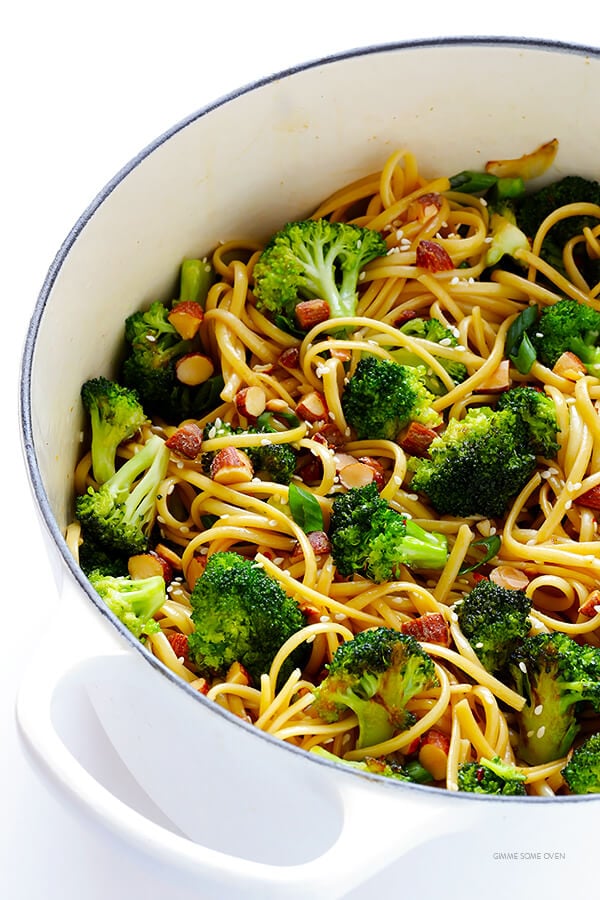 Then I tossed everything together with a simple sesame-soy vinaigrette, sprinkled on a few sesame seeds and green onions and crushed red pepper flakes for garnish…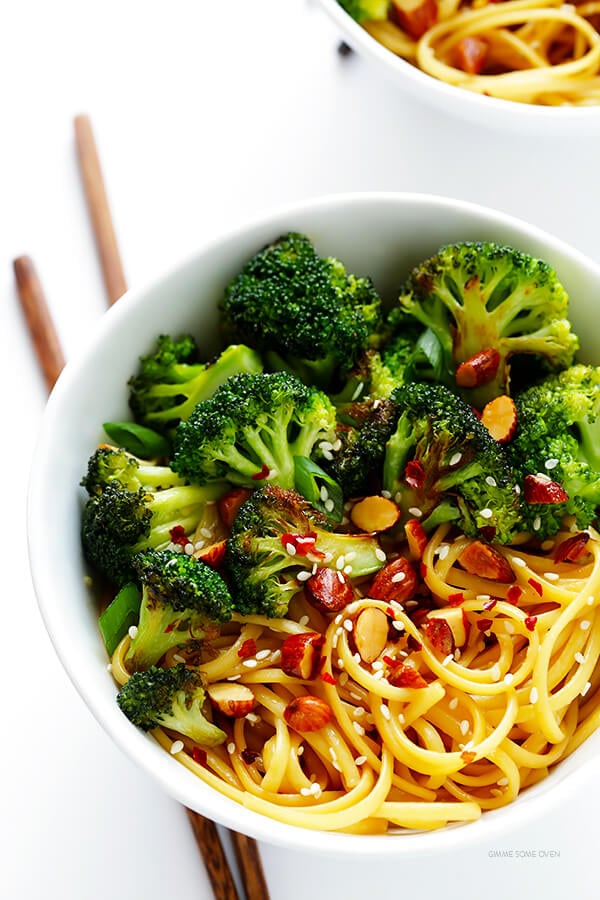 …and voila. These beautiful, colorful, fabulously-flavorful noodle bowls were ready to go. And even better? They were ready to go in just 20 minutes. Because on a spring week as gorgeous as this one, it would be a crime to be stuck inside around the stove. 😉
Feel free to add in some extra protein if you'd like. And of course, any other fresh veggies that you have on hand would also be delicious mixed into the saute as well, as well as any other varieties of almonds. But if you have the time to track down a can of the Wasabi and Soy Sauce almonds, I'm telling you, you won't regret it.
Hope you all enjoy this one, and I wish us all many more beautiful days ahead this spring!
Print

Sesame Noodles with Broccoli and Almonds

Prep Time: 6 minutes


Cook Time: 14 minutes


Total Time: 20 minutes


Yield: 6 –8 servings 1x
---
Description
This Sesame Noodles with Broccoli and Almonds recipe is ready to go in about 20 minutes, and is full of the BEST fresh and zesty flavors!
---
Sesame Noodles with Broccoli and Almonds Ingredients:
1

pound (16 oz.) uncooked linguine (or any noodles, such as rice noodles, soba noodles, lo mein noodles, etc.)

1 tablespoon

peanut or vegetable oil

3

–

4

cups chopped broccoli florets (about

1

medium head of broccoli)

4

cloves garlic, peeled and thinly-sliced

salt and pepper

1/2 cup

chopped Blue Diamond Almonds (I used the Wasabi and Soy Sauce variety)

1

batch Sesame-Soy Vinaigrette (see below)

optional garnishes: thinly-sliced green onions, toasted sesame seeds, coarsely-ground black pepper, crushed red pepper flakes
Sesame-Soy Vinaigrette Ingredients:
1/4 cup

soy sauce

2 tablespoons

rice wine vinegar

1 tablespoon

sesame oil

1/2 teaspoon

freshly-cracked black pepper

1/2 teaspoon

ground ginger

1/2 teaspoon

sriracha or hot chili oil
---
Instructions
To Make The Noodles:
Cook noodles al dente in a large stockpot of salted water according to package instructions.  Drain, and set aside.

Meanwhile, as the pasta is cooking, heat oil in a large saute pan over medium-high heat.  Add the broccoli florets and season with a few pinches of salt and pepper.  Saute, stirring once a minute or so, for 4-5 minutes until it is slightly charred around the edges and cooked through.  Stir in the garlic and continue sauteing for 1-2 minutes, stirring frequently, until the garlic is cooked and fragrant.  Remove from heat and set aside.

When the pasta is drained, return it to the large stockpot, and stir in the cooked broccoli and garlic, almonds, and sauce until everything is evenly combined.

Serve immediately, topped with your desired garnishes.  Or refrigerate the noodles in a sealed container for up to 3 days.  (This dish is also awesome when served chilled.)
To Make The Sauce:
Whisk all ingredients together until combined.  Set aside.
---
This post has been sponsored by Blue Diamond Almonds. Clearly, I'm a big fan, and am happy to be partnering with them to bring you more delicious almond-y recipes on the blog this year.