Who else is obsessed with chopped salads lately?!
I'll be the first to admit — I am a total fan of those bagged chopped salads that have become a staple in grocery stores nowadays. My friends got hooked on them a few years ago and turned me onto them. And ever since, I almost always have a bag stashed in my fridge for quick lunches or dinners. They're so dang quick and fresh and easy, and I love trying out all of the new brands and flavors that pop up in the various stores that I frequent.
But of all the flavors I've tried, I always seem to come back to a classic — the sesame chopped salad. It seems like every brand (and most restaurants that serve salads) has a slightly different take on this salad, but the main ingredients are always the same — a cabbage-based slaw, a sesame vinaigrette, sliced almonds, and maybe some fried wonton strips and fresh cilantro and extra sesame seeds if you're lucky. Definitely a good start…but if you've seen me make this salad on Snapchat (where it makes a pretty regular appearance), you might notice that I always soup mine up with some extra avocado and chicken. It's just not quite the same without it. 😉
That said, most of those bagged salads at the store aren't organic, which is a priority for me when purchasing leafy greens. So recently, I decided to try making a homemade version with some organic cabbage and carrots and cilantro that I picked up at the market. And of course, I grabbed an avocado and grilled up some marinated chicken to go with it. And for something different, instead of the uber-sweet vinaigrettes that usually come with these salads, I decided to try whipping up a creamy sesame-almond dressing. And the result?!
Deeeeeeelish.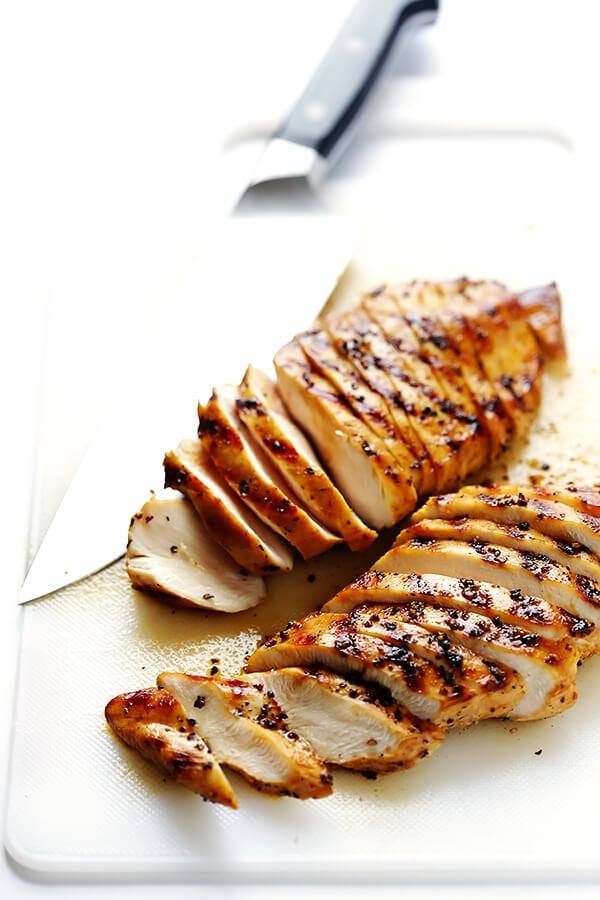 Alright, so let's talk details.
Often, I'll just shred up a rotisserie chicken or thaw out some frozen shredded chicken to pop in these salads when I'm pressed for time. But on the day I made this one, I took a few extra minutes to whip up a simple sesame marinade for some chicken breasts, and then cooked them in my grill pan while I prepared the rest of the ingredients.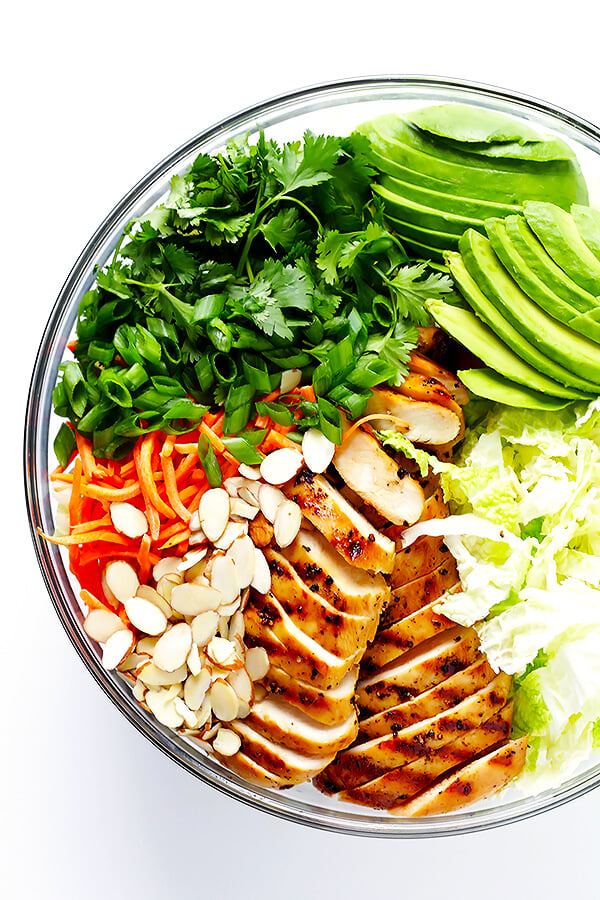 Then I tossed everything in a big bowl — fresh cilantro, avocado, chopped cabbage, chicken, almonds, carrots, and green onions. (Probably should have chopped up that chicken and avocado a bit more to make this technically a "chopped" salad, but eh, we're not very technical around here.)  😉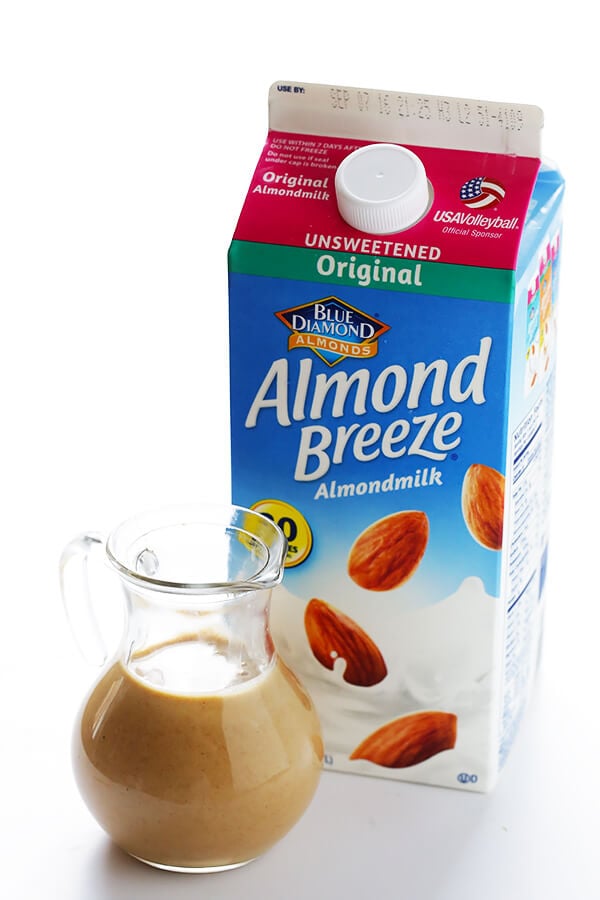 And then I whipped up a simple creamy sesame-almond dressing using Blue Diamond Almond Breeze Unsweetened Original Almondmilk and almond butter as a base (in lieu of oil!), along with some rice wine vinegar, soy sauce, sesame oil, and a hint of sriracha, which was delicious. Loved the creamy vibe for a change! (And fun fact — just learned that Blue Diamond Almond Breeze is the official almondmilk of Team USA Volleyball, who I'm looking forward to cheering on! ?)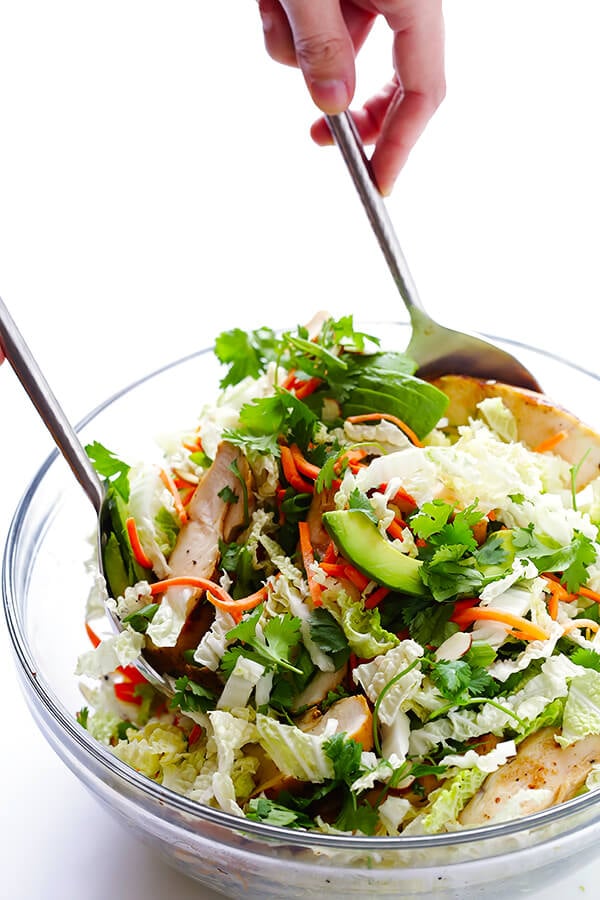 Then I tossed everything together. (Well, all of the salad stuff. I decided to drizzle on the dressing later.)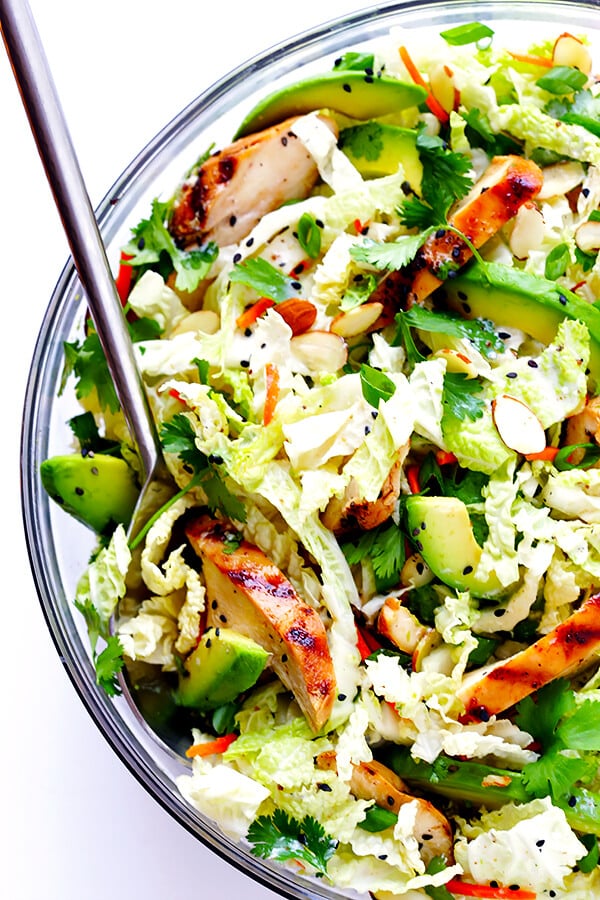 And in less than 30 minutes, this bright and beautiful sesame chicken chopped salad was ready to enjoy.
Love how simple it was to make homemade. Love all of those flavorful, fresh ingredients. And I absolutely loved the creamier, naturally-sweetened dressing for a change. Definitely a winner.
So if you love sesame salads as much as I do, check out the recipe below, and happy chopping!
Print

Sesame Chicken Chopped Salad

Prep Time: 20 minutes


Total Time: 20 minutes


Yield: 4 –6 servings 1x
---
Description
This Sesame Chicken Chopped Salad recipe is packed with fresh ingredients and zesty chicken, and tossed with a creamy sesame ginger vinaigrette.
---
Salad Ingredients:
2

boneless skinless chicken breasts, grilled and sliced (see below for optional marinade)

1

head Napa or green cabbage, thinly sliced

1

large avocado, peeled, pitted and thinly sliced

1 cup

shredded carrots

2/3 cup

roughly-chopped fresh cilantro leaves

1/3 cup

toasted sliced or slivered almonds

1/3 cup

thinly-sliced green onions

1 tablespoon

toasted sesame seeds

1

batch creamy sesame-almond dressing (see below)
Creamy Sesame-Almond Dressing Ingredients:
1/3 cup

 Blue Diamond Almond Breeze Unsweetened Original Almondmilk

1/3 cup

almond butter

2 tablespoons

rice wine vinegar

1 tablespoon

soy sauce

1 teaspoon

toasted sesame oil

1/2 teaspoon

ground ginger

(optional) 1 teaspoon sriracha
---
Instructions
To Make The Salad:
Toss all ingredients together until evenly combined.  Serve immediately.
To Make The Creamy Sesame Dressing:
Whisk all ingredients together until combined, adding in the sriracha if you would like a spicier dressing.  Use immediately, or refrigerate in a sealed container for up to 1 day.  (Also, if you would like a sweeter dressing, feel free to stir in a few teaspoons of honey.)
---
Notes
You're welcome to just season the chicken breasts with olive oil, salt and pepper, then grill, bake or saute them until cooked through.  BUT, if you would like to kick the flavor up a notch, I highly recommend whipping up this quick sauce and letting the chicken breasts marinate in it for at least 15 minutes (or up to 8 hours) before cooking.  Or, if you want a shortcut, you can also just shred a rotisserie chicken for this recipe.  Here's the marinade sauce:
1/4 cup low-sodium soy sauce

2 tablespoons extra-virgin olive oil

2 tablespoons rice wine vinegar

2 teaspoons ground ginger

1 teaspoon toasted sesame oil
This post is sponsored by Blue Diamond Almond Breeze, maker of my favorite almondmilk. They only use Blue Diamond Almonds to make their almondmilk, and are proud to be an official sponsor of USA Volleyball. Check out www.ServeUpYourBest.com if you'd like to learn more, and also visit for a chance to win $5,000 for the ultimate beach day, learn fun volleyball moves, get an Almond Breeze coupon and smoothie recipes!