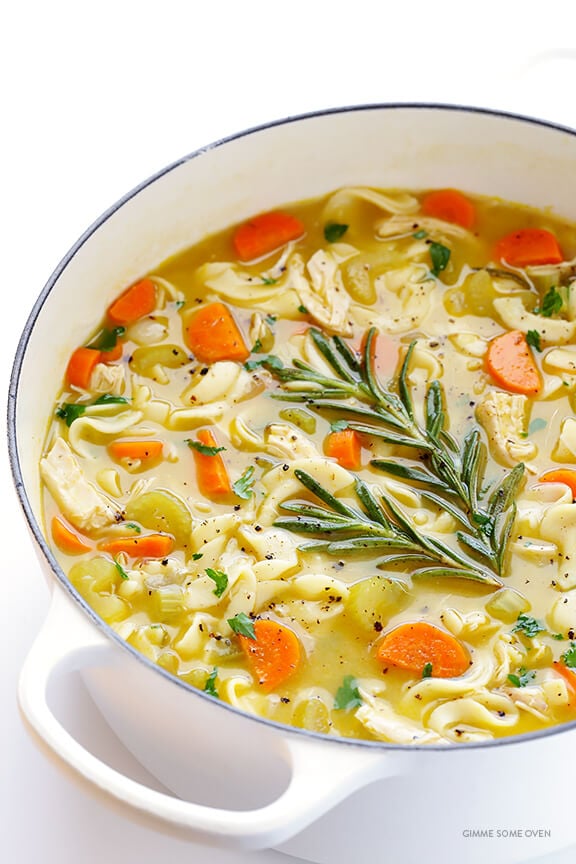 Happy Friday, everyone!
By the time you read this, I will be tucked away in a cabin with a bunch of girlfriends (and without wifi!) deep in the heart of Arkansas for a long weekend at the lake. And oh man, I've been looking forward to this trip for weeks! The plan for the weekend is to blissfully not have a plan, and just spend the weekend relaxing by the lake and sleeping in and cozying up with good books and cooking together and drinking lots of good wine late into the fall evenings and just enjoying the chance to spend days and days off the grid hanging out together.
"Ultimate comfort", as my friend, Michelle, would call it.
Well on that note, I thought I would leave you with an ultimate comfort food recipe for the weekend while I'm away. As the weather is getting chillier, and everyone is arriving home ready for a warm meal, it seemed only appropriate that we kick off fall soup season with a classic — homemade chicken noodle soup.
Although my favorite way to make this soup is with an herby, aromatic, delicious twist that I think you will all love.
Who'd like some rosemary chicken noodle soup? 🙂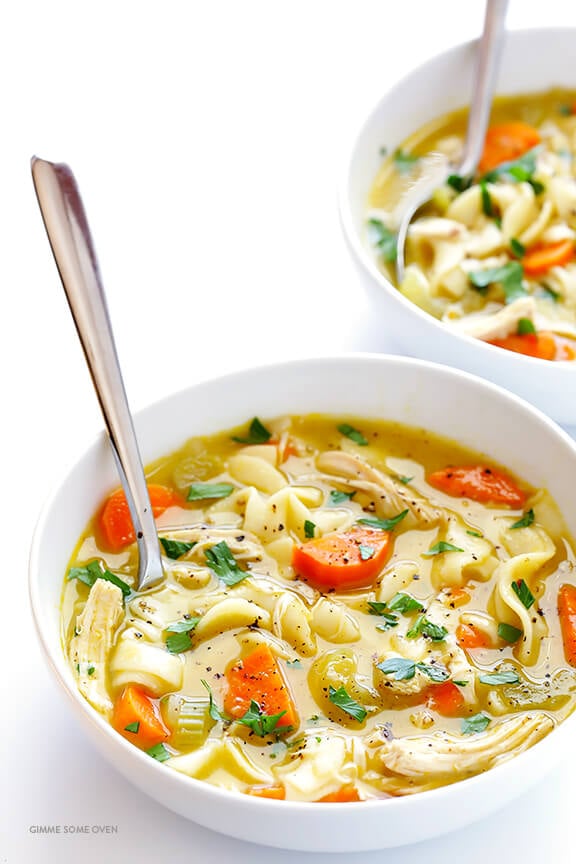 When it comes to comfort food, I'm pretty sure that good ol' chicken soup for the soul is always a good idea.
I love it on chilly evenings, I love it even when it's warm, I love ordering it out at restaurants, I love making a big pot at home on the stove, I loved popping open the ol' cans of it back in college, and I love experimenting with fresh and healthier versions today, I love it when I'm sick, I love it when I'm feeling great, I love making a big batch to freeze, I love sharing steaming hot bowls with friends.
Basically, as they said so well on SNL, IloveitIloveitIloveit. 🙂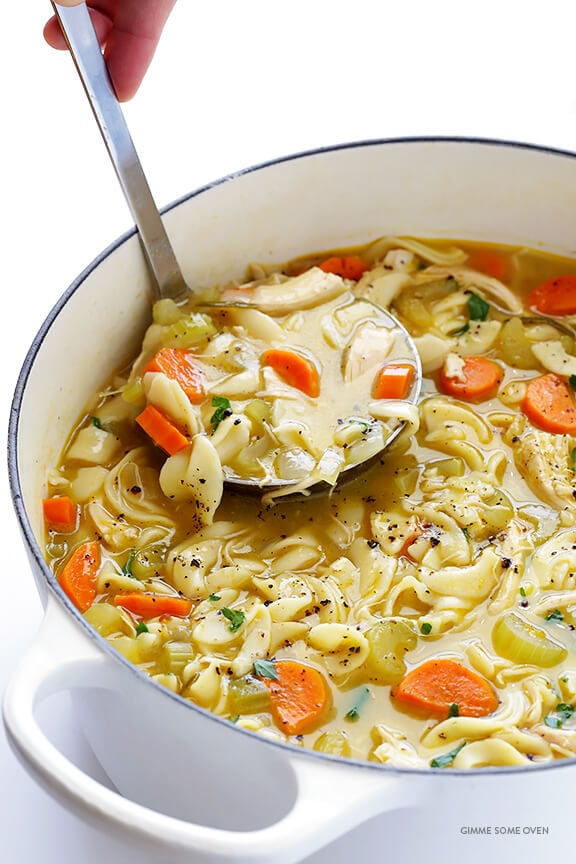 But as much as I indiscriminately love all chicken noodle soup, I have discovered over the years that my favorite way to make it involves one simple tweak — lots and lots and lots of fresh rosemary.
(Well, I strongly recommend fresh rosemary if you can get your paws on it. But dried rosemary — or if you must go dried, I highly recommend using powdered rosemary in order to avoid the little spiky needles — will also work.)
Traditional chicken noodle soup recipes usually use at least a hint of rosemary, usually mixed with thyme. But my version is all rosemary, all the way. It's fragrant and woodsy flavor gives an unexpected (yet subtle) kick to traditional chicken noodle soup. And every time I make it, people love it and always ask about the "secret" ingredient.
So simple! Yet so deliciously satisfying. 🙂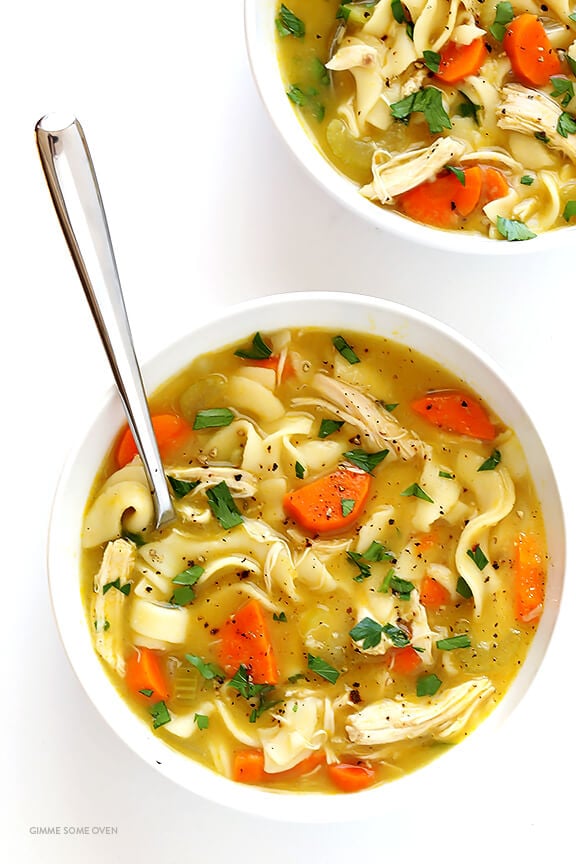 The other great thing about this particular recipe is that it can be ready to go from start to finish in about 30 minutes. My kind of recipe! I tend to take shortcuts by using high-quality organic chicken stock (very important — I recommend Trader Joe's, Swanson's, or Kitchen Basics) and I shred a rotisserie chicken while the soup is coming to a boil to save time (although you could also use any pre-cooked chicken like my slow cooker shredded chicken).
Feel free to also sub in your favorite kind of noodles. I went traditional with some wide egg noodles, but whole-wheat pasta, or even gluten-free noodles would also work well.
However you make it — if you love fresh rosemary and you love a big ol' bowl of chicken noodle soup — I think this one may be just the soup for you this winter. Enjoy, friends!
Print

Rosemary Chicken Noodle Soup

Prep Time: 8 minutes


Cook Time: 22 minutes


Total Time: 30 minutes


Yield: 8 servings 1x
---
Description
This Rosemary Chicken Noodle Soup recipe is kicked up a notch with the addition of lots of fresh aromatic rosemary, and it's ready to go in about 30 minutes!
---
2 Tablespoons

olive oil

1

small white onion, peeled and diced

2

medium carrots, peeled and diced

2

stalks celery, ends trimmed and diced

3

cloves garlic, minced or pressed

8 cups

(

64 ounces

) good-quality chicken stock

3

–

4

stalks *fresh rosemary (or more/less to taste)

6 ounces

wide egg noodles (or use gluten-free noodles if making this GF)

2 cups

shredded cooked chicken

salt and pepper

(optional: chopped fresh parsley for garnish)
---
Instructions
Heat oil in a large stockpot over medium-high heat.  Add onion and saute for 4 minutes, stirring occasionally.  Add carrots and celery and saute for another 3-4 minutes, or until the carrots are softened a bit.  Add garlic and saute for an additional 1-2 minutes, or until fragrant.  Add chicken stock and stir until combined.  Gently stir the rosemary into the soup, then continue cooking until the soup reaches a simmer.  Reduce heat to medium, and simmer for an additional 5 minutes until the broth has your desired level of rosemary flavor.  (You can add in more rosemary if needed.)

Once the broth is ready, remove the rosemary, and stir in the egg noodles and chicken.  Continue cooking for 8-10 minutes or until the egg noodles are al dente.  (The longer they cook, the more broth they will soak up.  Feel free to add more chicken stock if desired.)  Season the soup with salt and pepper to taste.

Serve warm, garnished with extra black pepper and fresh parsley if desired.
---
Notes
*A few important notes about rosemary:
If fresh rosemary is not available, you can substitute 2-3 teaspoons (or more) of dried rosemary.  Or 1.5 teaspoons (or more) ground rosemary.  I always recommend starting with less, and then you can always add more if desired.
Also, I'm not a big fan of eating rosemary needles, so I prefer to let the sprigs simmer in the broth until most of their flavor is released, and then just removing them before serving.  But heads up — they soften and tend to fall apart after they simmer for quite awhile.  So I recommend letting them simmer on top of the stock so that you can remove them easily.  As an alternative, you can also mince them up finely and just eat them with the soup.
To each, her or his own when it comes to rosemary preferences.  😉