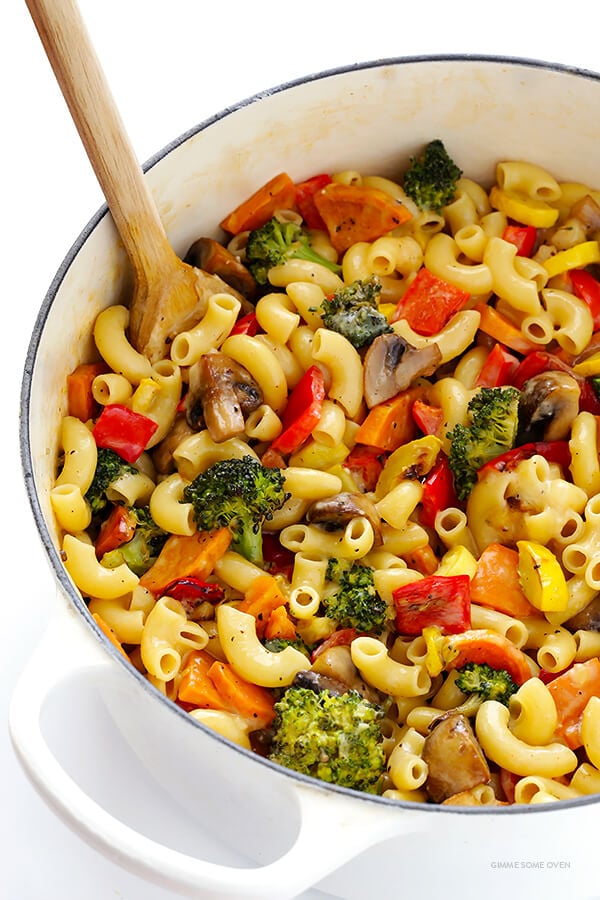 I made you an enormous pan of roasted veggies!
And…I might have whipped up a little mac and cheese to go with them.
(Or wait, was it the reverse?)
Either way, I've been craving comfort food galore lately while freezing my tail off this winter in Kansas City. And when it comes to comfort food, it goes without saying that mac and cheese will forever and always have a spot at the top of that list. But hey, when it comes to getting my veggie quotient for the day, it probably also goes without saying that roasted veggies are at the top of that list. So a few weeks ago, I decided to bring together the best of both worlds. And this creamy, colorful, oh-so-comforting pot of roasted veggie mac and cheese was born.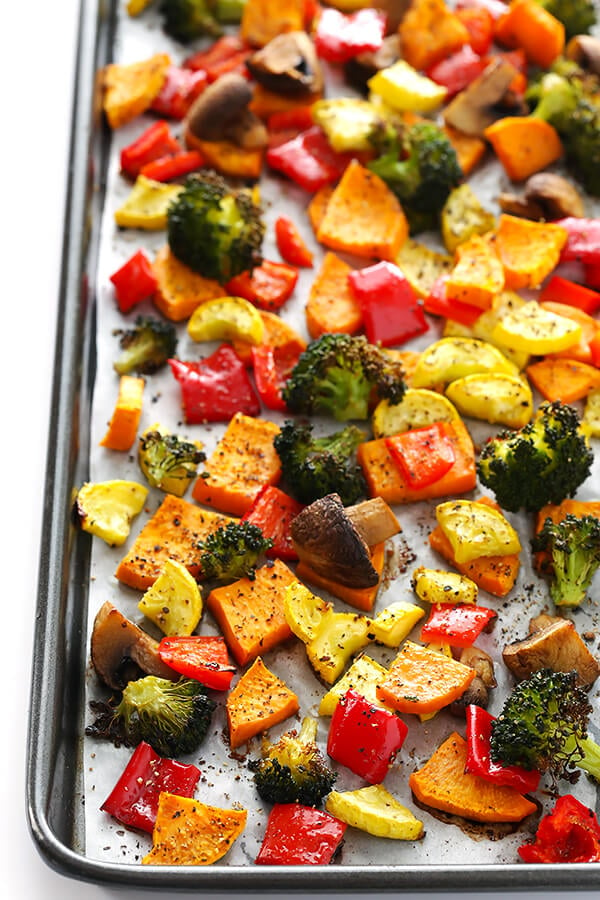 Actually, some of you long-time blog followers may recognize this recipe from way back in 2012 when I first shared it here on the blog. It's been one of my favorites for years, and when I made another batch of it for dinner a few weeks ago (along with my new Kale Caesar Salad recipe), I decided to snap some new pics along the way to give it this recipe a little 2016 update.
As you can see, the recipe is just as good and vibrant and delicious as ever. 🙂
To make it, simply roast up a huge pan (or I actually spaced my veggies out onto two pans) of your favorite veggies, tossed with olive oil, salt and pepper.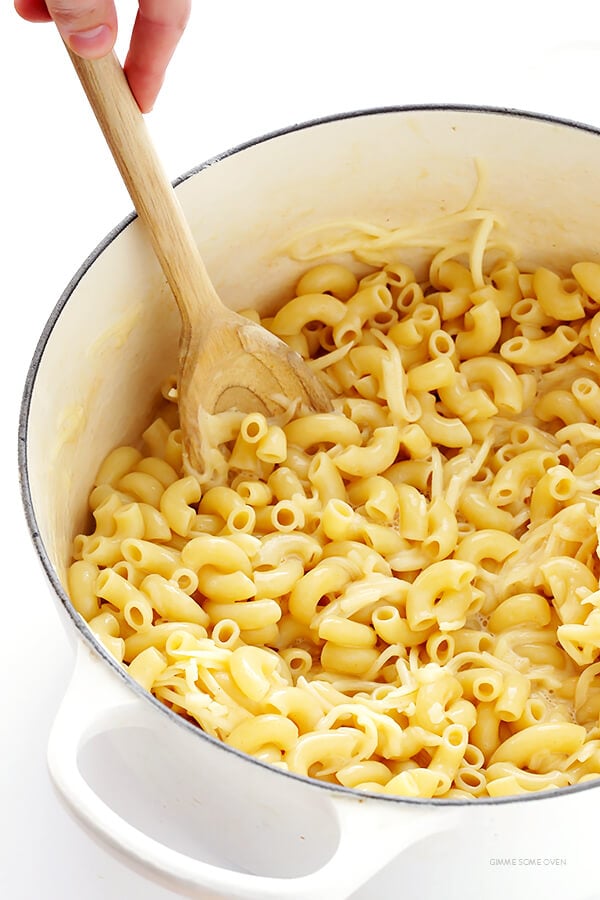 Then while the veggies are roasting, whip up my favorite simple (and healthier!) mac and cheese recipe. It uses evaporated 2% milk instead of heavy cream or sour cream, and is super quick and easy to make. The one tip I'd give is to just use the sharpest cheese you can find for extra flavor (I used a sharp white cheddar this time). And always always be sure to freshly grate a block of cheese rather than buy the pre-shredded stuff (otherwise it may not melt well).
Just cook up some of your favorite pasta, stir in the milk sauce mixture, and then add in your shredded cheese and stir it until it's 100% melted…
…and then add in those gorgeous roasted veggies. Just look at all of that color!!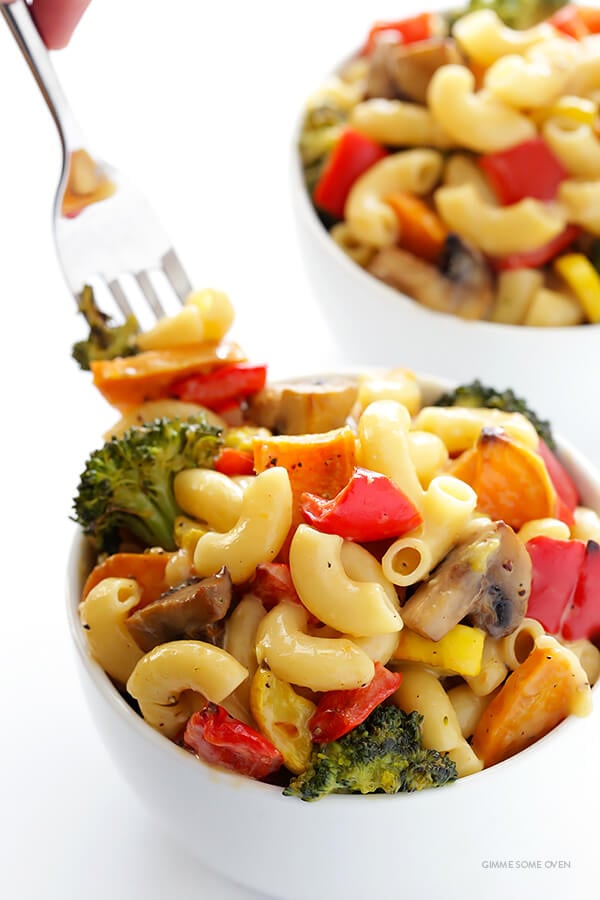 As always, this cheesy sauce seemed to totally disappear once it got behind a camera (so weird how cheesy sauces do that). But I swear, these noodles and veggies are coated in a thick and creamy and oh-so-cheesy sauce that you're going to love. Well really, I'm pretty sure you're just going to love the whole thing.
So cheers to comfort food with a healthier twist! And for anyone else stuck in the midst of your own snowmageddons, I hope this keeps you nice and warm!
Print

Roasted Vegetable Macaroni & Cheese

Prep Time: 15 minutes


Cook Time: 45 minutes


Total Time: 60 minutes


Yield: 6 –8 servings 1x
---
Description
This "Roasted Vegetable Macaroni & Cheese" overflows with delicious vegetables. And the creamy, lighter sauce is simple to make and full of flavor!
---
1

large red bell pepper, cored and diced

1

medium sweet potato, peeled and diced

1

yellow squash, de-stemmed and diced

1

small head of broccoli florets, chopped into bite-sized pieces

1

(8-ounce) package button or baby portabella mushrooms, quartered

1

small white onion, peeled and diced

2 Tablespoons

olive oil

1

head garlic, cloves peeled

1

(12-ounce) can 2% evaporated milk

1

large egg

1/2 teaspoon

salt

1/4 teaspoon

 ground black pepper

1/2 teaspoon

smoked paprika

pinch of cayenne

12 ounces

elbow macaroni (or any shape of pasta)

1 Tablespoon

butter

8 ounces

freshly-grated smoked or sharp white cheddar cheese (do not use pre-grated cheese)

1/4 cup

freshly-grated Parmesan cheese, plus extra for garnish
---
Instructions
Preheat oven to 400°F.  Prepare a large baking sheet (or two medium-sized baking sheets) with parchment paper or aluminum foil.

In a large bowl, toss diced vegetables with olive oil. Season with a few generous pinches of salt and pepper. Spread the vegetables out in an even layer on the baking sheet(s). Place the garlic cloves in the center of a sheet of aluminum foil, then wrap the foil around them to form a sealed packet and place the packet in the center of the baking sheet. Bake for 30-40 minutes, or until vegetables are soft and have begun to brown a bit around the edges, giving them a stir halfway through and checking on the garlic to be sure that it doesn't burn.

While the vegetables are roasting, bring a large pot of generously-salted water to a boil, and cook the pasta until al dente. Drain the pasta, and then return the pasta to the pot and toss with butter over medium-high heat until melted.

Meanwhile, in a separate bowl, whisk together the evaporated milk, egg, salt, pepper, smoked paprika and cayenne until combined. As soon as the butter is melted with the macaroni, pour in the evaporated milk mixture and stir until combined. Continue cooking over medium-high heat, stirring occasionally, for about 2-4 minutes, or until the sauce comes to a simmer.

Remove pan from heat and stir in the grated cheddar and Parmesan until melted. Then gently stir in the roasted vegetables and roasted garlic cloves until combined. Serve immediately, topped with extra Parmesan cheese if desired.
---
Notes
*Edited slightly in January 2016.