This post is sponsored by Old El Paso.
Many people may love Paris in the springtime.
But as for me, I'm convinced that one of the best-kept secrets in life may actually be Austin in the wintertime.
Oh my goodness, after spending the month of February in the heart of Texas last year, I couldn't resist flying down south for the winter — even if briefly — again this year. So last month, three girlfriends and I hopped on a plane and headed down to Austin for a long weekend full of bright warm patios, sundresses and sandals, and tacos, tacos, tacos.
Actually, add a few tacos onto that. Because I'm pretty sure we succeeded in eating Mexican food for every meal except for one. And almost all of those meals included at least a taco. (Or three.)  We made the rounds to all of our favorite taco joints from last year. And while I generally trend towards steak or seafood tacos, I have to admit — my favorite taco of the trip was actually a hearty vegetarian mushroom taco from Tacodeli. It was savory, it was sweet, it was loaded up with lots of fresh avocado slices, and it was just downright good, y'all.
So of course I had to come home and recreate it…and then share it with all of you. 🙂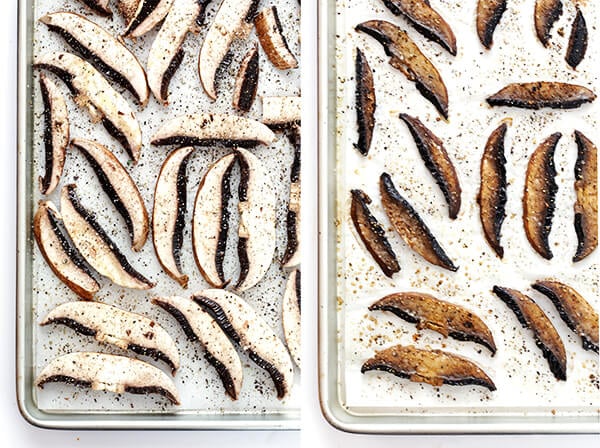 I, of course, tweaked the recipe to my own liking just a bit upon returning home to Kansas. I decided to pop my portobellos in the oven and roast them to soft perfection rather than cook them on the stove (although either method will be tasty).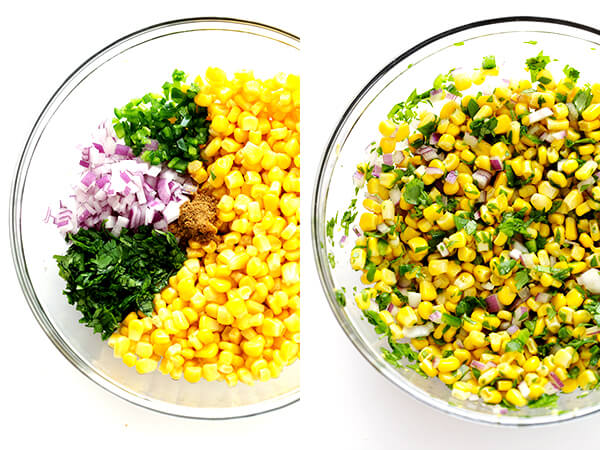 And then I subbed in my favorite corn salsa, made with lots of extra fresh cilantro and a little jalapeno for kick.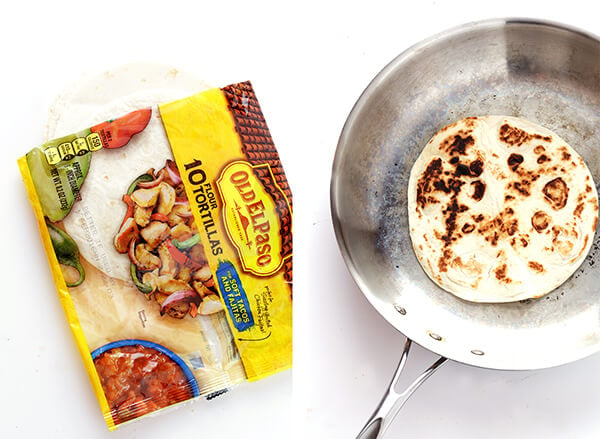 And then I toasted up some of my favorite Old El Paso tortillas until they were nice and bubbly and browned to perfection…
…and then filled them to the brim with the roasted 'shrooms and salsa, along with some generous extra sprinkles of cilantro and queso fresco. And even away from the heart of Austin, let me assure you that these Tex-Mex tacos hit the spot. 🙂
They were hearty and filling, they were the perfect balance of sweet and savory, they were naturally fresh and vegetarian, and — let me tell you — they were SO delicious. So thank you, Austin and Tacodeli for the delicious inspiration, and I can't wait to go back and visit you soon!
Print

Roasted Portobello Tacos

Prep Time: 10 minutes


Cook Time: 20 minutes


Total Time: 30 minutes


Yield: 10 servings 1x
---
Description
These Roasted Portobello Tacos are quick and easy to make, naturally vegetarian, and so hearty and delicious!
---
Roasted Portobello Taco Ingredients:
3

large portobello caps, stems removed

1 Tablespoon

olive oil

salt and pepper

1

batch corn salsa (see below)

1

(10-count) package 

Old El Paso Small Flour Tortillas

1

large ripe avocado, peeled, pitted and sliced

½ cup

chopped fresh cilantro leaves

½ cup

crumbled cotija cheese
Corn Salsa Ingredients:
1 ½ cups

whole-kernel corn

⅓ cup

finely-diced red onion

¼ cup

chopped fresh cilantro leaves

½ teaspoon

ground cumin

½ teaspoon

salt

1

jalapeno, seeded and finely-diced

juice of

one

lime (about

2 tablespoons

)
---
Instructions
How To Make The Roasted Portobello Tacos:

Heat oven to 400°F.  Line a large baking pan with parchment paper.

Slice the portobello mushroom caps into long, thin strips.  Place in a medium mixing bowl along with the olive oil, and gently toss until the mushrooms are evenly coated with the oil.  Lay the mushroom strips out in an even layer on the prepared baking sheet, and sprinkle evenly with a few generous pinches of salt and pepper.  Bake for 12 minutes, until the mushrooms are cooked through and soft.  (If you would like them more firm, you can bake for less time.)  Remove and set aside.

Rinse out the mixing bowl, then prepare the corn salsa in it as directed below.  Set aside.

If you would like to toast your tortillas, heat a large saute pan over medium-high heat until hot.  Then place a single tortilla flat in the pan and let it cook for 10-20 seconds per side, or until the tortilla begins to brown and bubble.  Immediately transfer the tortilla to a separate plate, and repeat with the remaining tortillas.

To assemble the tacos, place 2-3 mushroom slices in the center of a tortilla, followed by 1-2 slices of avocado, a large spoonful of corn salsa, then sprinkle with fresh cilantro and cheese.  Serve immediately.

How To Make The Corn Salsa:

Toss all ingredients together until combined.  Use immediately.
---
Notes
This recipe was inspired by Tacodeli in Austin, TX.
This post has been sponsored by Old El Paso. I am partnering with them to create all sorts of new fresh and tasty Mexican recipes to share with you this year, and all taco-obsessed opinions are my own as always. Thanks for continuing to support the brands who help make this site possible!