This Roasted Cauliflower, Mushroom and Wild Rice "Stuffing" is easy to make and full of the BEST savory flavors (plus a touch of sweet from those cranberries). It's also naturally gluten-free, vegetarian and vegan. So it's the perfect dish that everyone can enjoy on Thanksgiving…or any day of the year!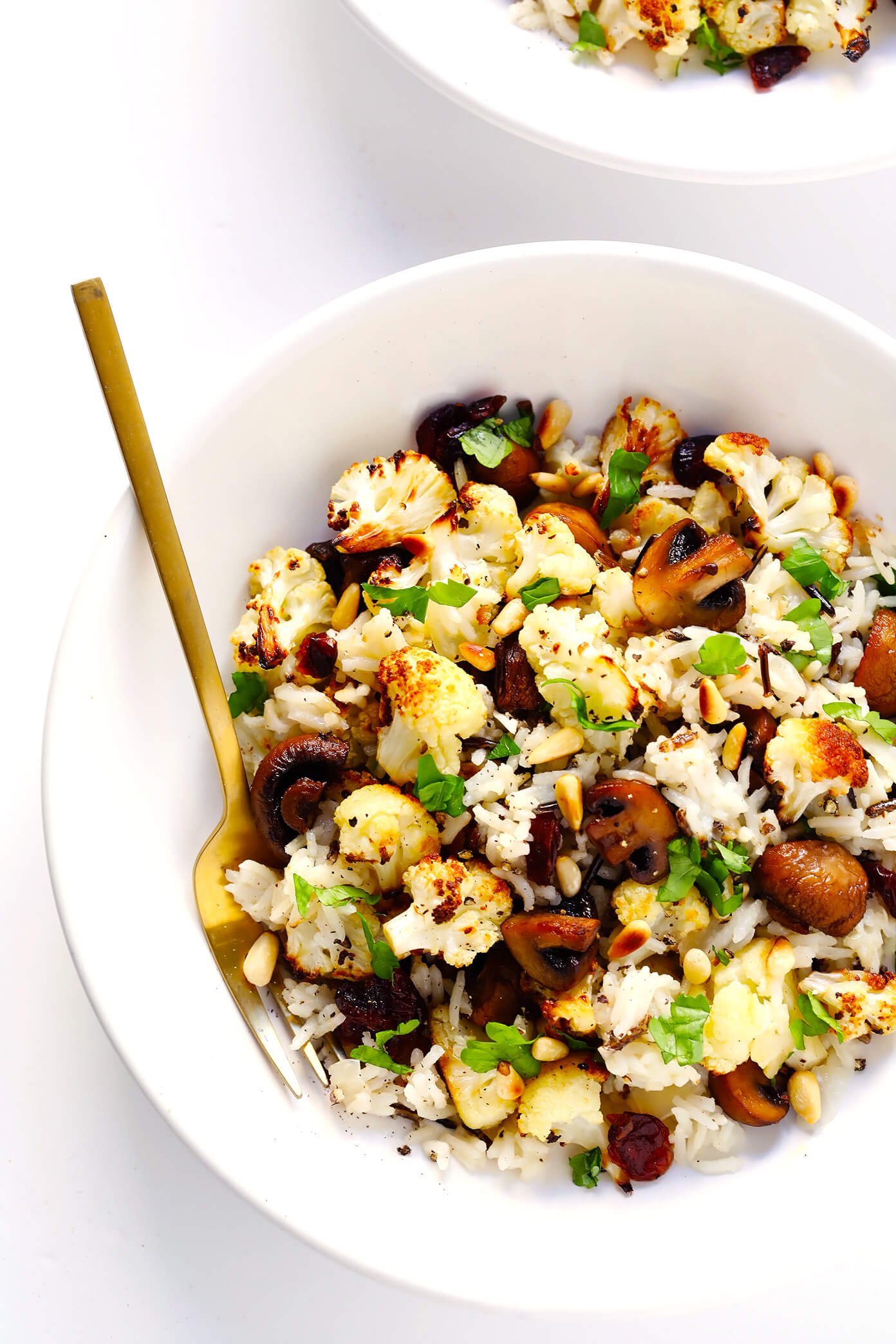 I think that this will officially be my first Thanksgiving celebrated out of the country…and I'm actually pretty excited about it!
Since it's clearly an American holiday, Thanksgiving isn't traditionally celebrated here in Spain. In fact, none of our Spanish classmates — who hail from 6 other European countries — really new much about the holiday when the subject came up in class last week, which Barclay and I actually loved. (So refreshing to be in a place that's no longer completely US-centric.)  It was fun to be able to tell them all about the spirit of the holiday, and the traditions we each love. But the best part of the conversation was seeing the looks on their faces when I mentioned pumpkin pie. Ha, they were completely mystified by the concept of a pumpkin being turned into a baked good, and kept asking questions about how on earth that could be possible. ?  (Ha, which also confirmed why canned pumpkin puree is impossible to find at grocery stores here in Barcelona!)  Oh my gosh, it was so much fun.
Anyway, clearly after that conversation, I know what I will be bringing to class for dessert in two weeks. ?  But Barclay and I also came away from the conversation convinced that this would be a fun American tradition to share with all of our new friends here. So in a few weeks, we're going to host a big Friendsgiving here at our place, and I'm going to do my best to track down the ingredients to make a traditional American thanksgiving meal to share with everyone, and I'm totally excited about it. We're going to make turkey, stuffing, mashed potatoes, green bean casserole, cranberry sauce, roasted veggies — the works. But for my vegetarian husband (and also two of our gluten-free friends here), I'm also going to be making a big batch of non-traditional "stuffing" that Barclay and I have been loving lately.
Yep, I'm talking about this Roasted Cauliflower, Mushroom, and Wild Rice goodness.
We improvised this one over the weekend with some random ingredients we already had at home. (Although we did pop down to the organic market on our block to track down some dried cranberries to add because — Thanksgiving.)  And we both agreed that it was a total hit. It's totally easy to make, it's naturally gluten-free, vegetarian and vegan (great big gatherings), and it's SO hearty and delicious. Wherever you're living in the world this Thanksgiving, you've gotta make some. ?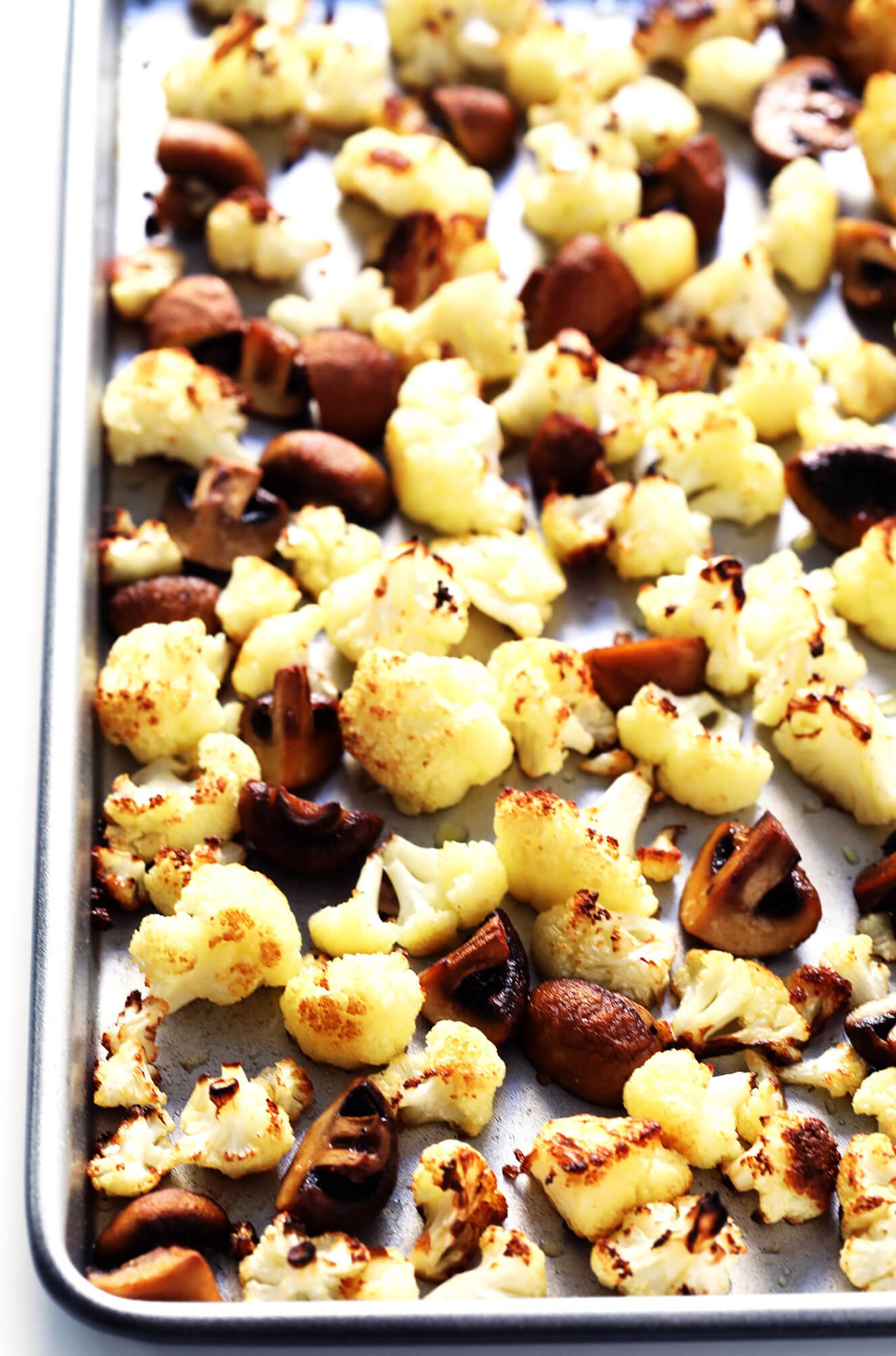 To make the "stuffing", roast up a big pan of cauliflower and mushrooms here, which will serve as the hearty backbone of this recipe in place of bread. Then, while those are cooking, whip up a batch of lemony, garlicky wild rice (or you could use any kind of rice, quinoa, farro, etc.) on the stovetop.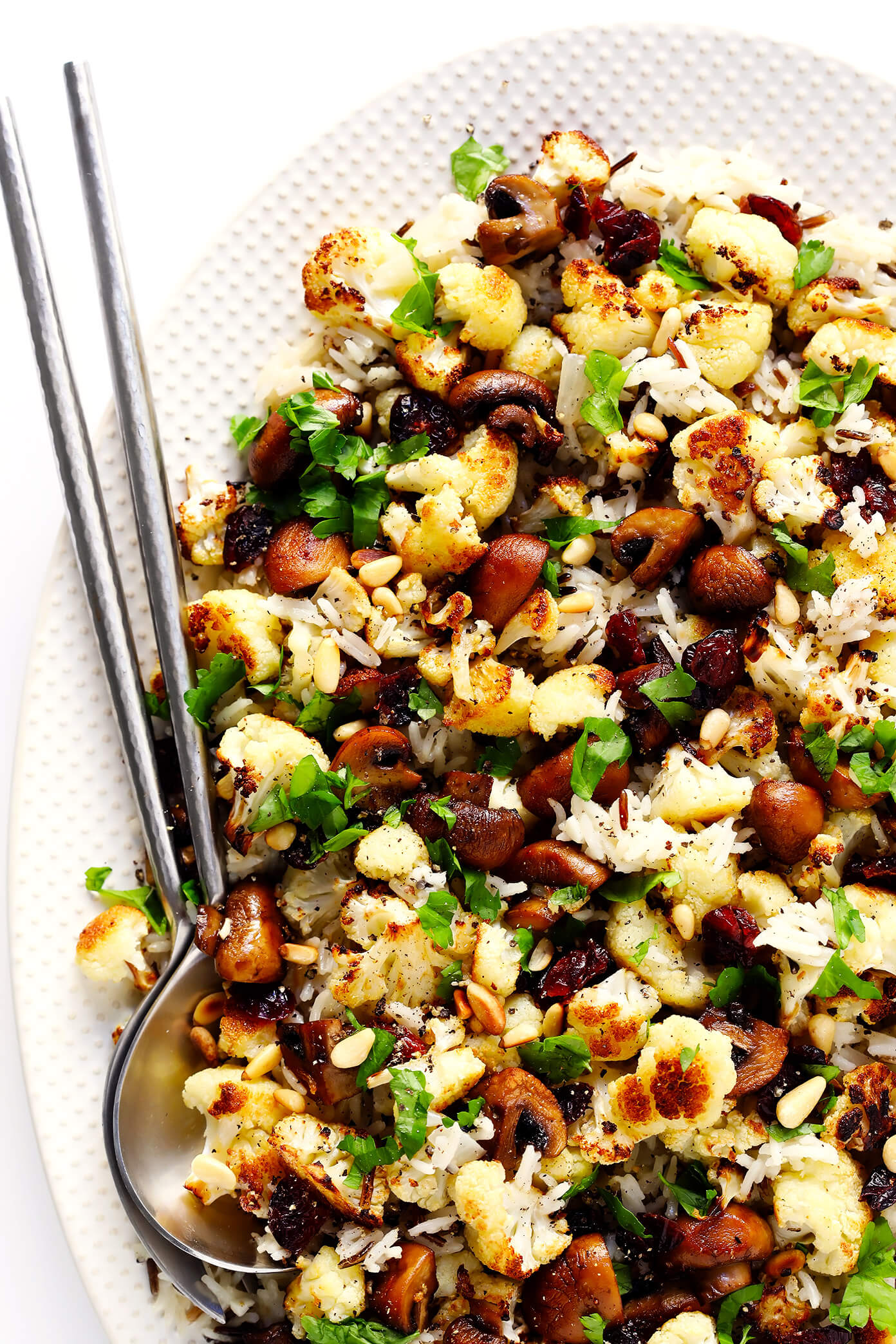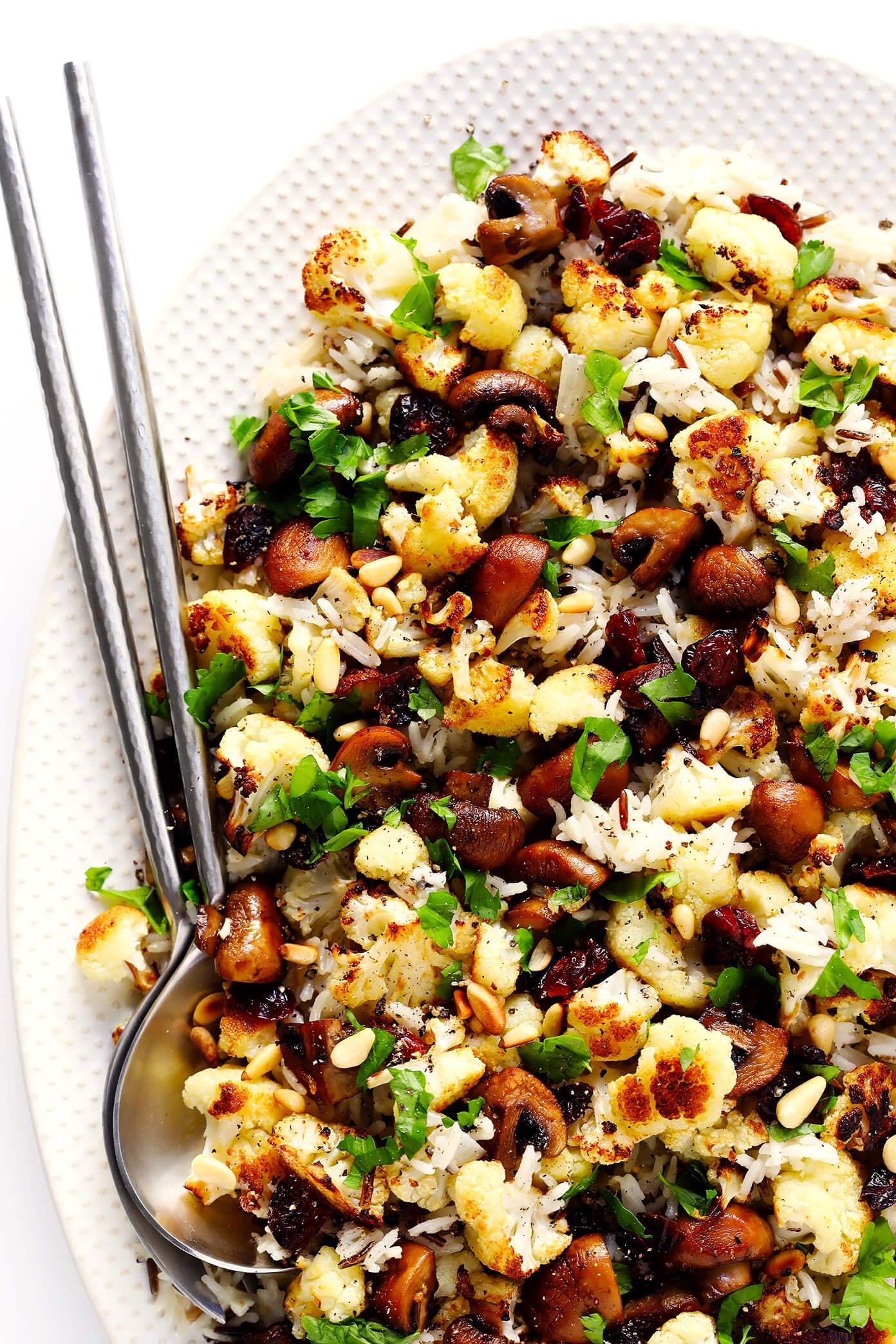 Once everything is cooked and ready to go, combine them on a serving dish. And sprinkle galore with toasted pine nuts (or any kind of nuts), dried cranberries and fresh parsley. And if you're making this non-vegan, I highly recommend giving everything a very generous sprinkle of freshly-grated Parmesan cheese. (Or if you're making this vegan, a sprinkle of nutritional yeast would also be super tasty.)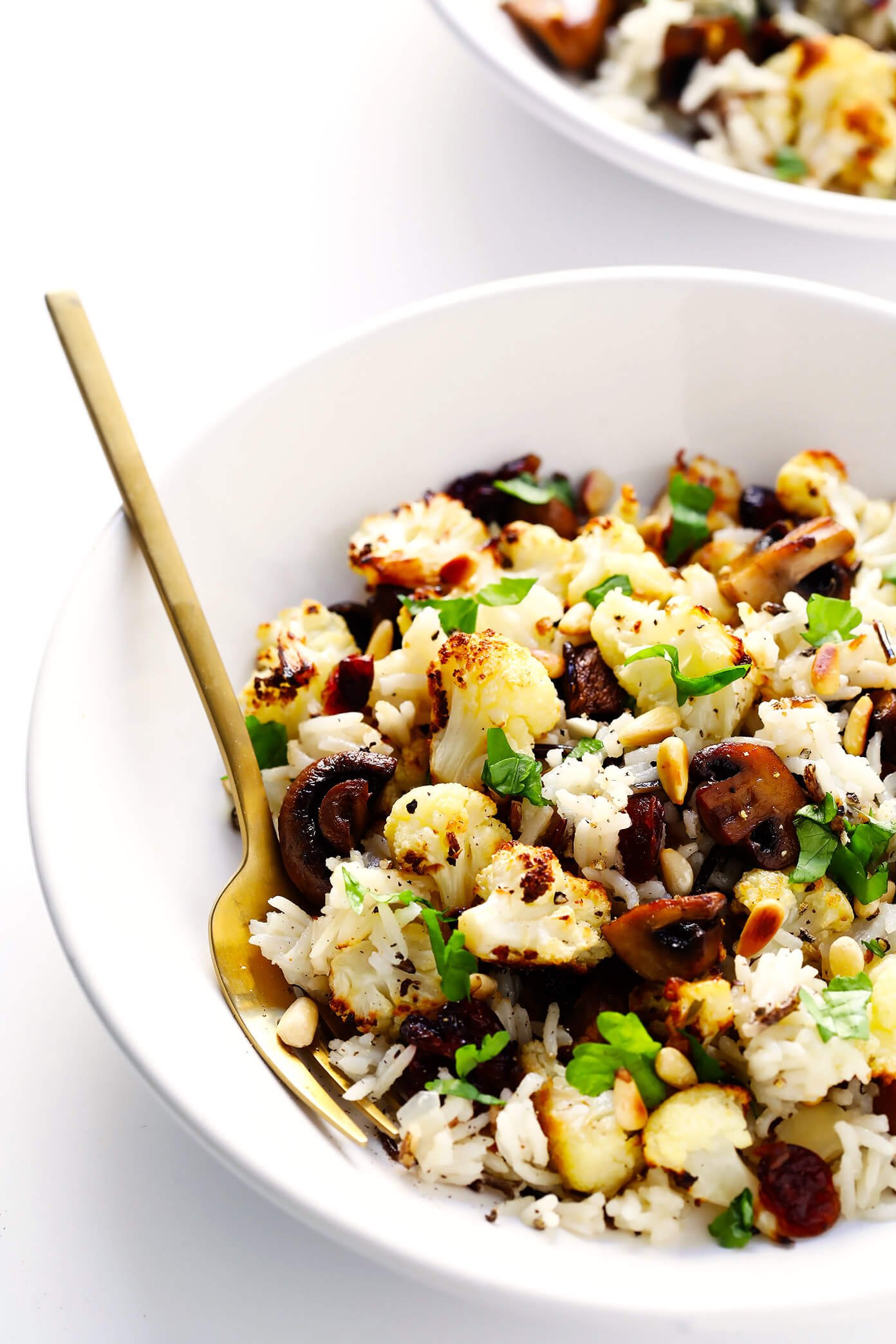 Then dish it up…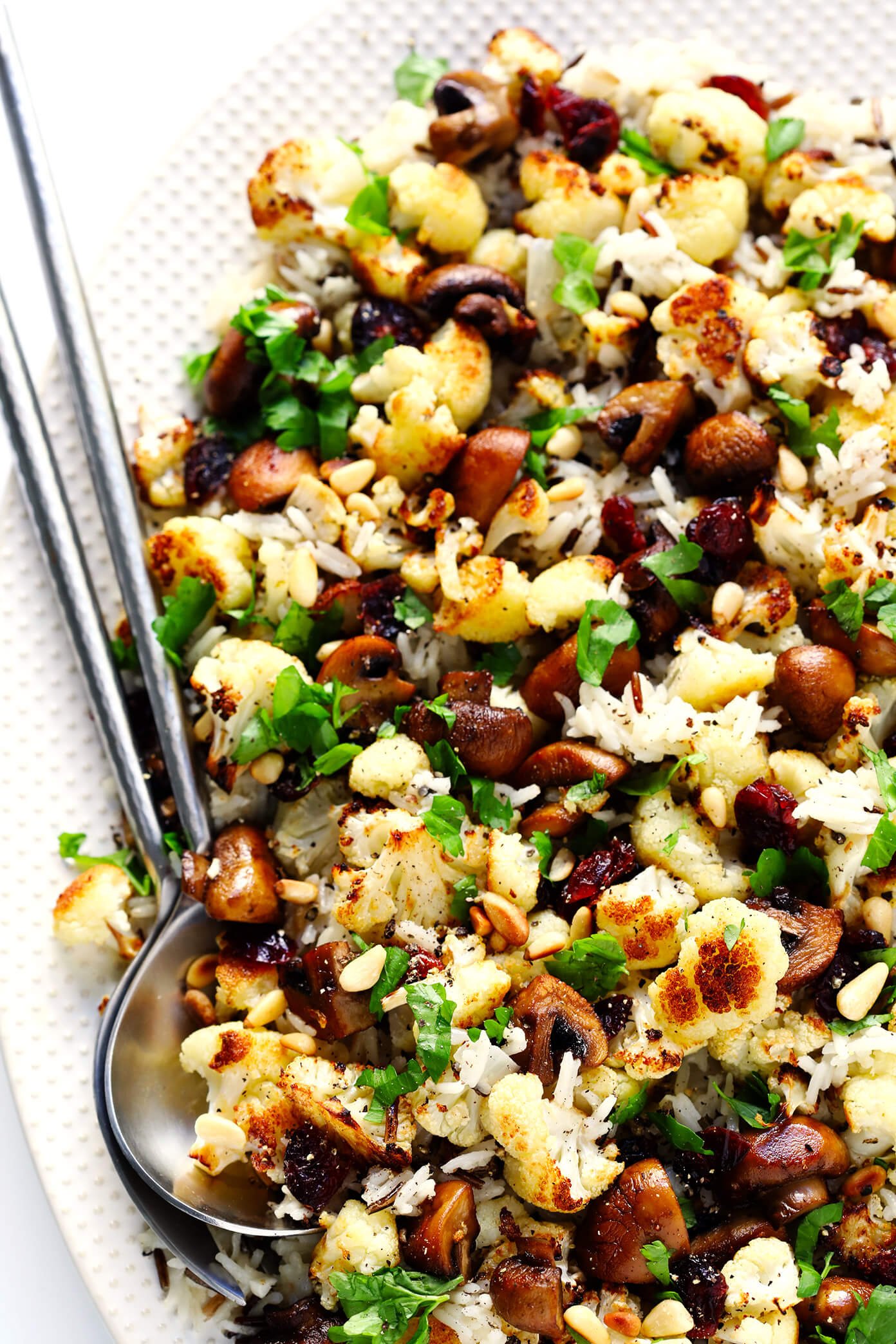 …and enjoy!!!
Seriously, we couldn't get enough of this one. It's the perfect dish to complement your Thanksgiving spread, or it's simple enough to whip up on a random weeknight any day of the year. And with all of those healthy ingredients in there, hey, it's a "stuffing" you can feel good about.
Be sure to check out my other Thanksgiving recipes here this season. And happy cooking, everyone!
Print

Roasted Cauliflower, Mushroom and Wild Rice "Stuffing"

Prep Time: 15 minutes


Cook Time: 20 minutes


Total Time: 35 minutes


Yield: 8 servings 1x
---
Description
This Roasted Cauliflower, Mushroom and Wild Rice "Stuffing" recipe is full of delicious savory flavors, it's easy to make, and it's also naturally gluten-free, vegetarian and vegan.  Perfect for Thanksgiving, or any day of the year!
---
2 tablespoons

olive oil, divided

1

small white onion, peeled and diced

5

cloves garlic, minced

1.5 cups

wild rice blend

3 cups

vegetable stock (or half stock + half dry white wine)

juice of

1

lemon (about

3

–

4

tablespoons)

1

small head cauliflower, cut into small florets

1

pound (16 ounces) baby bella mushrooms, halved or quartered*

1/3 cup

 

each

 for toppings: dried cranberries, chopped fresh parsley, freshly-grated Parmesan**, toasted pine nuts
---
Instructions
Heat oven to 450°F.

Heat 1 tablespoon of the olive oil in a large saucepan over medium heat. Add the onion and sauté for 5 minutes, stirring occasionally. Add the garlic and sauté for 1 minute, stirring occasionally.  Add the rice and cook for 30 seconds, stirring occasionally. Add the vegetable stock (or stock + wine combo), and cook the rice according to package instructions.  (Different varieties of rice will take more/less time too cook.)

Once the rice is cooked and tender, drain off any extra stock.  Stir in the lemon juice until completely combined.  Taste, and season with salt and pepper, if needed.  Set aside.

Meanwhile, turn the cauliflower and mushrooms onto a large baking sheet.  Drizzle evenly with the remaining 1 tablespoon olive oil, and toss until everything is evenly coated.  Season with salt and pepper.  Roast for 15 minutes, stirring once halfway through, until the mushrooms and cauliflower are tender and lightly browned.  Remove and set aside.

Once everything is ready to go, combine the rice and cauliflower/mushroom mixture in a serving dish.  Sprinkle evenly with the cranberries, parsley, Parmesan (if using), and pine nuts.  Feel free to also crack some extra black pepper on top, if desired.  Serve warm.
---
Notes
*For even cooking, try to cut your cauliflower and mushroom pieces so that they're roughly the same size.
**If making this recipe vegan or dairy-free, omit the Parmesan.  (And feel free to sprinkle on a little nutritional yeast, if you'd like, although it's still great without it.)  That said, if you are using Parmesan, feel free to use more than 1/3 cup if you'd like!