(This post is sponsored by DeLallo.)
I love giving airport rides. Like, love giving airport rides.
My friends will be the first to vouch that whenever someone announces a trip in or out of Kansas City, I am usually the first to call dibs on taking them to or from the airport. Or sometimes if I hit the jackpot, both. Even if that means setting my alarm for some insane hour in the morning, or staying up for a coffee-fueled midnight ride, I just love any chance to play "chauffeur" for my friends. Why?
Because those 30-minute drives are gold.
On the way out of town, I love picking friends up at their houses and helping them load up whatever they felt was important for the journey ahead. I love seeing the anticipation in their eyes, and getting to hear them talk through their hopes or worries or excitement or stories about what's to come. And then — the best part — I love getting to be the one who hugs them good-bye. Oh my goodness, the good-byes. I know they are such a small thing, especially on regular ol' business trips or vacations home to see the family, but those little moments always feel so special. And I love getting to be the one who waves good-bye and sends them off on the next adventure.
Even better? Picking people up from the airport on their way back into town. I'm pretty sure any of us would vouch that a day of travel can take it out of you, and the last thing anyone wants to do upon landing is wander through a dark parking lot in search of your car. (Or in my case, clicking my remote hundreds of times in search of my lost car.)  Heck no, I'm happy to circle the terminals round and round until my friends arrive and they can get curbside service. Then the best part begins — getting to hear the initial trip reflections, (literally) fresh out of the gate. Those raw, unedited reflections are my favorites, and I love getting to be the first person with whom friends can process the experience. Or hey, if they're pooped or not up for talking about the trip yet, I'm also more than happy to get their minds off of things and chat about something totally different, or crank up some tunes. And then drop them off at the home sweet home they're usually so happy to see.
Granted, I've learned the value of airport rides in large part from having experienced the other side of the coin, being so freaking relieved and thankful to have a familiar face waiting on both ends of a trip. But I must say, my favorite is getting to be the chauffeur. So fingers crossed that my friends have many more travels in the future, so that I can be along for the ride. 🙂
That said, over the years, I have also developed a little tradition of bringing something else along for the ride — a nice little snack and drink for the traveler. Sometimes it's as simple as a power bar and a cup of coffee. Sometimes it's a sandwich and a chilled La Croix. Or sometimes — like for a friend this past week — it's a tupperware full of couscous that could be eaten in the car or saved for a ready-to-go lunch to pack for the next day.
My friend was pretty convinced that I had spent way too much time on this meal, but thanks to my favorite shortcut from DeLallo, this tasty couscous only required about 5 ingredients and was ready to go in minutes. And we both loved it.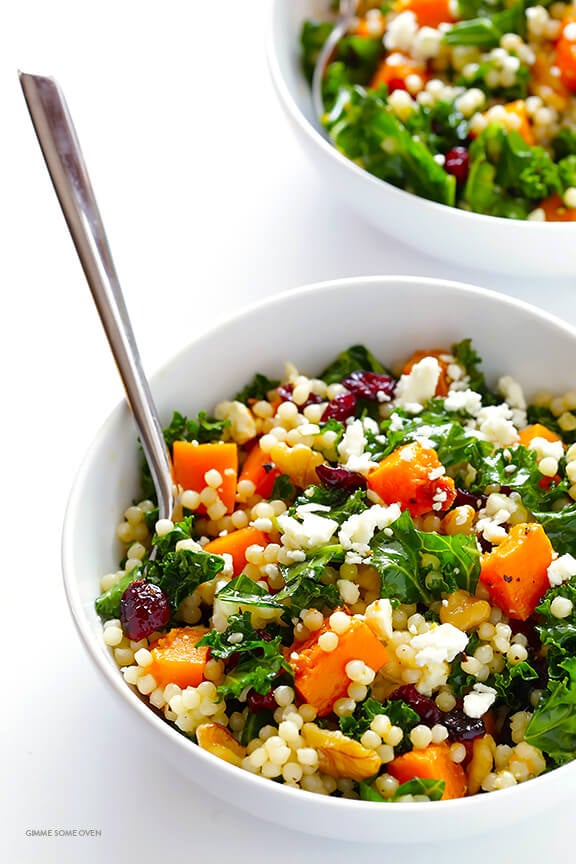 The shortcut is one that I take quite often, and one that you've heard me praise many a time before — DeLallo Salad Savors!
These handy salad topping kits have been a staple in my refrigerator ever since I discovered them a few years ago. But in addition to helping create some quick and easy salads, I also love using them in non-lettuce-y dishes and salads, such as this easy seasonal couscous.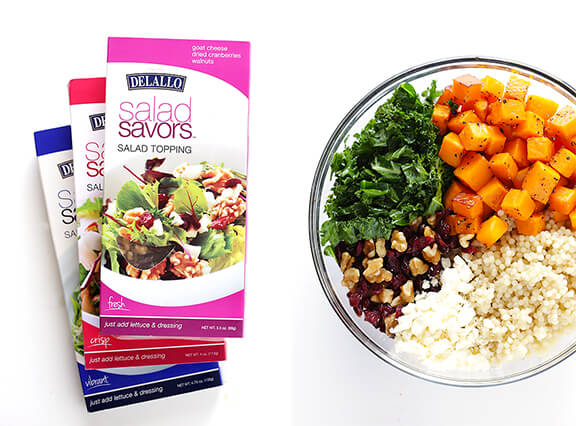 It was quite simple to make. I just roasted some butternut squash, chopped up some kale, boiled a batch of Israeli couscous, and added in the ingredients from the "Fresh" Salad Savors kit — goat cheese, dried cranberries, and chopped walnuts. (The "Vibrant" Salad Savors kit would taste great with this one too — blue cheese, dried cherries and pecans — yum!)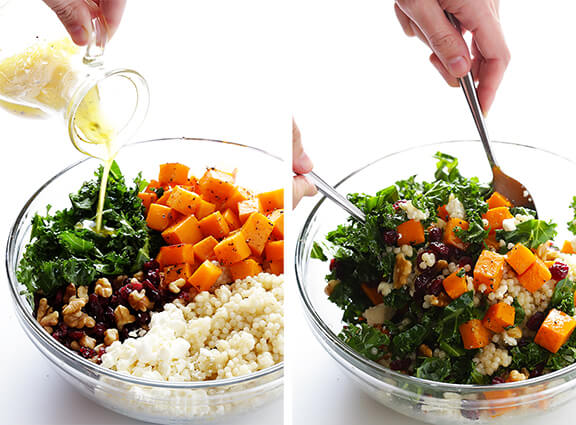 After drizzled with a simple orange vinaigrette, and tossed all together…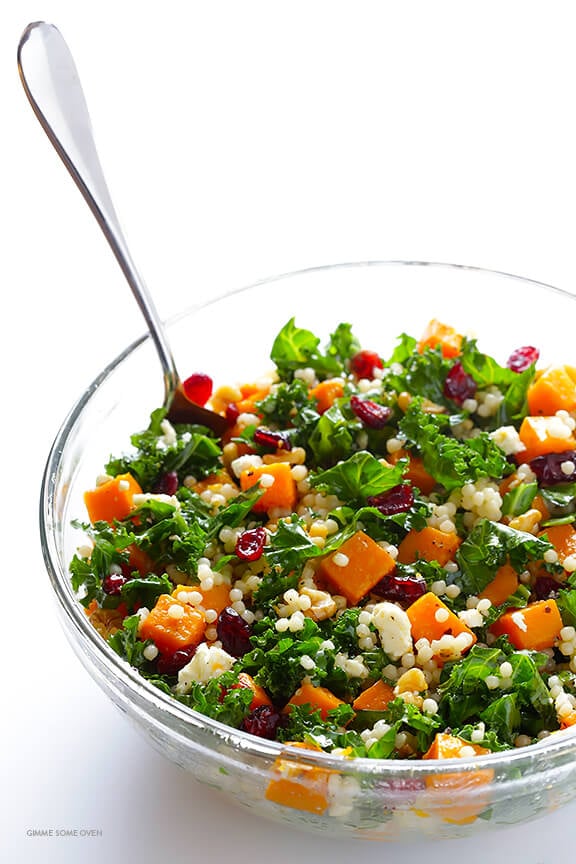 …this colorful, seasonal, fresh, healthier, and mega-tasty couscous was ready to go.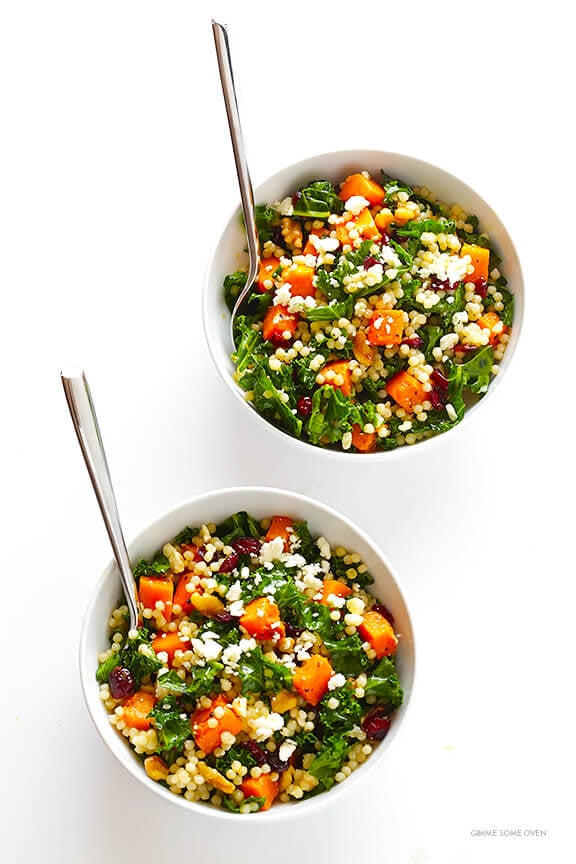 Perfect for a quick dinner for me, leftovers the next day, and a delicious welcome-home-salad for my friend at the airport.
Win-win-win.
Print

Roasted Butternut Squash, Kale and Cranberry Couscous

Prep Time: 10 minutes


Cook Time: 25 minutes


Total Time: 35 minutes


Yield: 4 servings 1x
---
Description
This Roasted Butternut Squash, Kale and Cranberry Couscous is quick and easy to make, and is delicious when enjoyed hot or cold.
---
Couscous Salad Ingredients:
1

small butternut squash, peeled, seeded, and diced into

1/2

-inch cubes

2 tablespoons

olive oil

salt and freshly-cracked black pepper

1 cup

dry Israeli (pearl) couscous*, cooked in water according to package instructions

2 cups

 chopped kale leaves

1/3 cup

dried cranberries (from DeLallo Salad Savors)

1/3 cup

chopped walnuts (from DeLallo Salad Savors)

2 ounces

goat cheese, crumbled (from DeLallo Salad Savors)

easy orange vinaigrette (recipe below)
Vinaigrette Ingredients:
2 tablespoons

apple cider vinegar

2 tablespoons

DeLallo extra virgin olive oil

2 tablespoons

freshly-squeezed orange juice

pinch of salt and black pepper, to taste
---
Instructions
To Make The Couscous Salad:
Heat oven to 425°F.

In a large mixing bowl, toss cubed butternut squash with olive oil.  Sprinkle with a few generous pinches of salt and pepper, and toss until combined.

Spread the butternut squash out in an even layer on a parchment-covered baking sheet.  Bake for 15 minutes, then remove from the oven and flip the squash for even cooking.  Bake for an additional 10-15 minutes, or until the squash is tender and slightly browned around the edges.  Remove from oven and transfer back to the large mixing bowl.

Add couscous, kale, cranberries, walnuts, goat cheese, and vinaigrette, and toss to combine.

Serve warm, or refrigerate in a sealed container for up to 3 days.
To Make The Vinagirette:
Whisk all ingredients together until combined.  Taste, and season with additional salt and pepper if needed.
---
Notes
*You could also substitute DeLallo organic couscous or any small DeLallo organic whole wheat pasta, cooked according to package instructions.
This post is sponsored by DeLallo. I have been partnering with them this year to bring you some tasty new Italian dishes, and all opinions are my own as always. Thanks so much for continuing to support the brands who help make this site possible!