This Quinoa Tortilla Soup recipe is made with the most amazing zesty chile broth, it's naturally vegetarian, vegan and gluten-free, and totally hearty and delicious. Pile yours high with your favorite toppings!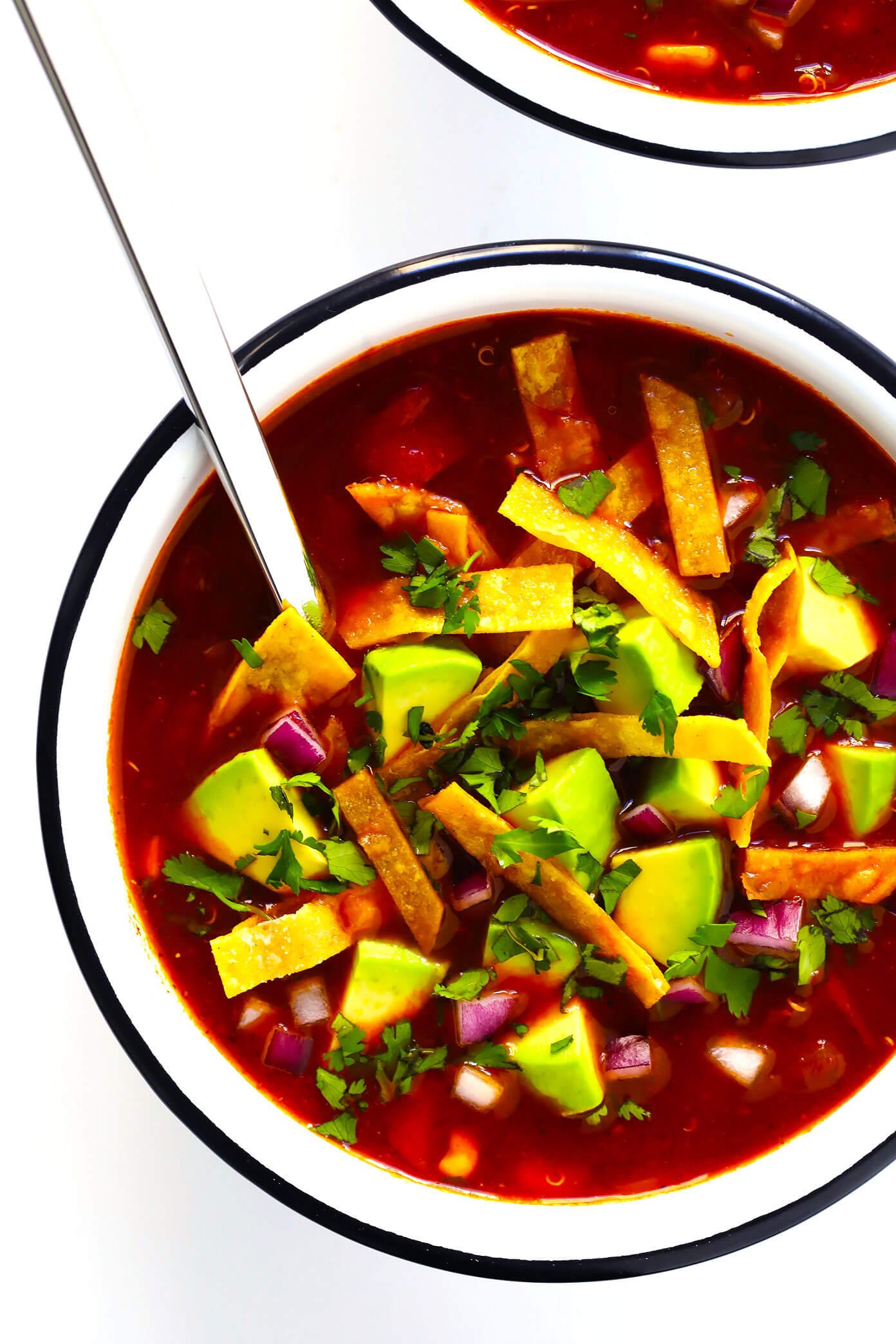 I never realized how often tortilla soup is served at Mexican restaurants with chicken…until I met this vegetarian husband of mine. He downright loves a steaming bowl of flavorful, hearty, comforting tortilla soup just as much as I do. Just, you know, without dat chicken. Which is surprisingly hard to come by when we're eating out.
Enter…this Quinoa Tortilla Soup recipe. ♡
It has become a staple in our monthly dinner rotation these past few years, and one that we both wholeheartedly love. Mostly because it is just remarkably flavorful. The simple broth is seasoned with my favorite pasilla chiles, which add the most rich and well-rounded flavor to this soup, without a ton of heat. (Although you're welcome to make this soup more spicy or mild, if you'd like.)  It's also nice and hearty, thanks to quinoa, beans, and crispy tortilla chips. It's naturally vegetarian, vegan and gluten-free. And best of all? It is just so satisfying and delicious.
If you're looking for a solid tortilla soup recipe to have on hand, one that you can customize with your favorite ingredients (and yes, even add chicken if you prefer), trust me. This one's a keeper.
Quinoa Tortilla Soup Recipe | 1-Minute Video

The Secret To Amazing Tortilla Soup:
So in my mind, the secret to amazing tortilla soup boils down (hehe, literally) to two things: a killer broth, and lots and lots of toppings. ♡
As far as the broth goes, I have experimented with dozens and dozens of recipes over the years, ranging from the ultra-simple to ultra-complex. And at the end of the day, I have decided that the best thing you can do is take five minutes to toast and puree some dried chiles and add them to your soup. Specifically, dried pasilla chiles, also known as chiles negros (affiliate link). Pasillas are my go-to pepper when it comes to tortilla soup, with their perfectly-balanced warm and earthy flavors that aren't overly sweet or smoky or spicy. They're just right. And when combined with a simple garlicky tomato broth and a hint of cumin, the result is the most irresistible tortilla soup broth that will unquestionably have you going back for seconds.
But piled high on top of that broth? I sincerely hope you go big on the toppings with this one. I mean, let's be real, toppings are paramount for me with any good Mexican soup. And for this one, a generous handful of crispy tortillas (either crumbled up corn tortilla chips, or you can fry up your own tortilla strips like I did) are a must. All the better when paired with lots of creamy avocado, fresh cilantro, maybe some diced red onion, and a good squeeze of fresh lime juice. Riquísimo.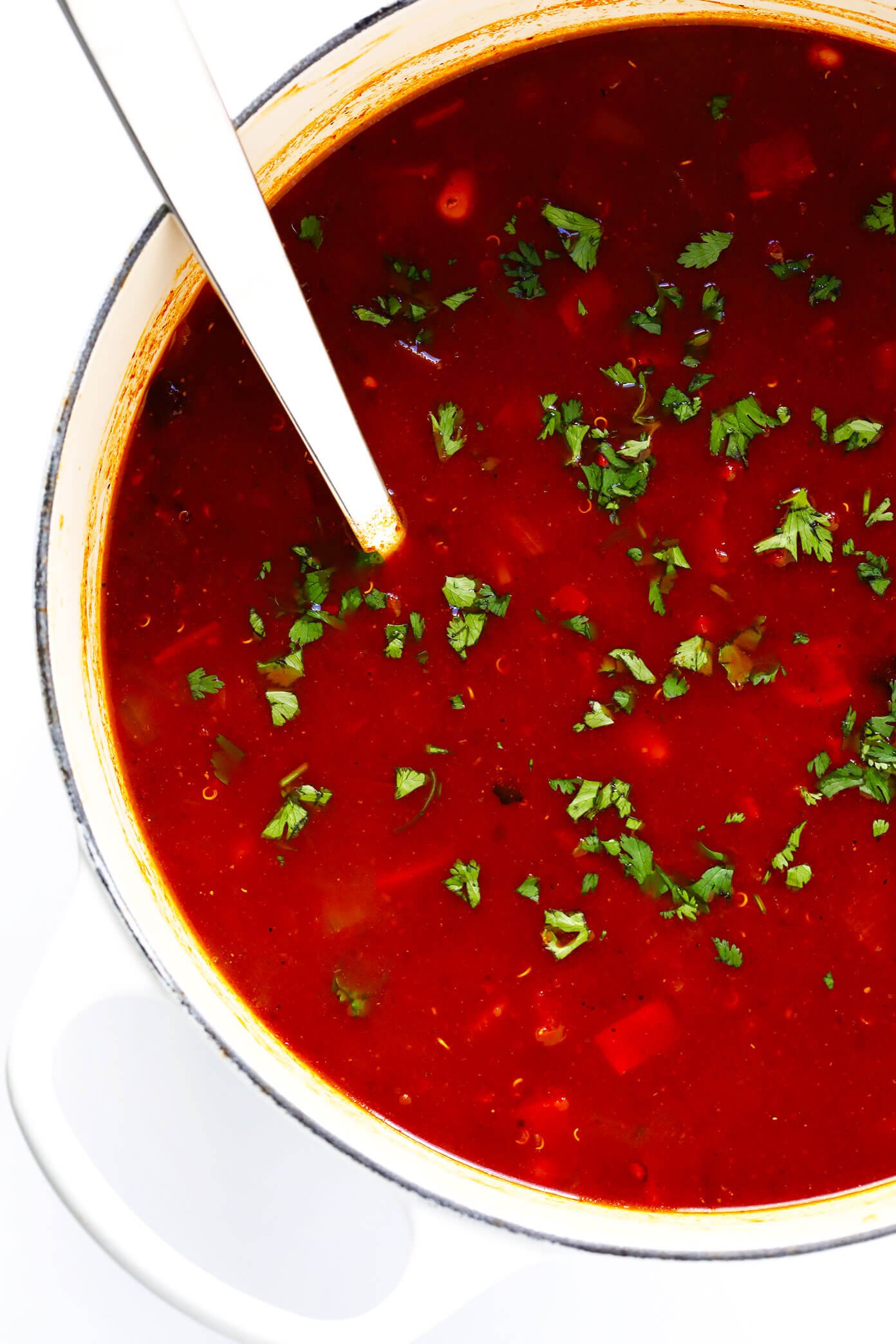 Vegetarian Quinoa Tortilla Soup Ingredients:
So, to make this soup, you'll need this collection of simple ingredients:
The Broth: Pasilla chiles, veggie stock, diced tomatoes (preferably fire-roasted, we will puree one can and leave the other whole), onion, garlic, cumin and S&P

Quinoa: We're big fans of adding quinoa which helps make the soup feel a bit more hearty, and also adds a nice blast of protein.

Beans: I typically use a can of pinto and a can of black beans for this recipe, but feel free to use whatever beans you have on hand.

Corn: Totally optional, but I like the extra hint of sweetness and color it adds.

Toppings:  I mentioned my favorites above, but you're welcome to add any others you love! If you're not making this soup vegan, sour cream and shredded (or crumbled) cheese is also delightful.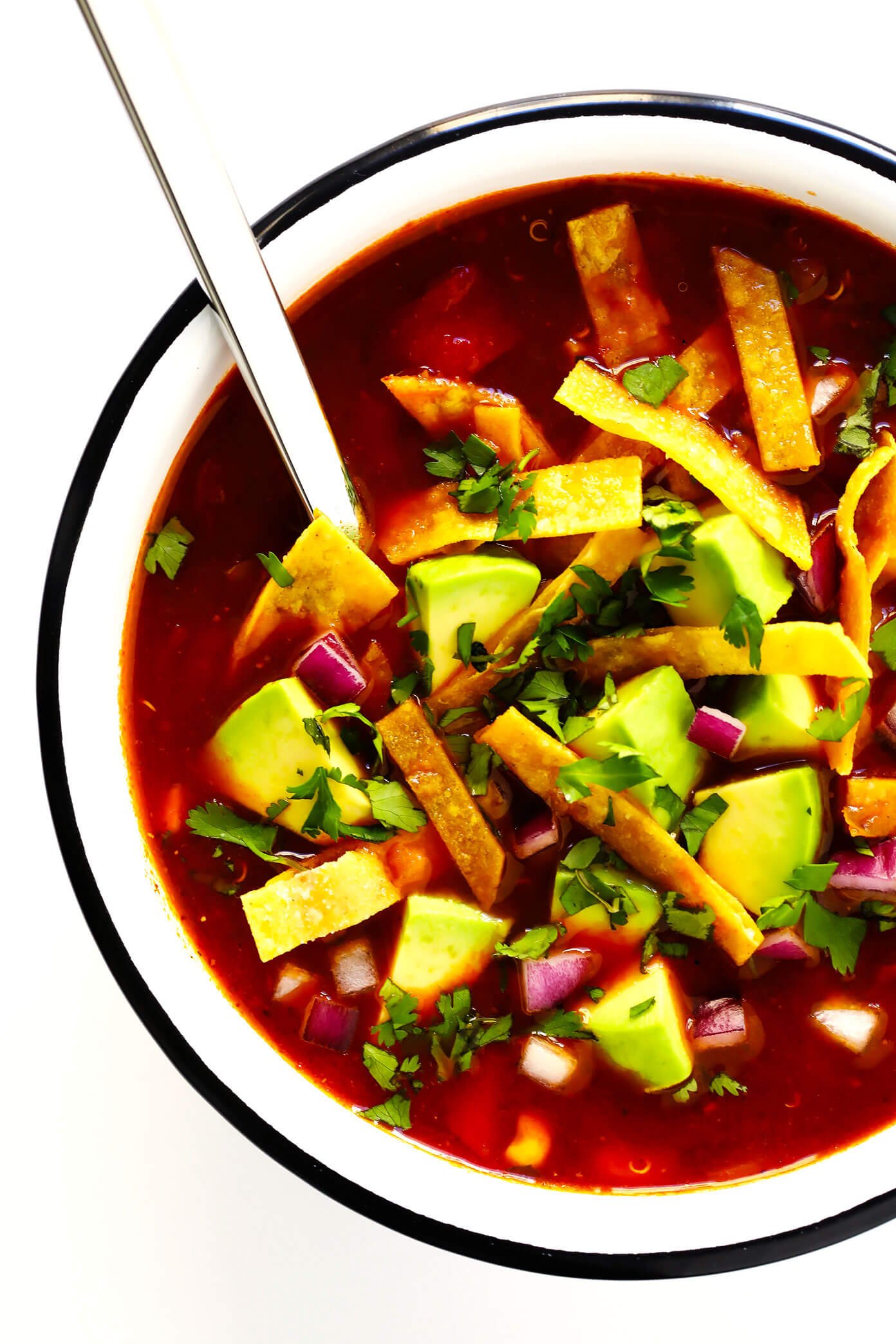 How To Make Quinoa Tortilla Soup:
Prepare The Chiles: I like to toast mine for a few seconds over an open flame (or you can just press them into a hot stockpot for a few seconds if you don't have a gas burner) to amp up the flavor. Then purée them in a blender or food processor with one of the cans of diced tomatoes and a bit of broth until completely smooth. Set aside.

Prepare Your Broth: Next, sauté some onions and garlic in a large stockpot. Then add in the remainder of your soup ingredients, along with the chile purée, and simmer until the garlic is cooked. (If you're at all worried about heat, feel free to just add half of the chile puree, then more to taste at the end.)  Season to taste.

Serve It Up: And pile high with your favorite toppings…and enjoy!
If you'd like to make this recipe in the slow cooker or Instant Pot, you are welcome to. But honestly, it's just as fast to make on the stovetop. So unless you're wanting the soup to simmer while you're at work during the day, I would just stick with that.
Hope you all enjoy this one as much as we have! ♡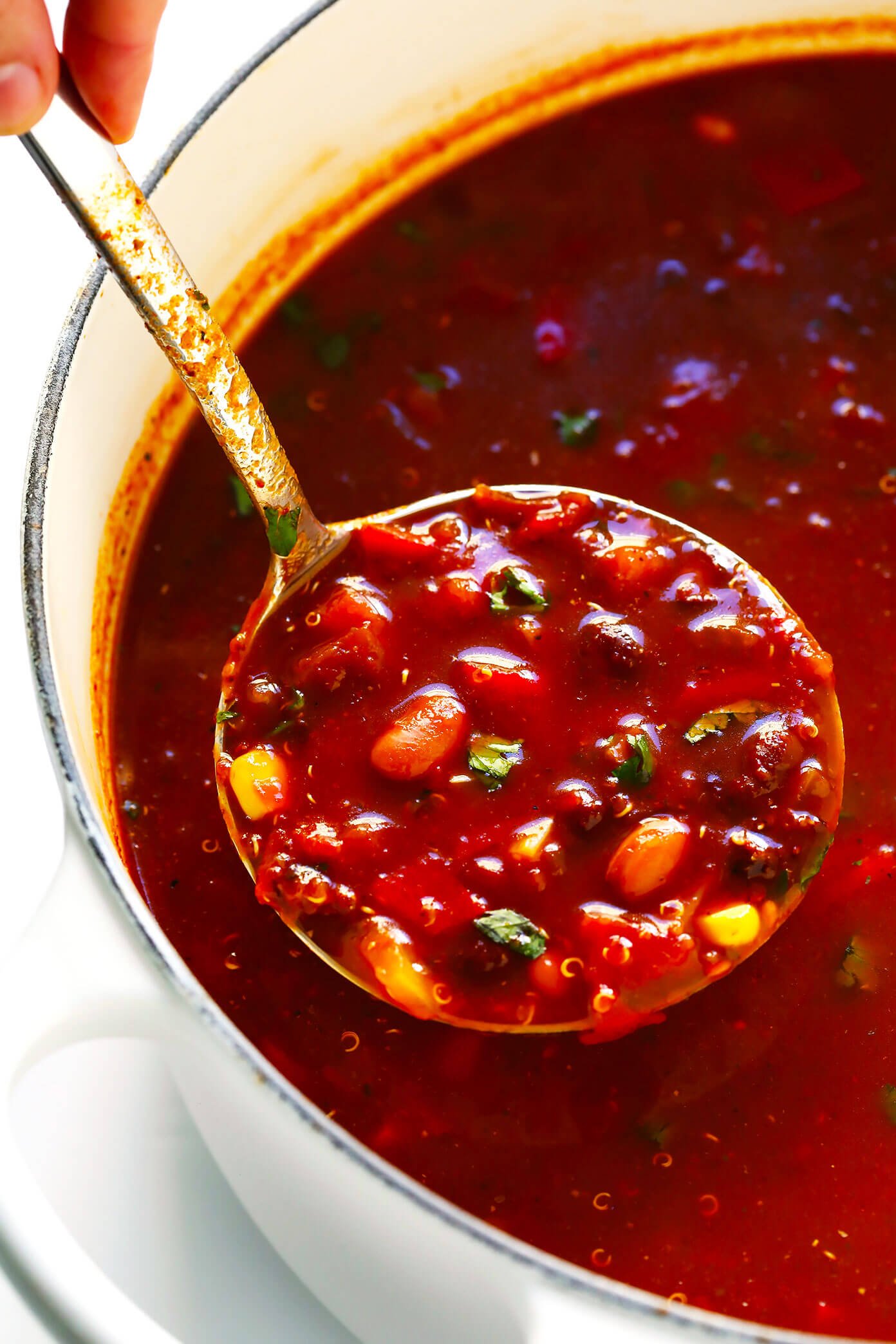 Print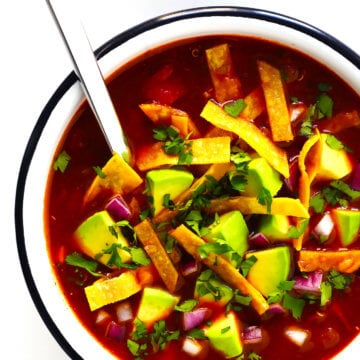 Quinoa Tortilla Soup

Prep Time: 15 minutes


Cook Time: 25 minutes


Total Time: 40 minutes


Yield: 8 servings 1x
---
Description
This Quinoa Tortilla Soup recipe is made with the most amazing zesty chile broth, it's naturally vegetarian, vegan and gluten-free, and totally hearty and delicious.  Pile yours high with your favorite toppings!
---
2

–

4

 dried pasilla chiles, stemmed and seeded*

2

(15-ounce) cans fire-roasted diced tomatoes

6 cups

vegetable stock, divided

1 tablespoon

olive oil

1

medium white onion, peeled and diced

4

cloves garlic, peeled and minced

2

(15-ounce) cans beans of your choice, rinsed and drained (I used

one

can pinto,

one

can black beans)

1/2 cup

whole kernel corn

1/2 cup

uncooked quinoa, rinsed and drained

2 teaspoons

ground cumin

sea salt and freshly-cracked black pepper

toppings: lots of tortilla strips (or crumbled up tortilla chips), diced fresh avocado, chopped fresh cilantro, diced red onion, fresh lime wedges
---
Instructions
To Prepare The Chiles: If you have a gas range, briefly toast the chiles by holding them a few inches above the open flame, rotating to toast on all sides, until fragrant.  If you have an electric range, heat your stockpot over medium-high heat and toast the chiles in the dry pot for a minute or so, pressing them down with a wooden spoon or spatula, and rotating to toast on all sides, until fragrant.  Transfer the chiles* to a blender or food processor along with 1 can of the tomatoes and 1 cup of vegetable stock.  Puree for 1 minute or until completely smooth.  Set aside.

Heat oil in the large stockpot over medium-high heat.  Add onion and sauté for 5 minutes, stirring occasionally, until soft and translucent.  Add in the garlic and sauté for 1-2 more minutes, stirring occasionally, until fragrant.  Add in the remaining can of tomatoes, vegetable stock, beans, corn, quinoa, cumin, and the pureed chile mixture.  Stir to combine.

Continue cooking the soup until it reaches a simmer.  Then reduce heat to medium-low, cover, and continue to simmer until the quinoa is completely cooked, stirring occasionally.

Taste and season with a few generous pinches of salt and pepper, as needed.

Serve immediately, garnished with lots of your favorite toppings.  Or store in sealed containers in the refrigerator for up to 3 days, or freeze for up to 3 months.
---
Notes
*A few notes about the pasilla chiles:
They are considered to have a "medium" heat level.  So if you're not a fan of spicy food, I would recommend starting with 1 or 2 chiles.  Then taste your soup once it's ready to go.  And if you would like to add more chiles, you can always puree 1 or 2 more with a cup or two of your broth at the end of the cooking time.

If your grocery store does not carry dried pasilla chiles, you can order them online.  Or you can substitute ancho chiles, which will be slightly sweeter.  Or guajillo chiles, which will be a bit spicier.