Try swapping out traditional rice for quinoa in this easy quinoa fried "rice" recipe! It's amazingly flavorful and delicious, and only takes about 15 minutes to make.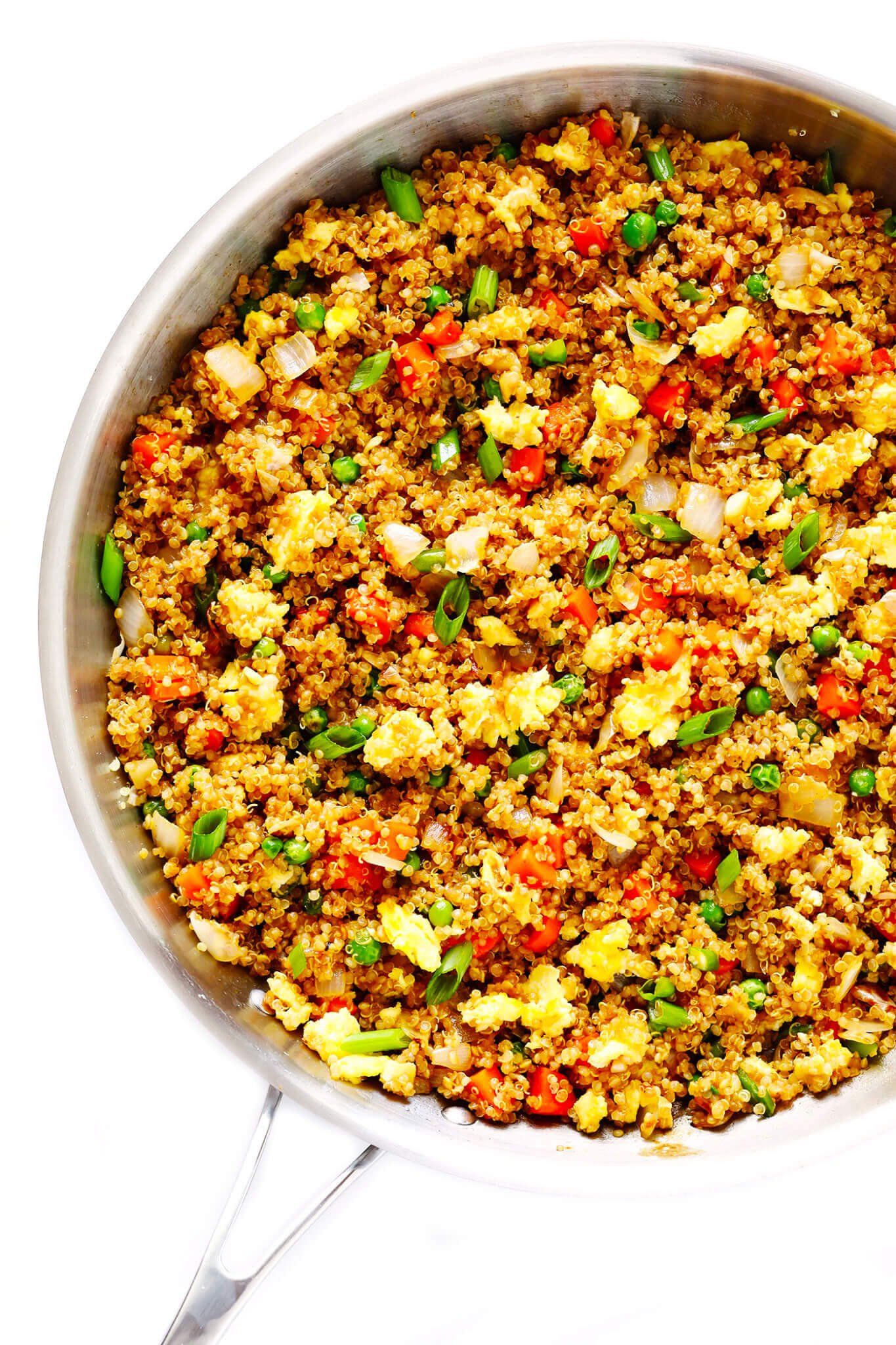 A year ago I shared my hands-down, all-time, better-than-the-restaurant, finally-perfected, FAVORITE fried rice recipe. Readers have made it hundreds of time since and love it. I have made it countless times ever since and love it. Let's be real — the world loves some good fried rice.
But last week when a cold and stressful day hit and all I was craving a bowl of rice, a tiny problem popped up: no rice in the casa.
Argh. So I scavenged my pantry and decided to try subbing in the next closest thing: quinoa.
Game changer.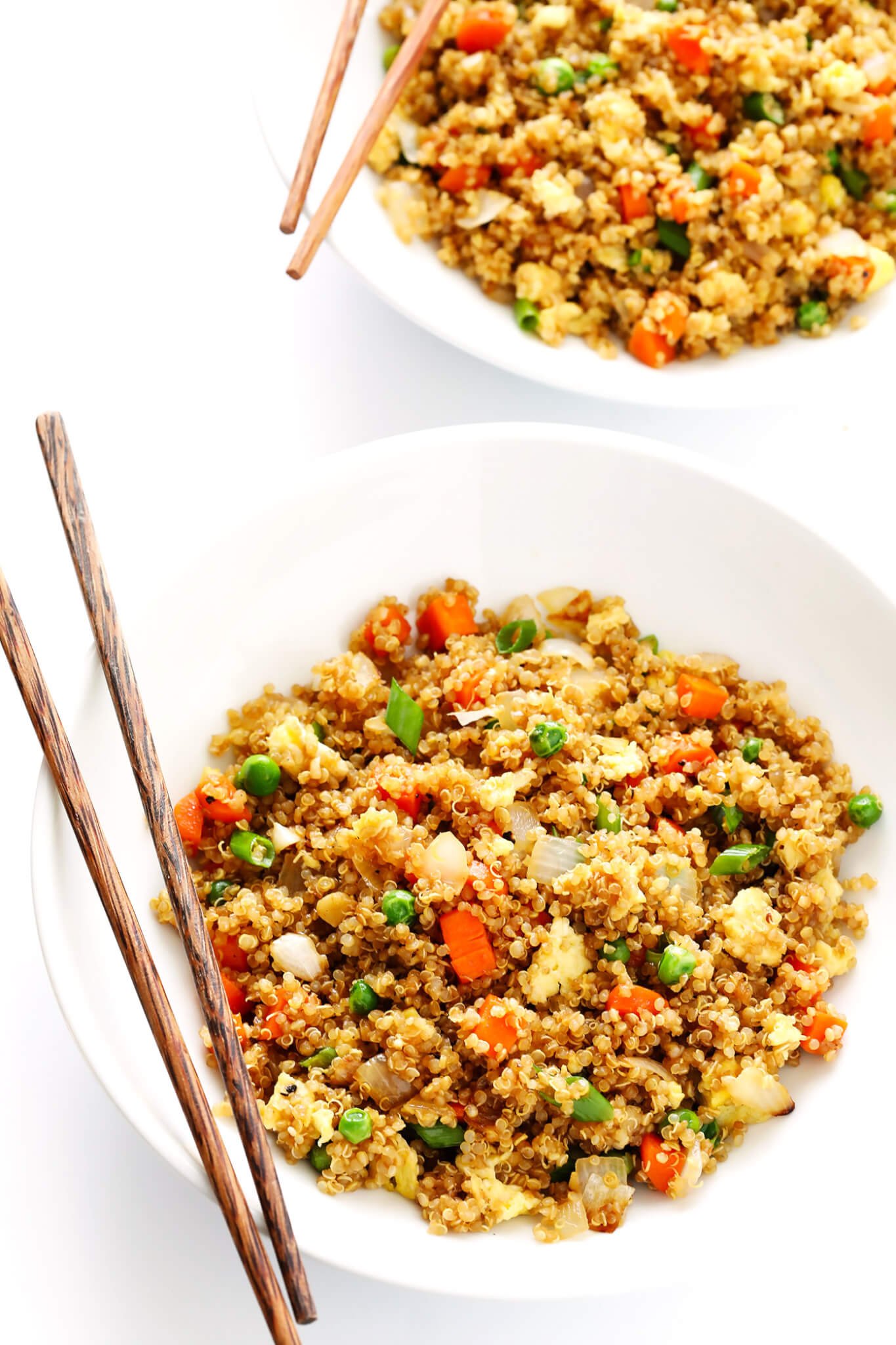 Quinoa Fried Rice Recipe | 1-Minute Video
I probably shouldn't have been surprised by this one. I regularly sub in rice and farro for quinoa in recipes that call for rice, and know that it is usually a great swap. But this was fried rice that we're talkin' about here. The holy grail of rice dishes, in my book. Very, very rice-ish.
Still, it was rainy out and I didn't want to traipse across the neighborhood to my Chinese restaurant. So quinoa it was.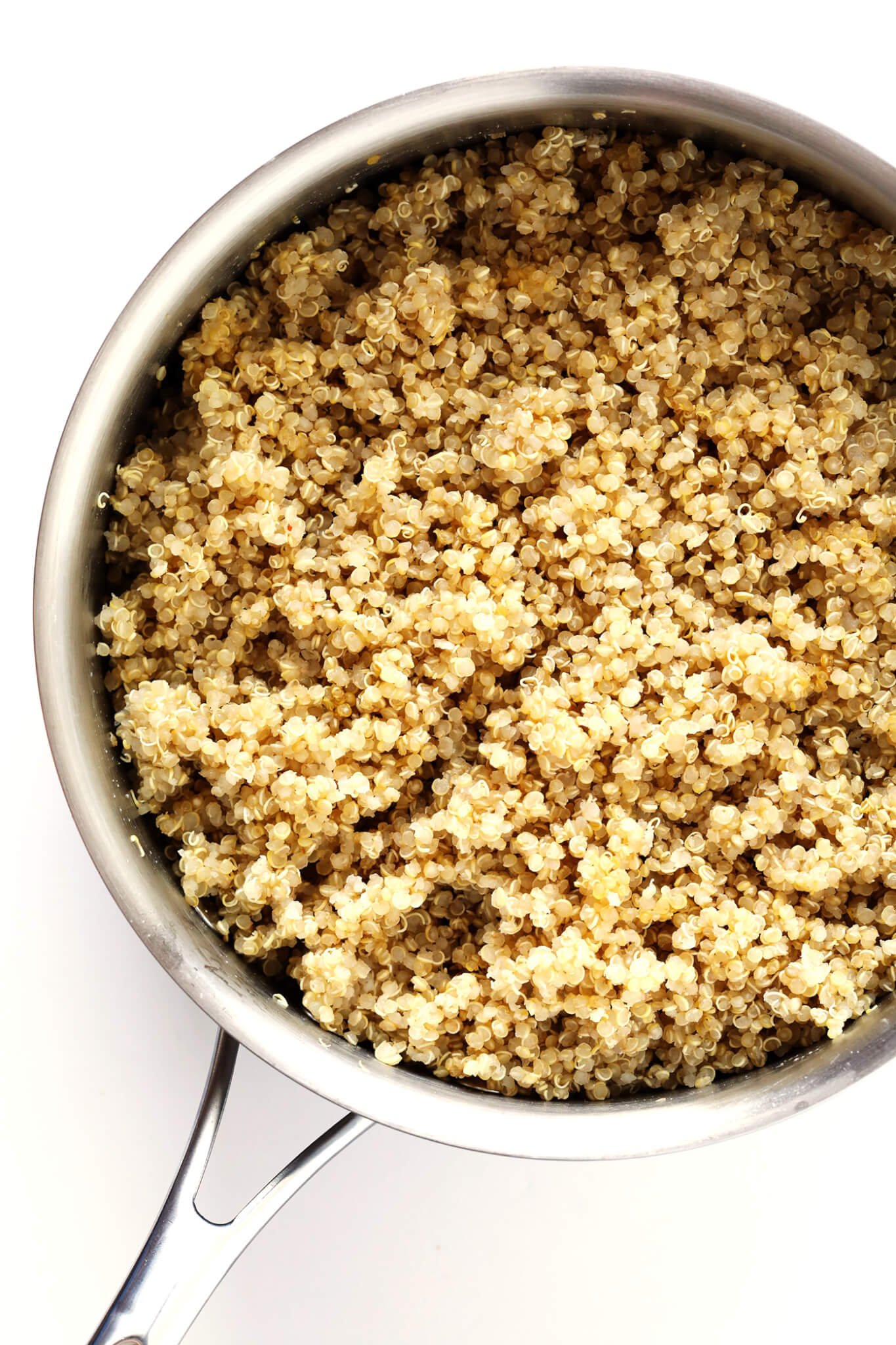 I whipped up a batch of quinoa, made using veggie stock (my favorite). Then in order to speed up the chilling process (essential for making fried rice), I spread it out on a baking sheet and popped it in the refrigerator for 15 minutes. Meanwhile, I chopped and sauteed my veggies and garlic, and got things rolling. Then finally added in the chilled quinoa and the remainder of the ingredients, sauteed in lots of butter over high heat (my secret to fried rice).
The result?!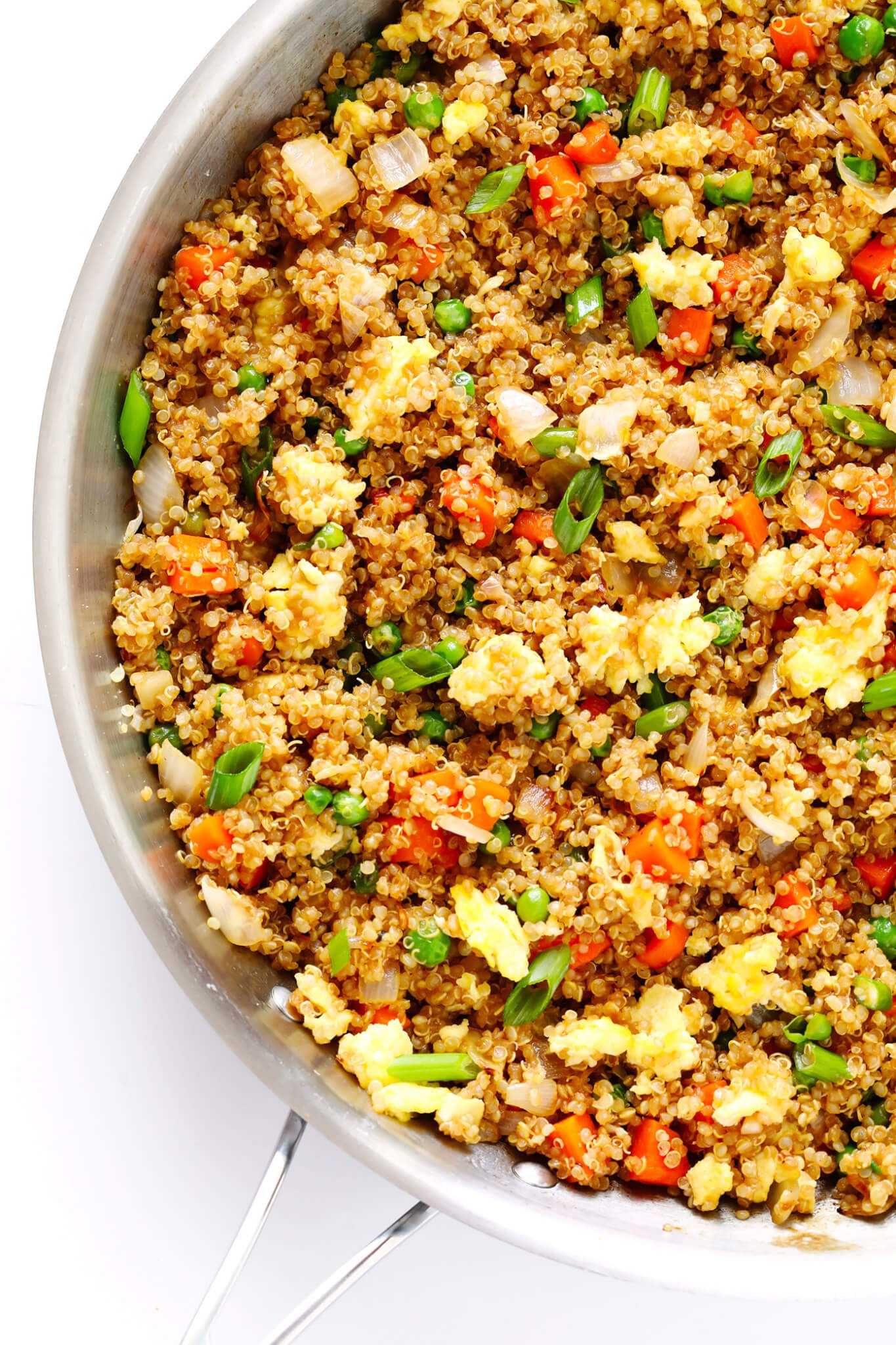 Well, honestly, the result was the best compliment I could pay to this dish:
It tasted just like fried rice!!!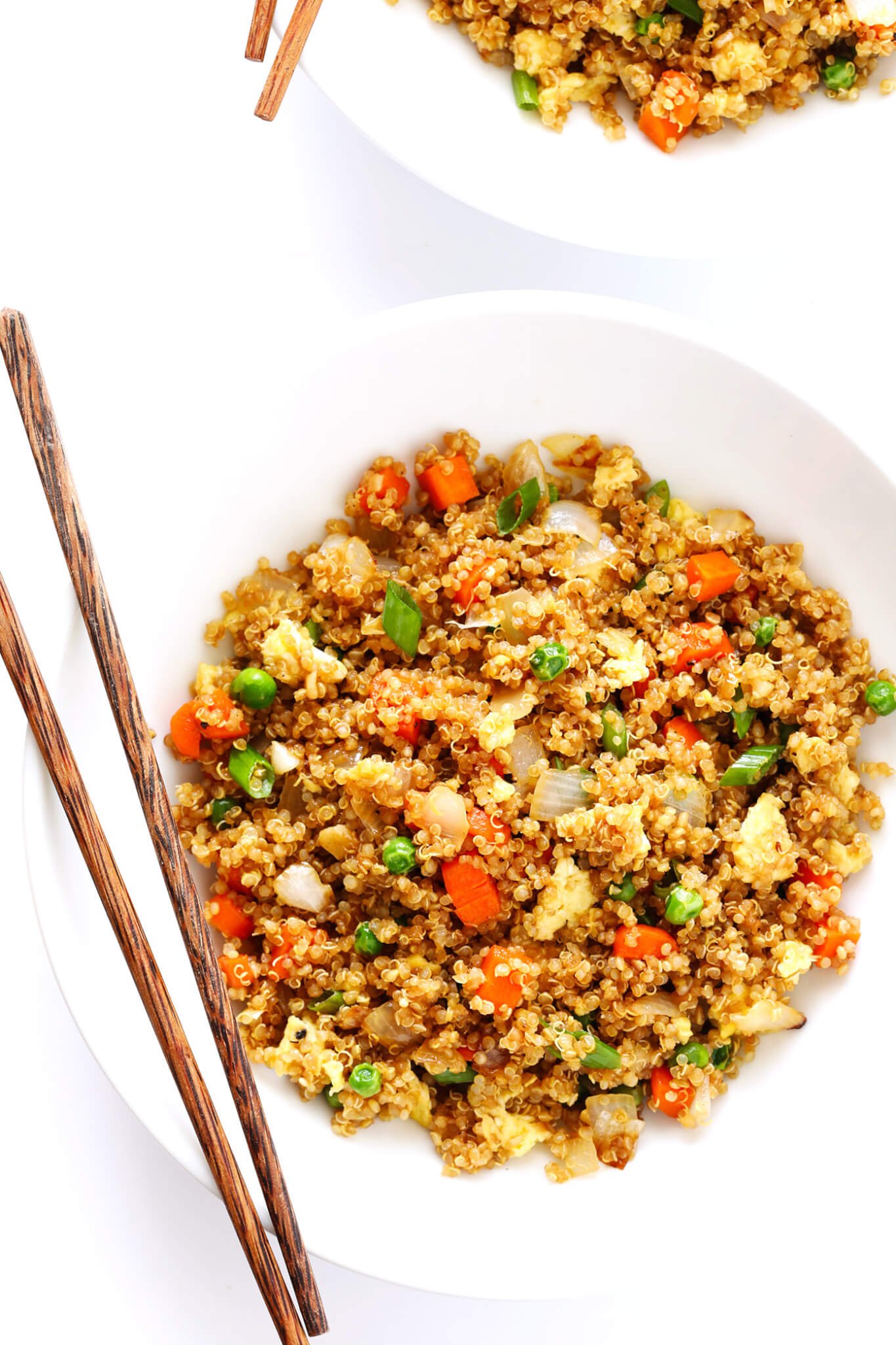 Again, this probably should not have come as any sort of surprise. But after finally landing on my perfected recipe for fried rice, I was a little shocked that quinoa could swoop in so stealthily and carry the dish. But it did! And it was just as delicious and comforting and satisfying as the original, but made a bit healthier with the addition of protein-packed quinoa.
Win = win.
Look out rice, I'm totally making this again.
Print

Quinoa Fried "Rice"

Prep Time: 5 minutes


Cook Time: 10 minutes


Total Time: 15 minutes


Yield: 4 servings 1x
---
Description
All of the goodness of traditional fried rice, but made with protein-packed quinoa instead of rice!
---
3 tablespoons

butter, divided

2

eggs, whisked

2

medium carrots, peeled and diced

1

small white onion, diced

1/2 cup

frozen peas

3

cloves garlic, minced

salt and pepper

4 cups

cooked and chilled quinoa (*see instructions here for how to cook quinoa)

3

green onions, thinly sliced

3

–

4

tablespoons soy sauce, or more to taste

2 teaspoons

oyster sauce (optional)

1/2 teaspoon

toasted sesame oil
---
Instructions
Heat 1/2 tablespoon of butter in a large skillet over medium-high heat until melted. Add egg, and cook until scrambled, stirring occasionally. Remove egg, and transfer to a separate plate.

Add an additional 1 tablespoon butter to the pan and heat until melted. Add carrots, onion, peas and garlic, and season with a generous pinch of salt and pepper. Saute for about 5 minutes or until the onion and carrots are soft. Increase heat to high, add in the remaining 1 1/2 tablespoons of butter, and stir until melted. Immediately add the cooked quinoa, green onions, soy sauce and oyster sauce (if using), and stir until combined. Continue stirring for an additional 3 minutes to fry the quinoa. Then add in the eggs and stir to combine. Add the sesame oil, stir to combine, and remove from heat.

Serve warm.
---