This Quick Israeli Salad recipe is quick and easy to make, and full of the best fresh and zesty flavors! Feel free to serve it on its own, or incorporate it into a quick wrap or hummus dip!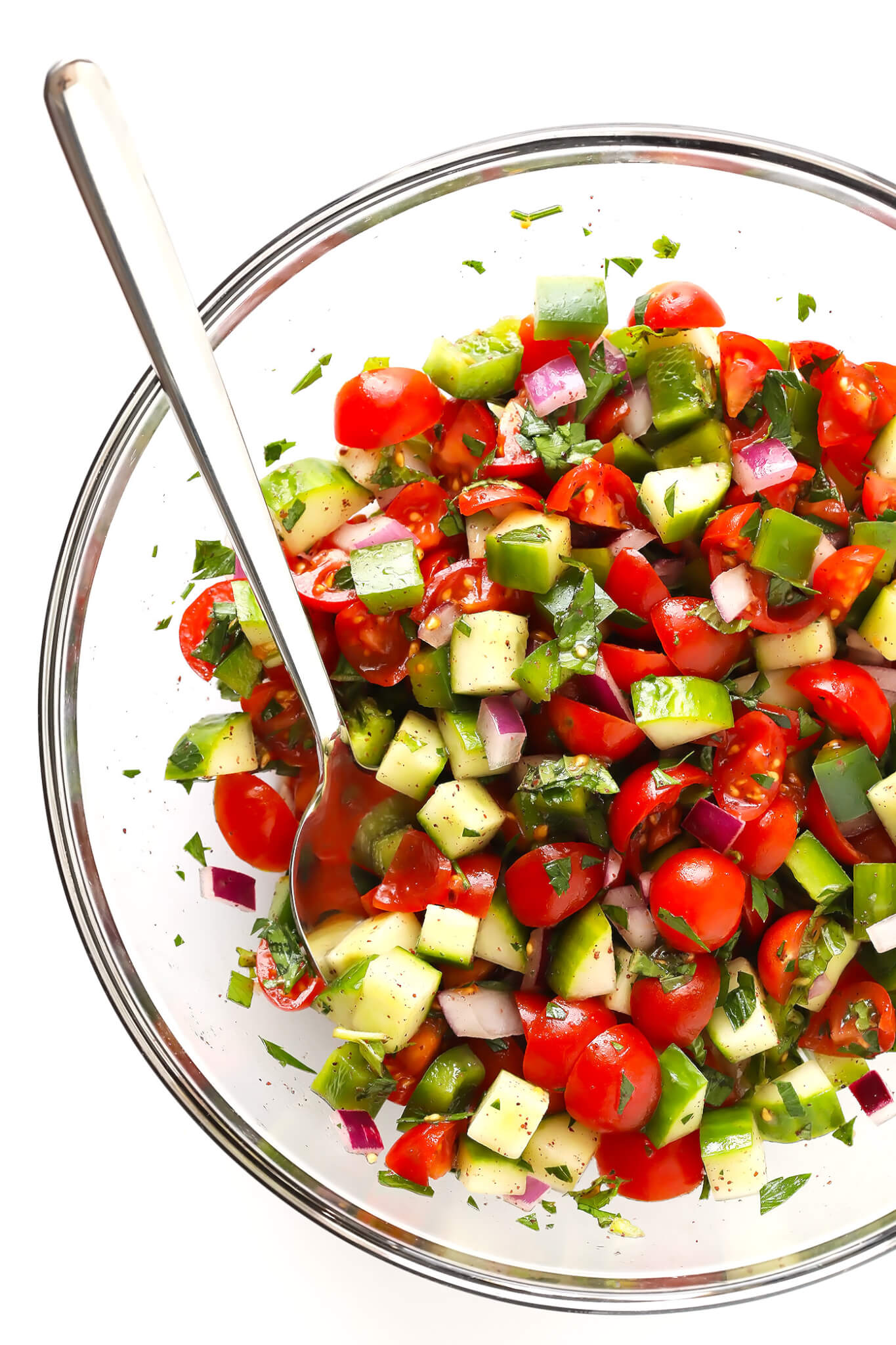 It has been unseasonably warm and summery this week in Kansas City, with sun shining brightly and temperatures casually stretching into the 90s…
…and I couldn't be happier. ?
I've been feeling all the feels lately about wrapping up our last summer here before we move to Spain. And I've been especially aware of how many little outdoorsy things we're going to miss in our neighborhood here — from warm mornings sitting outside Quay Coffee next door drinking our pour-overs, to afternoon walks to the City Market to pick up produce, to evening happy hours spent eating pizza and drinking wine on the patio Il Lazzarone, to our neighbornights at the picnic table out back, to late-night walks around the neighborhood with our pups, to a random parking lot hellos and catch-ups every single day with neighbors — time spent outside in our neighborhood each summer has been the best.  And we're seriously going to miss it.
So while everyone else has been lamenting the unusually warm weather, I've been finding excuses to dart outside into the sunshine every second I can to soak it all up. Which naturally means that I've been making extra excuses to make daily nostalgic trips to the farmers market this week. Which means that our fridge has been downright overflowing with end-of-the-season summer produce. Which means, of course, that we had to make at least one final Israeli Salad for the summer. Which turned into another (to spoon into pita wraps). Which turned into another (which we sprinkled on top of a hummus dip).
Which means that, naturally, I had to share it with you all. ?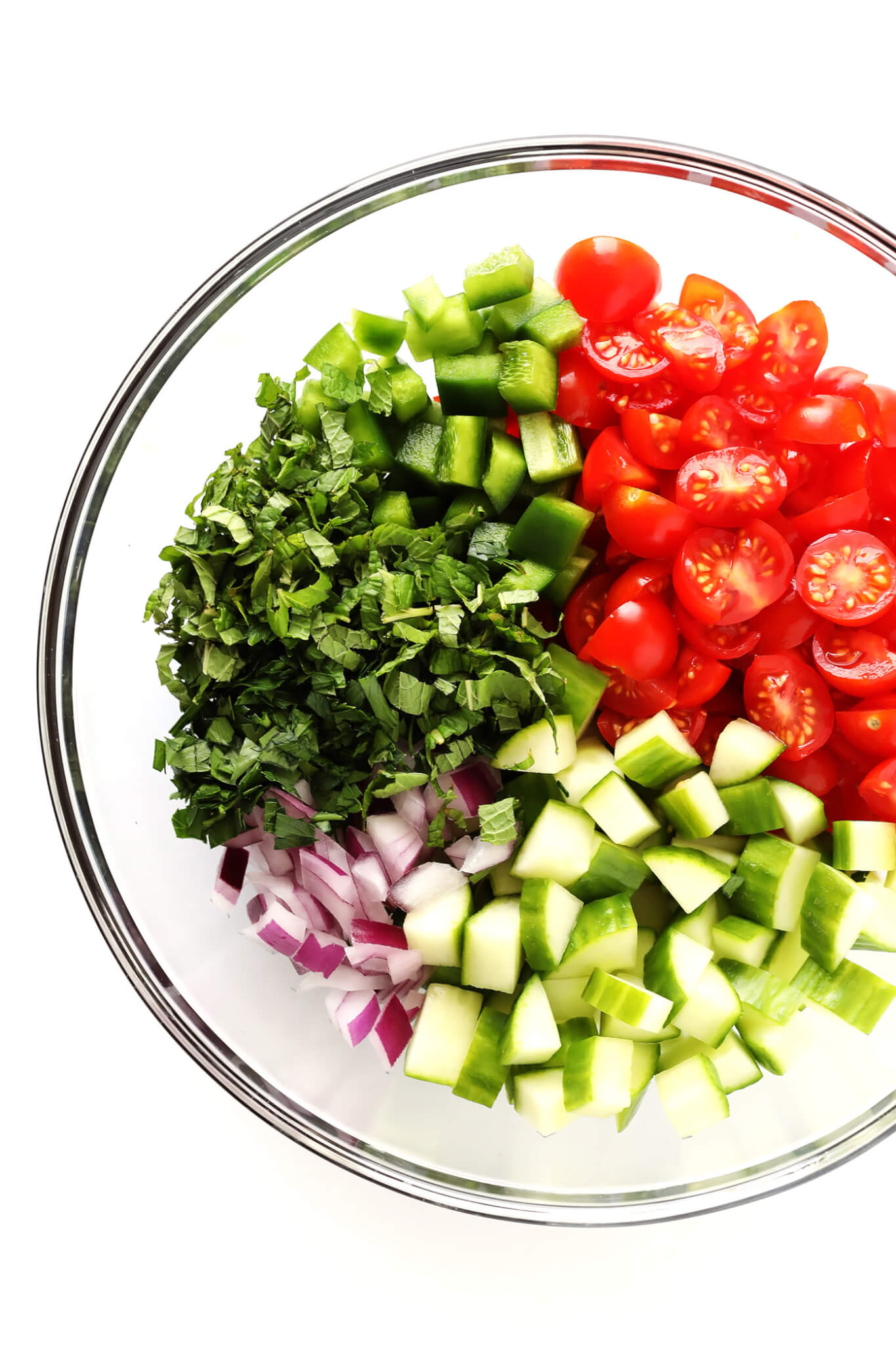 (This post contains affiliate links.)
Have you ever made a fresh Israeli Salad before?
It's basically a simple chopped salad filled with cucumbers (Israeli, if possible), tomatoes, bell peppers, red onion, fresh herbs (I like parsley and mint), lemon juice, and a splash of olive oil. You can also gussy yours up with some crumbled feta, toasted pine nuts, and chickpeas, if you'd like. But the one ingredient I highly recommend is adding in a few teaspoons of sumac, which (I think!) kicks the salad up a delicious notch.
To make the salad, simply chop everything up, and then toss all of your ingredients together until combined.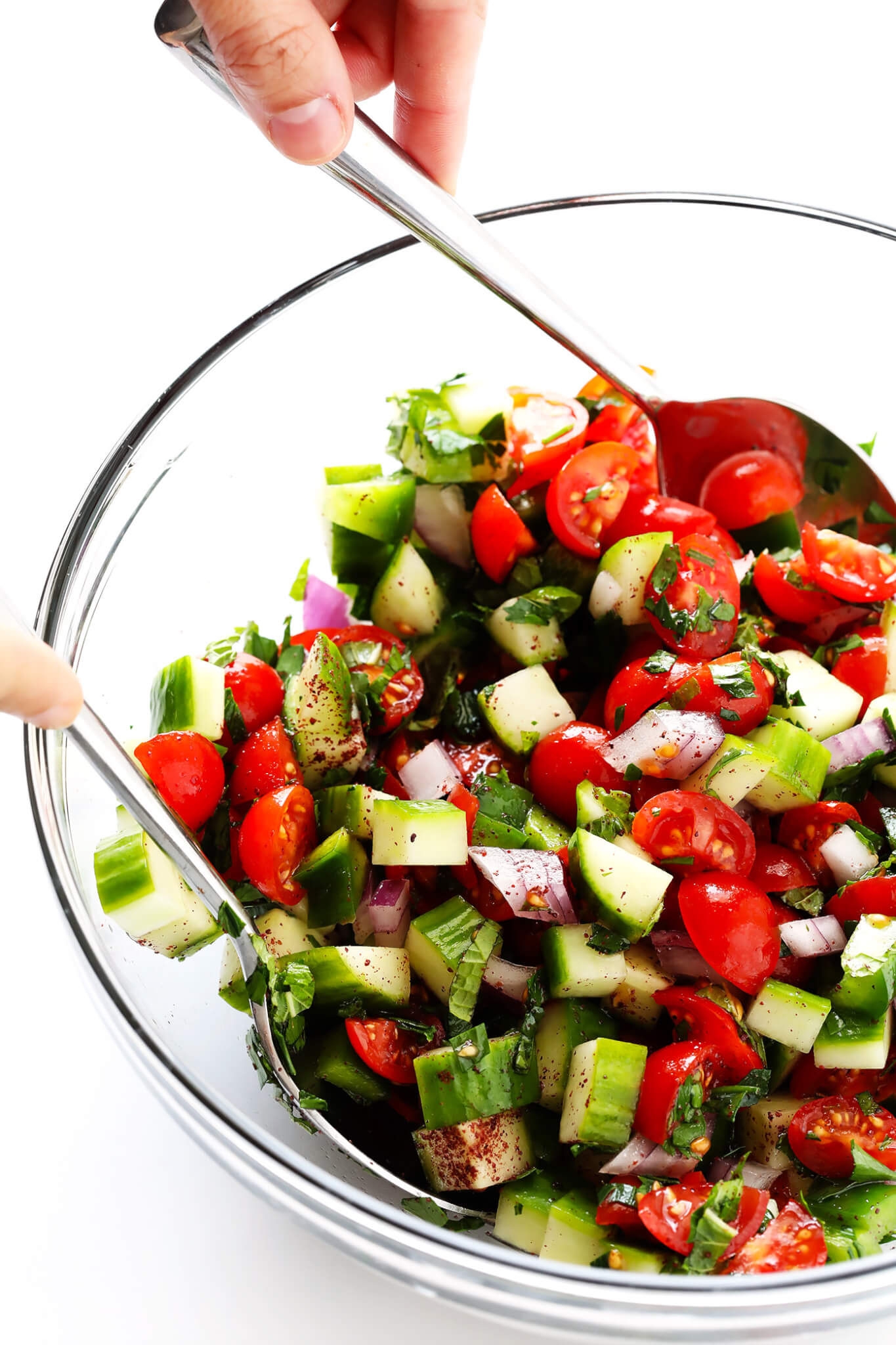 Then within minutes — voila! — it's all ready to serve and enjoy. So simple!
You can either enjoy it just like this as a main dish or side salad. (<– Psst, it pairs especially well with a grilled main course in the summertime.)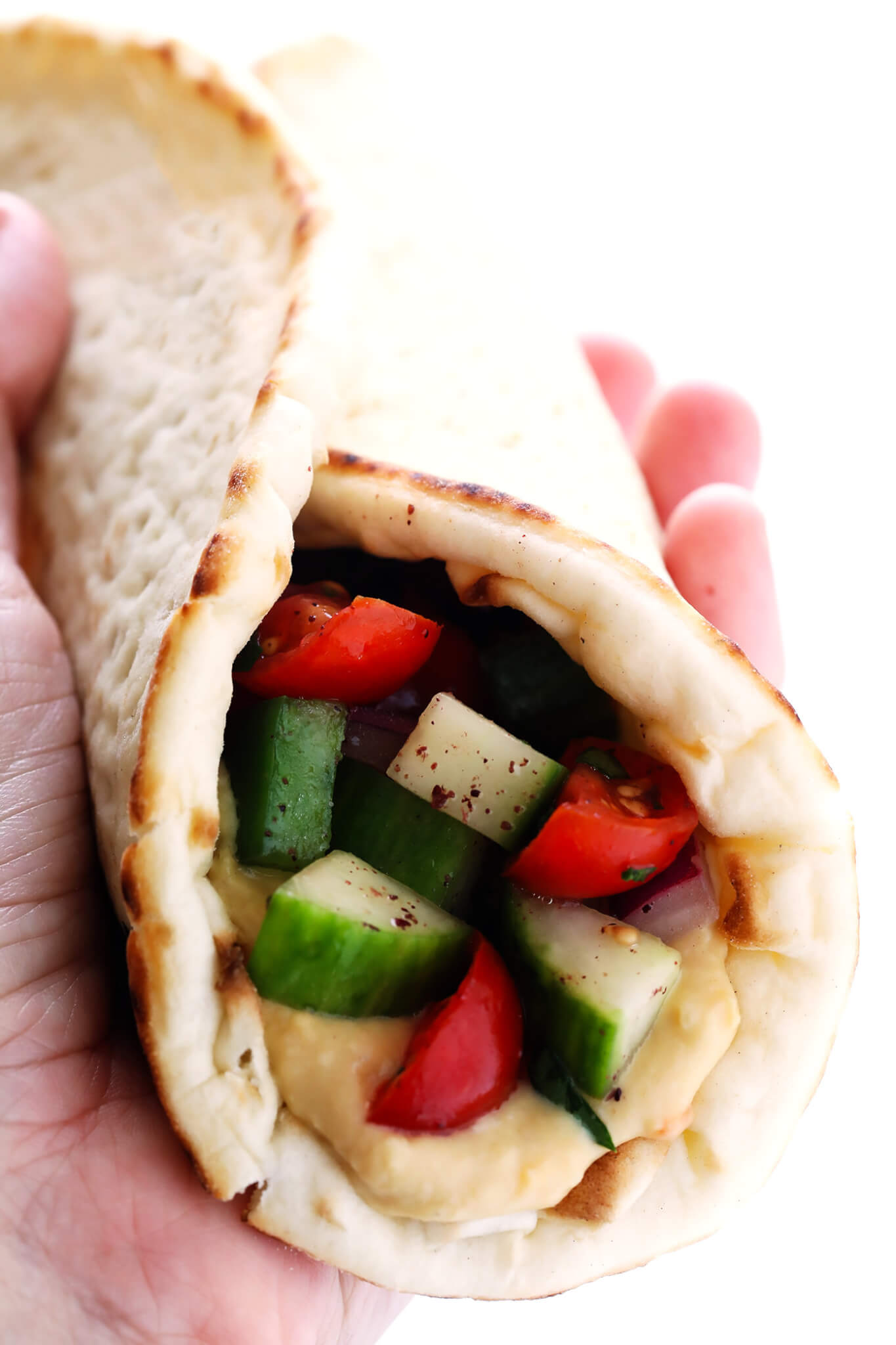 Or for something different, try spooning the salad into a pita with some hummus for a quick wrap!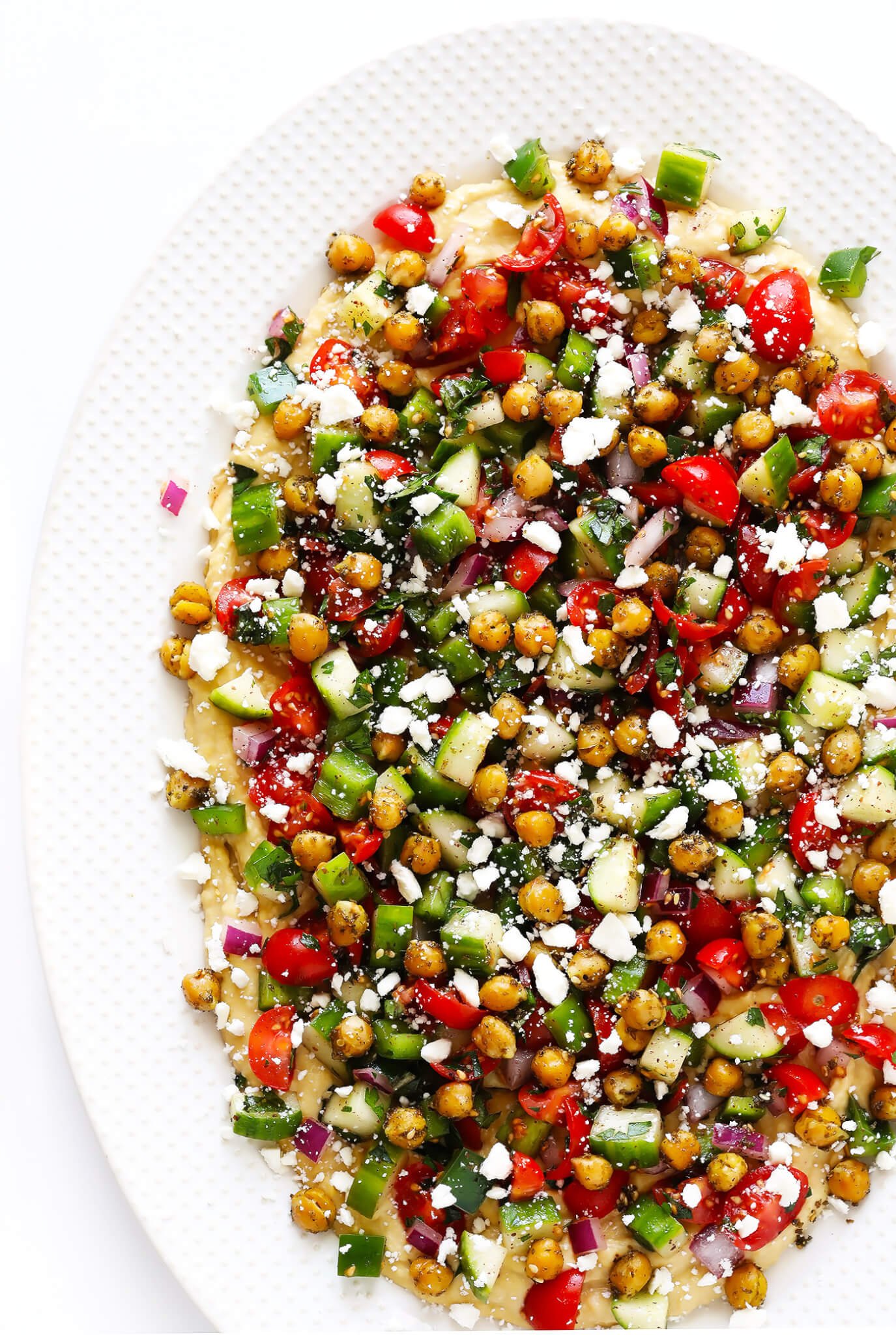 Or — my new favorite — sprinkling it on top of some hummus for a colorful dip! I added some feta and za'atar-roasted chickpeas here to go with mine, and the combination was ?????.
However you serve it, I'm convinced you can't go wrong with this classic salad. So grab some fresh veggies and make it happen!
Print

Quick Israeli Salad

Prep Time: 10 minutes


Total Time: 10 minutes


Yield: 4 –6 servings 1x
---
Description
This Quick Israeli Salad is easy to make and full of the best fresh and zesty flavors!
---
Quick Israeli Salad Ingredients:
1

pound

 Persian or English cucumbers, diced

1

pound cherry tomatoes

, halved

1

bell pepper, cored and diced

half a

 small 

red onion, diced

1/3

 

cup roughly-chopped fresh Italian parsley

1/4 cup

roughly-chopped fresh mint

2

 tablespoons

 extra-virgin olive oil

2 tablespoons

fresh

 lemon juice

1

 1/2 teaspoons sumac, or more to taste

Kosher salt and freshly-cracked black pepper

(optional add-ins: chickpeas, crumbled feta cheese, toasted pine nuts)
Israeli Salad Wrap Ingredients:
pita bread

hummus

1

batch Quick Israeli Salad (see above)

optional: cooked protein (chicken, steak, shrimp, etc.), falafel, crumbled feta cheese
Israeli Salad Hummus Dip Ingredients:
hummus

1

batch Quick Israeli Salad (see above)

roasted chickpeas*

crumbled feta cheese

pita chips, for serving
---
Instructions
To Make The Quick Israeli Salad:
Toss all ingredients together in a large bowl until evenly combined.  Season to taste with salt and pepper, also adding in extra lemon juice and/or sumac powder if desired.

Serve immediately, or refrigerate in a sealed container for up to 2 days.
To Make The Israeli Salad Wrap:
Spread a few spoonfuls of hummus evenly on a piece of pita bread.  Top with a few spoonfuls of the Israeli Salad and any other optional add-ins.  Roll the pita into a wrap and serve immediately.
To Make The Israeli Hummus Dip Wrap:
Spread a batch of hummus out evenly on a serving plate.  Sprinkle evenly with the Israeli Salad, roasted chickpeas and feta.  Serve immediately with pita chips.
---
Notes
*I used roasted za'atar pita chips in the photo above.  To make them, heat your oven to 400°F.  Rinse and drain a can of chickpeas.  Then add them to a bowl along with 1 tablespoon olive oil, 2 tablespoons za'atar, and toss to combine.  Spread the chickpeas out in an even layer on a baking sheet, and season with salt and pepper.  Bake for 20-25 minutes, or until the chickpeas crisp up a bit.  Remove and let cool to room temperature, then serve.