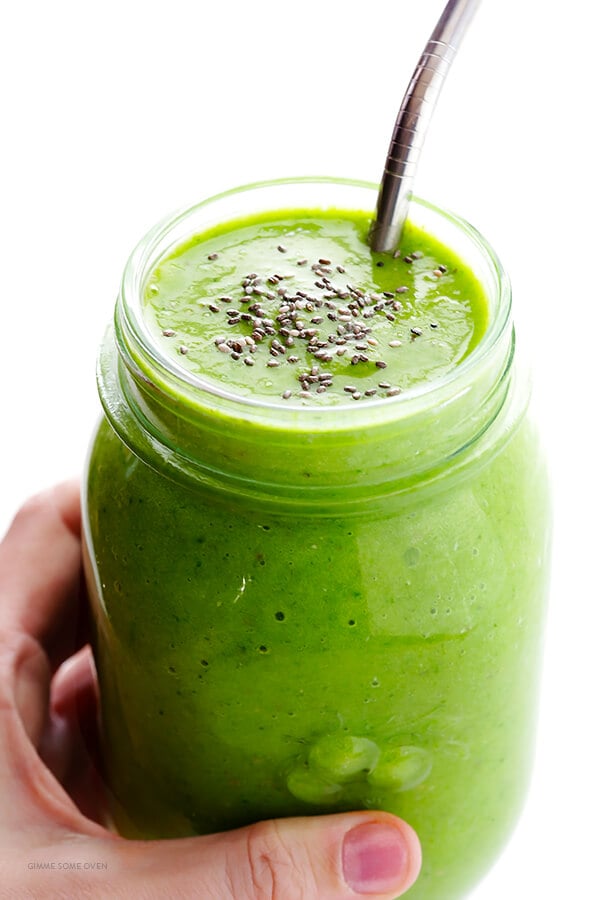 Happppppy New Year, everybody!!!
Hope that your 2016 is off to a hopeful and happy start, wherever life may find you.
Though the title of this post may suggest otherwise on a day like today, I'll be the first to admit that I'm not big on making grand new year's resolutions, especially when it comes to fitness. (Choosing one little word for the year is more my style.)  Instead, I'm just looking forward to just trying to keep up my general fitness aim that I've had for the past few years — getting my heart rate up high enough to break a sweat each day. On the good days, that means a killer Barre3 workout, or a good yoga classi, or a Mad Men episode's worth of time on my elliptical. On the busy days, that may just mean a quick few jogs up and down the stairs at the end of the day, or a quick walk around the block with my pup, or a few push-ups. My lifelong resolution is just to try and do at least something each day.
And when I do, I will absolutely admit that I mega look forward to some sort of delicious, energy-packed snack afterwards. More often than not, I just end up reaching for one of my no-bake energy bites, which I like to always keep on hand. But when I'm at home with a blender nearby, I absolutely love blending up a tasty, refreshing, protein-packed green smoothie.
Especially this one.
It's chocked full of easy everyday ingredients that are good for refueling your energy and electrolytes and all of that good stuff after a workout. It's ready to go in under 5 minutes. And if you need some motivation to get through a tough workout, I promise, this is a delicious one. So let's kick off the year with a healthy start!
Post-Workout Green Smoothie Recipe | 1-Minute Video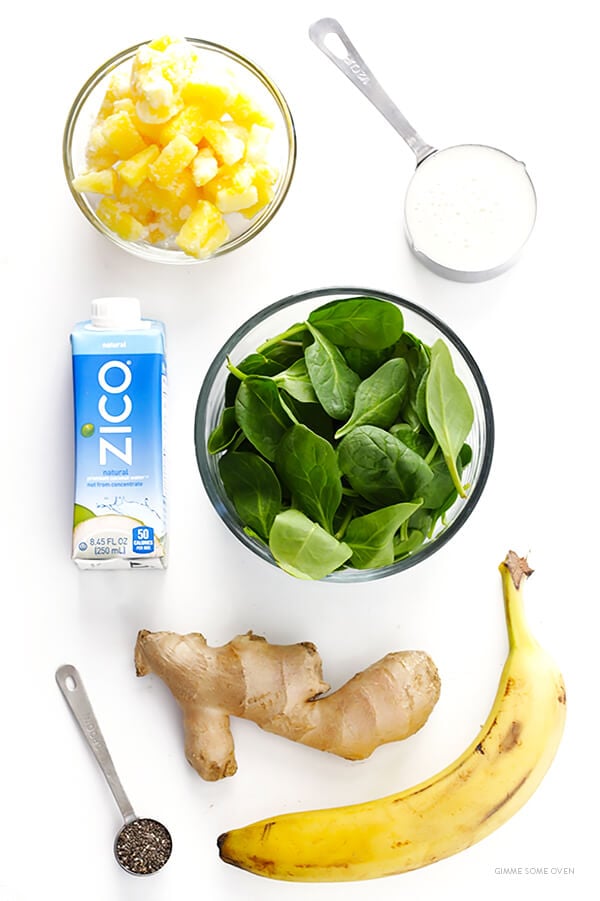 Alright, the magical ingredients in this one include…
Frozen pineapple: Turns out this sweet treat (one of my favorite smoothie bases) is chocked full of antioxidents that help you recover from workouts quicker, and it includes an enzyme that helps heal inflammation caused by injuiries.

Almond milk (or Greek yogurt): Either of these are full of protein (Greek yogurt has lots more, but I was out the day I made this smoothie, and it's also not vegan), which is good for replenishing your energy after a tough workout.

Coconut water: A stellar natural source of electrolytes (without all of the added sugars in sports drinks like Gatorade).

Fresh spinach (or any other dark leafy greens): Hello, Popeye! I love spinach in this smoothie because it's virtually tasteless, yet packs tons of phytoecdysteroids which help boost energy naturally.

Ginger: Helps relieve muscle soreness, and is also good for your stomach just in case you ever feel nauseous after a workout.

Chia seeds: These little guys are full of Omega-3 fats, which help sustain energy. And they're also full of protein and antioxidents.

Banana: Full of good complex carbs, as well as good-for-you minerals like potassium and fiber. Great for you, and the banana is also my favorite ingredient to thicken and sweeten a smoothie.
To make the green smoothie, simply toss everything in a blender and pulse until smooth…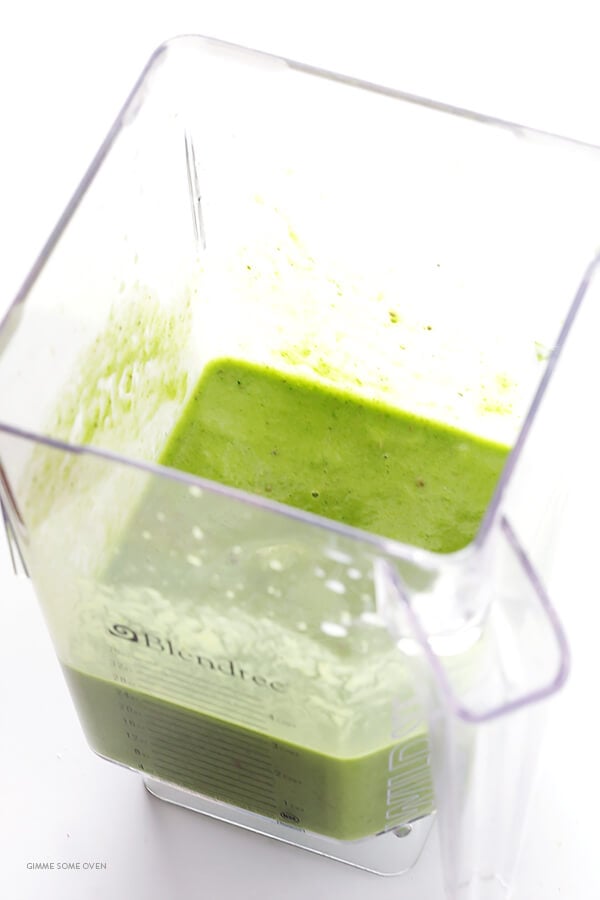 …and then voila!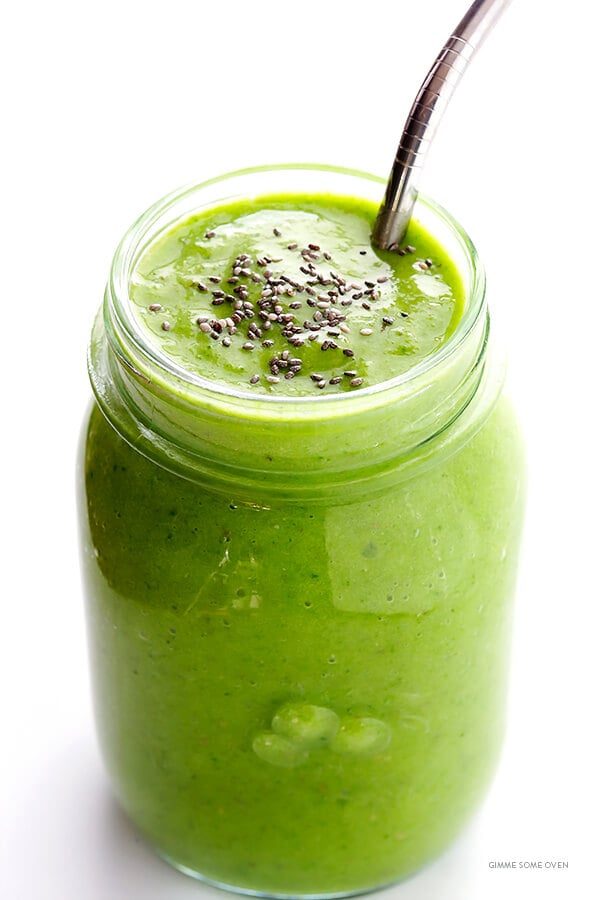 An easy, power-packed, and delicious green smoothie is ready to enjoy…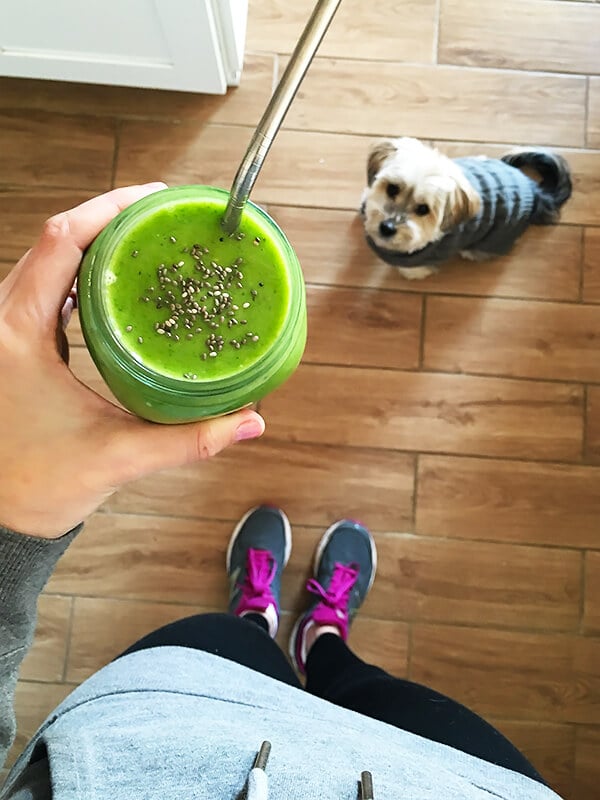 …which I happily did after my workout this week. You know, just for "blog research". 😉
So anyway, whether you're making big fitness resolutions for the new year, or simply resolving to keep movin' this year, I would highly recommend considering this recipe as a delicious end to your workouts.
Print

Post-Workout Green Smoothie

Prep Time: 5 minutes


Total Time: 5 minutes


Yield: 1 (large) serving 1x
---
Description
This Post-Workout Green Smoothie recipe is full of simple, delicious, and nutritious ingredients that will help replenish your energy after a good workout.
---
1

banana, peeled and sliced

1

-inch piece* of fresh ginger, peeled

2

handfuls fresh baby spinach

1 cup

frozen pineapple chunks

1/2 cup

coconut water

1/2 cup

almond milk (or plain Greek yogurt**)

1 Tablespoon

chia seeds
---
Instructions
Add all ingredients to a blender.  Pulse until smooth.

Serve immediately, sprinkled with extra chia seeds on top, if desired.

(If the smoothie is too thick, you can add in more coconut water to thin it out.  Or if it is too thin, you can add in a handful of ice.)
---
Notes
*1-inch piece fresh ginger = about 1.5 Tablespoons grated fresh ginger = about 1/2 teaspoon ground ginger
**Do not use Greek yogurt if making this smoothie vegan.