Fellow peach lovers!!! I have a peachy new recipe today that you absolutely must try.
Actually, it's the opposite of new, and happens to be one of the oldest recipes here on the site that I published way back in my second month of blogging back in August of 2009. But I realized the other day that it has been collecting dust while buried down in the recipe archives, which is a sweet shame, because it is one of my all-time favorite summer dessert recipes. And easily one of the most-requested desserts that my friends mention every summer.
So six years later, I'm digging this simple recipe up from the archives and shouting from the rooftops that you need to "carpe peaches" and whip up a batch right now.
That's right. I'm talking about peaches and meringue!
For anyone interested, here's the recipe that I shared back on the blog in August of 2009.
I still actually remember everything about the night this photo was taken. I was hosting a dinner party in my old bungalow right smack in the middle of August. It was blazing hot out, so I squeezed everyone around my little dining table inside with the air conditioning, and made an enormous salad to serve the crowd. I happened to have just picked up a big batch of fresh peaches at the farmers market, and was planning to grill and then serve them with ice cream. But one of my friends at the dinner was lactose intolerant, which posed a challenge. I totally wanted her to get to experience the deliciousness of peaches and cream, but this was back in the days before dairy-free ice creams or coconut whipped cream were all the rage. So I decided to try a different idea instead — peaches and meringue!
I had heard a friend talking about the idea of broiling peaches, and then topping them with a dollop of meringue and letting it cook briefly in the still-hot oven. So even though it was 500 degrees outside, I decided to briefly turn on the broiler and see what magic might happen.
Six years later, I'm still turning on the broiler in the heat of August, because it turned out that peaches and meringue are a match made in heaven.
And so freaking easy.
To make them, simply cut a bunch of ripe peaches in half and lay them out on a baking sheet. Sprinkle them with a little bit of sugar (I used coconut sugar, but any kind will work). Then pop them under the broiler for 3-5 minutes or until they start to brown and get a little juicy on top.
Then while the peaches are broiling, whip up a simple batch of meringue to go on top of them. It's a really small batch of meringue, so I find it easiest to whip up mine in the small attachment that goes with my hand blender. But any sort of mixer will do.
(Tip on making meringue: just be very careful that no egg yolks or water sneak their way into your bowl, be sure that the eggs are room temp, and don't over-beat once you add in the sugar!)
Again, you can also use whatever kind of sugar you'd like for the meringue, but I decided to go old-school with granulated sugar since it's the whitest. If you're feeling adventurous, you could also add some bourbon or crushed graham crackers into your meringue.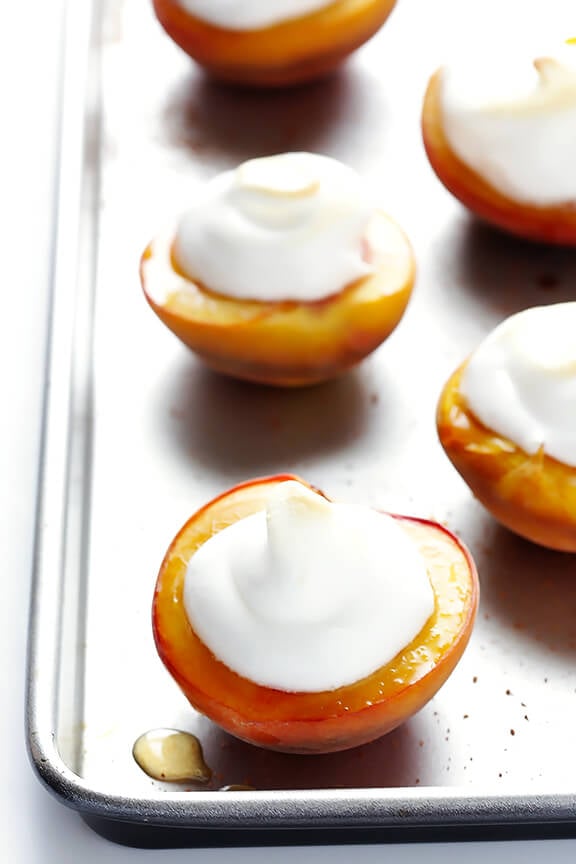 Then, simply pop the peaches and meringue back under the broiler for about 15 seconds, then turn off the broiler and let them continue cooking in there for another 30-45 seconds or until the tops of the meringue are lightly browned. Then pull them out, and serve them up immediately while they're still extra warm and juicy. If you'd like, you can sprinkle them with some chopped pecans or drizzle them with a glaze or whatever else sounds good. But I love them plain just as they are.
The meringue is light and creamy and sweet. The peaches are rich and warm and oh-so-juicy. And together? Well, let's just say they are an absolute treat.
One quick note, though, about the egg whites. Because the meringue is just lightly broiled on top, the insides are partially raw and soft, which makes them nice and creamy. (And as always, if you go this route, I have to disclaim that you consume raw eggs at your own risk.)  But if you're iffy about raw eggs, you can just reduce your oven to 300° F, and bake the meringue for a half hour or until is is cooked through. (See the recipe notes for the alternate baking times.)  I prefer the broiled version, but go with whatever sounds best to you. Either way, this recipe is still dairy-free, and a great alternative for anyone craving peaches and cream who might need to pass on the actual cream.
Six years later, I love these just as much as the first day I made them. Hope you enjoy!
Print
Peaches and Meringue

Prep Time: 10 minutes


Cook Time: 6 minutes


Total Time: 16 minutes


Yield: 4 servings 1x
---
Description
This peaches and meringue recipe is quick and easy to make, dairy-free, and perfect for summertime!
---
2

large ripe peaches, halved and pitted

2

 Tablespoons plus 1 teaspoon sugar*, divided

1

large egg white, at room temperature**

optional extra toppings: pinch of ground cinnamon, chopped pecans, crushed graham crackers, and/or drizzle of honey
---
Instructions
Preheat broiler.

Places peaches, cut side up, on a baking sheet and sprinkle evenly with 1/4 teaspoon sugar on each half. Broil 4 to 5 inches from heat until tops begin to brown, about 3 to 5 minutes.

Meanwhile, add egg white with a pinch of salt to a mixing bowl and beat with electric mixer (or a hand blender also works well) on medium-high speed until foamy. Gradually add remaining 3 tablespoons sugar, beating briefly until the meringue holds stiff, glossy peaks.

Place a dollop of meringue on each peach half and return to the broiler for 10-15 seconds. Turn off broiler and leave peaches in oven just until tips of meringue are browned, 20-30 seconds.  (Watch very carefully so that the meringue does not burn.)

*You can use just about any kind of sugar here.  I used coconut sugar on the peaches, and granulated sugar with the meringue (so that it would stay white).

**Note that the eggs are not fully cooked for this recipe, and you consume the partially raw egg whites at your own risk.  If you are concerned about raw eggs, you can broil the peaches as instructed, then lower the oven to 300°F, and bake peaches topped with the meringue for 25-30 minutes, or until the meringue has set and is cooked through.
---
Notes
Slightly adapted from Gourmet http://www.epicurious.com/recipes/food/views/Peaches-Under-Meringue-354492.