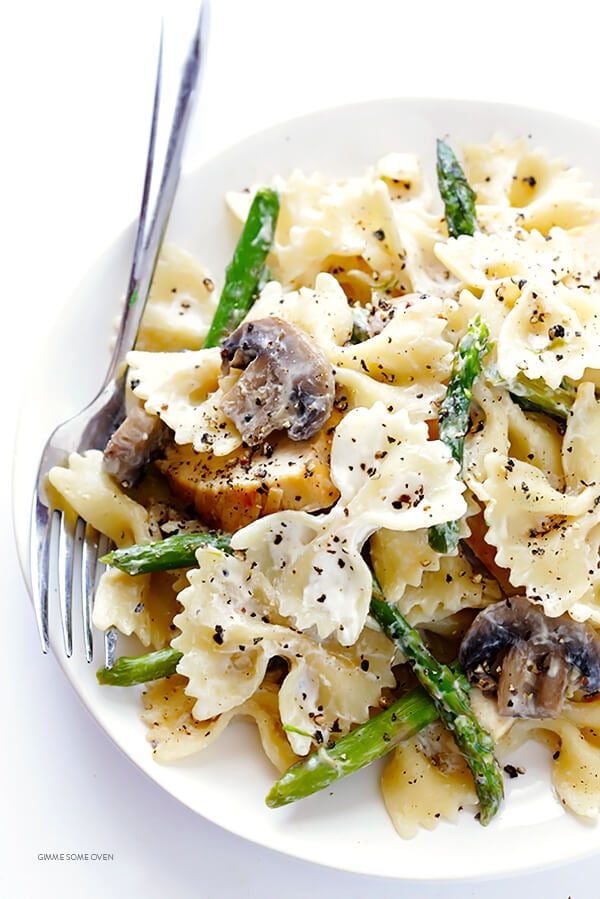 Mmmm, mmmm, mmmm.
Today we're dipping back into the blog archives to revisit one of my all-time favorite pasta recipes, and I've gotta say, I might be even more excited to share it with you again today than I was four years ago when I first posted it on the blog. Because that's the thing about those recipes that you make, and re-make, and re-make again for the twentieth time — they collect all sorts of fun stories and memories with them along the way that make them feel all the more delicious. Right?!
This goat cheese pasta is definitely one of those for me. I have made it (or improvised "versions" of it by memory) countless times over the years for everything from dinner parties full of friends around the table, to solo nights "in" on the couch with a glass of cabernet and Netflix, to a spontaneous dinner celebrating a friend's brand new job, to a quiet night talking through another friend's break-up, to just a run-of-the-mill normal spring evening this past month — it's just one of those comforting dishes that always hits the spot.
And without a doubt, one of the big reasons this recipe has become a favorite over the years is because it is ridiculously easy to make (and customize!) when you're short on time. All you really need is some good goat cheese, and then we can improvise the rest from there. I'll show you…
Alrighty. Well first off — as is my tradition when re-sharing old recipes — here's the original photo for old time's sake. I remember shooting it on a dark night when I was staying at my cousin's house and was so annoyed that the goat cheese sauce wasn't showing up.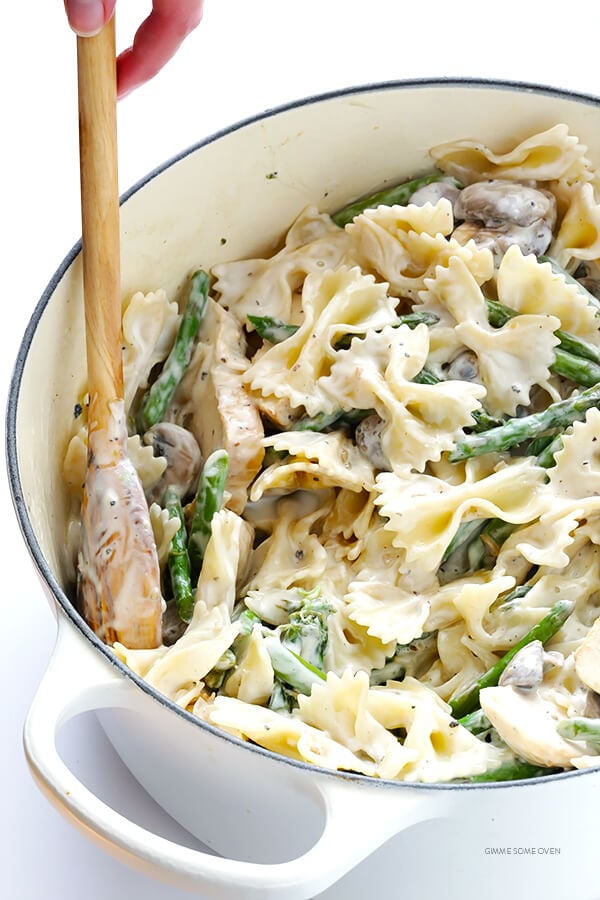 This one is a little more accurate. Because lemme assure you — this pasta is saucy!!
And as opposed to many cheese sauces which require some sort of roux to thicken, or at minimum an extra pan to cook it in, this sauce can literally be whisked together in a little mixing bowl in just seconds. All it requires is a bunch of good goat cheese, a little milk, a little Parm, and then you actually just add in some of the hot pasta water to make it all melty, and then whisk it together.
So easy!!!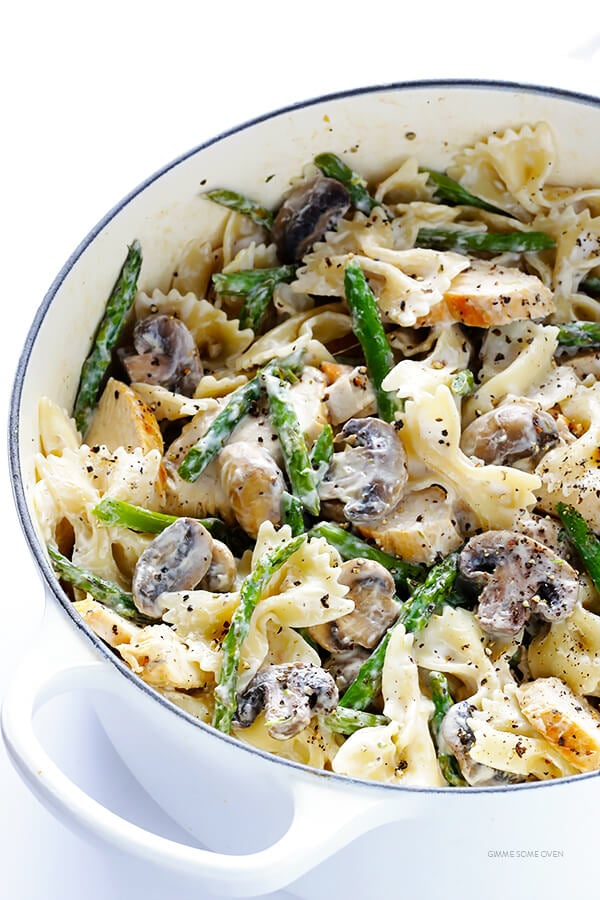 Then the rest is up to you! I tend to love adding in some asparagus and mushrooms this time of year, and maybe some chicken or shrimp for protein. But really, you can add in just about whatever sauteed veggies or protein (or lack of protein) you'd like.
Oh, and then I clearly have a black pepper addiction lately, but you can go a little easier on that if you prefer. 😉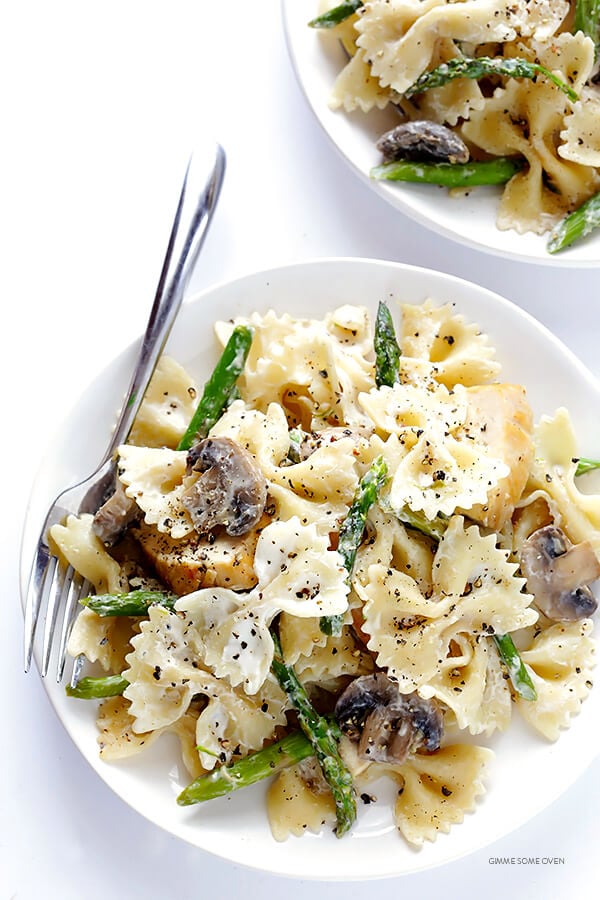 But pretty much whatever pasta you make up with this sauce is guaranteed to be a winner.
So grab some goat cheese the next time you're at the store, and hope that you enjoy making it! (And probably re-making it. And re-making it. And re-making it…)
Print

Pasta with Goat Cheese, Chicken, Asparagus & Mushrooms

Prep Time: 5 minutes


Cook Time: 25 minutes


Total Time: 30 minutes


Yield: 4 –6 servings 1x
---
Description
You'll love this savory Pasta With Goat Cheese, Chicken, Asparagus & Mushrooms recipe. It's flavorful, comforting, and can be prepared in less than half an hour!
---
1

 pound (16 ounces) pasta (I used farfalle)

2

 tablespoons olive oil, divided

2

boneless skinless chicken breasts

salt and freshly-ground black pepper

1

shallot, peeled and minced

6

cloves garlic, peeled and minced

1

bunch (about

1

pound) asparagus, cut into bite-sized pieces, ends trimmed off

16 ounces

(

2

cartons) fresh baby bella or white button mushrooms, halved

8 ounces

goat cheese

1/3 cup

milk

1/2 cup

freshly-grated Parmesan cheese, divided
---
Instructions
Cook the pasta al dente in a large stockpot of generously-salted water, according to package instructions.  Once the pasta is nearly ready, scoop out 1 cup of pasta water and reserve it on the side (we will use it later).  Then drain the pasta and set aside.  (<– For ideal timing, I recommend adding the pasta to the boiling water around the time you begin cooking the asparagus and mushrooms.)

While the pasta water is heating, season the chicken breasts on both sides with salt and freshly-ground black pepper. In a large saute pan, heat 1 tablespoon olive oil over medium-high heat. Add the chicken and cook for 6-8 minutes (flipping halfway through) until both sides are golden, and the center is cooked through and no longer pink. Transfer chicken to a clean cutting board, and set aside. Add the remaining 1 tablespoon olive oil to the hot pan, and add the shallot.  Saute for 2 minutes, stirring occasionally.  Stir in the asparagus and mushrooms, and continue sauteing for another 4-6 minutes, stirring occasionally, until the mushrooms have softened. Stir in the garlic and cook for an additional 1-2 minutes, or until fragrant, stirring occasionally. Remove pan from heat and set aside.

In a separate small mixing bowl, add the goat cheese, milk, 1/4 cup Parmesan and 1/2 cup of the reserved hot pasta water.  Whisk until combined.

Once the pasta is cooked and drained, immediately add the chicken, vegetable mixture and the goat cheese sauce to the pasta, and toss to combine.  If the sauce is too thick, you can stir in an extra 1/4 to 1/2 cup of the reserved hot pasta water to thin it out.  Otherwise, serve immediately, garnished with extra Parmesan and black pepper, if desired.
---