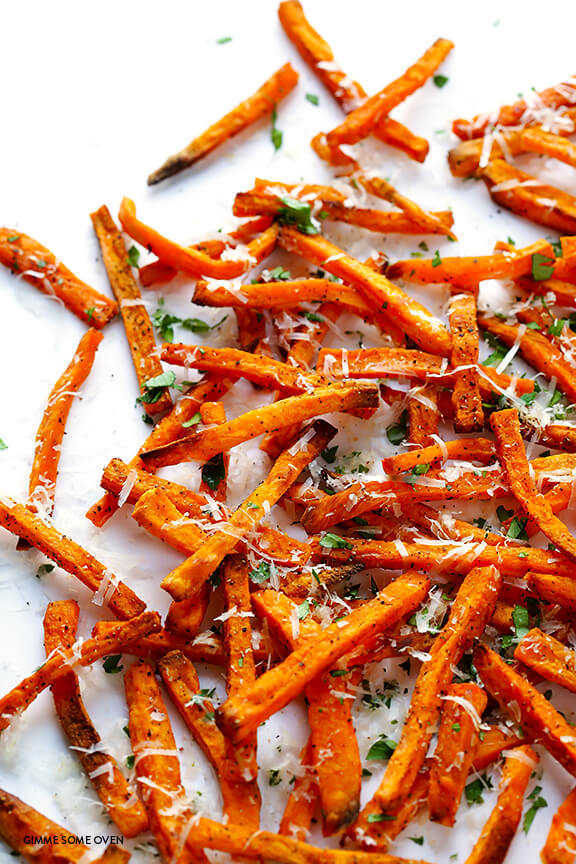 This is a sponsored post in partnership with Morningstar Farms.
Mmmm, you're lookin' at one of my all-time favorite indulgences, right there.
LOVE me some sweet potato fries!
I like to think of them as the American (or should I say, French?) equivalent of my beloved Mexican chips and salsa obsession. Why? Well they regularly steal the show from whatever main dish may be gracing my plate. They are the perfect salty and crispy treat, especially paired with a nice cool beverage. And I could easily make a meal just with them if given the opportunity. (Which I've, um, "never" done before…)
Actually, the last meal I made with these sweet potato fries ended up being a wildly delicious, healthier, vegetarian success. I was randomly craving a burger and fries. But being that I don't really eat hamburger and wasn't feeling like a batch of greasy restaurant-style white fries, I decided to whip up a simple alternative at home. I tossed one of my favorite black bean burgers in a sizzling skillet, cut up some sweet potatoes to bake up and tossed them with extra Parm and parsley afterwards, and then cracked open a cold IPA from a brewery just down the street. And it may have actually been one of my favorite burgers and fries night…ever.
Because once again, the sweet potato fries stole the show. 🙂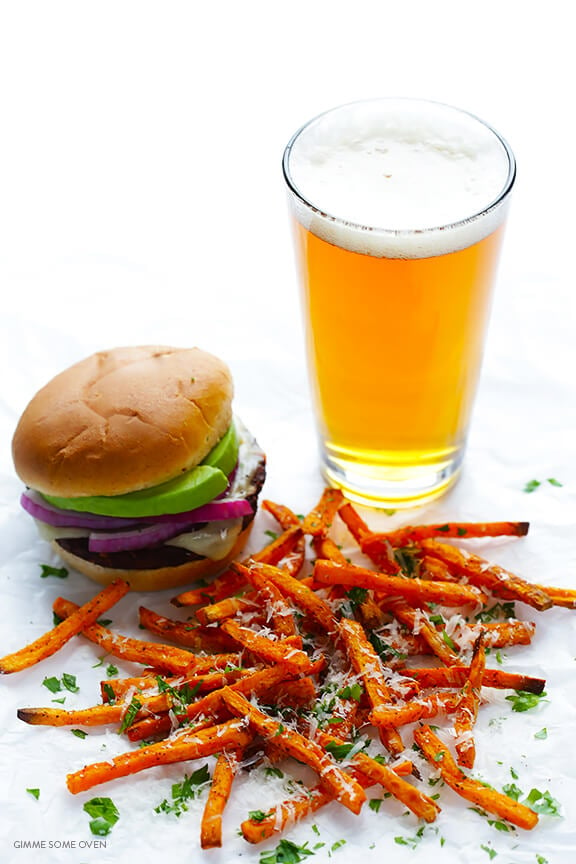 I mean, just look at 'em!
Delicious salty and sweet fries, topped with oodles of fresh Parmesan and a little parsley, and baked up to crispy vibrant perfection? I'll vote for those over "regular" fries any day. Plus, with all of the vitamins and nutrients packed into sweet potatoes, you can feel genuinely good about eating them!
Same goes for that beautiful black bean burger there. I blogged this spring about taking the Veg of Allegiance with Morningstar Farms to try and eat at least one more vegetarian meal a week, and I'm still going strong and loving it! Their veggie burgers have always had a spot in my freezer for the days when I need a quick and healthier meal. And for years and years, their classic Spicy Black Bean Veggie Burger has always been a fav, especially when topped with some cheese, avocado and red onions and popped on a whole wheat bun. My kind of burger. 🙂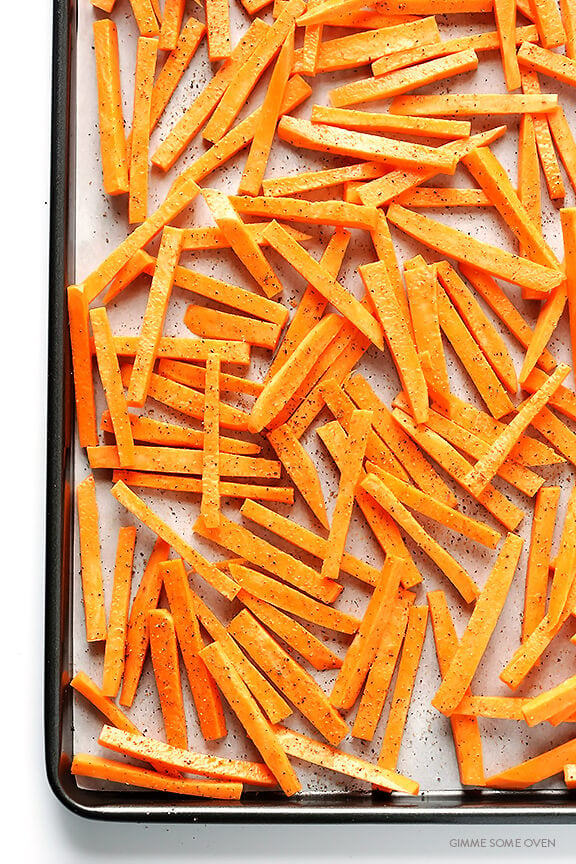 But back to these fries…here's how to make 'em!
Begin with some fresh sweet potatoes. You can either peel them or leave the skin on — your choice. But the key is how they are chopped. In order for baked fries to cook evenly, they definitely need to be the same size and thickness. I find that about 1/4-inch thick makes for the perfect balance of crispy-on-the-outside and soft-on-the-inside with these fries, but feel free to experiment.
Then toss them in some vegetable oil (or any high-heat oil), along with some salt and pepper and garlic powder. And if you want to give them a little heat, feel free to toss in a few pinches of cayenne. Then spread them out in an even single layer on a baking sheet, and roast them up to crispy perfection, turning them once or twice during baking so that they cook evenly.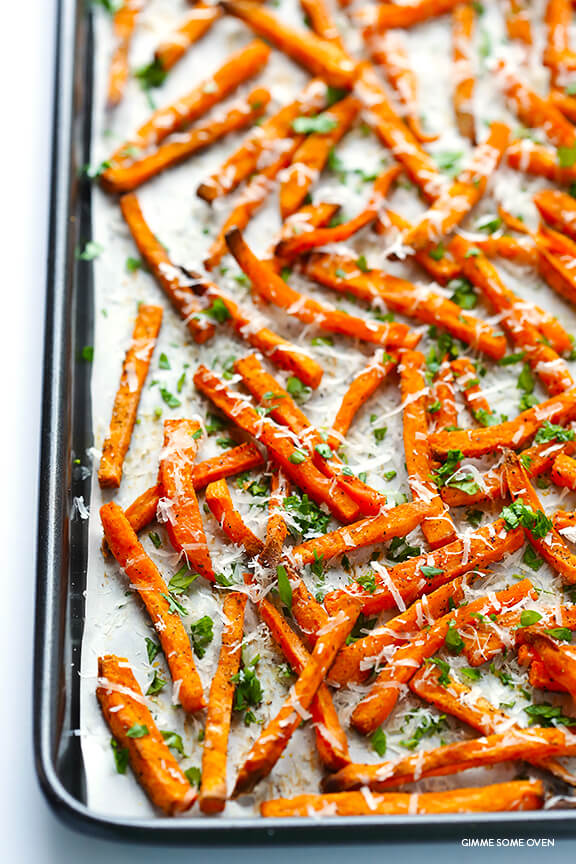 After baking, toss them immediately with some freshly-grated Parmesan and parsley while they are still hot, as well as a little extra salt and pepper if needed.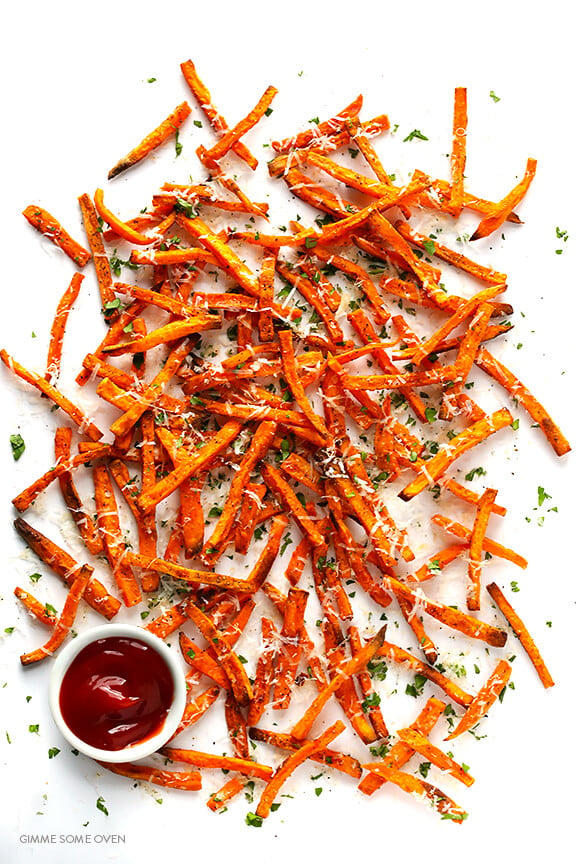 Then serve them with ketchup or whatever dipping sauce sounds good…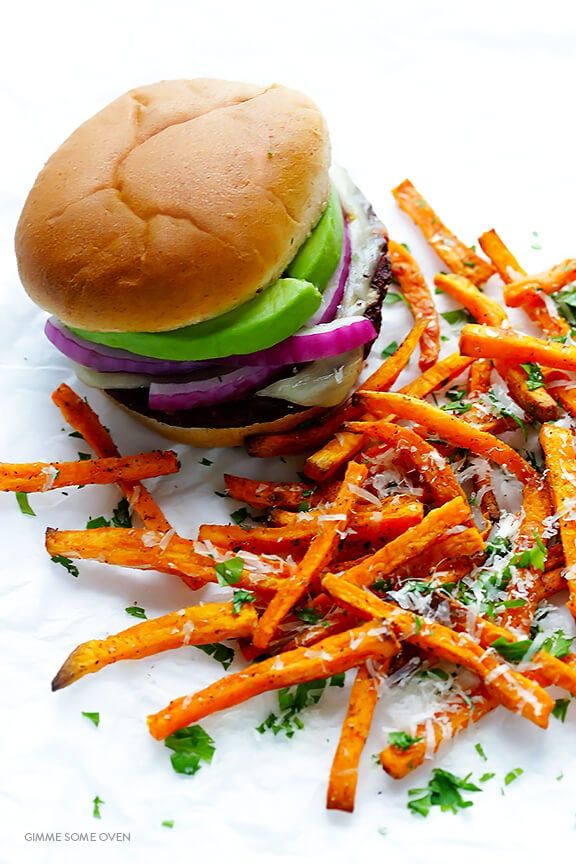 …and this delicious and healthier side is ready to go.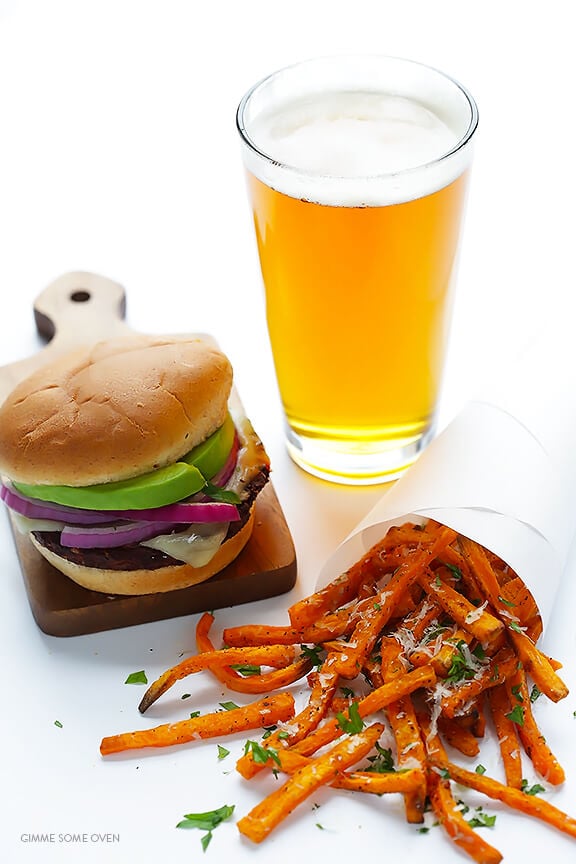 Definitely the perfect meal for a Meatless Monday, or any day that you're looking for a healthier alternative to traditional burger and fries. Enjoy!
Print

Parmesan Baked Sweet Potato Fries

Prep Time: 15 minutes


Cook Time: 20 minutes


Total Time: 35 minutes


Yield: 4 –6 servings 1x
---
Description
These Parmesan Baked Sweet Potato Fries are quick and easy to prepare, made healthier in the oven, and irresistibly good!
---
2

pounds sweet potatoes (about

2

medium-sized sweet potatoes), peeled if desired

2 Tablespoons

vegetable oil (or any high-heat oil)

2 teaspoons

 sea salt

1 teaspoon

garlic powder

1 teaspoon

freshly-cracked black pepper

1/4 teaspoon

ground cayenne

1/2 cup

freshly-grated Parmesan cheese

(optional) 1/4 cup finely-chopped fresh parsley
---
Instructions
Preheat the oven to 425 degrees.

Carefully cut the potatoes into 1/4″ thin matchsticks, or to your desired thickness and length.  Place potatoes a large bowl, and toss with the oil, salt, garlic powder, pepper and cayenne until the potatoes are evenly coated.  Spread out the potatoes out in a single layer on a parchment-covered baking sheet.  (If your baking sheet is small, you may need to use two.)

Cook for 15-20 minutes, flipping the fries once or twice during that time so that they cook evenly.  (Cooking times will vary based on the size and thickness of your fries.) Remove once the edges slightly begin to brown and fries begin to crisp.  Immediately sprinkle with Parmesan cheese and parsley, and toss briefly to combine.  Serve warm.
---
This is a sponsored post in collaboration with Morningstar Farms. I am partnering with them to create some delicious vegetarian recipes, and all opinions are my own as always. Thanks for continuing to support the brands that make this site possible!