Last week was a bit of a doozie.
After a weekend spent working on the lawn, Barclay and his roommate managed to pick up some gnarly cases of poison ivy…which I'm highly allergic to. So I tried to keep my distance when I went to visit. But I forgot to take into account his sweet, adorable, furry, loves-to-roll-in-the-grass, and-also-loves-to-rub-up-against-anyone-asking-for-a-belly-rub, and sure enough, ended up with an ultra-itchy case of it myself.
Then Barclay came down with the flu. (Right before he gave a TedTalk on Saturday, but he powered through!)
Then I came down with a terrible breakout of canker sores (they've plagued me since I was a kid) and was relegated to a pureed soup diet. (<– Do any of you have any remedies that actually work for you?!)
And needless to say, but the time the weekend rolled around, I think it's safe to say that we weren't exactly what you'd call "pillars of health". Oof.
That said, though, I'm always a big believer in the comforting power of good food whenever some sort of sickness hits. So when Barclay was down for the count with the flu earlier in the week, I swung by a nearby Thai place to pick up a big bowl of tom kha soup for him (his favorite), along with a big order of my favorite pad see ew for me (my latest sweet favorite). The only bummer? They goofed up my order and made pad kee mao for me instead! Definitely another one of my favorites, as you know. But I was craving the sweeter stir fry sauce in the pad see ew. So the next day, I did a little bit of research online and realized that I actually already had the ingredients to make the sauce at home. So I buzzed by our neighborhood Asian market and picked up some Chinese broccoli, added in some chicken I had on hand, and 15 minutes later, this restaurant-quality dish was ready to go.
It was just what the doctor ordered. 🙂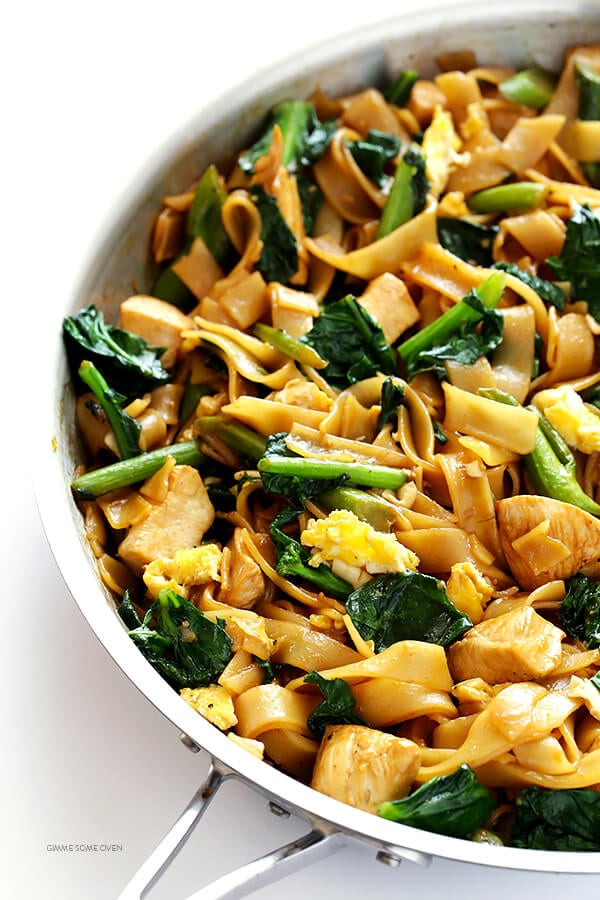 I'm guessing that most of you familiar with Thai food are familiar with this classic noodle dish. But in case you're not, it's just a basic rice noodle stir-fry with tons of Chinese broccoli (see below), a sweeter savory sauce, and maybe some extra protein if you'd like (chicken, pork, beef, shrimp, tofu, you pick!).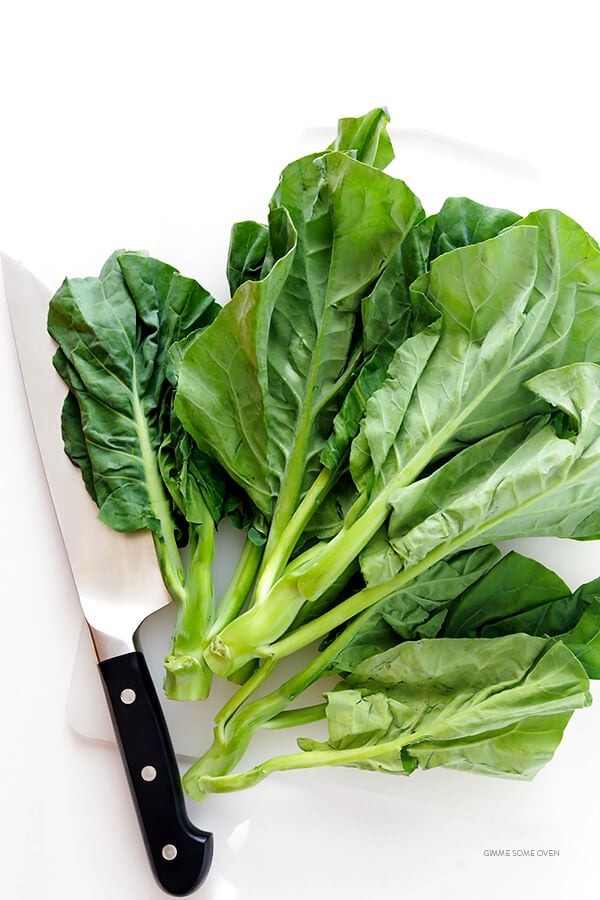 Feel free to throw in any other veggies you might like as well. But I stuck with the classic Chinese broccoli this time, and added in tons of it. So good!! And don't forget that you get to eat the stems too. Just slice them really thinly, and they'll cook up perfectly and give the dish a little bite.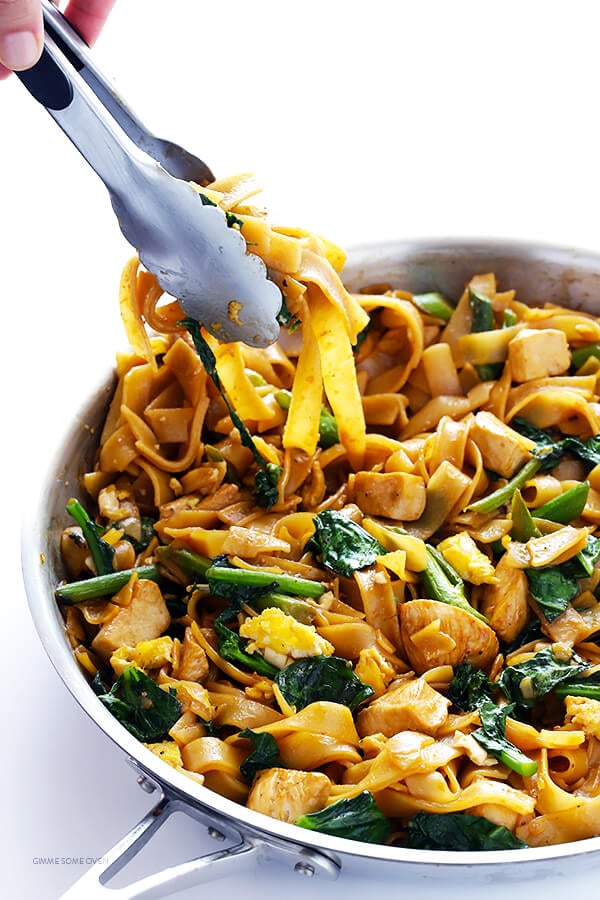 Oh, and I also sprinkled on one of my favorite little "treats" that I became obsessed with at another Thai restaurant in town — fried garlic!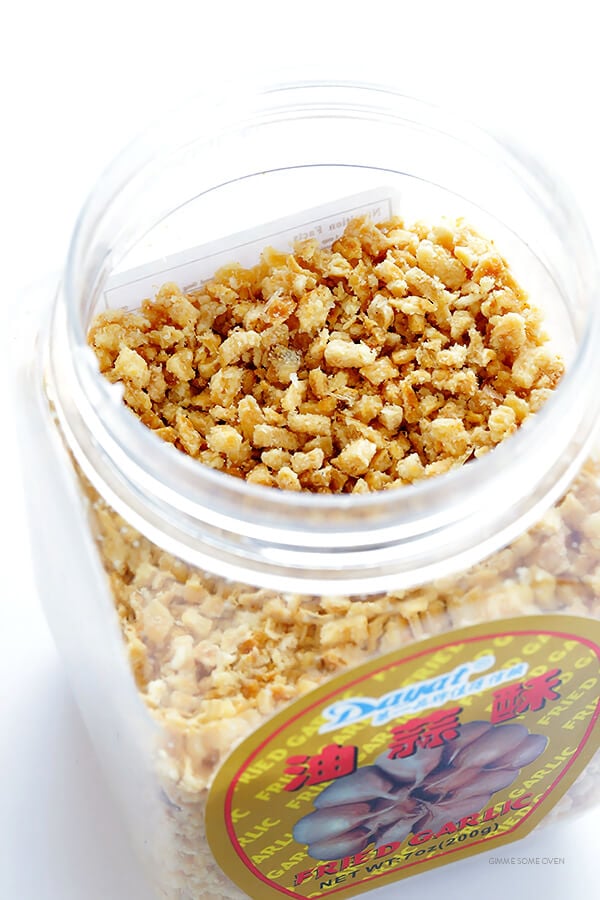 Have you guys ever tried these? I'll admit, they have a little habit of getting stuck in your teeth. But oh man, they are like the best Thai "sprinkles" ever, and I can't get enough of them. They're usually only available at Asian groceries, but if you ever spot them, I highly recommend picking up a batch.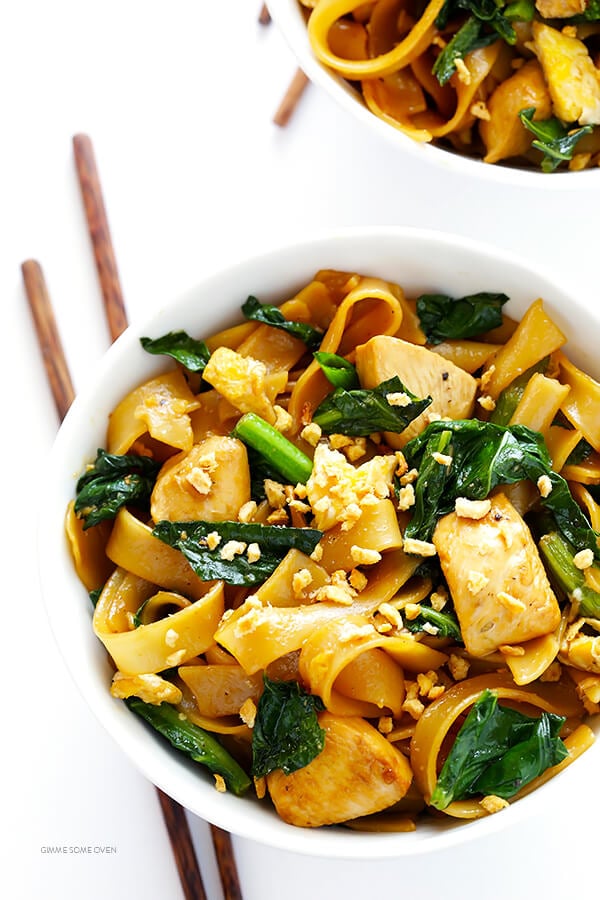 Anyway, another Thai take-out recipe to add to the make-at-home list! Hope you enjoy it as much as I did!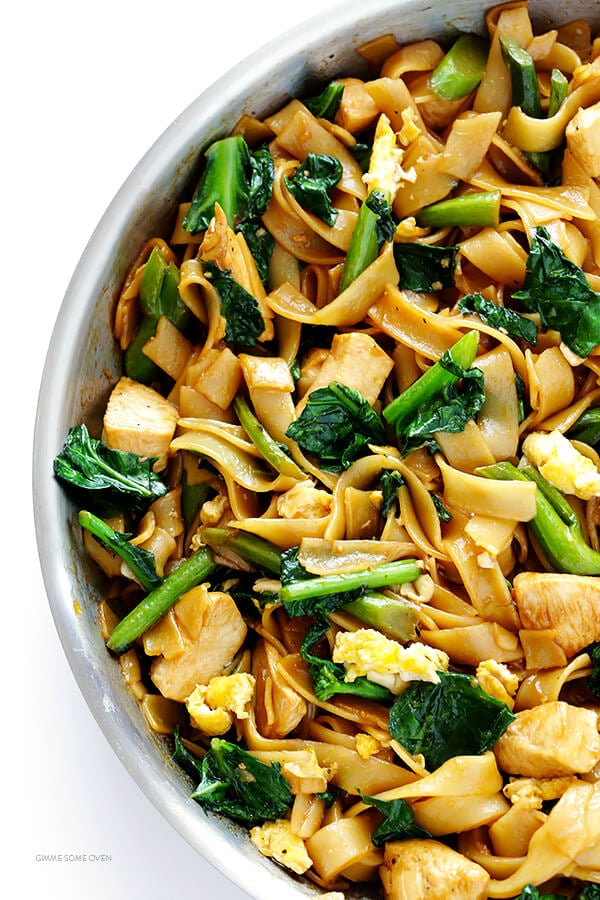 Print

Pad See Ew (Thai Sweet Stir Fried Noodles)

Prep Time: 10 minutes


Cook Time: 10 minutes


Total Time: 20 minutes


Yield: 4 servings 1x
---
Description
This Thai Pad See Ew recipe is quick and easy to make at home, easy to customize with your favorite protein, and so sweet and savory and delicious!
---
STIR-FRY INGREDIENTS:
12 ounces

(dry) rice stick noodles

2 Tablespoons

peanut or vegetable oil, divided

1

 pound boneless skinless chicken breasts, cut into bite-sized pieces*

5 cups

(packed) Chinese broccoli, chopped into bite-sized pieces with the stems and leaves separated

3

cloves garlic, peeled and minced

2

eggs, whisked

stir-fry sauce (see below)

(optional: fried garlic, lime wedges, for serving)
STIR-FRY SAUCE:
3

Tablespooons dark sweet soy sauce

1 Tablespoon

oyster sauce

1 Tablespoon

(regular) soy sauce

1 Tablespoon

rice wine vinegar

2

–

3

teaspoons sugar or honey

optional: 1-2 teaspoons chili garlic sauce, to taste
---
Instructions
To Make The Stir-Fry:
Prepare noodles al dente according to package instructions.  (Or if there are no instructions, I recommend placing the noodles in a large mixing bowl and pouring boiling water on top of them until they are submerged.  Wait 3-5 minutes until they are soft and al dente, then drain the water and set the noodles aside until ready to use, breaking them up with your fingers so that they don't stick together.)

Meanwhile, heat 1 Tablespoon oil in a large saute pan or wok over high heat.  Stir in the chicken and Chinese broccoli stems and garlic and cook for 4-6 minutes, flipping and stirring occasionally, until the chicken is just cooked through.  (The chicken should be no longer be pink on the inside.)  Transfer the mixture to a separate plate and set aside.

Add 1 teaspoon of the remaining oil to the saute pan or wok.  Add the eggs, and quickly scramble them, stirring occasionally, until they are cooked.  (Alternately, you can also scramble the eggs beforehand and set aside until ready to use, or cook them simultaneously in another saute pan, if your current pan isn't big enough.)

Add in the remaining 2 teaspoons oil, the cooked noodles, chicken and broccoli stems, broccoli leaves, stir-fry sauce, and give the mixture a good toss until everything is combined.  Continue cooking for 2-3 more minutes, tossing frequently.  Taste, and season with salt and pepper if needed.

Serve immediately, with optional garnishes if desired.
To Make The Stir-Fry Sauce:
Whisk all ingredients together until combined.  If you'd like to add in some heat, add in 1-2 teaspoons chili garlic sauce to taste.
---
Notes
*Feel free to substitute in 1 pound of steak, shrimp, pork, or tofu in place of the chicken.  Just saute until it is cooked through, and proceed with the rest of the recipe as instructed.
Slightly adapted from She Simmers and Recipe Tin Eats.