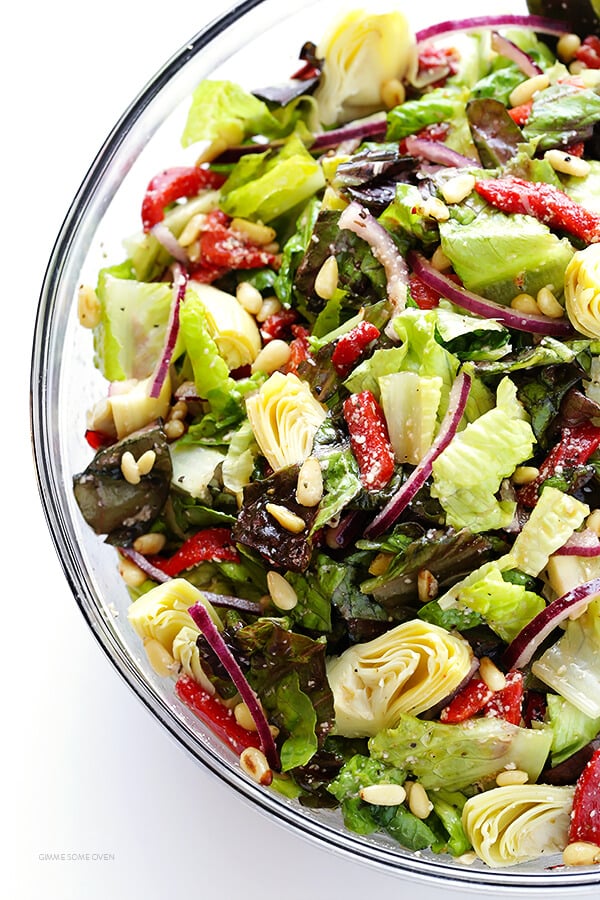 Last week, I feel like Barclay and I took a very important step forward together in our relationship.
I introduced him to my family…
…'s favorite salad. 😉
Knowing his obsession already with big green salads (the guy amazingly chooses them more often than I do) and artichokes (hands-down one of his all-time favorite foods), I figured this one wouldn't be a stretch. But still. This salad is a verrrrry important part of our family, showing up at nearly every extended family gathering, always being made in a huge batch so that everyone can return for seconds, and near and dear to every single family member's heart. So I needed to know they would get along great.
Sure enough, it was a salad match made in heaven. ♥
Of course, I knew it would be. 😉
Everyone loves this salad.
I think that my aunt is actually the one who came up with it years and years ago, and our entire family instantly fell in love with it. Either she or my mom would make it — and still make it to this day — for every just about every single holiday and occasion that the extended family gathers together. And anyone else who happens to be around almost always falls in love with it as well. I remember when my old band was on road trips together back in college, our bass player would request that we swing through Wichita at mealtime just so that he could have mom make this salad for us.
Again, everyone loves this salad.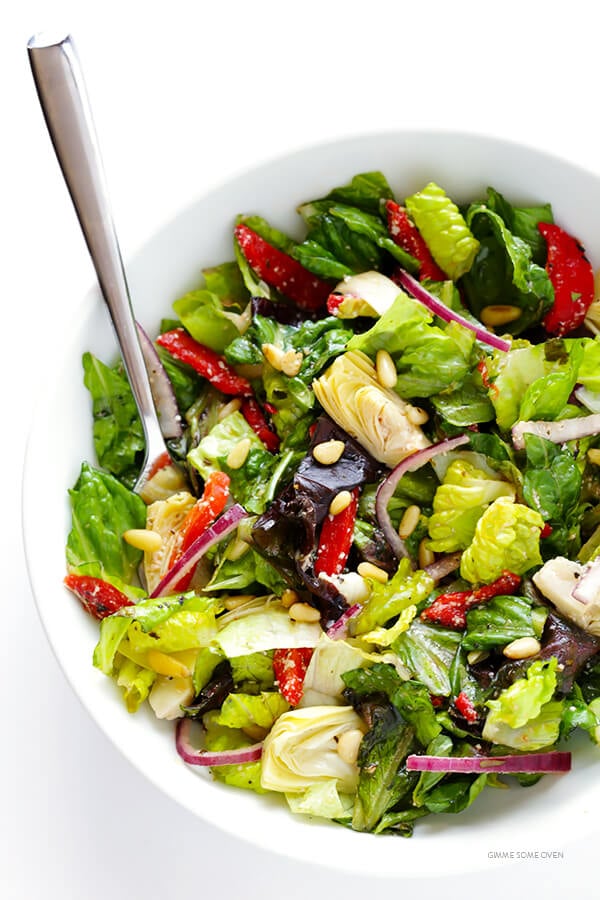 And really, why wouldn't they? The ingredients are pretty much a guaranteed slam-dunk. (And they're also naturally gluten-free too!)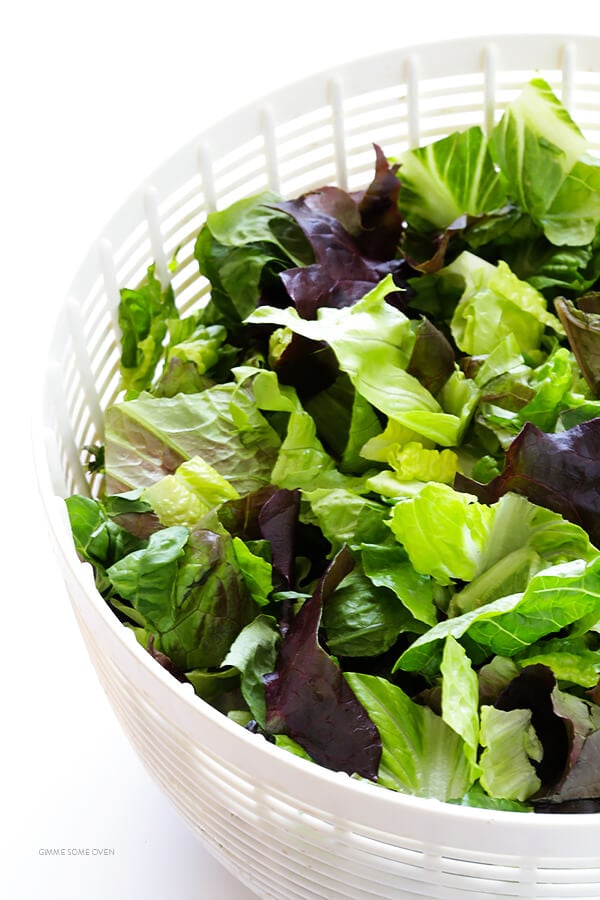 The classic family version calls for one head of red-leaf lettuce and one head of Romaine (or a few Romaine hearts)…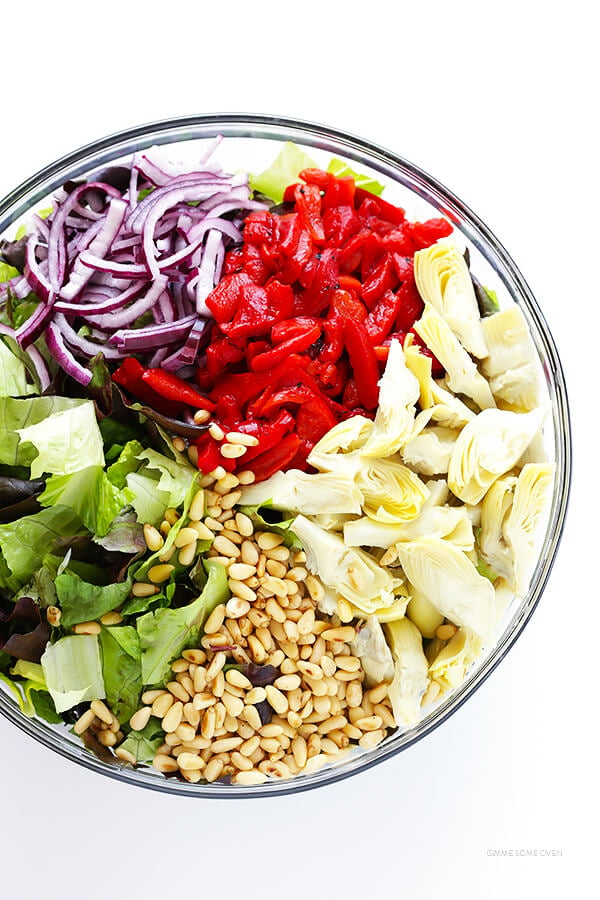 …artichoke hearts (one can, or two if you really want more), chopped roasted red peppers (or my mom used to use pimientos), toasted pine nuts (such a treat!), sliced red onions…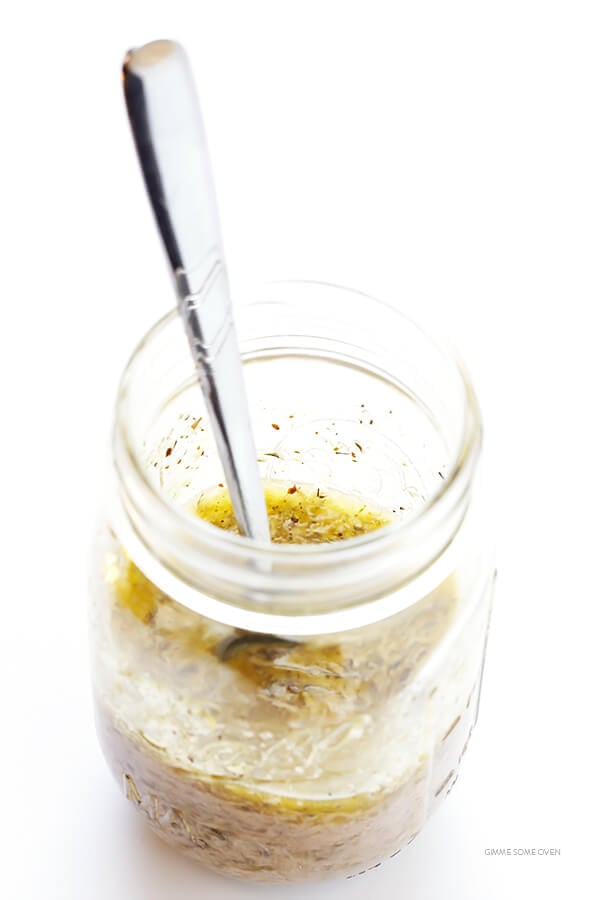 …and this heavenly Parmesan red wine vinaigrette.
Mom and Aunt Donna used to make this with that classic "Zesty Italian Dressing Mix" from Good Seasons, which we all used to love. But over the years, I've nixed the processed seasoning packet in favor of the copycat recipe I've included below, which includes 100% pronounceable ingredients and lots of fresh Parmesan. Mmmm.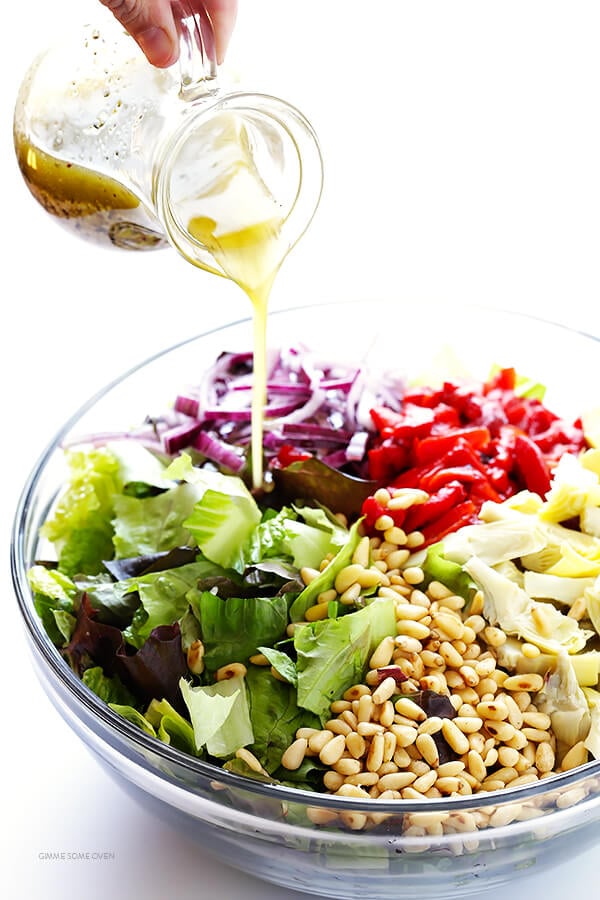 Toss it all together…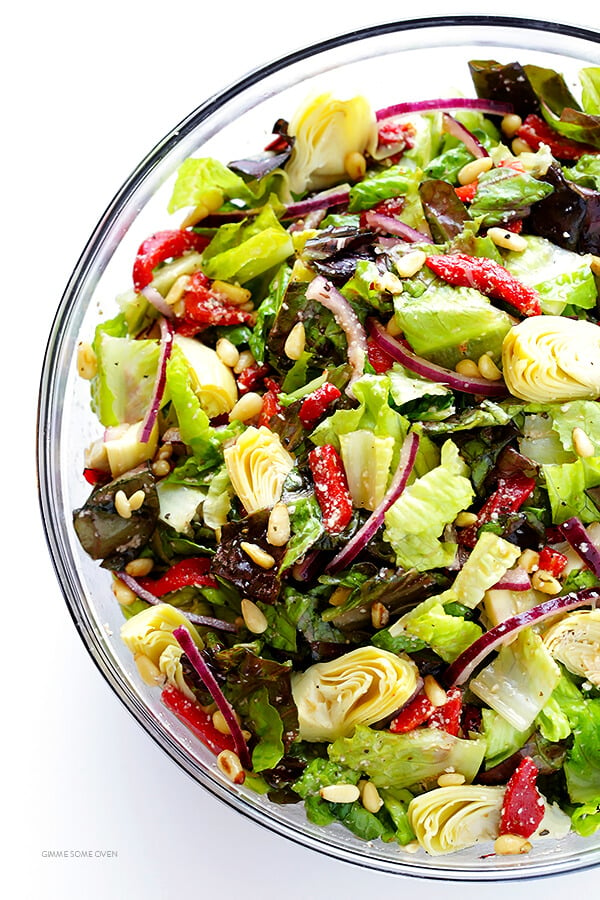 …and give it a good mix…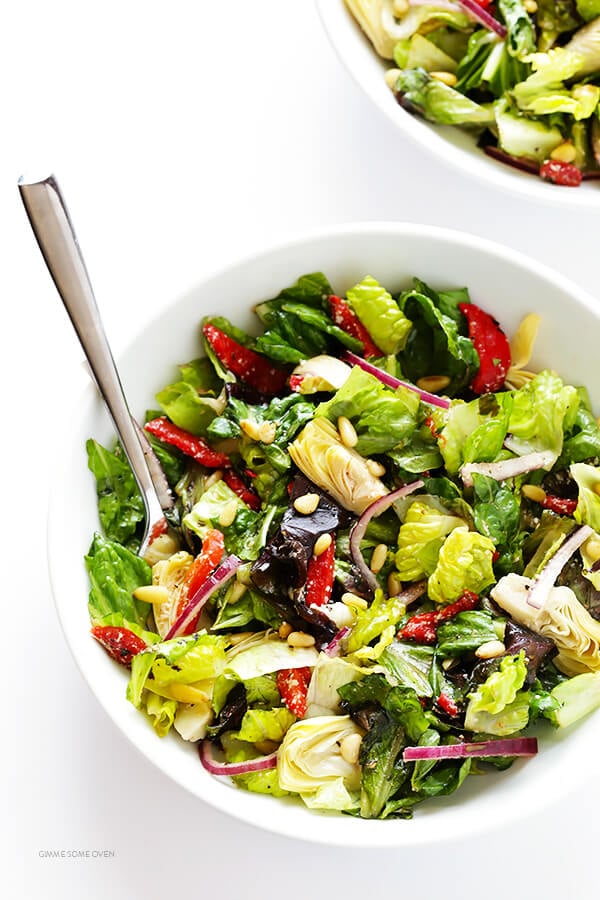 …and within minutes, this big bowl of happiness will be yours to share.
So from my family to yours, enjoy. ♥
Print

Our Family's Favorite Salad

Prep Time: 15 minutes


Total Time: 15 minutes


Yield: 4 –6 servings 1x
---
Description
You will love this bright and colorful favorite family salad. This healthy goodness can be prepared in less than 10 minutes!
---
Salad Ingredients:
1

head red-leaf lettuce, chopped into bite-sized pieces

1

head Romaine lettuce, chopped into bite-sized pieces

half of a

small red onion, peeled and thinly-sliced

2

(14 ounce) jars quartered artichoke hearts, drained and roughly chopped

1

(12 ounce) jar roasted red peppers, drained and diced

1/2 cup

toasted pine nuts

1

batch zesty red wine vinaigrette

optional garnish: extra freshly-grated Parmesan cheese
Zesty Red Wine Vinaigrette Ingredients:
1/2 cup

grated Parmesan cheese

1/3 cup

extra-virgin olive oil

1/4 cup

red-wine vinegar

1 teaspoon

 Italian seasoning, store-bought or homemade

1/2 teaspoon

Kosher salt

1/2 teaspoon

freshly-cracked black pepper

1/4 teaspoon

garlic powder
---
Instructions
To Make The Salad:
Add all ingredients together in a large bowl, and toss until evenly combined.  Serve immediately, garnished with extra Parmesan cheese if desired.
To Make The Vinaigrette:
Whisk all ingredients together until combined.  (Or add them together in a mason jar, and shake until combined.)  Use immediately.
---