This delicious gluten-free waffles recipe is quick and easy to whip up, it is made with simple everyday ingredients, and it is absolutely delicious.
When talking with people about our upcoming move abroad, there's one question that keeps coming up again and again — "So what on earth are you guys packing??"
Short answer? Ha, not much. ?
Truly. Most apartments in Barcelona come already furnished, so we're good to go there. Then after doing some major minimizing with our closest, I think we're each going to get by with just packing a few suitcases full of clothes/shoes/toiletries/etc. Then, of course, we'll be bringing our dogs along in their fancy new international-flight-approved crates. But other than that, the only thing we're planning on shipping right now is a box or two full of photography gear and a few of my favorite kitchen utensils and plates…and that's about it!
Kind of crazy how little we're actually bringing. But man, it feels really good.
That said, the only thing I'm genuinely bummed about leaving behind lately is my little collection of kitchen appliances. Because of crazy shipping costs (and different electrical plugs), it really didn't make sense to ship any of them over there. We'll probably replace two or three of the key appliances when we arrive. But I'm guessing that we won't have room for some of my fun faves in our tiny European kitchen, like my dehydrator and rice cooker and — yes — my waffle maker. So ha, this month I've been going a little waffle-crazy before we move. And it made me realize that somehow I've never shared my go-to waffle recipe here on the blog with you!
It's one that I've tweaked here and there over the years, and happens to be gluten-free (since I make it with blended-up gluten-free old fashioned oats, instead of wheat flour), and it's made with everyday ingredients that you likely already have on hand. And guys, it is delicious. Especially when topped with some maple syrup and a good pat of butter — can't go wrong.
So for any of you out there who still have a waffle maker at home, it would make me ridiculously happy if I knew that this recipe would be living on in your kitchens until I'm reunited with mine. ?  I think you're going to love 'em!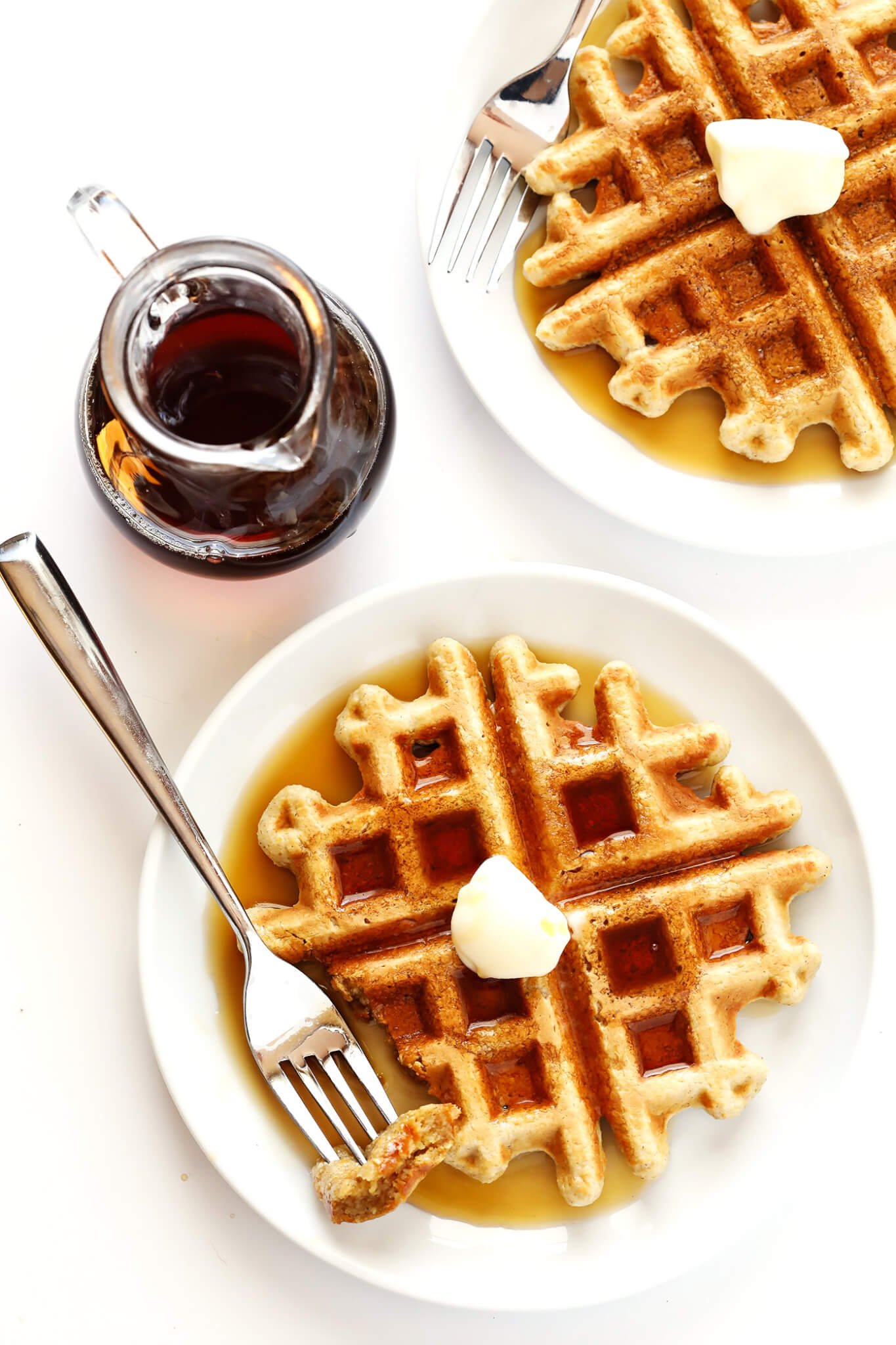 As I said, the ingredients for these waffles are simple. Just blend up a bunch of old fashioned oats (be sure that they're certified gluten-free, and not quick oats) in your blender until they form a flour-like consistency. Then stir them together with some baking powder, salt and cinnamon. Combine them with a mixture of eggs, almond milk and maple syrup until combined. Then cook the batter up in your waffle maker according to its instructions. (I tend to under-fill mine to make smaller waffles.)
Then add on your desired toppings…and serve!!
I've gotta say that I'm a little partial to topping mine with this stuff —Land O Lakes® Butter with Olive Oil and Sea Salt.
Some of you saw on Instagram a few months ago that I actually had the chance to fly up to Minnesota this summer to visit the Land O'Lakes headquarters. And after spending a few days with some of their incredible dairy farmers and their families (truly some of the most hardworking and passionate folks I've met, who care so deeply about their work), I had the chance to do a taste-test of the full line of Land O'Lakes® butter products.
Yep, that's right. Taste-testing butter.
I freaking love this job. ?
Anyway, a simple piece of bread or a cracker topped with butter will always make my day. But of all the butter products I tried, this butter actually ended up being my overall favorite, and it's been stocked in my fridge ever since. I love that it's made partly with olive oil, since I often combine the two anyway for everyday sautéing, stir-frying, etc. But I'm also always partial to salty butter, and the amount of sea salt in this one is just perfection in my book. And it tastes mighty delicious on a waffle.
So yeah, these waffles + good-quality butter + maple syrup = my breakfast on repeat lately.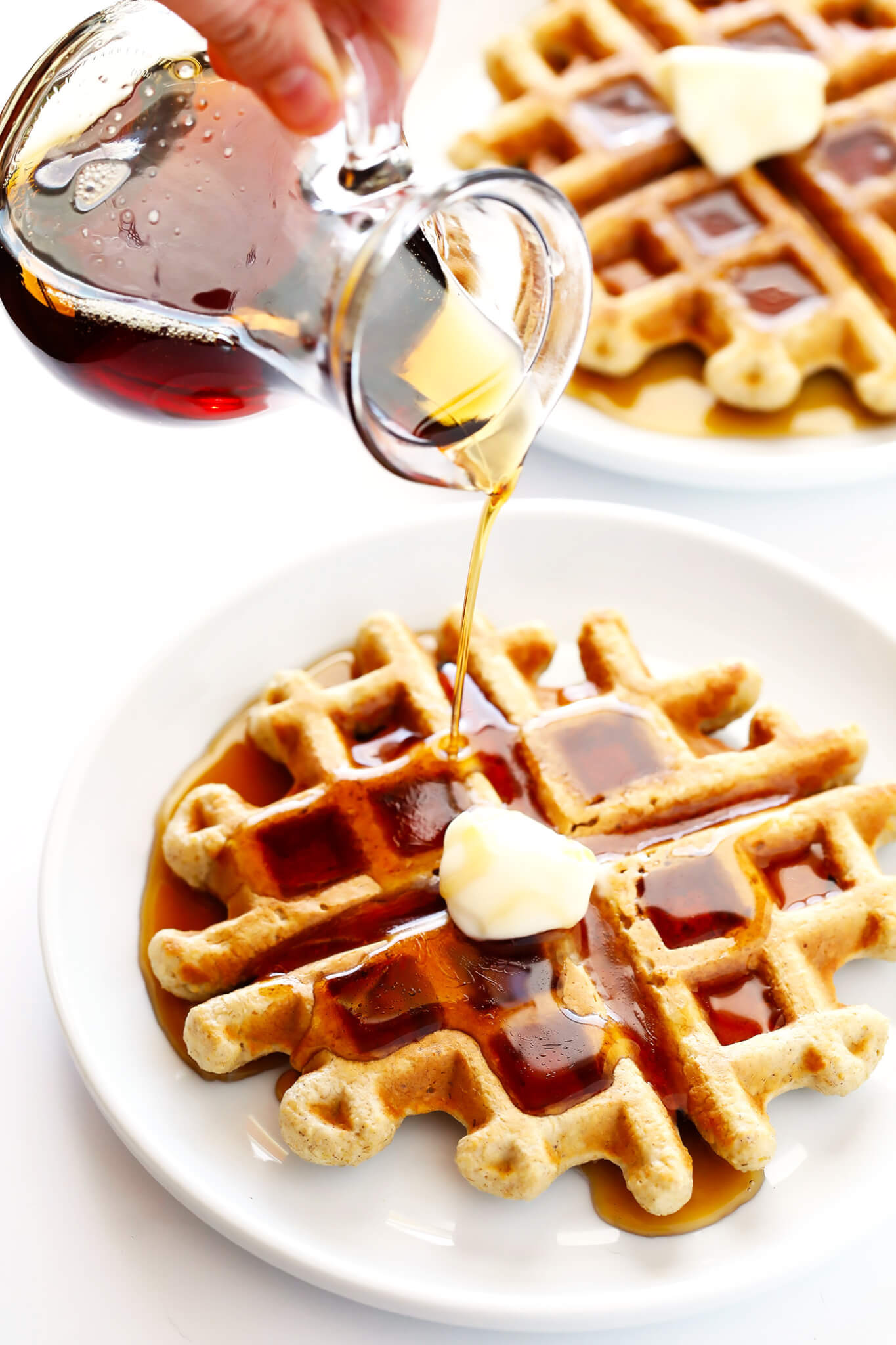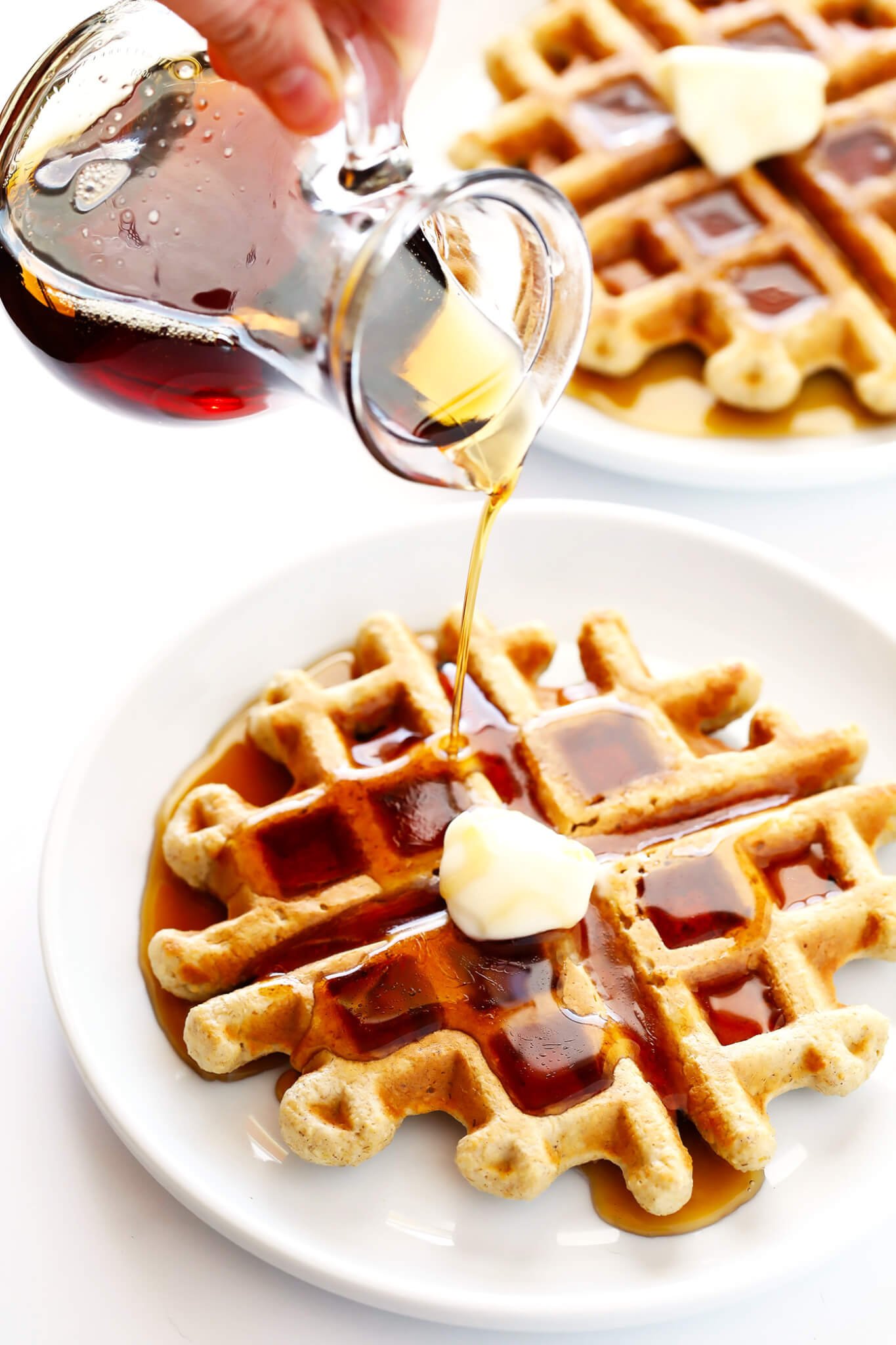 Hope that they'll be on your table soon too! Enjoy, friends!
Print

My Favorite Gluten-Free Waffles

Prep Time: 10 minutes


Cook Time: 5 minutes


Total Time: 15 minutes


Yield: 0 About 6-8 large waffles 1x
---
Description
This is my favorite gluten-free waffles recipe!  It's quick and easy to prep, made with simple everyday ingredients, and sooo delicious.
---
2.5 cups

gluten-free old fashioned oats*

2 tablespoons

baking powder

1/2 teaspoon

salt

1/4 teaspoon

ground cinnamon

2

eggs

1 cup

almond milk (or your favorite milk)

2 tablespoons

maple syrup

toppings: butter (I used Land O Lakes® Butter with Olive Oil and Sea Salt) and extra maple syrup
---
Instructions
Add oats to a blender, and blend on high speed for 20-30 seconds, or until they form a flour-like consistency.  Add in the baking powder, salt and cinnamon, and pulse for 5 more seconds to combine.  Set aside.

In a large mixing bowl, whisk together the eggs until smooth.  Then whisk in the milk and maple syrup until evenly combined.

Add the oatmeal mixture to the egg mixture, and stir together until evenly combined.  Let the mixture rest for 5 minutes.

Then cook the batter according to your waffle maker's instructions.

Serve warm, topped with butter and extra maple syrup (or any of your favorite toppings).
---
Notes
*Most old-fashioned oats sold in stores are gluten-free, but be sure to check on the packaging to see that they are certified gluten-free just to be sure.