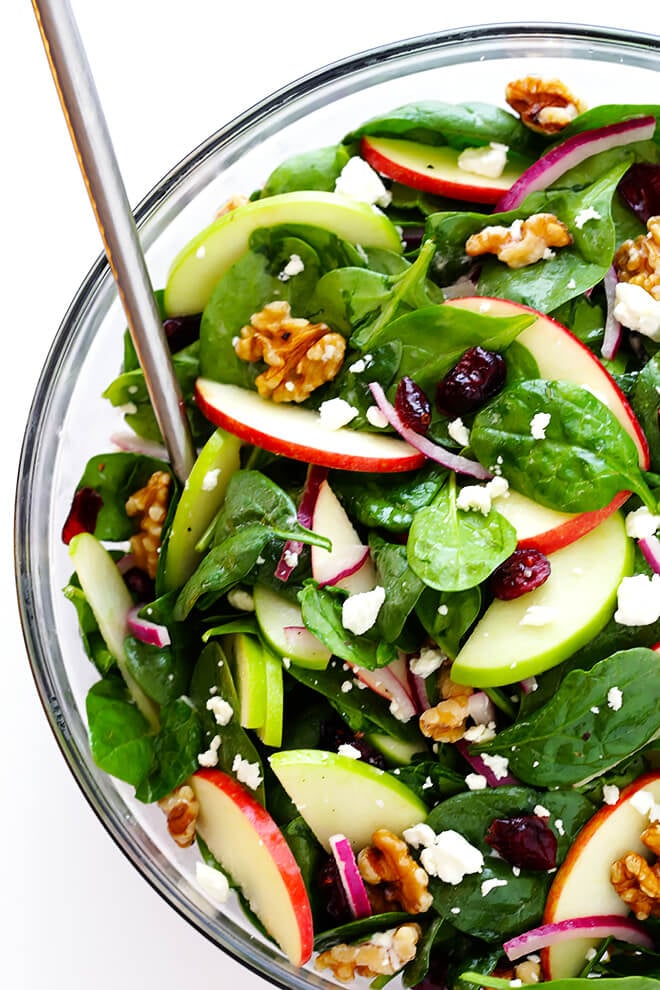 Last Monday night, I decided it was time to buy Barclay a "sharp" little present.
I had taken off work a few hours early that day to head over to his place and cook up a big "family dinner" for all seven of his bandmates (and their significant others) to share together after rehearsal. And I was totally looking forward to the dinner! But I was a little apprehensive about the idea of cooking for a dozen+ people in his kitchen. Because the process of actually cooking in there can sometimes be…well, how might we say…its own kind of improvisation.
Basically, it's a total bachelor's kitchen. He and his roommate shop exclusively (I'm not kidding) at their neighborhood Costco. So the fridge is stocked with a half dozen cartons of almond milk, dozens of eggs, huge blocks of cheese, tubs of mixed greens, beer (of course)…and that's about it. Their pantry has a collection of random spices, Barc's beloved oatmeal squares in bulk, some Costco-sized jars of coconut oil and olive oil and balsamic…and that's about it. Then they have a set of cookware, two small mixing bowls, and a handful of kitchen tools…but that's about it. Oh, and the microwave is in the basement, and the oven doesn't work. (<– A little ironic for dating the Gimme Some Oven girl.)  😉
Don't get me wrong, ha, I totally love it. It's a cute little kitchen, and extra-cute when he's there. 😉  And for two bachelors who rarely cook — well, beyond making a bowl of "squares" for breakfast, or a big salad for lunch, or packing a big picnic (Barc's specialty, which I love) for dinner — it totally works for them. But cooking anything beyond that generally requires grocery bags full of ingredients be hauled over to his place, and a fair share of "improvising" happen with the random ingredients or cookware that I inevitably always forget.
On Monday night, for example, I realized he didn't have any large serving dishes, so I improvised and served salad for a dozen people in an enormous stockpot. I also forgot he didn't own a ladle, so we served up the butternut squash soup with a measuring cup. Then in lieu of a full oven, I put his little toaster oven to work, roasting trays upon trays upon trays of veggies. But the one thing I've learned that I can't "improvise" my way around in his kitchen is working with knives that are — shall we say — less than sharp. There just don't seem to be many ways to get around that. And sure enough, as I was standing there in the kitchen on Monday night, listening to the band practice in the other room, working on making a triple batch of this salad, and trying to thinly-slice a half dozen apples with a dull knife, and then watching said knife instead slip right off that apple and slice right through my finger — yet again — I decided it was time for a little gift-giving. 😉
I realize that it may now be the only thing in his kitchen now that's not from Costco. (Amazon Prime for the win!)  But I'm happy to say that Barclay's kitchen is now the proud new owner of his first very sharp knife!
And I, for one, couldn't be happier. 😉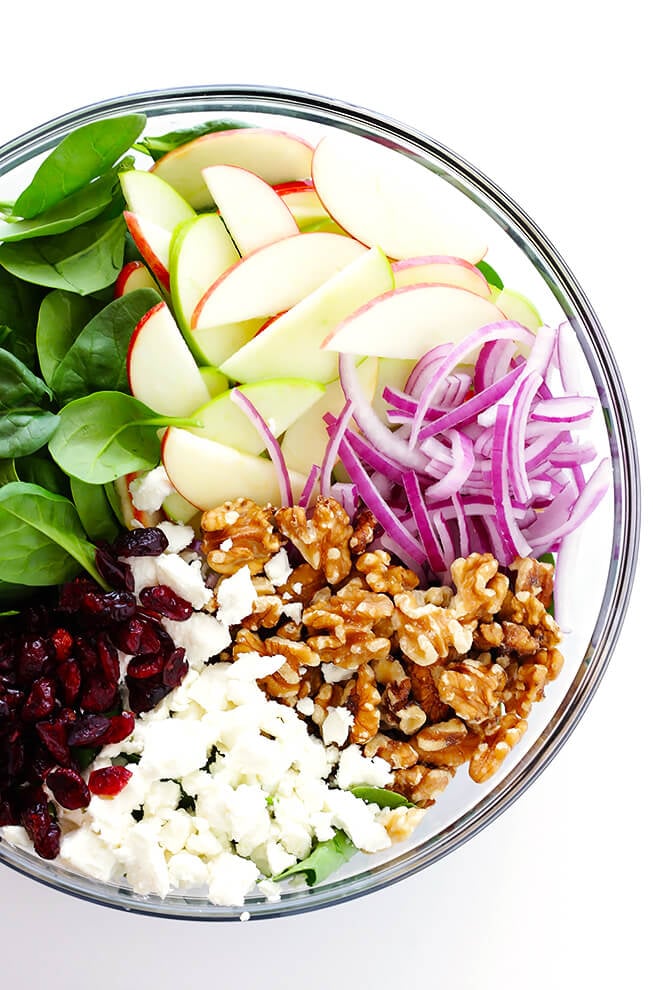 So now the next time that we decide to make this apple spinach salad — one of my all-time favorite recipes that I make again and again this time of year — we can thinly slice those apples and onions (as Barc likes to say) "with peace in our hearts". And a sharp knife in my band-aid-free hand. 😉
Which is great, because I'm already looking forward to this salad happening again.
It's nothing particularly original. But it's a salad I've been making since I first learned to cook, and as such, it has become total comfort food for me each year when the summer veggies start to fade away and crisp apples come back in season.
The core ingredients are always the same — tons of fresh baby spinach, lots of thinly-sliced crisp apples, soft cheese, nuts and a good tangy vinaigrette. But really, just about all of those ingredients can be improvised with whatever you have on hand. No baby spinach? Feel free to sub in any kale or other greens you have in the fridge. Don't like goat cheese? Any soft cheese like feta, blue, or even brie would work. Don't have any champagne vinegar on hand for the champagne vinaigrette? Feel free to sub in apple cider vinegar or even a balsamic. And if you'd like to add some protein, baked chicken tastes delicious with this salad. Ha, basically, you can make this one just about however you'd like. 😉
But for kicks, here's my favorite way of making this salad. Simply add all of your prepped ingredients together in a large bowl. Drizzle them with the vinaigrette…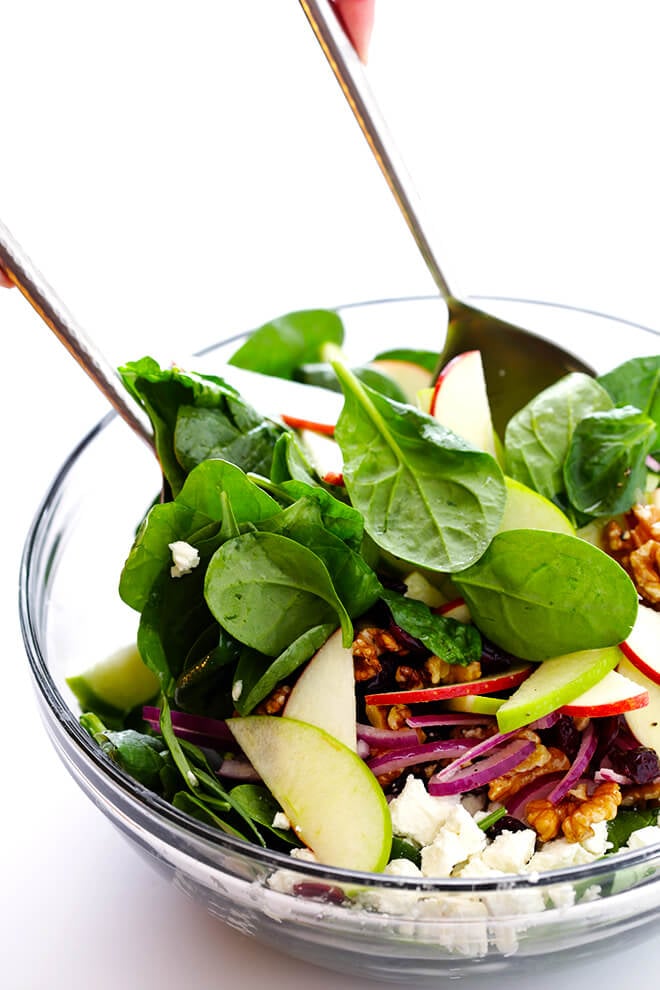 Then give it a good toss…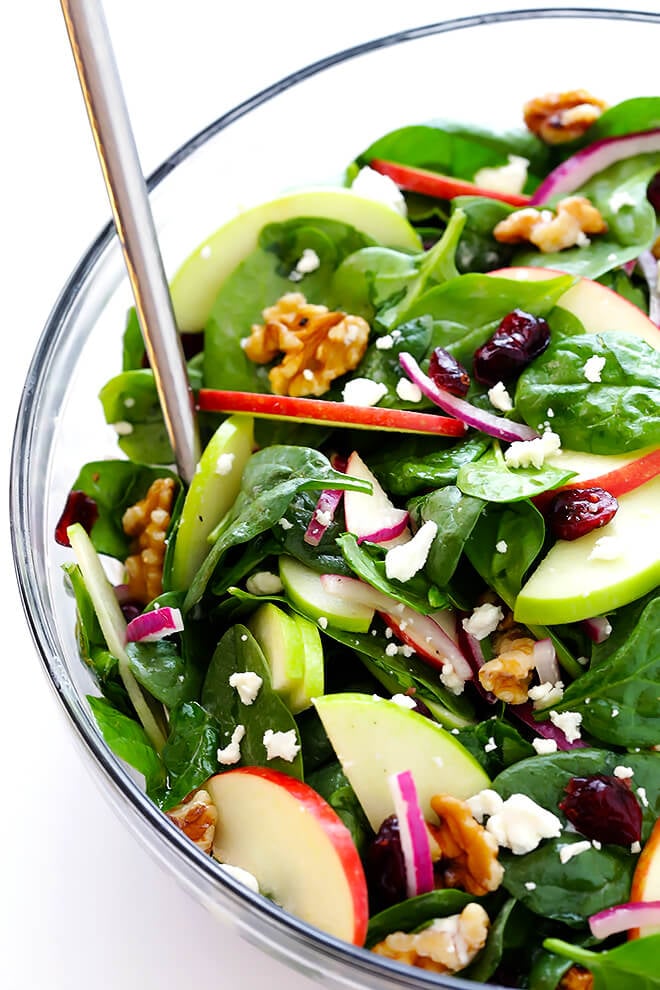 …and within about, oh, 15 minutes or so, this bright and fresh and wonderful salad will be yours to enjoy. Or, share with your boyfriend and a dozen or so other friends. 😉
Again, go with whatever ingredients work for you. And if you're prepping things in advance, be sure to toss your apple slices in some lemon juice so that they don't brown before your meal. And then otherwise — dive in and ENJOY!
Hope that you love this salad as much as I do, and I hope that your autumn is off to a delicious start. 🙂
Print
My Favorite Apple Spinach Salad

Prep Time: 15 minutes


Total Time: 15 minutes


Yield: 4 –6 servings 1x
---
Description
This Apple Spinach Salad recipe is one of my all-time favorites. It's made with a delicious mix of sweet and savory ingredients, it's tossed with a tangy champagne vinaigrette, and it's always a crowd favorite! Feel free to sub in whatever greens, nuts, or soft cheese that you have on hand.
---
Apple Spinach Salad Ingredients:
10 ounces

baby spinach

2

large apples, cored and thinly-sliced (I used

1

gala apple,

1

granny smith apple, but any will do)

half a

small red onion, peeled and thinly-sliced

1 cup

walnut halves, toasted (or pecans)

2/3 cup

dried cranberries

5 ounces

goat cheese, crumbled (or feta cheese, or blue cheese)

1

batch apple cider vinaigrette (see below)
Champagne Vinaigrette Ingredients:
1/3

 cup extra virgin olive oil

1/4 cup

champagne vinegar (or apple cider vinegar)

2 tablespoons

lemon juice

1 tablespoon

Dijon mustard

1

garlic clove, peeled and minced

a generous pinch of salt and black pepper

(optional) 1 tablespoon honey or maple syrup, to sweeten
---
Instructions
To Make The Apple Spinach Salad:
Add spinach, apples, red onion, walnuts, dried cranberries, and half of the goat cheese to a large bowl.  Drizzle with the vinaigrette, and toss to combine.

Serve immediately, garnished with the remaining goat cheese.
To Make The Champagne Vinaigrette:
Add all ingredients together in a bowl and whisk to combine.  Or, add all ingredients to a mason jar, cover, and shake to combine.
---