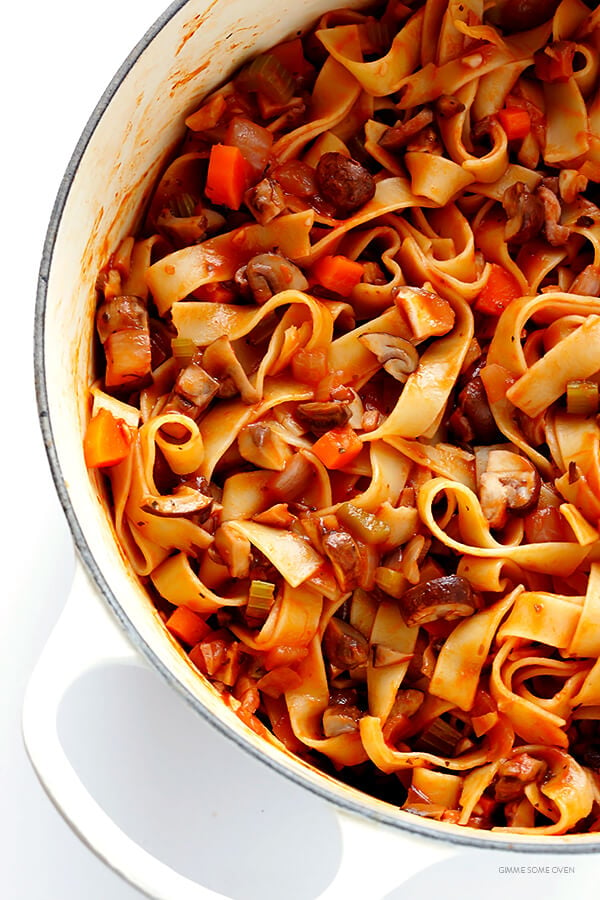 I don't know how, but for some crazy reason, I fell two seasons behind on Downton Abbey these past few years.
And after literally every person on the planet seemed to watch and rave about the grand finale a few weeks ago, I realized it was high time to catch up. I didn't have quite the open weekend that I had last month, when I marathon-watched all of the new season of House Of Cards the second it was released. But I've found that Mrs. Patmore and Daisy and Ivy and the rest of the staff mulling around the Downton kitchen are great company in mine, and I hung out with them and the rest of the "upstairs" cast while I was doing some cooking this weekend. And I must say, it was as though no time had passed between us. How is it that I love this family so much? Especially when — I know no one wants to admit this — it's really all a total soap opera, albeit with British accents and (absolutely gorgeous) twenties costumes??
Well, either way, I'm completely hooked on all things Downton again, and can pretty much guarantee you that the next few weeks' worth of recipes here on the blog will be cooked in my kitchen with their adventures on in the background. I was channeling my own Mrs. Patmore this past week as I whipped up this vegetarian/vegan version of a classic bolognese pasta. It's chock-full of various kinds of mushrooms (use whatever you can find!), and it's definitely so delicious and hearty that I promise you won't miss the beef.
So if you're looking for a new vegetarian dish for your Meatless Monday — or Tuesday, or Wednesday, or any ol' day of the week — I think you're going to love it.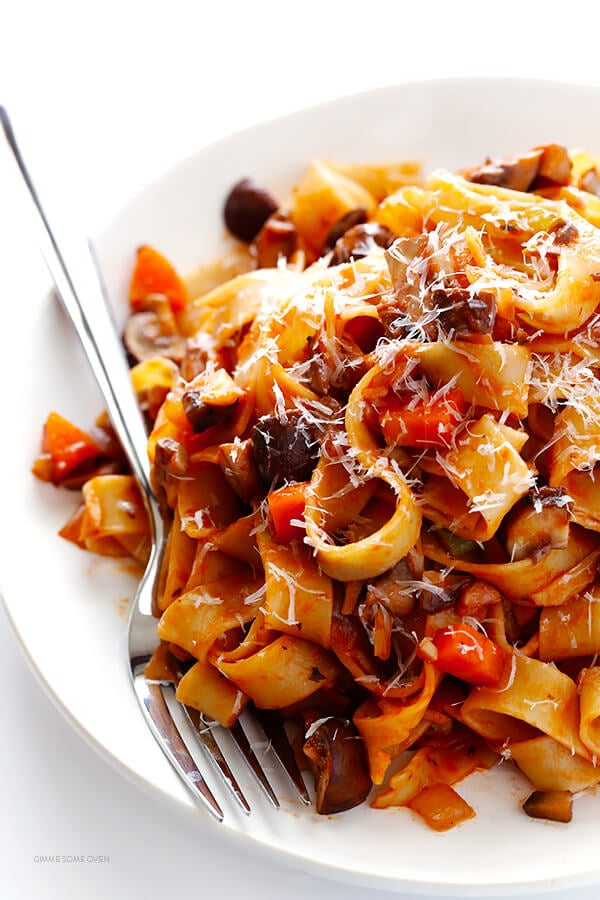 As I said, feel free to use whatever kinds of mushrooms you can get your hands on. My grocery store is now selling a yummy mix of cremini, shiitake and porcini mushrooms. So I just combined those with a carton of baby bellas, washed and chopped them all up, and then added them to this tasty bolognese sauce.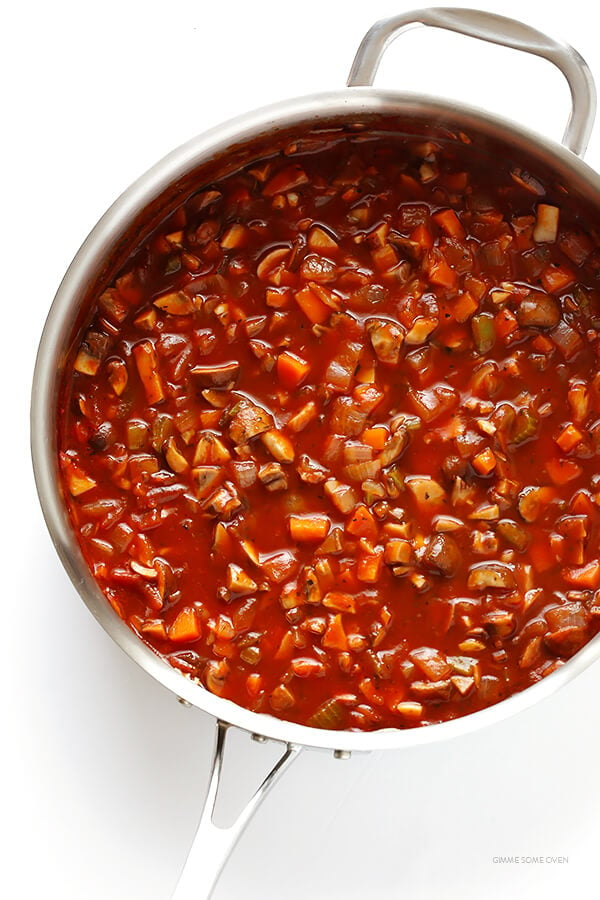 As you can see, it literally is overflowing with vegetables. Carrots, celery, onion, 'shrooms — yes please. Then when simmered with garlic, tomato sauce, red wine and a few seasonings, it turns into the most flavorful fresh sauce that is just begging to be tossed with some pasta.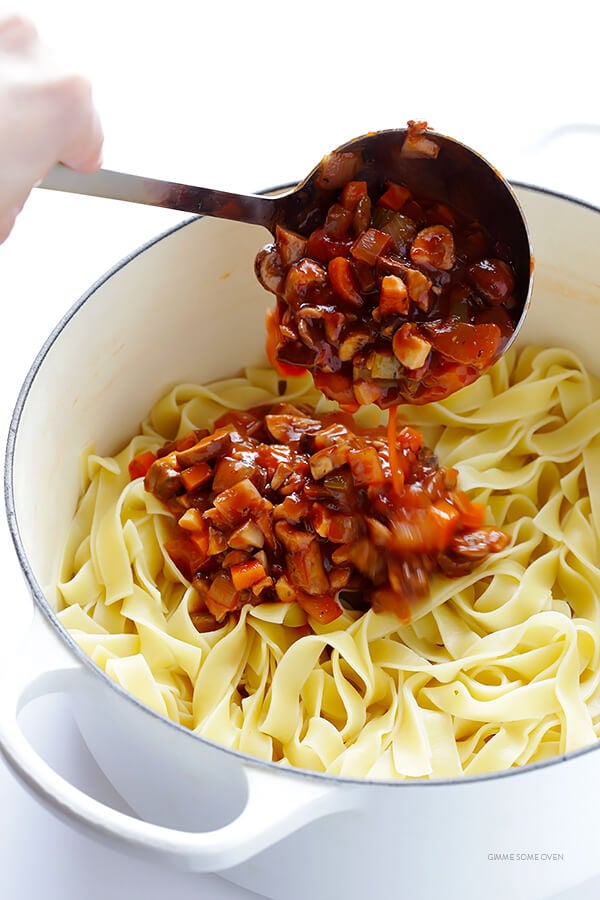 So just cook up whatever kind of pasta you have on hand. (I used tagliatelle.)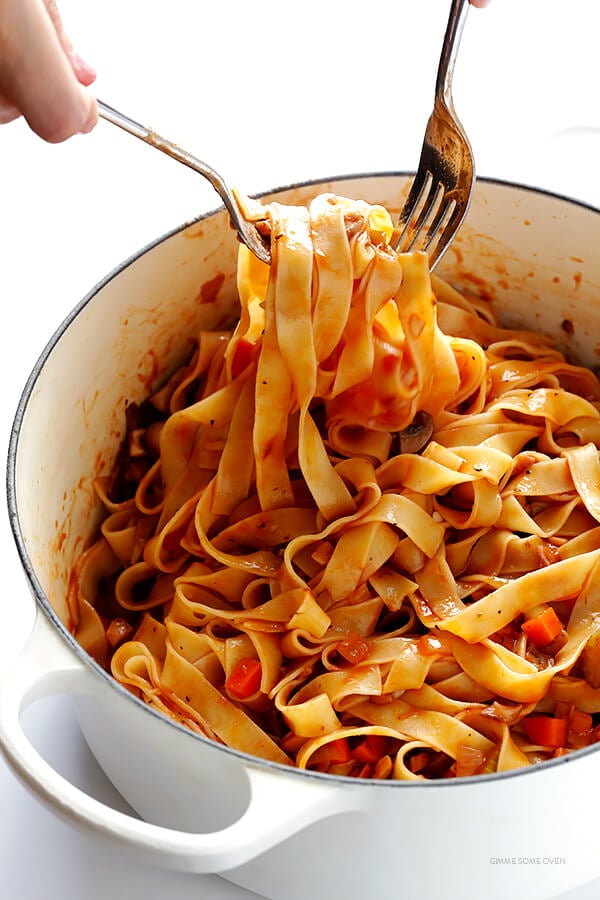 Toss it with the sauce.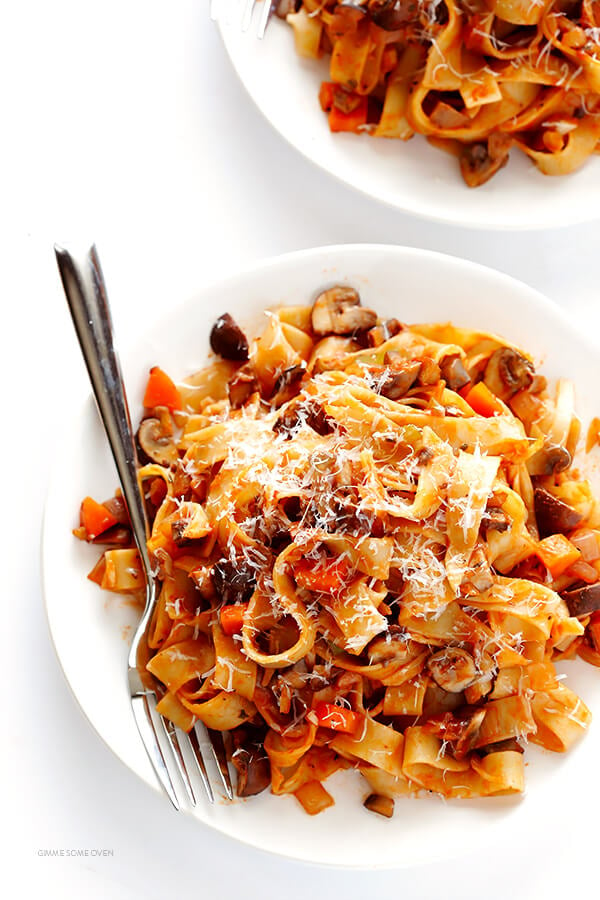 Then serve it up nice and hot, and sprinkle it with a few generous pinches of freshly-grated Parmesan.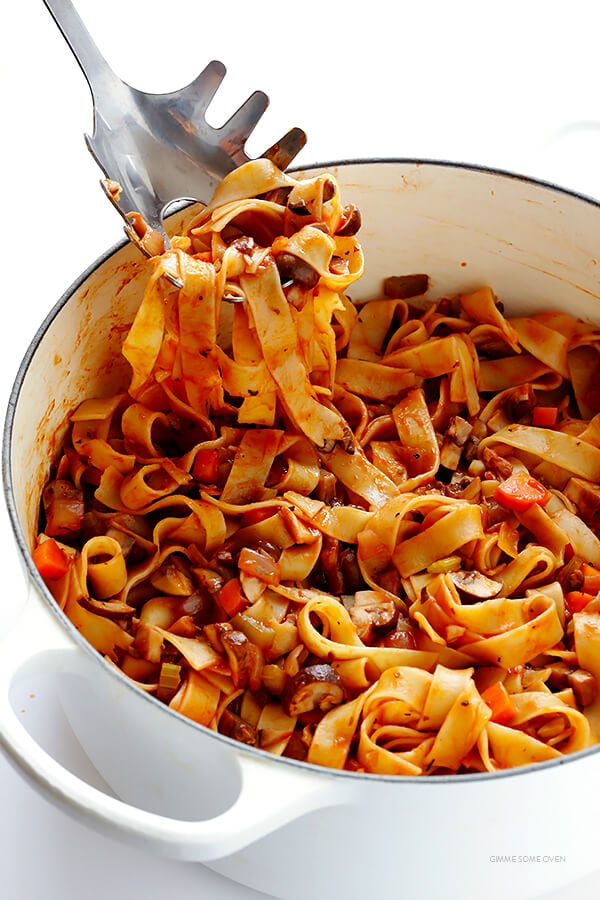 Mmmm-hmmmm!
I served it up with this simple blackberry arugula salad, and the sweet and savory combination was absolutely divine. Perfect for an easy weeknight dinner with family, friends, the Downton staff, or whoever else you may love. 🙂
Enjoy!
Print

Mushroom Bolognese

Prep Time: 10 minutes


Cook Time: 30 minutes


Total Time: 40 minutes


Yield: 6 –8 servings 1x
---
Description
This Mushroom Bolognese recipe is an easy, hearty, and oh-so-delicious vegetarian (and vegan!) take on traditional bolognese.
---
1

pound (16 ounces) dry pasta (I used tagliatelle) 

2 tablespoons

 butter or olive oil

1

small white onion, peeled and diced

1

large carrot, peeled and diced

2

 celery ribs, diced

4

garlic cloves, peeled and minced

1

pound (16 ounces) assorted fresh mushrooms, diced (I used baby bellas, shiitake, cremini and porcini mushrooms)

2/3

 cup red wine

1 2/3

 cups vegetable stock

1

(15-ounce) can tomato sauce

1

bay leaf

1 teaspoon

 Italian seasoning (*or see alternatives below)

pinch of crushed red pepper

Kosher salt and freshly-ground black pepper

grated Parmesan cheese, for topping (omit the cheese if making this vegan)
---
Instructions
Cook pasta in a large pot of generously-salted boiling water al dente according to package instructions.  Drain.  (<–I recommend actually adding the pasta to the water at about the same time that you add the stock to the sauce, for ideal timing.)

Meanwhile, in a separate large saute pan, add the butter and cook over medium-high heat until melted.  Add the onion, carrot and celery and saute for 6-8 minutes, stirring occasionally, until the vegetables are softened and mostly cooked through.  Add the garlic and mushrooms and continue cooking for an additional 4-5 minutes until the mushrooms are browned, and all of the vegetables are completely cooked through.

Pour in the wine, and give the mixture a good stir.  Let the mixture come to a boil and simmer for about 2-3 minutes, or until the wine is reduced by about half.

Add in the vegetable stock, tomato sauce, bay leaf, Italian seasoning, and a generous pinch of salt and pepper.  Stir to combine.  Let the mixture continue cooking until it comes to simmer.  Then reduce heat to medium-low, and simmer uncover for about 10 minutes so that it slightly reduces.

Taste, and season with extra salt, pepper, Italian seasoning, and/or crushed red pepper if needed.

Once the pasta is cooked and drained, combine it with the sauce and toss until combined.  Serve immediately, garnished generously with Parmesan.
---
Notes
*If you don't have pre-mixed Italian seasoning, you could substitute in 1/4 teaspoon dried oregano and 1/2 teaspoon dried thyme.