Trust me — this Mint Mojito Iced Coffee recipe is a game changer.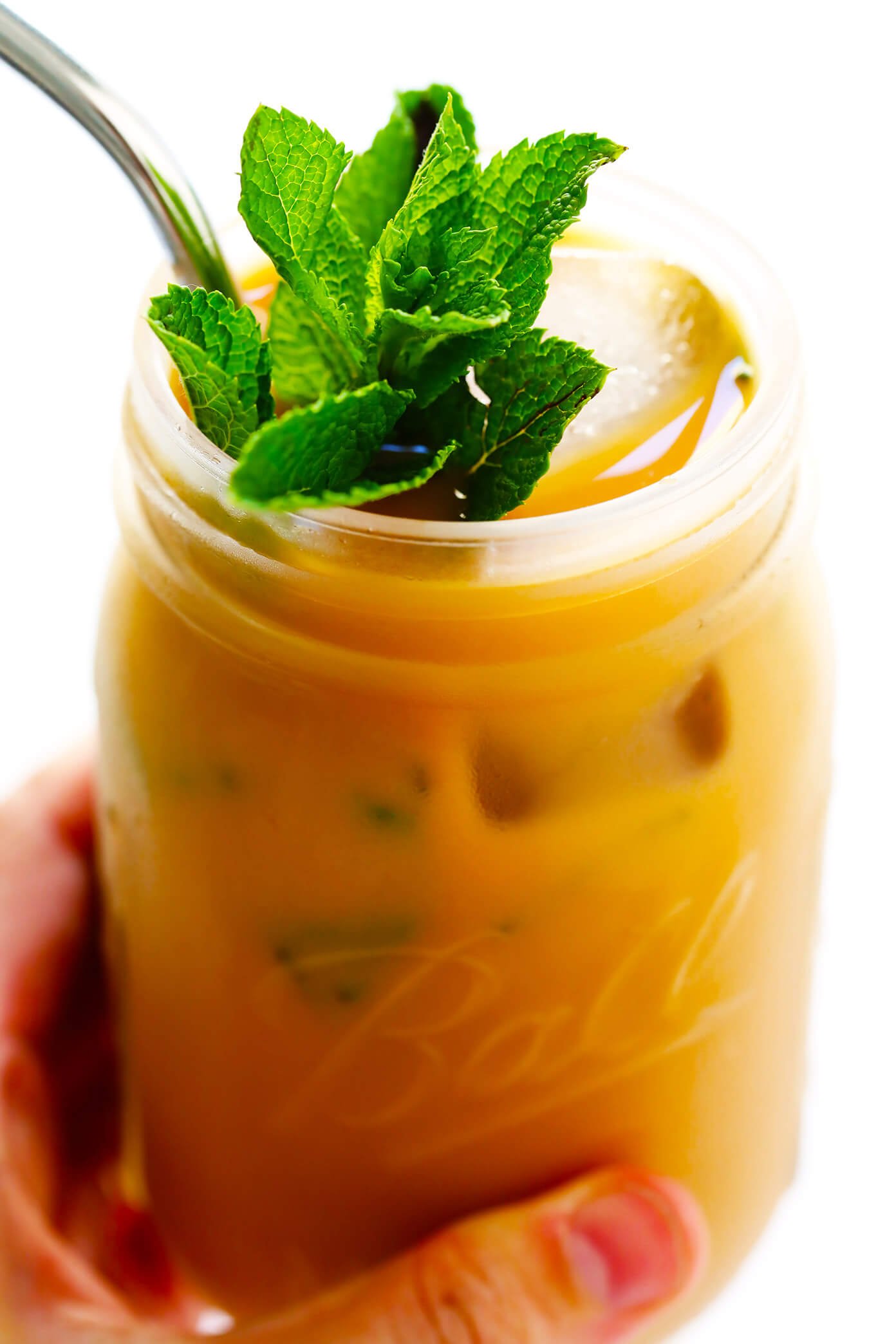 Last week while I was back visiting the States for a work trip to San Francisco, I mentioned on Instagram how thrilled I was to finally be back in the land of good iced coffee, and asked for local recommendations. Instantly, my message box started filling up with two unexpected words:
Mint. Mojito.
"You absolutely must try the mint mojito iced coffee from Philz," you said. "I know it sounds weird, but trust me," you said. "It's the best coffee in San Francisco!" you said. "Absolute game changer," you said.
I've gotta admit — I'm usually a black coffee purist, and don't like to add any extra cream or sweeteners or flavors to my coffee. But so many of you messaged me about this mysterious drink that my interest was officially piqued. So my friend, Kathryne, agreed to venture out with me to the bustling Philz Coffee that was nearest our hotel, where we each ordered a mint mojito coffee to go, watched as our barista brewed each of our drinks by hand and poked a big leafy sprig of fresh mint as a garnish on top. Admittedly still a bit skeptical, we each took a sip. And then…another. And…another. And…basically freaked out.
Guys, where has mint coffee been all my life?!?
Everything about this iced coffee was not what I expected. It was certainly minty, but not in any artificial or overpowering sort of way. It was sweet, but not overly sweet. It was slightly creamy, but not overly thick or rich. It was basically just the perfect balance of everything, resulting in the most refreshing, simple, delightful drink that seemed perfect for summertime. We couldn't get enough of it. So…literally came back the next day before a road trip and ordered two mint mojito iced coffees each, thankyouverymuch, just so we didn't run out. And then immediately resolved to learn how to make magical mint coffee for ourselves at home.
I think I've figured it out. ♡
Mint Mojito Iced Coffee | 1-Minute Video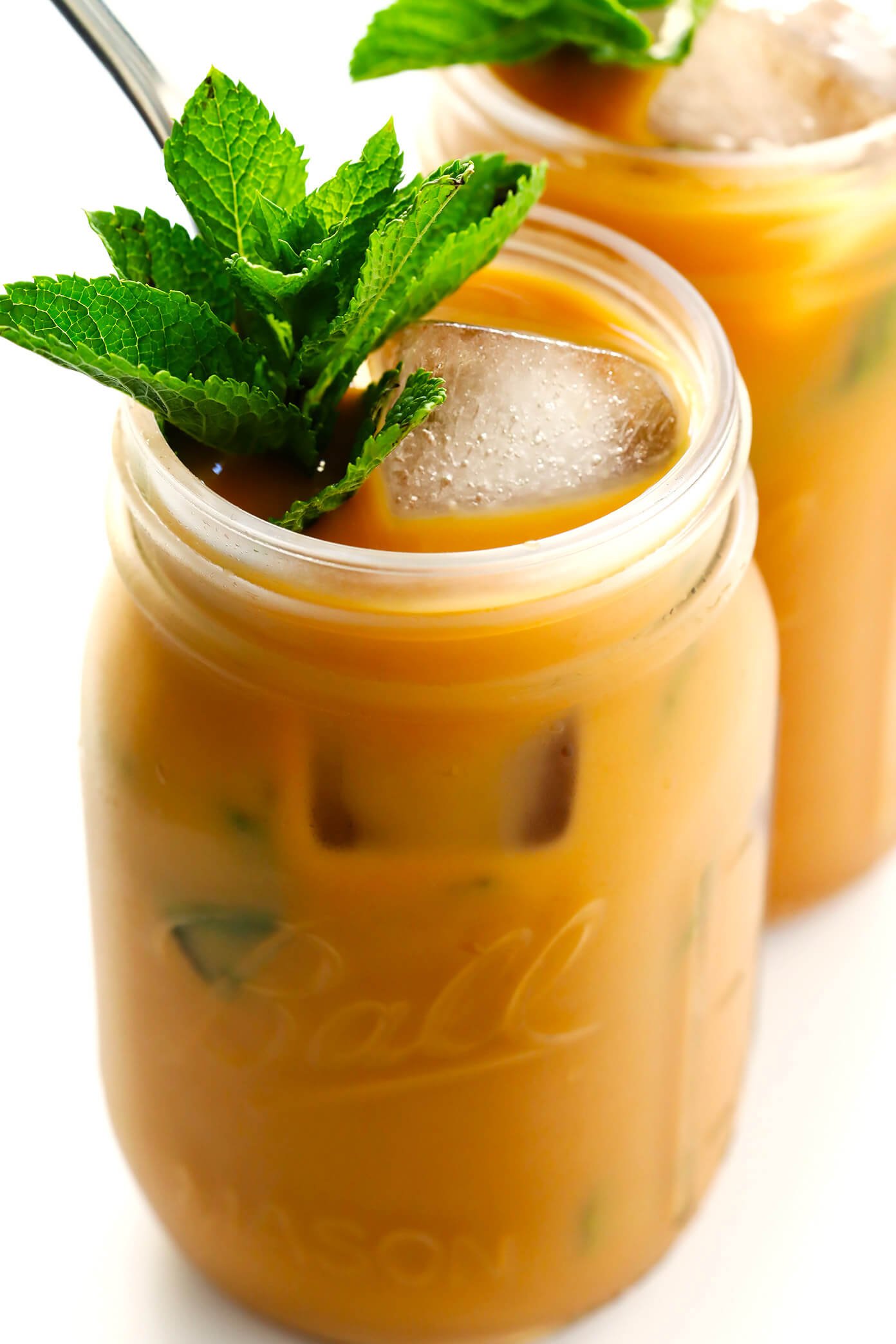 Mint Mojito Iced Coffee Ingredients:
Alright, so let's talk ingredients. To make my own homemade version of this mint coffee, I used the following ingredients (affiliate links included):
Freshly-Brewed 

Strong

Coffee: Key words — fresh and strong. Brew up a cup of strong coffee to serve as the base for this recipe with whatever brewing method you prefer (pour-over, French press, Aeropress, or even just a traditional drip coffee pot will totally work). A few of you asked, and cold brew would also work too.

Fresh Mint: The more, the merrier here. I used about a dozen large fresh mint leaves for each serving, plus a cute little sprig to poke on top as a garnish, if you'd like.

Sweetener: I used raw turbinado sugar in my drink, but any kind of sugar or sweetener will do.

Cream: I'm pretty sure that Philz used straight cream (yum), but half and half, milk, or coconut milk also work great.

Ice: You'll need quite a bit of it to cool off the freshly-brewed hot coffee.
Also, you will need either a cocktail shaker or a mason jar, if you'd like to make the coffee extra frothy and delicious. (Or you can save a step, and just stir the coffee together in a large glass. Up to you!)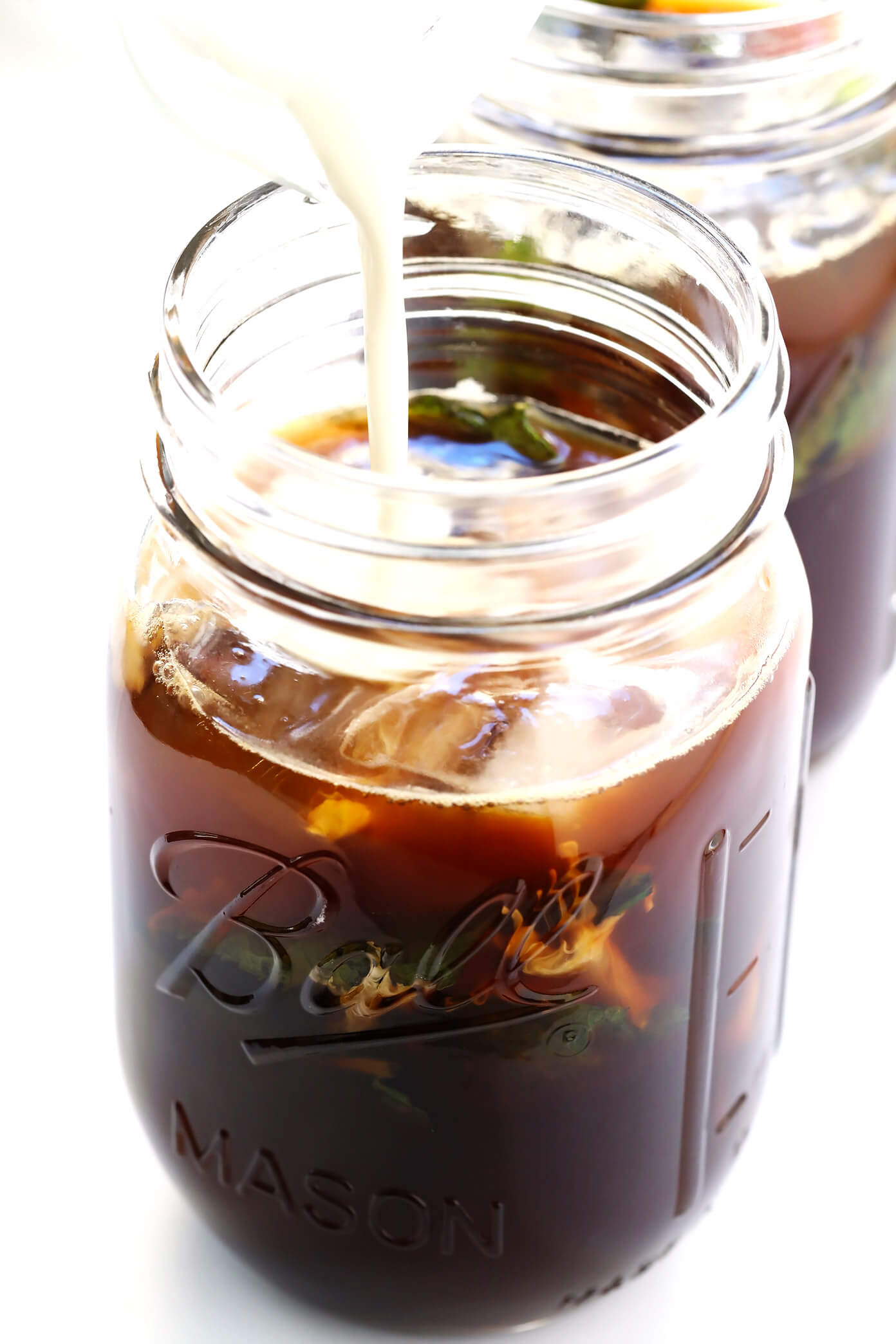 How To Make Mint Coffee:
Don't worry, this drink doesn't include a bunch of fancy steps, and will come together in just an extra minute or so that it takes you to brew the coffee. To make mint coffee, simply:
Brew your coffee: With whatever brewing method you prefer, brew up a nice strong cuppa coffee.

Muddle the mint and sweetener: In a cocktail shaker or mason jar, use a muddler (or the end of a thick wooden spoon) to gently muddle together the mint and sweetener in order to release all of those tasty oils from the mint. (Although heads up — don't break up the mint into a zillion small pieces, otherwise they will get stuck in your straw.)

Add ice, coffee and cream: Add a big handful of ice to the shaker, followed by the hot coffee and a splash of cream if you would like.

Give it a good shake: Then cover and shake vigorously for about 15 seconds, or until the coffee feels completely chilled.

And…serve! Then pour the mixture (coffee, mint, ice and everything) into your serving glass. Maybe add a few extra ice cubes if needed. Garnish with a sprig of fresh mint. And enjoy!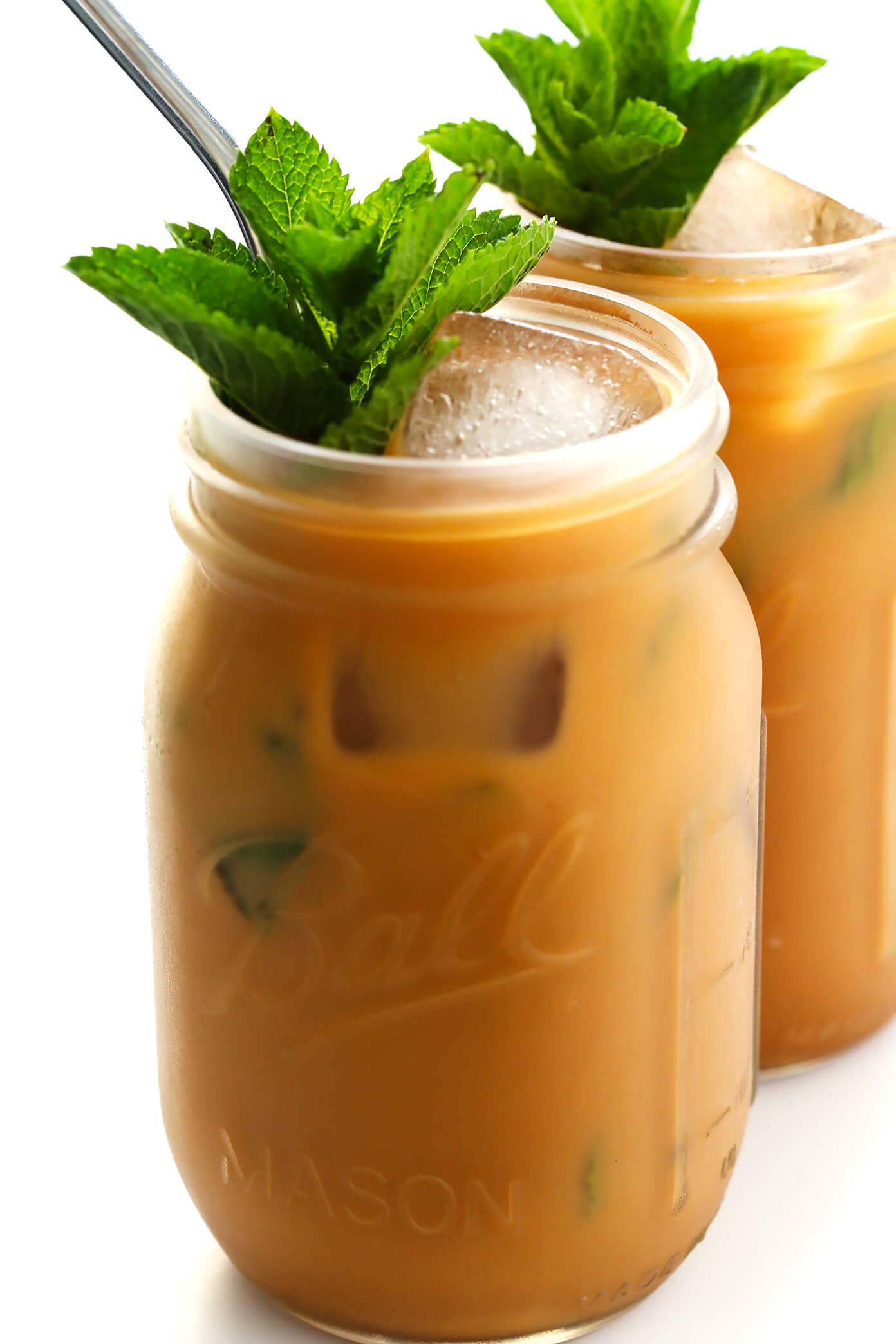 Mint Coffee Variations:
Want to mix things up a bit with this recipe? Feel free to try:
Blending It: If you'd like to try this as a frozen, blended coffee, just use cold brew (or chilled coffee) instead of the hot coffee, and pop everything in the blender and puree until smooth.

Different Kinds Of Mint: A follower on Instagram mentioned that she used fresh "chocolate mint" leaves in this, and loved it. So feel free to experiment with different varieties of fresh mint!

Adding Chocolate:  If you'd like a more chocolate-y drink, just add in a tablespoon of cocoa powder.

Adding Vanilla:  For a subtle vanilla undertone, add in a half teaspoon of vanilla extract.

Adding Heat: To give this drink a subtle kick, add in a pinch of cayenne pepper.

Adding Booze: Feel like turning this into a cocktail? A splash of Bailey's would be pretty awesome here. (Although heads up — you probably will not need as much sweeter and cream, if you try this.)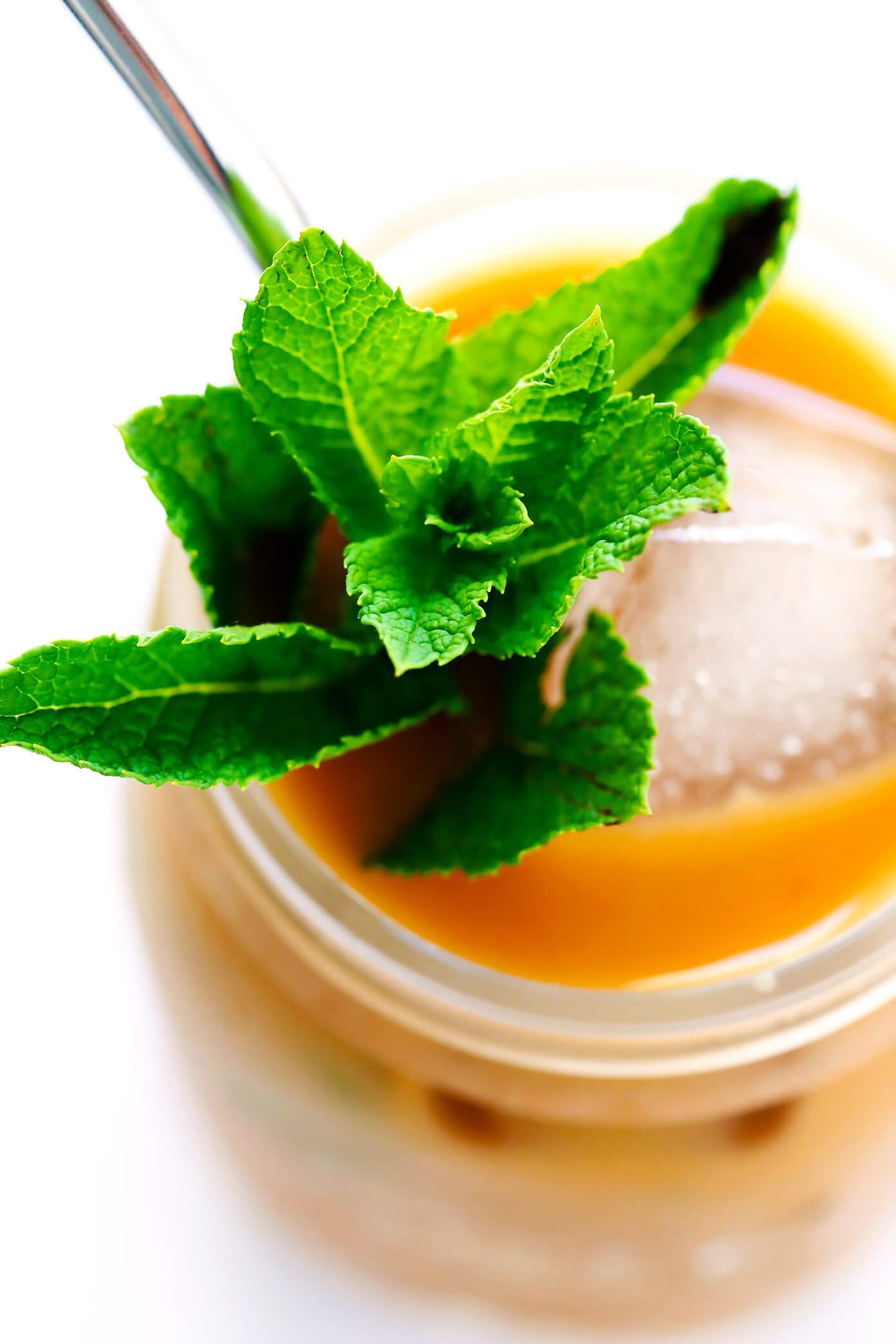 However You Make It…
…lemme know how it turns out! Just snap a photo and hashtag #gimmesomeoven on Instagram, leave a comment below, or send me an email. I'm so curious to hear what you think! 🙂
Enjoy, everyone!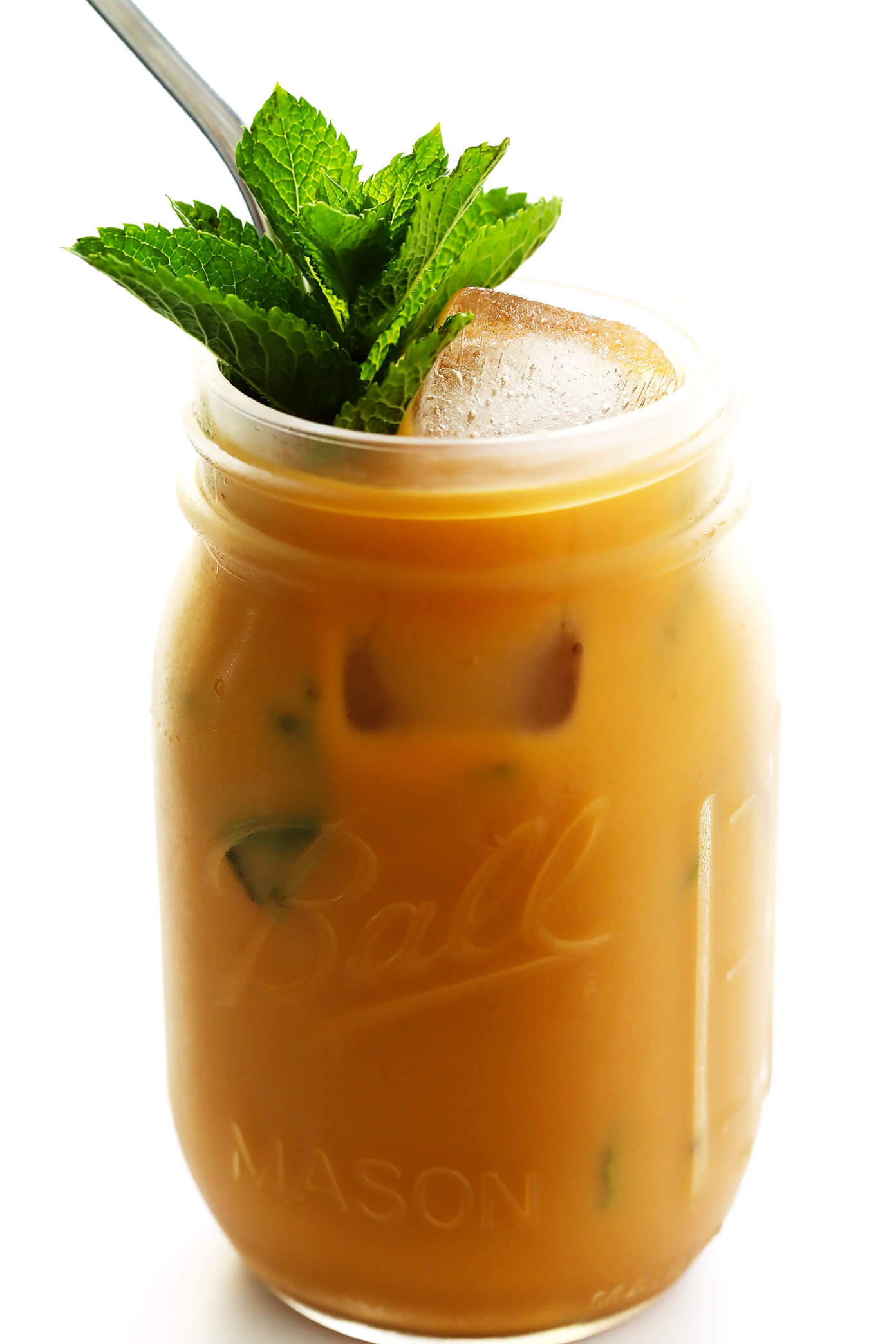 Print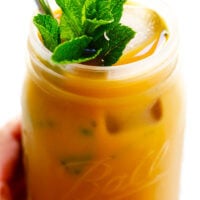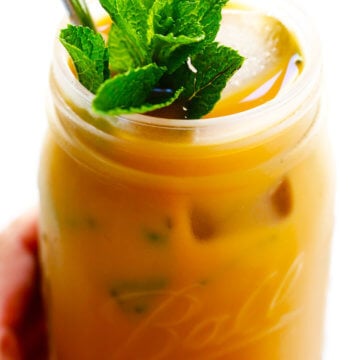 Mint Mojito Iced Coffee

Prep Time: 10 minutes


Total Time: 10 minutes


Yield: 1 serving 1x
---
Description
Trust me — this Mint Mojito Iced Coffee recipe is a game changer.
---
1 cup

freshly-brewed strong coffee

12

large fresh mint leaves, plus extra sprig for garnish

1 tablespoon

turbinado sugar (or your desired sweetener)

1 cup

ice

splash of cream (or half and half, milk, coconut milk, etc.)
---
Instructions
Brew the coffee however you prefer (pour-over, French press, Aeropress, traditional drip, any method will work).

Then while the coffee is brewing, combine the mint and sweetener in a cocktail shaker (or mason jar).  Use a muddler (or the end of a thick wooden spoon) to gently muddle the mint — thoroughly enough so that those yummy minty oils get released, but also not so much that you break it up into a hundred tiny pieces that'll get stuck in your straw. 😉

Fill the shaker with ice.  Then pour the hot coffee over the ice, and add a splash of cream if desired.

Cover the shaker, and shake vigorously for 15 seconds until completely chilled.

Transfer the iced coffee to your serving glass (if using a separate glass).  Then add a few extra ice cubes if needed, garnish with a sprig of mint, and serve cold!
---
Notes
*If making this vegan, be sure to use non-dairy creamer such as coconut or almond milk.
Big thanks to Philz Coffee in San Francisco for the inspiration!
This post may contain affiliate links which won't change your price but will share some commission.