Delicious crispy granola is baked into adorable mini tart pans to create these adorable Mini Granola Tart Cups! Fill them with yogurt and fruit, or some sort of dessert filling, or whatever sounds delicious to you. They're so cute and delicious! (This post contains affiliate links.)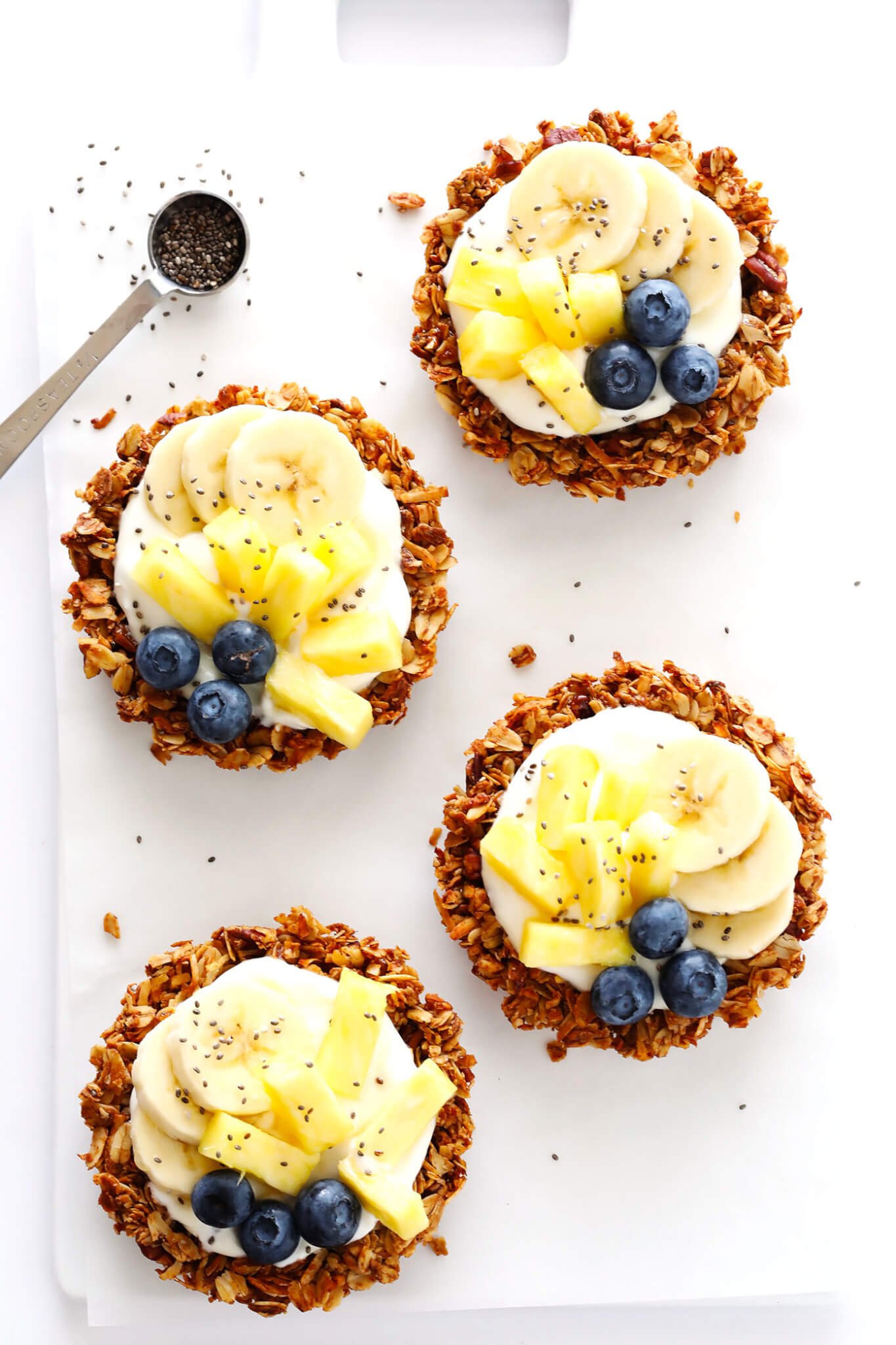 Happy Friday, everyone!
First off, I just wanted to say thank you for being so awesome and encouraging about our big announcement this week!! Barclay and I both read through each and every one of your comments here on the blog and on social media, and it made us all ? ? ?. Thank you so much! Now that the cat's out of the bag, I have so much more to tell you about what's been going on around the scenes here lately. And of course, can't wait to bring you along on this journey with us! Your continued presence here means the world to me. (Especially when this blog will soon be coming to you from halfway around the world.)
Second, I would just like to celebrate here for a sec that I think Barclay and I are finally done fixing up his house to put it on the rental market, which turned out to be about 10 times as much work as we were expecting. (Oof…house projects. ?)  So sorry if I've been a little MIA around here lately — life has been crazy. But I'm super-excited to be done with working on this house 24/7 and to get back into the kitchen and share some new recipes with you, especially while summer produce is still at its prime.
I don't know about you, but I've been buying fresh berries galore this summer. Which always means that I'm eating leftover berries galore for breakfast each day. I will forever love me a good granola, yogurt and berry parfait. But for a different twist on things this week, I thought I'd experiment and try baking some granola into some mini "cups" for a change. I tried a first batch in some muffin tins, which were cute but pretty difficult to get out of the pan. But then I tried a second batch in my mini tart pans (with removable bottoms) and — oh my gosh you guys — I'm convinced they are just about the cutest way ever to enjoy granola. They're individual sized, perfect for breakfast or dessert, and totally crispy and delicious.
Had to show you!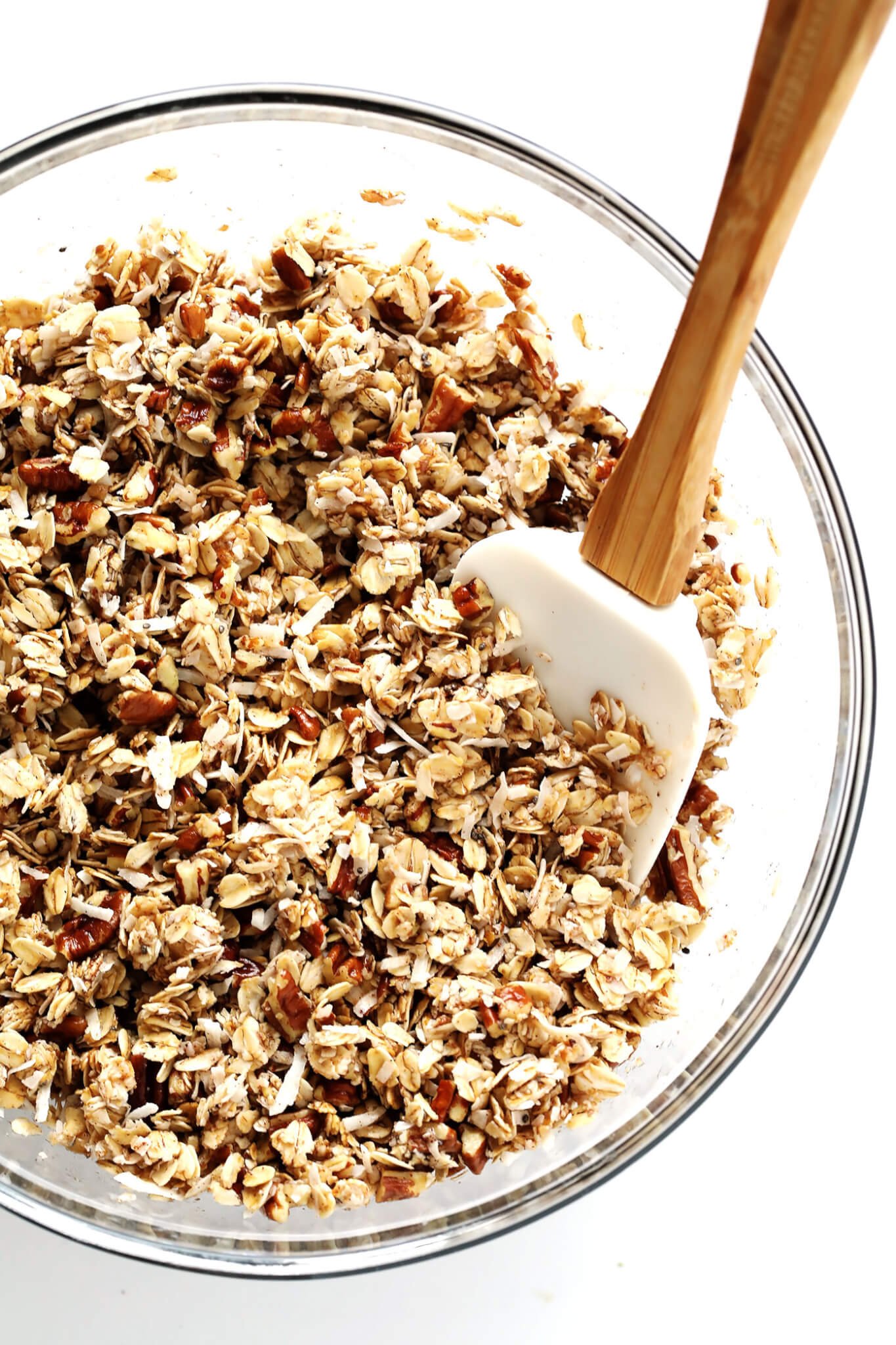 To make the granola cups, simply mix up a simple batch of granola.
I used one of my favorite recipes made with maple syrup and pecans. But teally, you could use just about any granola recipe here, as long as it doesn't include any large chunks. (You want all of your nuts and various add-ins to be pretty finely chopped so that they're easy to press into the pans.)
Then press the granola evenly into your greased mini tart pans. (My method is to portion it out evenly between the pans, and then use the flat bottom of a measuring cup to press it down firmly and evenly into each pan.)  Bake until each one is nice and golden and crispy. Then let them cool to room temperature (which will also help bind the granola together a bit more).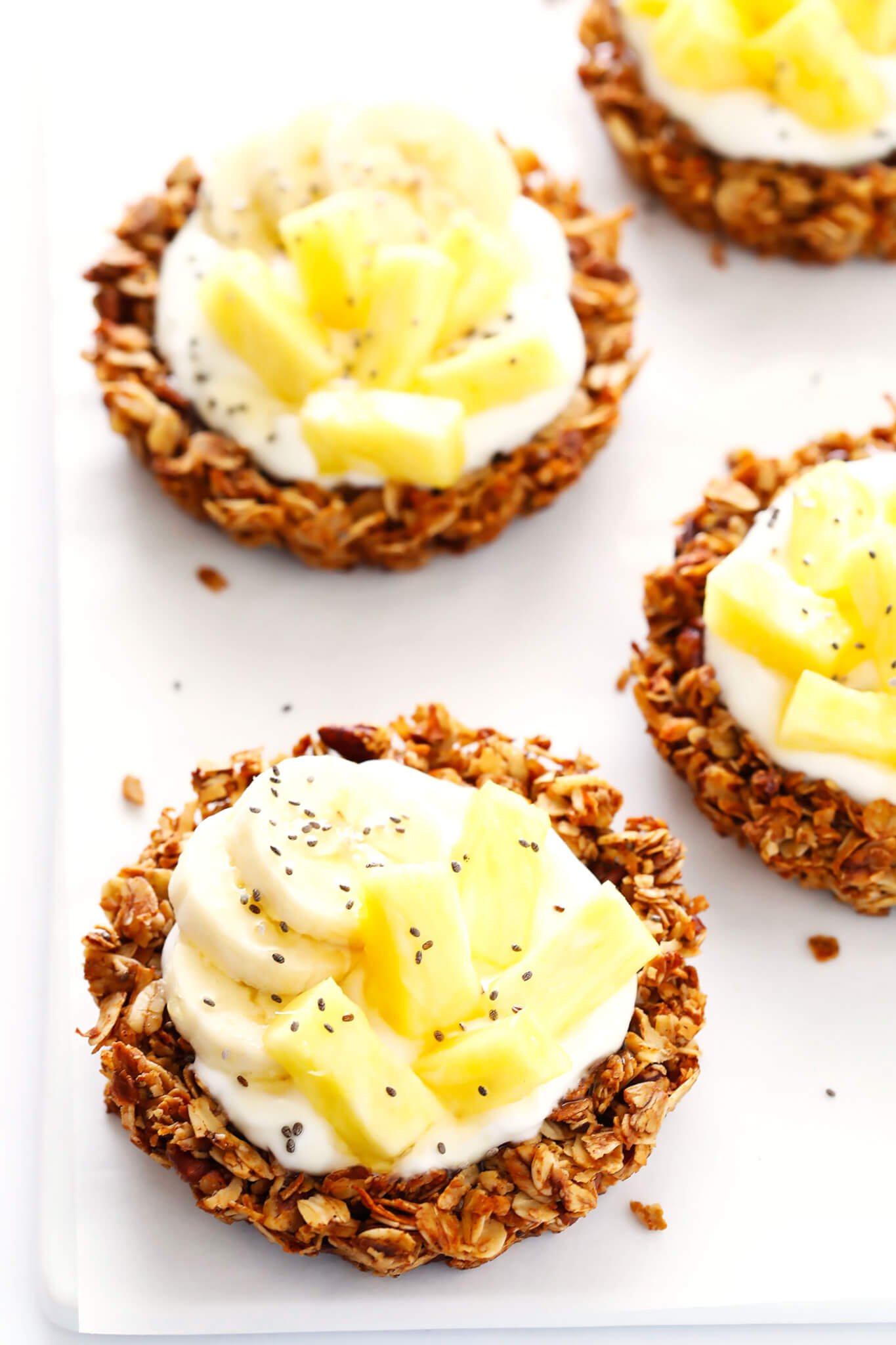 Then just carefully pop the granola out of the pans…and voila! These adorable little granola "bowls" will be ready to load up with your favorite fillings and serve!!!
I filled mine with some Greek yogurt, fruit, chia seeds, and a drizzle of honey. But the sky's the limit here — just about any fillings will work! The only note I'd give is to be sure to serve them immediately after you fill them, since things like yogurt can make the bottoms a bit soggy again if it's not eaten fairly quickly.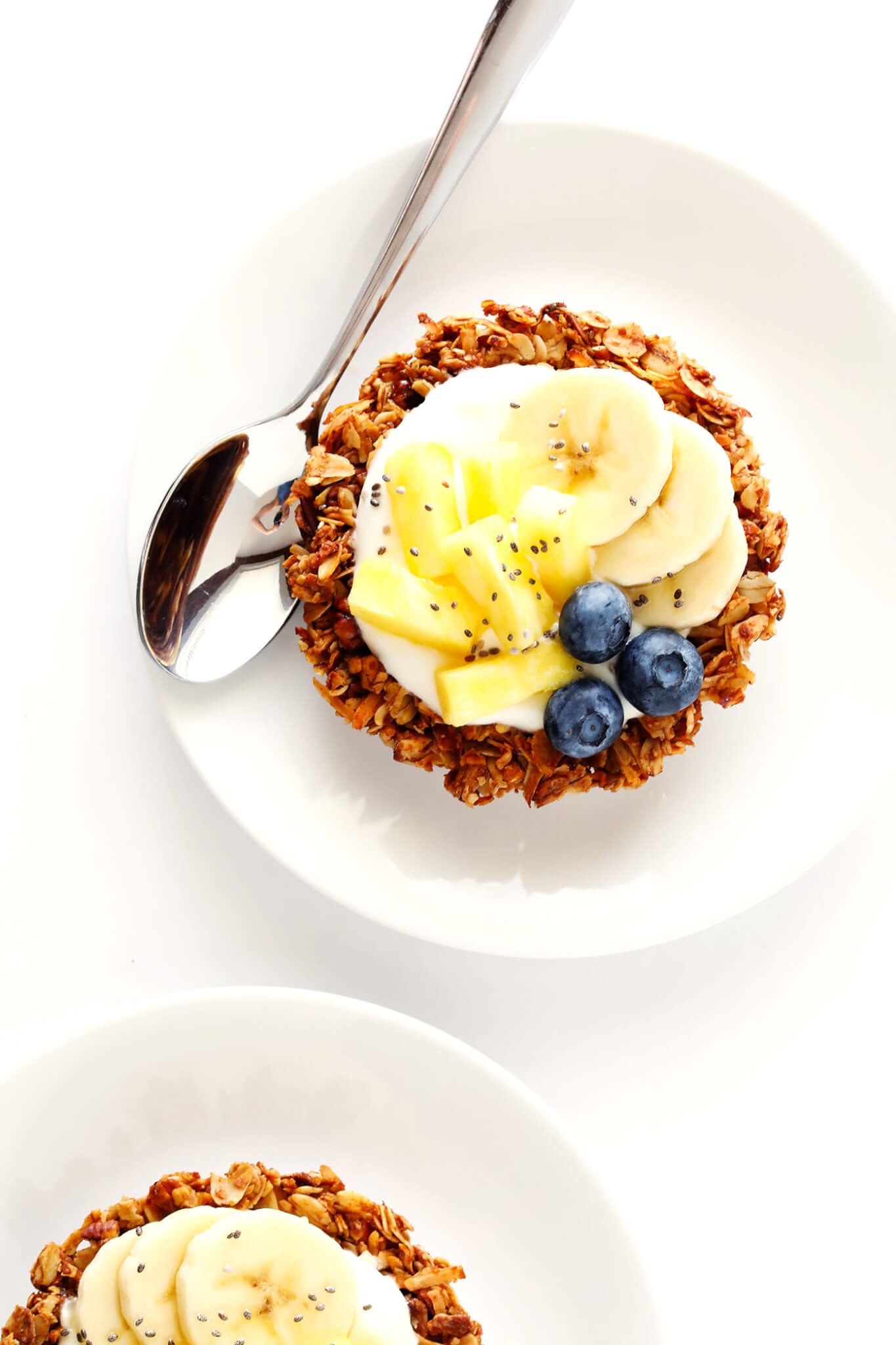 Feel free to also make a big batch ahead of time to enjoy throughout the week. They store well in airtight bags, and make convenient individual-sized portions.
Cute, cute, cute. Enjoy, everyone!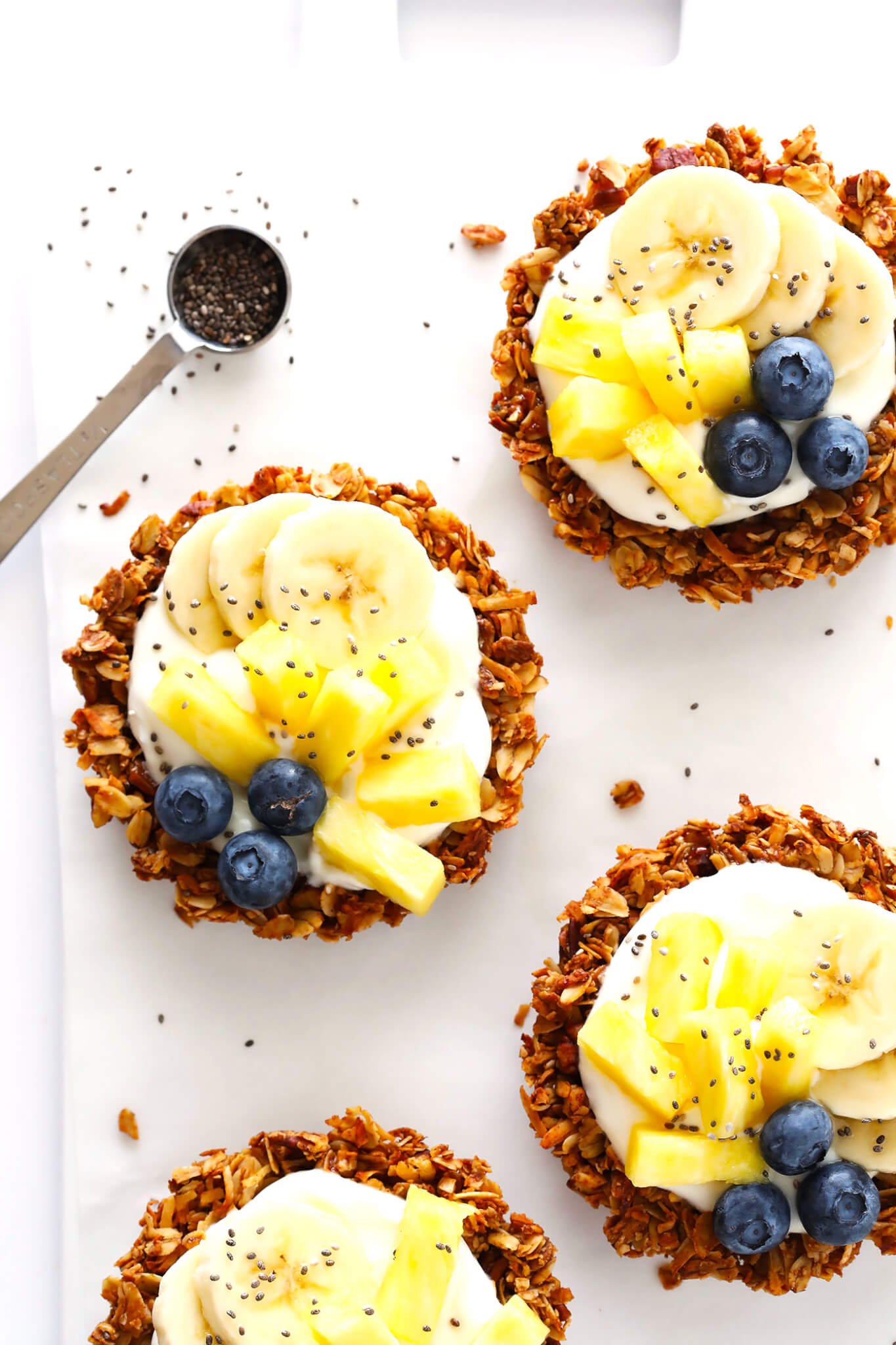 Print

Mini Granola Tart Cups

Prep Time: 15 minutes


Cook Time: 20 minutes


Total Time: 35 minutes


Yield: 8 servings 1x
---
Description
These Mini Granola Tart Cups are a cute and delicious way to serve your granola!  Fill them with yogurt and fruit for breakfast, no-bake fillings for dessert, or whatever sounds good.
---
1/4 cup

honey, warmed

1/4 cup

coconut oil, melted and hot

1 teaspoon

ground cinnamon

1/2 teaspoon

vanilla extract

1/4 teaspoon

salt

2 cups

old-fashioned oats

1 cup

finely-chopped nuts (such as pecans, walnuts, or almonds)

1/2 cup

shredded coconut (sweetened or unsweetened)

2 teaspoons

chia seeds (optional)

fillings: Greek yogurt, fresh fruit, chia seeds, etc.
---
Instructions
Preheat oven to 325°F.  Mist 8 mini tart pans with cooking spray.

In a small mixing bowl, whisk together the warmed honey, coconut oil, cinnamon, vanilla extract and salt until combined.  Set aside.

In a large mixing bowl, toss together oats, nuts, coconut and chia seeds until evenly combined. Add in the honey mixture, and toss until the dry ingredients are evenly coated.

Portion the granola mixture evenly between the mini tart pans, pressing the granola firmly into bottoms and up the sides of the tart pans.  Then place the pans on a baking tray (for easy transport).

Bake for 20-25 minutes, until the granola is nice and browned and toasted on top.  Transfer tart pans to a wire rack, and cool until they reach room temperature.

Gently remove the granola tarts from the pans, fill with your desired fillings and serve immediately.  Or, carefully transfer the tarts to an airtight ziplock bag and store for up to 7 days.
---
Notes
*If making these gluten-free, be sure to use certified GF ingredients.