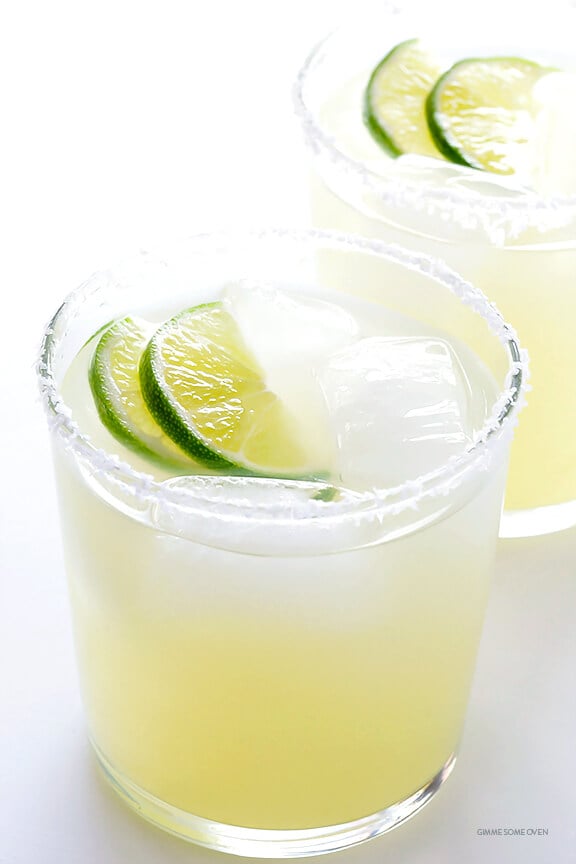 Guys, we need to talk about mezcal.
Are you familiar with the stuff?! If not, don't worry, you're in good company with many of my friends who have given me blank stares when I tell them about my new obsession with mezcal margaritas. But now that you're hearing about it, you've got to track some down soon. Because after a solid decade or so of calling margaritas (with tequila) my favorite drink — which will forever and always be my first cocktail love — I have to confess that my affections are quickly being won over by margaritas made with tequila's smoky, spicy cousin.
That's right.
Mezcal margaritas are where it's at.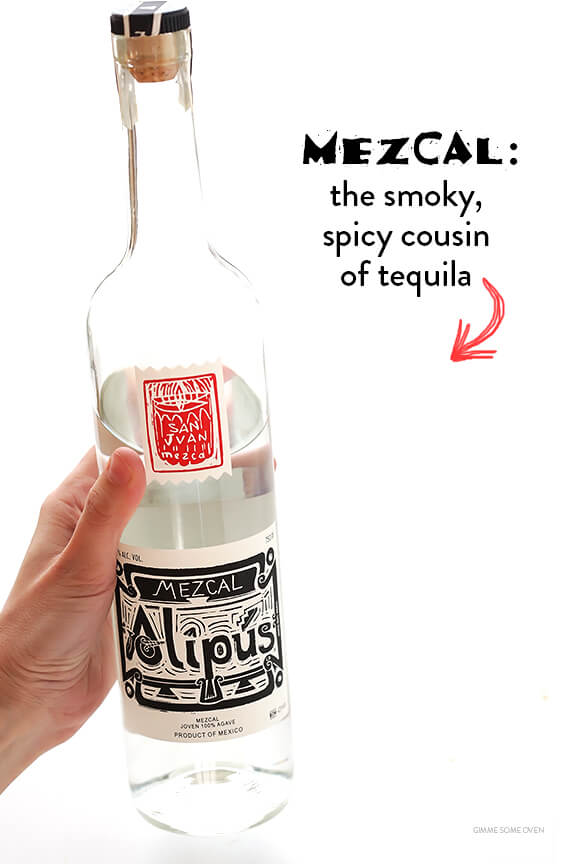 But what is mezcal, some of you ask?
Well, it actually is the "cousin" of tequila. It's made from the same blue agave plant in the "Tequila" region of Mexico, and is usually produced in Oaxaca. But while tequila's agave is usually baked in stone ovens, mezcal's agave is buried in pits with hot rocks and smoked. And thus, the flavor is similar to tequila, but totally different. I like to think of it as the "scotch" of the tequila world. It's smoky, it's earthy, and it's absolutely amazing in cocktails…
…like my beloved margaritas. 🙂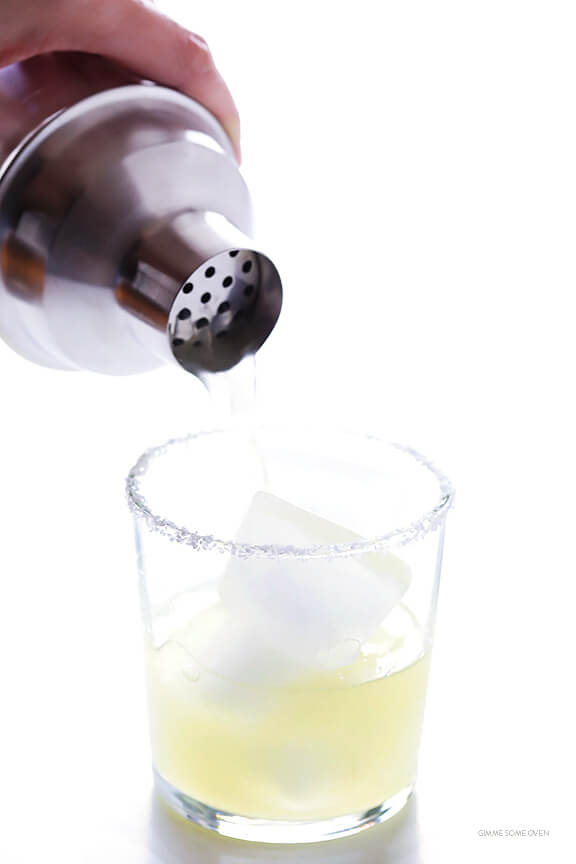 I've slowly been falling in love with mezcal cocktails over the past few years. But it wasn't until Kathryne and I were in Austin last February that I tried a sip of my first mezcal margarita. And let me be clear — I was skeptical going into it. Tequila margaritas have always been my jam, and I was reluctant to mess with a good thing. But let's just say…
…it was a game changer.
Or at least, I should clarify, it was for me.
I have learned since then that many people do not share my affinity for smoky flavors in food (i.e. salsas) or drinks (i.e. scotch and mezcal). If that's you, then I'd probably just stick with tequila. But if you happen to fall in Camp Smoky — or even if you might like to try a hint of smokiness in your drink — I think you owe it to yourself to give this one a try. 😉
I finally bought my first bottle of mezcal (in the checkout of World Market, of all places) last month, and Barclay and I made our first batch the following night. I basically just took my go-to classic margarita recipe (made with tequila, fresh lime juice, orange liqueur and a hint of agave nectar) and subbed in mezcal in place of the tequila. And the result??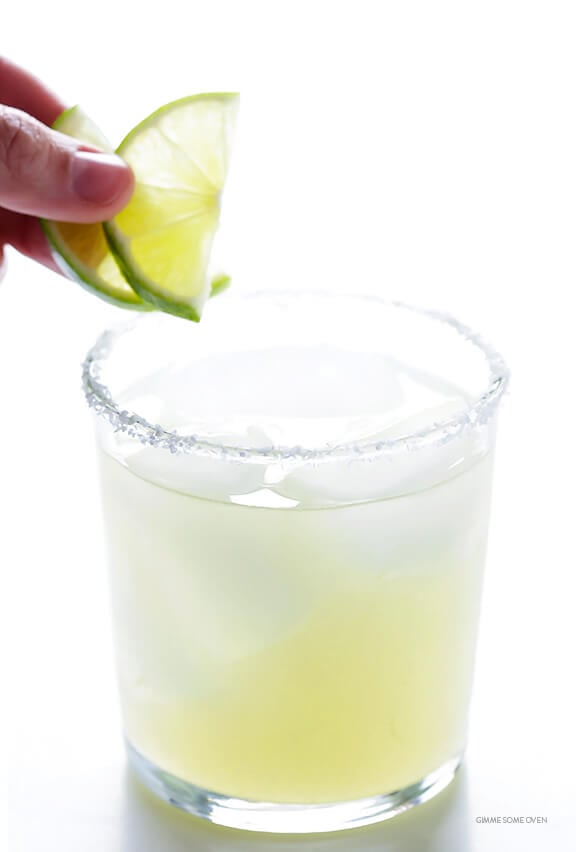 Margarita magic, I tell you. 🙂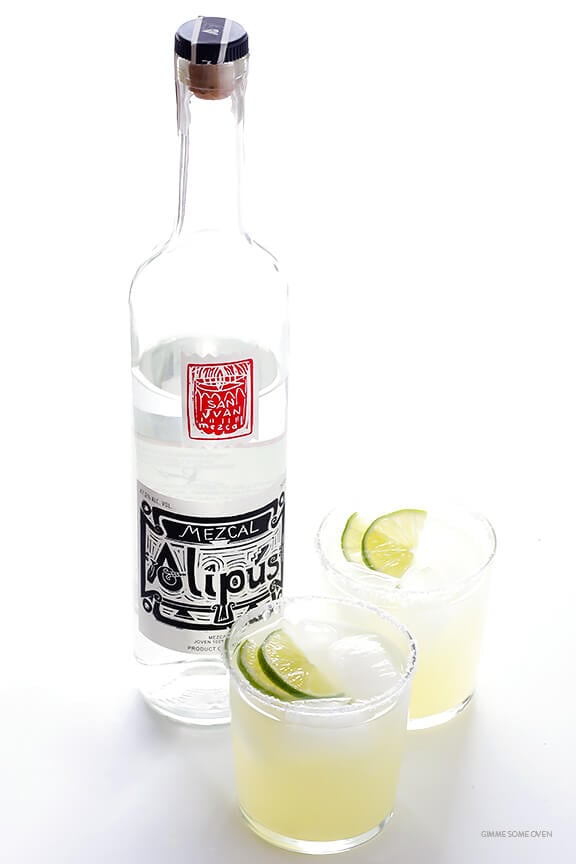 Oh my goodness, I was such a fan. Annnnd I have continued to be a fan in the multiple batches that we have tried since. It's like a scotch-y margarita! The tart lime juice and sweet agave pair absolutely perfectly with the smoky, rich mezcal. All of those made all the better, of course, with some nice chunky salt around the rim. The drink definitely feels much stronger, and made me want to sip it much more slowly (like scotch) than, um, "drink" it down as I'm occasionally tempted to do with tequila. (Which was a good thing!)  But I absolutely loved it.
I will say that Barclay was more a fan of the half-tequila, half-mezcal version of this drink. So if you like a little less smoky — or if you'd like to stretch that bottle of mezcal a little further (since it's definitely pricier than tequila) — that's another great option too. And probably a good place to start either way if you're new to mezcal.
But bottom line — if you love smoky drinks, it's absolutely worth the try.
And then you have to tell me what you think about it. 🙂
Cheers!
Print

Mezcal Margaritas

Prep Time: 5 minutes


Total Time: 5 minutes


Yield: 1 serving 1x
---
Description
This Mezcal Margaritas recipe is everything you love about traditional margs, but kicked up a notch with some smoky mezcal.
---
1

 

½

 ounces mezcal

1 ounce

Cointreau (or any orange liqueur)

¾

 ounce freshly-squeezed lime juice

optional: agave nectar or simple syrup for sweetening, if desired

ice

optional: lime wedge and salt for rimming the glass
---
Instructions
If you would like salt-rimmed glasses, begin by running a lime slice (the juicy part) around the top rim of a glass.  Fill a shallow bowl with salt, and dip the rim in the salt until it is covered with your desired amount of salt.  Set aside.

Add mezcal, lime juice and Cointreau to a cocktail shaker, and shake or stir until combined.  Taste, and if you would like it to be sweeter (most people do!), stir in a half teaspoon of agave or simple syrup until the mix reaches your desired level of sweetness.

Fill glass with ice.  Pour in the margarita mixture over the rocks.  Serve immediately, garnished with an extra lime wedge if desired.
---