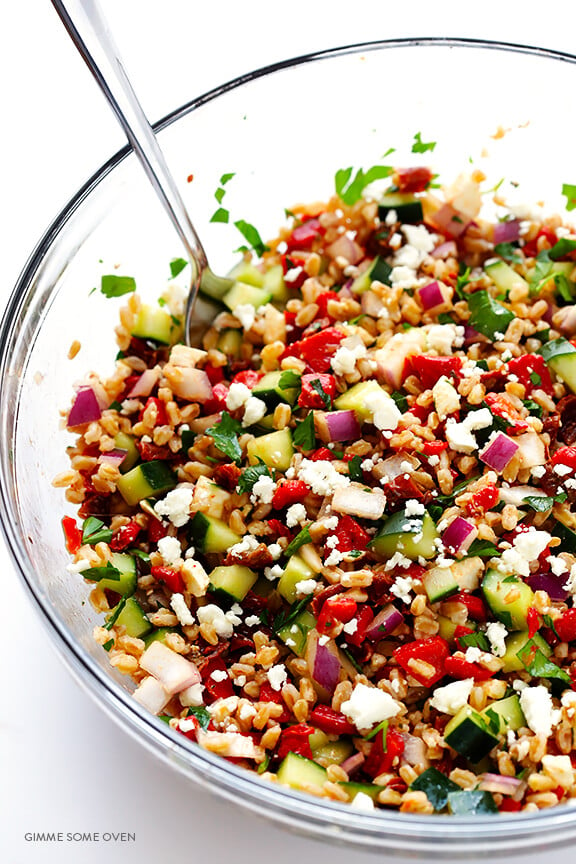 The weather outside is finally gorgeous. The sunshine is stretching well into the evening. The walking paths in my neighborhood are teeming with happy exercisers. And I have been working out this month…inside.
This should not be so.
Here's the thing, though, my elliptical is inside. And more importantly, my Netflix with House Of Cards is hooked up to it inside. And as much as I love going on long walks outside by the river near downtown KC after work, I have to admit, I am way more interested in those symphonic timelapse views of DC right now. And as much as I love running into friends in my neighborhood on walks, I am way more interested in people-watching the politicians cruising in and out of Frank Underwood's office. Oh yes, three years late to the show, I am now 100% hooked.
The great side effect of marathon-watching the show is that I am getting in fantastic shape lately! I mean, let's be real, I've never been one of those people who really looks forward to working out each day. But I must tune in to see if the pieces of Frank's latest conniving schemes are going to fall into place, and watch Claire's poised and ultra-calculated response, and root for Doug to make better decisions, wish that I had my own Meechum to follow me around…
Yeah, I'd say this show beats a personal trainer for me. Haven't missed a day. 🙂
Well, the other good news about spending so much time with the Underwoods is that all of this extra working out is propelling me to want to eat more healthy food to go along with it. So when I was craving a Greek gyro the other day, I decided to instead pull out some farro and whip up a chopped Mediterranean salad. It was easy, it was colorful, it was healthy, and I like to think it's something Claire would dive into after a jog around the Capitol…eh?
Mediterranean Farro Salad Recipe | 1-Minute Video

The key ingredient to this salad, of course, is one of my favorite grains of late — farro.
I have been stocking this stuff in my pantry as much as quinoa. And while it's not gluten-free like quinoa, I am such a fan of it. It's chewy, it's nutty, it's extra tasty when cooked in broth (like quinoa), and it goes perfectly in this salad!
With it, I added some roasted red peppers, sun-dried tomatoes (since fresh tomatoes still aren't quite in season), red onion (or shallot), fresh parsley, cucumber, and lots of feta cheese.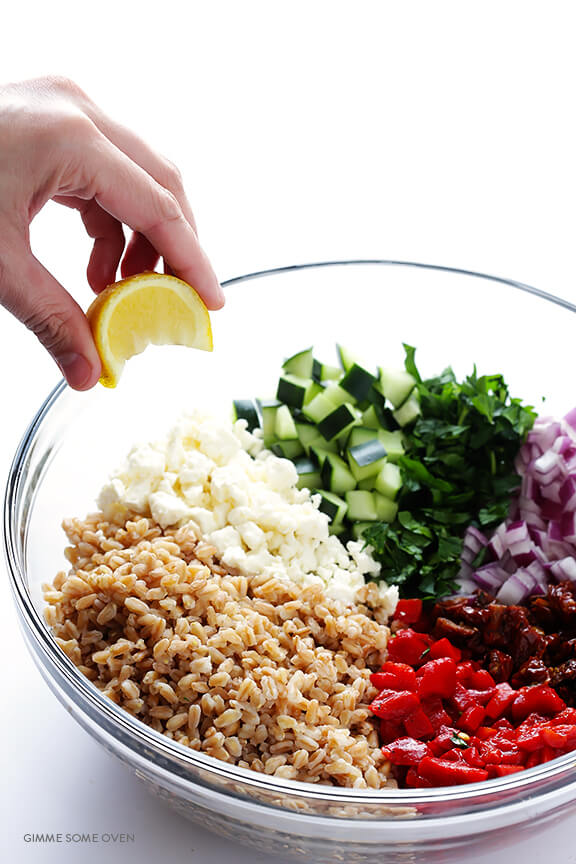 Toss them all together with a quick and easy Greek vinaigrette. (I went easy on the vinaigrette portion to cut down on calories with this recipe.)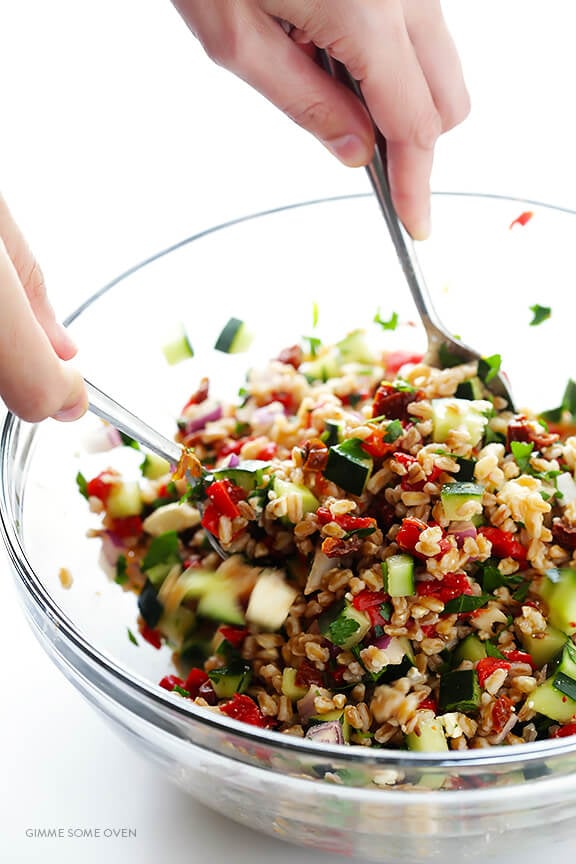 Whoosh!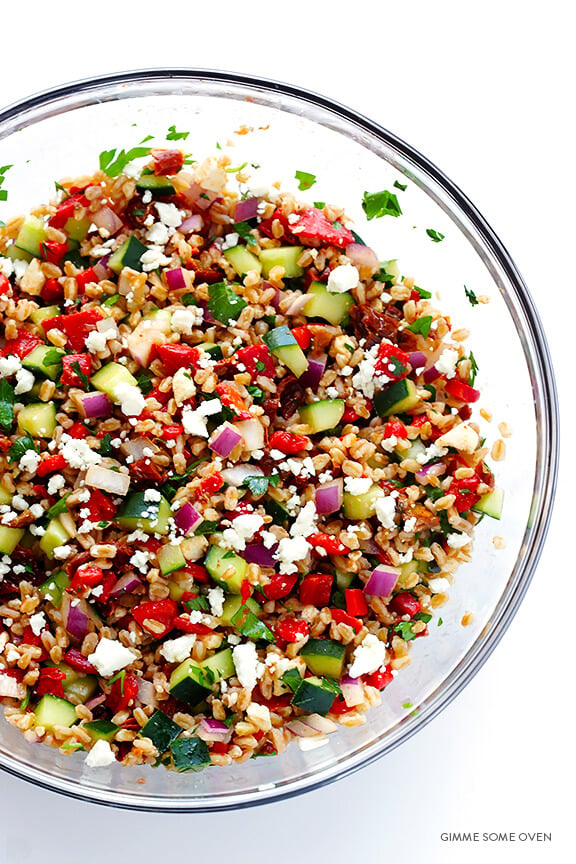 And within minutes, this fresh and delicious and healthy Mediterranean Farro Salad is ready to go.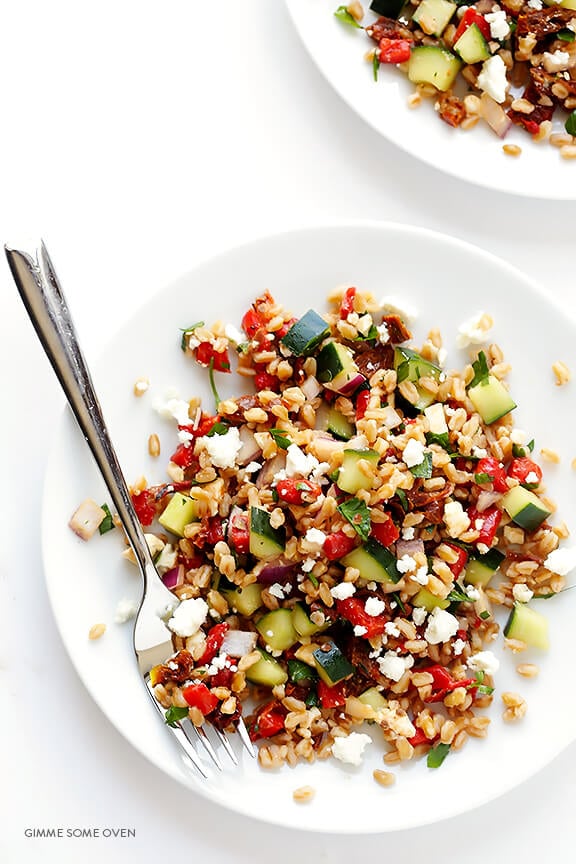 This recipe works perfectly as a side dish that you can serve with dinner, or if you're grilling out or at a potluck. Or it is also plenty filling as a main course, especially after a nice workout on the elliptical. 😉  Feel free to add in some grilled chicken or shrimp if you'd like, or just serve it meatless as is. I promise, it's a keeper.
Cheers to healthy eating, and finally catching up on those shows that "everyone" is talking about… 🙂
Print

Mediterranean Farro Salad

Prep Time: 10 minutes


Cook Time: 15 minutes


Total Time: 25 minutes


Yield: 6 –8 servings 1x
---
Description
This Mediterranean Farro Salad is filled with fresh ingredients, lots of chewy delicious farro, and it's tossed with a light Greek vinaigrette. Perfect as a side dish or main course, and for taking with you to a potluck!
---
Salad Ingredients:
3 cups

chicken or vegetable stock

1 cup

uncooked farro, rinsed and drained

1

large cucumber, seeded and finely-diced

2/3 cup

finely-diced roasted red peppers

1/2 cup

finely-diced sun-dried tomatoes

1/2 cup

crumbled feta cheese

half of a

small red onion, finely diced (about

2/3 cup

)

1/4 cup

finely-chopped fresh parsley

Greek vinaigrette (see ingredients below)
Greek Vinaigrette Ingredients:
3 Tablespoons

olive oil

1 Tablespoon

freshly-squeezed lemon juice

1 Tablespoon

red wine vinegar

1/4 teaspoon

dried oregano

pinch of garlic powder

pinch of salt

pinch of black pepper
---
Instructions
To Make The Salad:
Stir together stock and farro in a medium saucepan, and cook according to package instructions until al dente.  Remove from heat, and drain off any extra stock once the farro is cooked.  Let farro cool for at least 10 minutes.

Transfer farro to a large mixing bowl, and add in remaining ingredients, including the vinaigrette.  Toss until combined.

Serve immediately, or cover and refrigerate for up to 2 days.
To Make The Greek Vinaigrette:
Whisk all ingredients together until combined.  Use immediately.
---