This homemade marinara sauce recipe is easy to make, naturally gluten-free and vegan, and slow-simmered with the BEST tomato, basil and garlicky flavors.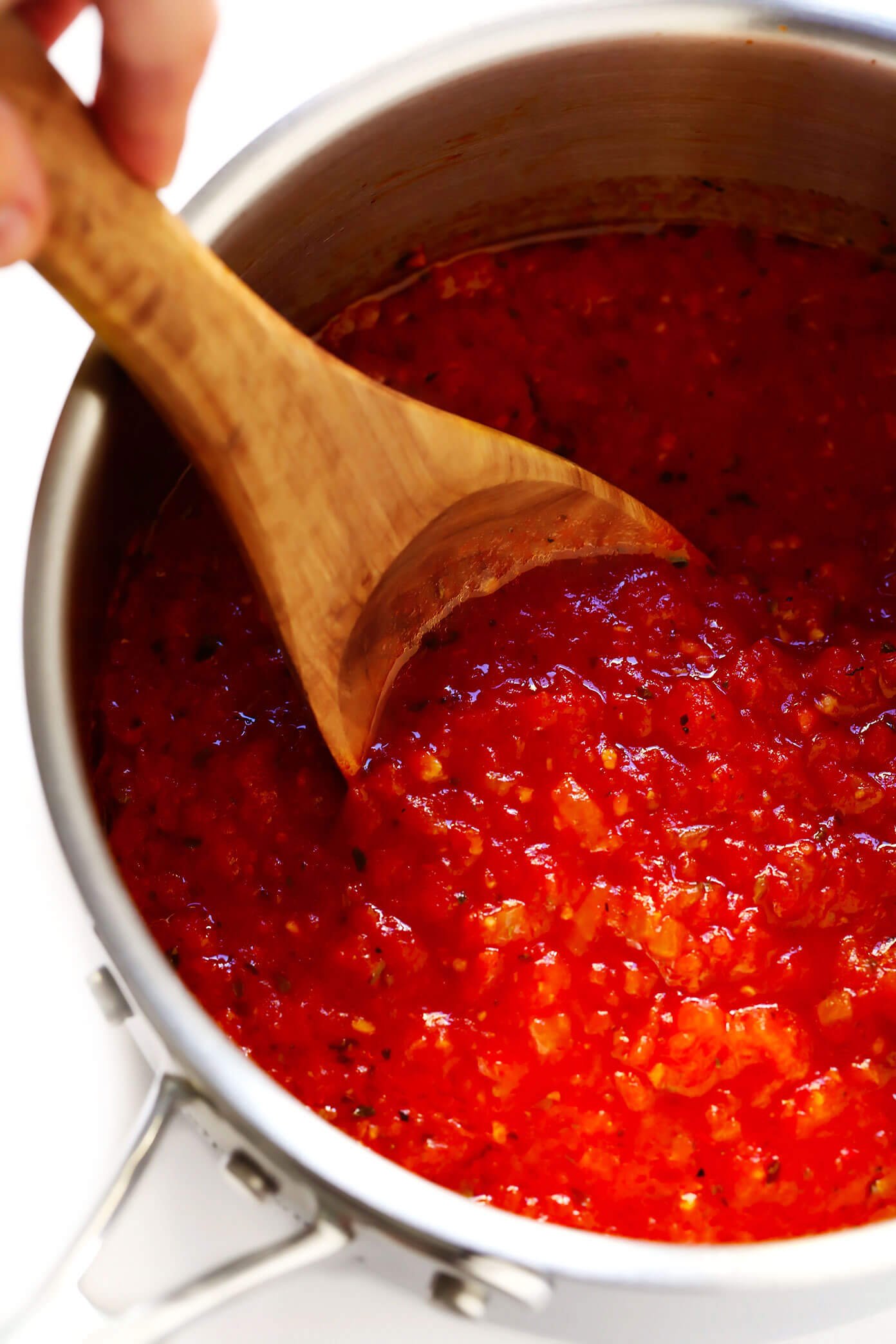 Friends, do you have an amazing homemade marinara sauce recipe in your repertoire?
If not, bookmark this one. ♡♡♡
It's the classic marinara sauce that I have made countless times over the years and it is my absolute favorite. It's incredibly easy to make with a few classic ingredients, which also happen to be naturally gluten-free and vegan. It's made with a blend of herbs and seasonings that perfectly compliment those slow-simmered rich tomato marinara flavors, without completely overpowering them. It only requires about 10 minutes of active hands-on prep time, giving you time to work on the rest of dinner while the sauce simmers on the stove. And best of all, this marinara sauce is just so incredibly nostalgic and comforting and flavorful.
Serve it up with your favorite pasta, pizza, lasagna, meatballs, parmigiana, subs, or whatever sounds good. And while you're at it, I also highly recommend doubling the recipe anytime you make this marinara sauce, as the leftovers keep beautifully in the fridge or freezer for later.
So many good reasons to make this marinara sauce…so let's do it!
Marinara Sauce Recipe | 1-Minute Video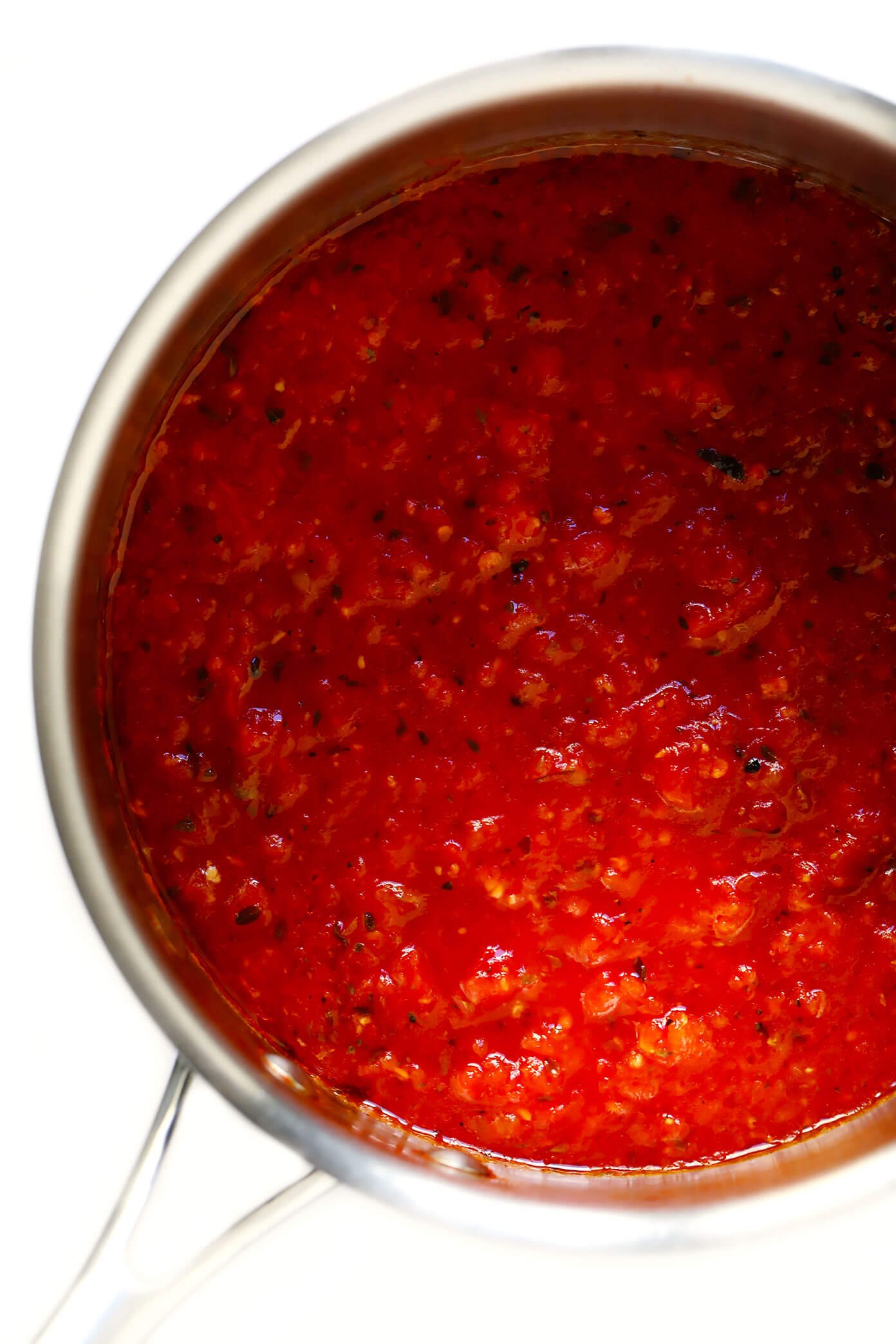 Marinara Sauce Ingredients:
To make this homemade marinara sauce recipe, you will need the following ingredients (amounts included in the recipe below):
Olive oil (or butter): Choose one or the other. Or my favorite — a tablespoon of each! Whichever option you choose will be delicious.

Onion: I really like to finely-diced my onion for this sauce, so that the onion chunks aren't too big. But go with whatever size of dice you prefer. White or yellow onion will do.

Garlic: Either finely minced or pressed.

Crushed red pepper flakes: Which we will briefly sauté in the olive oil (or butter) to bring out their flavor. Feel free to double the amount of crushed red pepper flakes if you would like a spicier sauce.

Whole tomatoes: I strongly recommend splurging an extra few dollars on a large can of good-quality San Marzano tomatoes, which are famously more flavorful, a bit sweeter and less acidic than Roma tomatoes and delicious in marinara sauce. But that said, any can of good-quality whole tomatoes will work well in this recipe.

Fresh basil: I like to just simmer a few sprigs of fresh basil in my marinara, and then remove (and discard) them before serving. But you are also welcome to chop the basil leaves and just leave them in the sauce — up to you!

Dried oregano: A generous pinch of oregano is a must for me with marinara sauce.

Fine sea salt and freshly-cracked black pepper: Don't forget to taste the marinara sauce once it has simmered and see if it needs extra salt and pepper!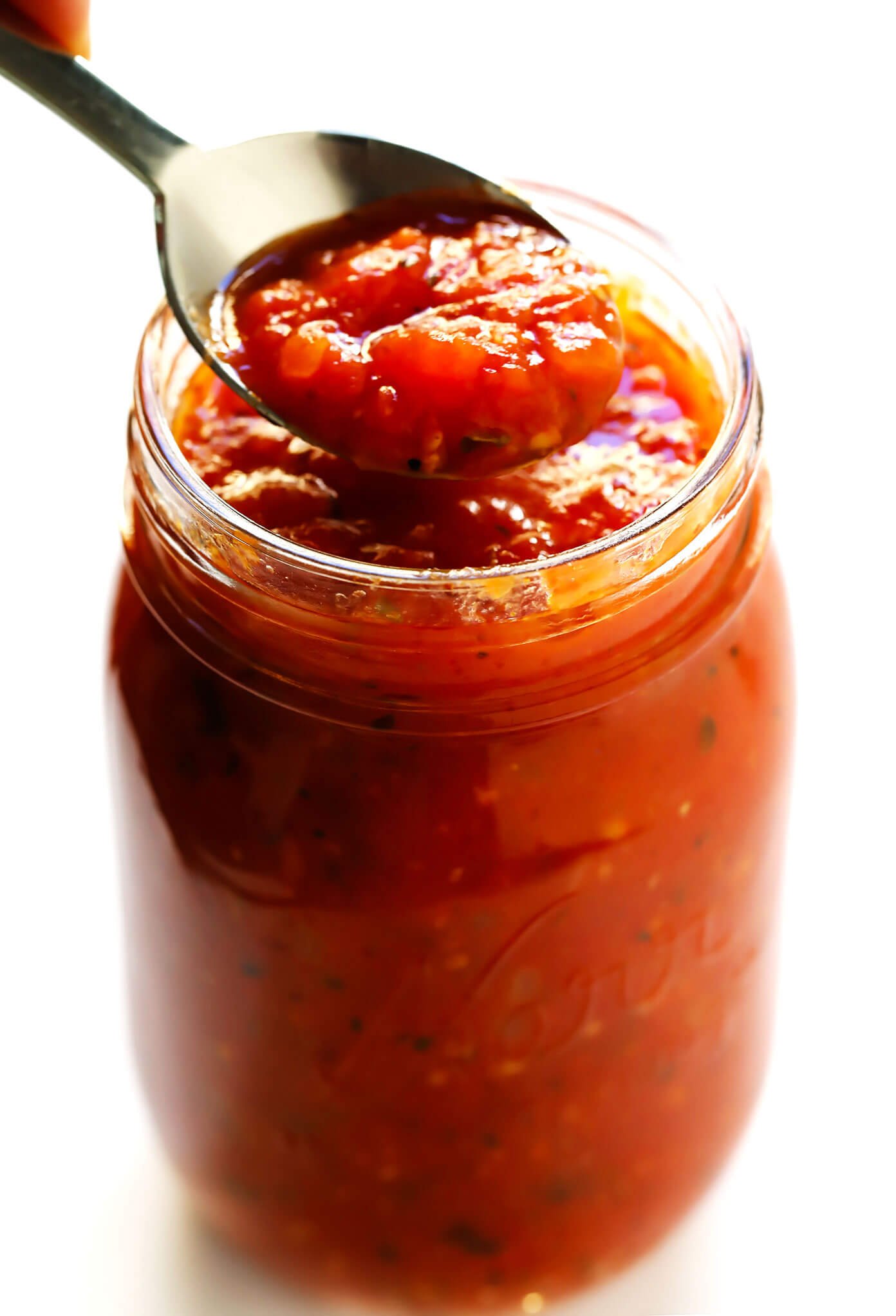 How To Make Marinara Sauce:
To make the best marinara sauce, simply…
Sauté onion and garlic: First we will sauté the onion and garlic in the olive oil (or butter) until softened, adding in the crushed red pepper flakes at the very end to help bring out their flavor.

Add remaining ingredients. Next, add in the remaining ingredients and stir to combine.

Simmer. Simmer the sauce covered for about 20-30 minutes to help deepen all of those delicious flavors.

Season. Discard the basil sprig, and season the marinara with extra salt and pepper if needed.

Serve. Then dish it up nice and warm with your favorite recipe…and enjoy!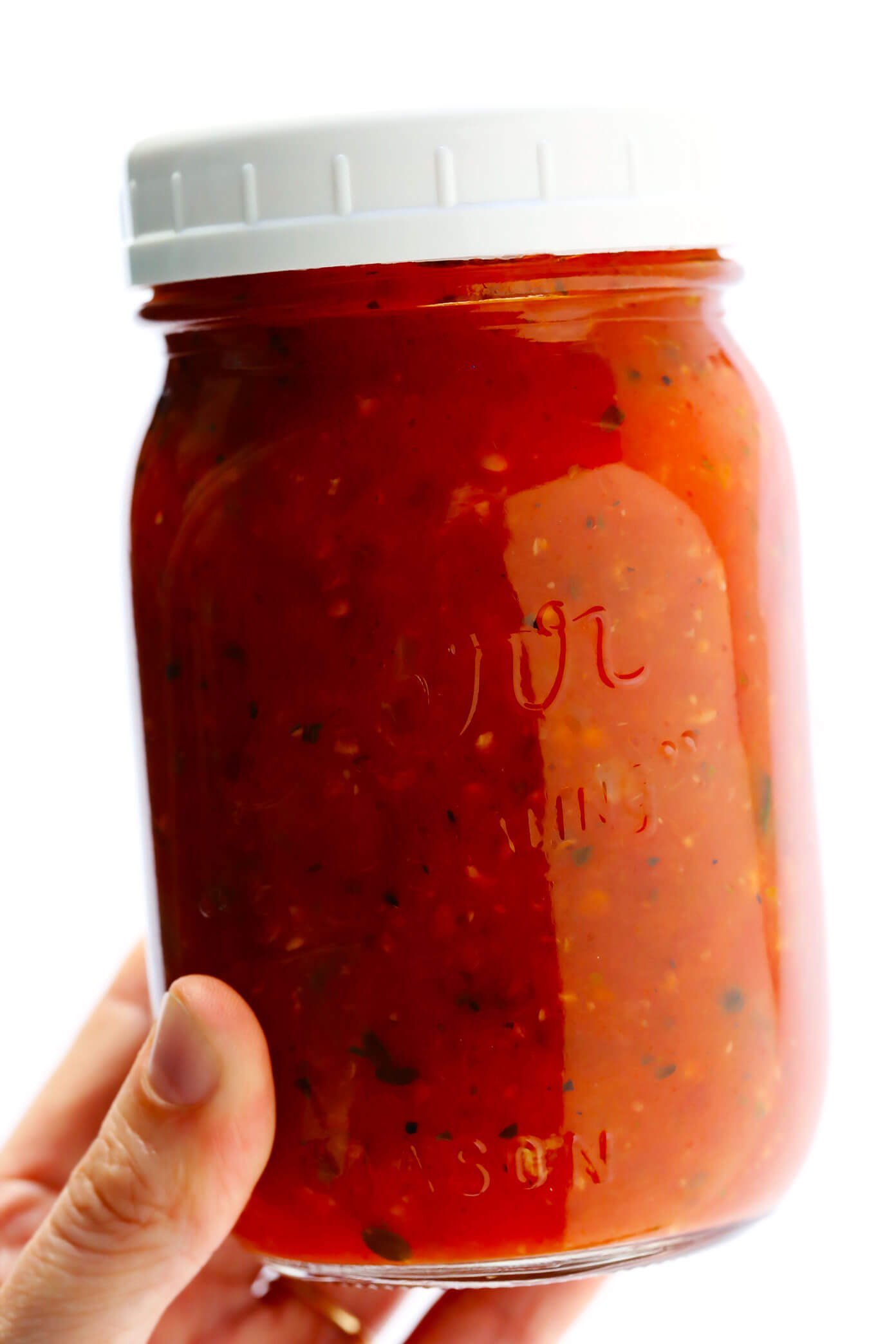 Possible Recipe Variations:
There are all sorts of ways that you can customize this marinara recipe if you would like, so please feel free to experiment and get creative! For example, you could…
Make it spicier: Double (or even triple) the amount of crushed red pepper flakes in the recipe.

Make it herbier: I like to also toss in a sprig of fresh rosemary, sage, or thyme, if I happen to have one on hand.

Make it extra buttery: If you really want to be indulgent, stir an extra tablespoon or two of butter into the sauce just before serving. It tastes so decadent and delicious!

Make it cheesy: Stir 1/2 cup of freshly-grated Parmesan into the cheese just before serving.

Make it creamy: If you would like more of a rose sauce, you can stir 1/2 cup of heavy cream into the marinara.

Make it chunkier or smoother: You have the option to break up the tomatoes as much or as little as you would like with a wooden spoon. But if you would like an even smoother sauce, just purée it with an immersion blender or a traditional blender once it has finished cooking.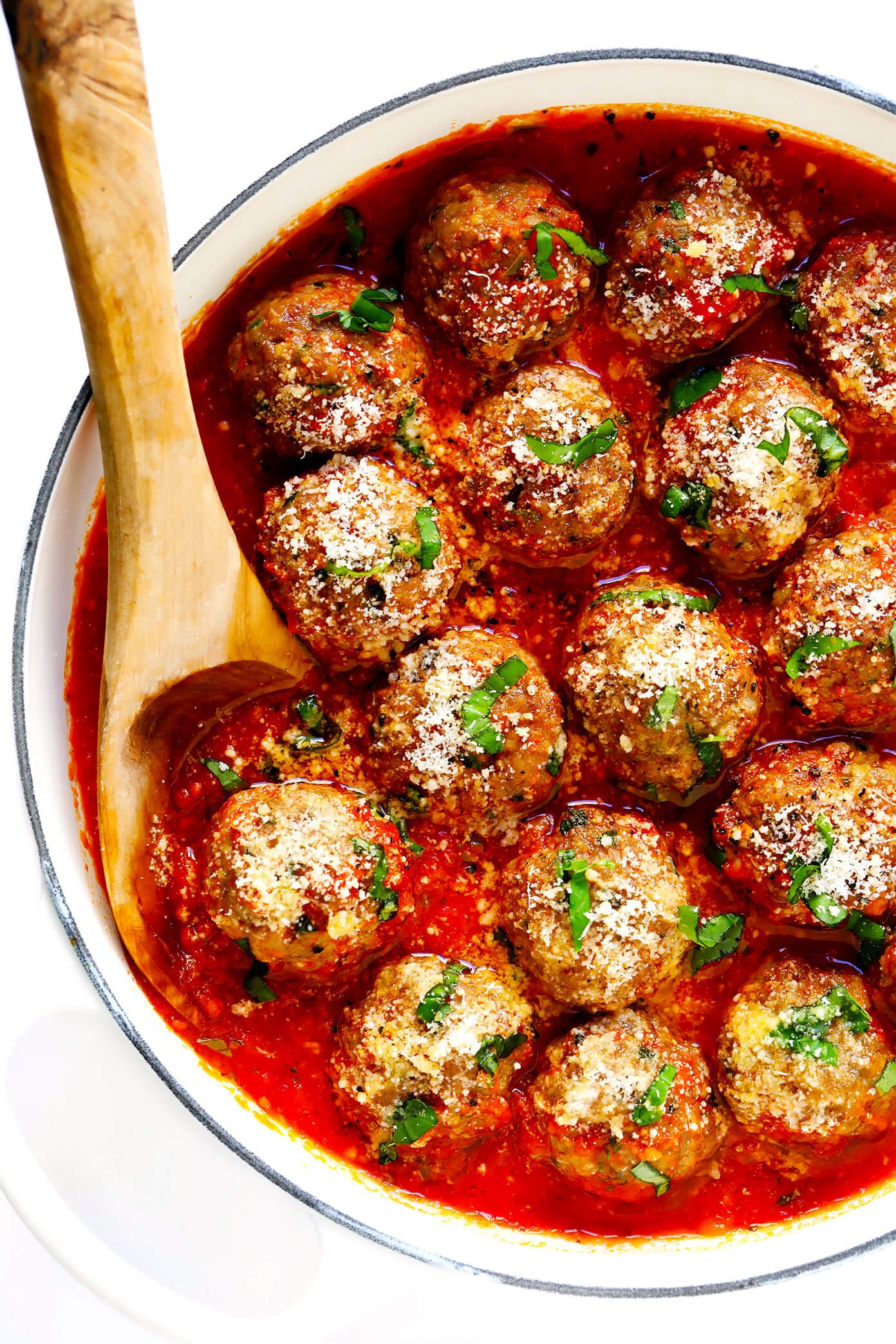 Ways To Use Marinara Sauce:
There are sooo many delicious ways that you can put this marinara recipe to use! For example, feel free to serve it with…
Pasta: Spaghetti marinara is a classic, of course. But you could stir this sauce into any other kinds of pasta, baked ziti, lasagna and more. Or if you really want to go for the gold, make some homemade pasta!

Meat or seafood: You could make Italian meatballs marinara, chicken marinara, shrimp marinara, mussels marinara, or whatever else might sound good!

Parmigiana: I'm also partial to using this sauce in my favorite baked eggplant Parmesan and chicken Parmesan recipes.

Pizza: This recipe can also double as a marinara pizza sauce in any of your favorite pizza or flatbread recipes.

Dipping sauce: It's also a fantastic dipping sauce for everything from breadsticks to mozzarella sticks, chicken fingers, calamari, toasted ravioli and more.

Subs and sandwiches: You know, Joey Tribbiani style. 😉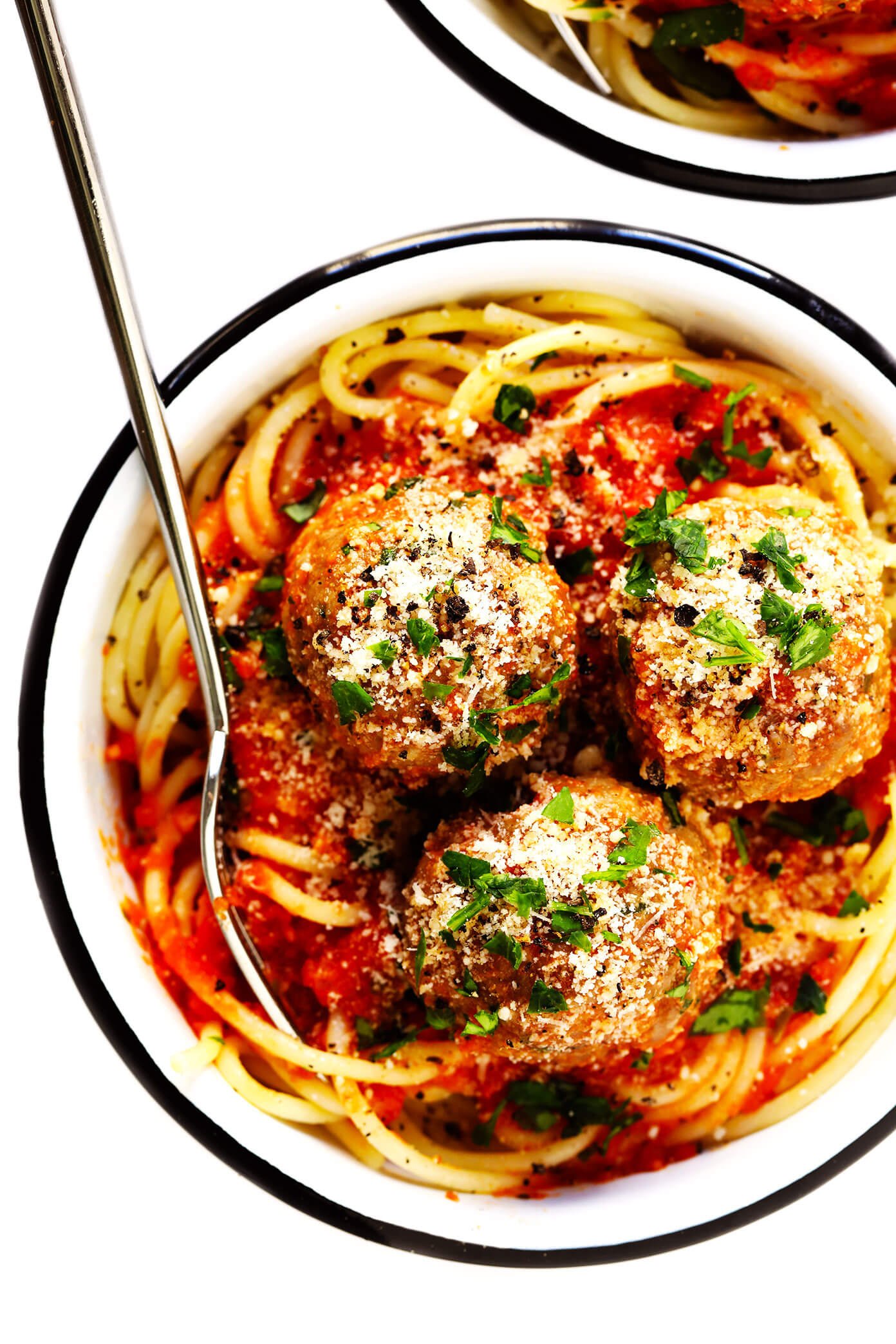 More Classic Italian Sauce Recipes:
Looking to try some other classic Italian sauces? Here are a few of my faves:
Alfredo Sauce

Basil Pesto

Cacio e Pepe

Spicy Arrabbiata Sauce

Aglio e Olio (Garlic and Olive Oil Sauce)
Print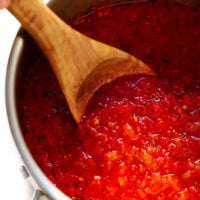 Marinara Sauce

Prep Time: 10 minutes


Cook Time: 20 minutes


Total Time: 30 minutes


Yield: About 2 cups 1x
---
Description
This homemade marinara sauce recipe is easy to make, naturally gluten-free and vegan, and slow-simmered with the BEST tomato, basil and garlicky flavors.
---
2 tablespoons

olive oil (or butter)

1/3 cup

finely-diced white onion

4

cloves garlic, pressed or finely-minced

1/4 teaspoon

crushed red pepper flakes

1

(28-ounce) can San Marzano whole tomatoes (with juices)

1 teaspoon

dried oregano

3/4 teaspoon

fine sea salt

1/2 teaspoon

freshly-cracked black pepper

3

large sprigs of fresh basil
---
Instructions
Sauté onion and garlic: Heat olive oil in a large saucepan over medium-high heat.  Add onion and sauté for 5 minutes, stirring occasionally, until combined.  Add garlic and crushed red pepper flakes and sauté for 1-2 minutes, stirring frequently, until combined.

Add remaining ingredients.  Add the tomatoes, oregano, salt and black pepper, and stir to combine.  Use a wooden spoon or a potato masher to gently break up the tomatoes as the sauce continues to heat.  Stir in the fresh basil sprigs.

Simmer.  Continue cooking the sauce until it reaches a simmer.  Then reduce the heat to medium-low, cover and continue to simmer for 20 to 30 minutes, stirring occasionally.

Season.  Remove and discard the fresh basil sprigs.  Taste and season the sauce with salt and pepper, as needed.  (If you prefer a smoother sauce, you can also purée it with an immersion blender until it reaches your desired consistency.)

Serve.  Then serve the sauce warm and enjoy!
---
Equipment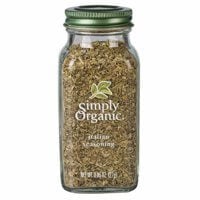 Dried Oregano

Buy Now →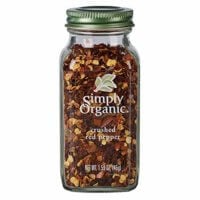 Crushed Red Pepper Flakes

Buy Now →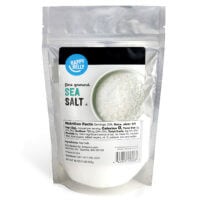 Fine Sea Salt

Buy Now →

---
Notes
Storage instructions: To store this marinara sauce, let it cool until it reaches room temperature.  Then store it in a sealed jar or food storage container and refrigerate for up to 3-4 days or freeze for up to 3 months.