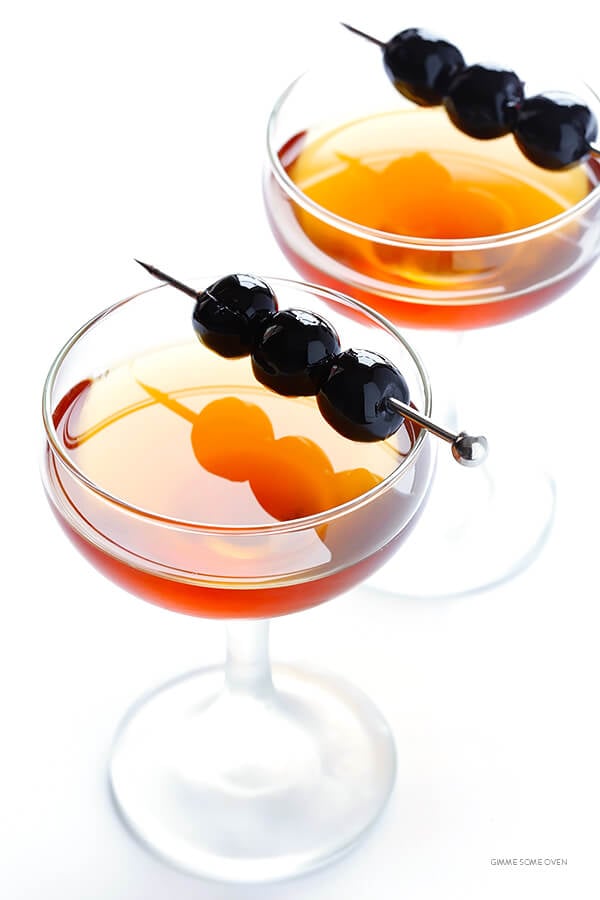 Cheers, friends!
As this post goes live today, I'll be clinking glasses with Barclay high up in the sky on our 13-hour flight halfway around the world to NEW ZEALAND!! 🙂 🙂 🙂
Oh my goodness, after months of planning, I can hardly believe that this trip is finally here! But I am so ready for it — so ready to finally see and feel and taste and explore this beautiful country, so ready to soak up lots and lots of time with my handsome traveling partner and his Kiwi family, and so ready to take some time off work and get busy vacationing. Ahem, make that vacationing in the warm summer New Zealand sunshine, no less. I've never loved backwards seasons more than now.
Anyway, stay tuned because I cooked up a bunch of great recipes that will be popping up on the blog while I'm gone. And my incredible assistant Hayley will be tuning in here (as always) with answers to comments and any recipe questions that you might have. But other than that, I'm going to try very hard to stay mostly offline and soak up time with some of my favorite people in one of my favorite countries that I've always wanted to visit. I'm certain I'll be back with oodles of stories and photos to share. 🙂
So cheers to a great month for all of us ahead! And what better than to raise a glass of one of my all-time favorite cocktails, that I've recently kicked up a notch with two new favorite things. Can you spot em?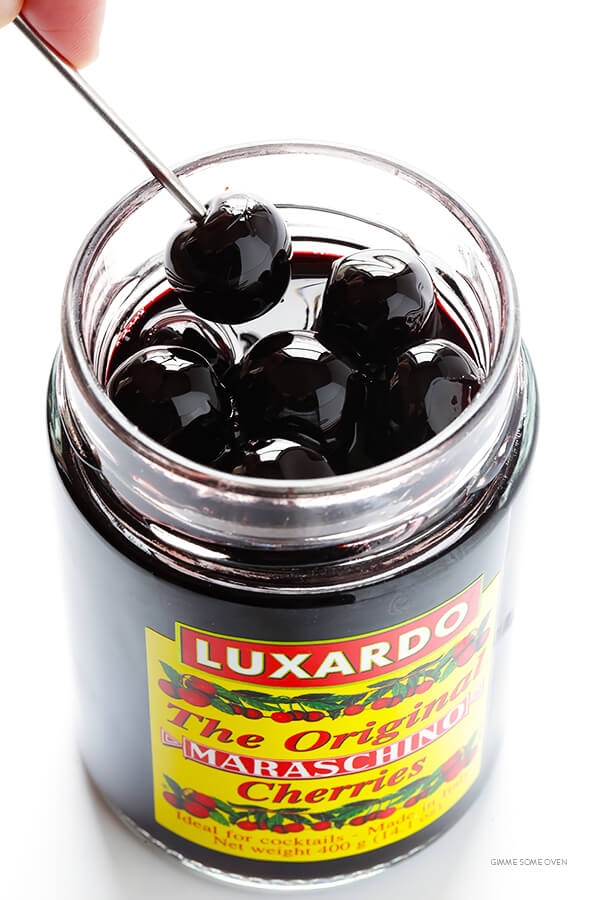 Yes, after years of obsessing over Luxardo cherries out at cocktail bars, I finally bit the bullet and decided to buy a little jar of my own. They're definitely a bit of a splurge. But as much as I love a good Old Fashioned or Manhattan cocktail, I figured it was finally time to have a little jar of my own.
Worth. Every. Penny.
Seriously, the red-food-coloring-and-refined-sugar-laden little guys I used to buy at the grocery store don't even come close to holding a candle to the (natural) deliciousness in the original maraschino cherries. Such a treat. I could probably be happy just eating a few of these on their own…but I suppose we should make a little cocktail to go with them. 😉
For a classic Manhattan drink, you just need 3 simple ingredients:
whiskey (some say rye, some say bourbon, I say whatever you love)

sweet vermouth

aromatic bitters
Add the whiskey, vermouth and bitters to a large mixing glass along with some ice, and give it a good stir to chill the drink.
Then once it's ready, strain it out into — my second new favorite thing — some cute (and preferably chilled!) cocktail glasses!
I recently bought this new bar cart from West Elm and had been wanting to purchase some of their cute small coupe champagne glasses to store on top of it. But alas — gah — they were discontinued right as I tried to order them. I browsed around at some of my other favorite kitchen and decor stores, and no one seemed to offer small (5-ounce) coupe glasses, just enormous ones. So I finally turned to Amazon, and stumbled upon these sweet little glasses. They're perfectly sized, affordable, and absolutely perfect for a chilled Manhattan. (And they fit my little martini picks perfectly!)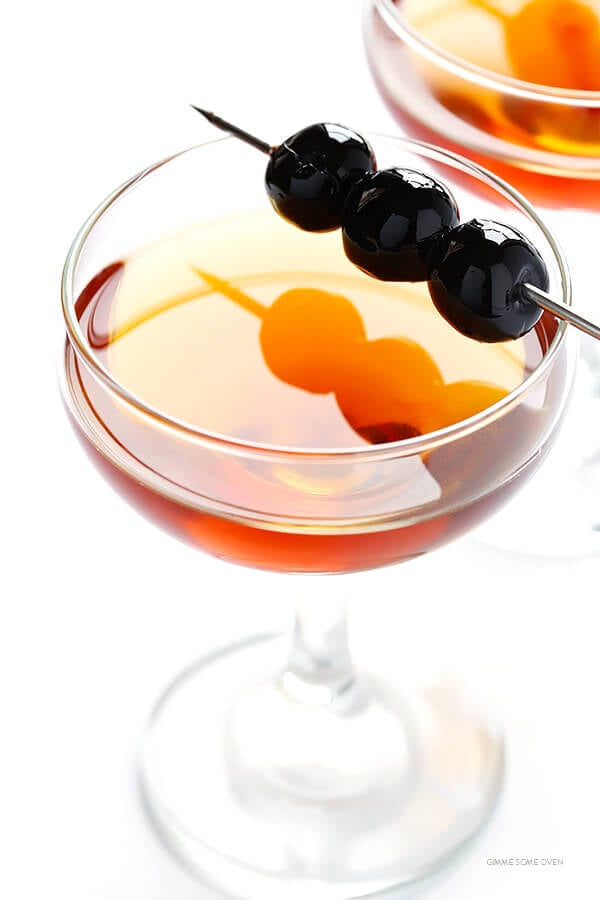 Just add the cherries on top…
…and this classic cocktail will be yours to enjoy.
Cheers!!
Print

Manhattan Cocktail

Prep Time: 2 minutes


Total Time: 2 minutes


Yield: 1 serving 1x
---
Description
Learn how to make a classic Manhattan cocktail with this easy 3-ingredient Manhattan drink recipe.
---
2

 

½ ounces bourbon whiskey

1 ounce

sweet vermouth

2

dashes Angostura bitters

ice

maraschino cherries (I recommend Luxardo cherries)
---
Instructions
Add bourbon, sweet vermouth, bitters, and a handful of ice to a large mixing glass.  Stir well until the ingredients are combined and chilled.

Strain into a chilled cocktail glass*.  Garnish with a few maraschino cherries.
---
Notes
*I used 5-ounce coupe glasses in these photos.
**For a different twist (literally) on this recipe, feel free to run an orange peel around the rim of the cocktail glass before serving.  Then give the peel a twist, and serve it in the drink along with the maraschino cherries.
This post contains affiliate links to products I recommend. The prices stay the same as they would be in stores for you, but I earn a small commission on anything sold, so win-win. 🙂