These Mango Avocado Spring Rolls are filled with a rainbow of fresh and delicious ingredients, they're naturally gluten-free and vegan, and served with the most irresistible peanut dipping sauce.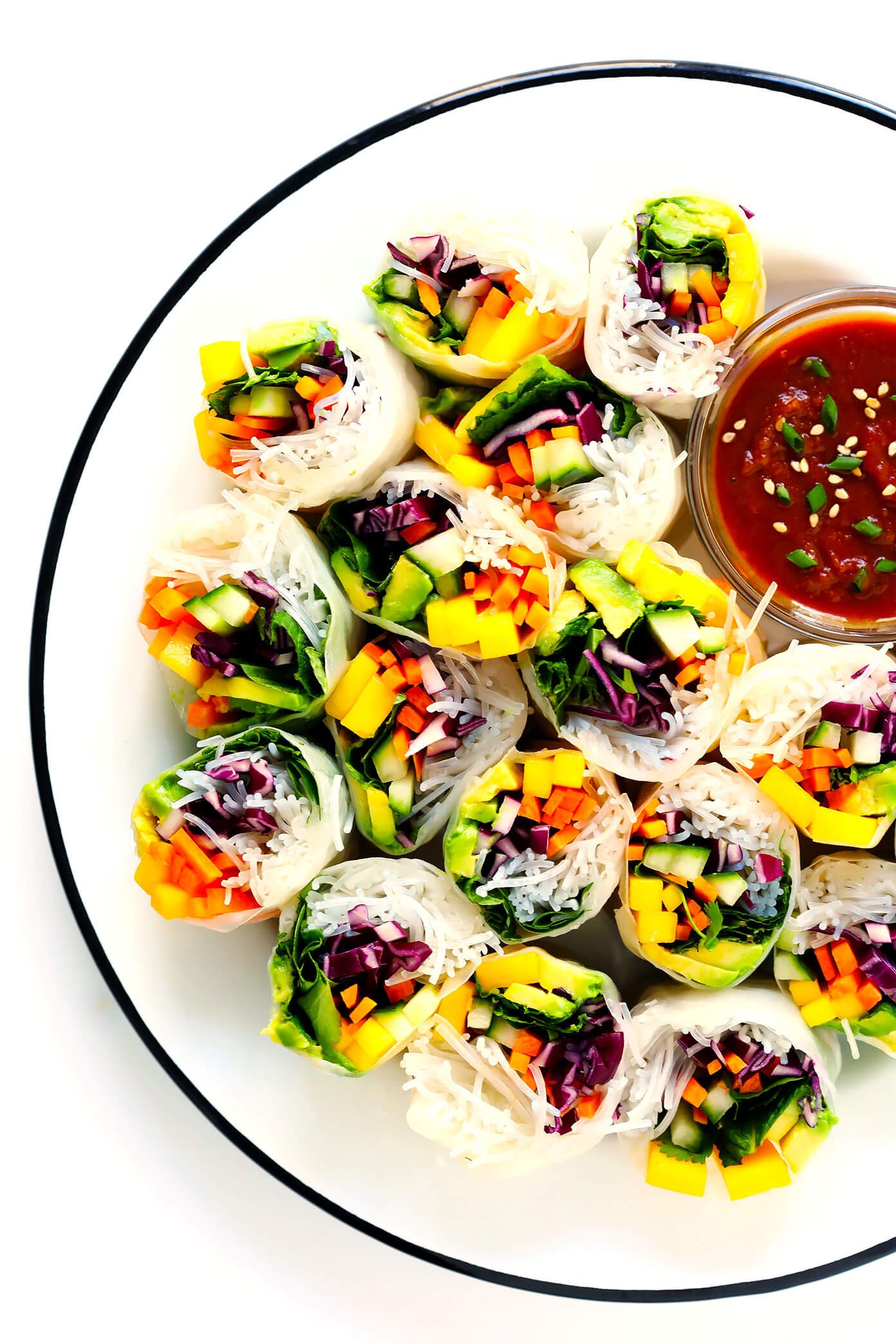 Guys, we did it. We made it through another winter! ♡
In my little world, this is always major cause for celebration. But especially this year. Judging by friends' Instagram feeds from all around the world, it seems as though winter just did not want to let go this year! Only in the past week or two have photos of sunny patios and sprouting daffodils and walks around the block finally begun to replace the snowfalls. And fresh green salads and frosty smoothies and roasted asparagus finally knock aside all of those mittened mug shots.
It seems that spring has finally, mercifully, gloriously planted its roots and decided to stay.
So to celebrate, I brought home a big bag full of my favorite colorful produce to whip up a big batch of Vietnamese spring rolls! Mangoes and avocados have been perfectly ripe at our little neighborhood fruit stand here recently, so they earned the spotlight in these rolls. But as always when making spring rolls, feel free to stock yours with whatever looks ripe and lovely and tasty right now. (Also, whatever leftover treasures may need to be used up in your crisper drawer!)
Last week, I made a huge batch of these, intending them to last us the week. But the second this irresistible peanut sauce entered the picture, ha, they didn't even last in our house more than a day. So look out, it's very possible that the same might just happen for you. 😉
Let's get to rollin'!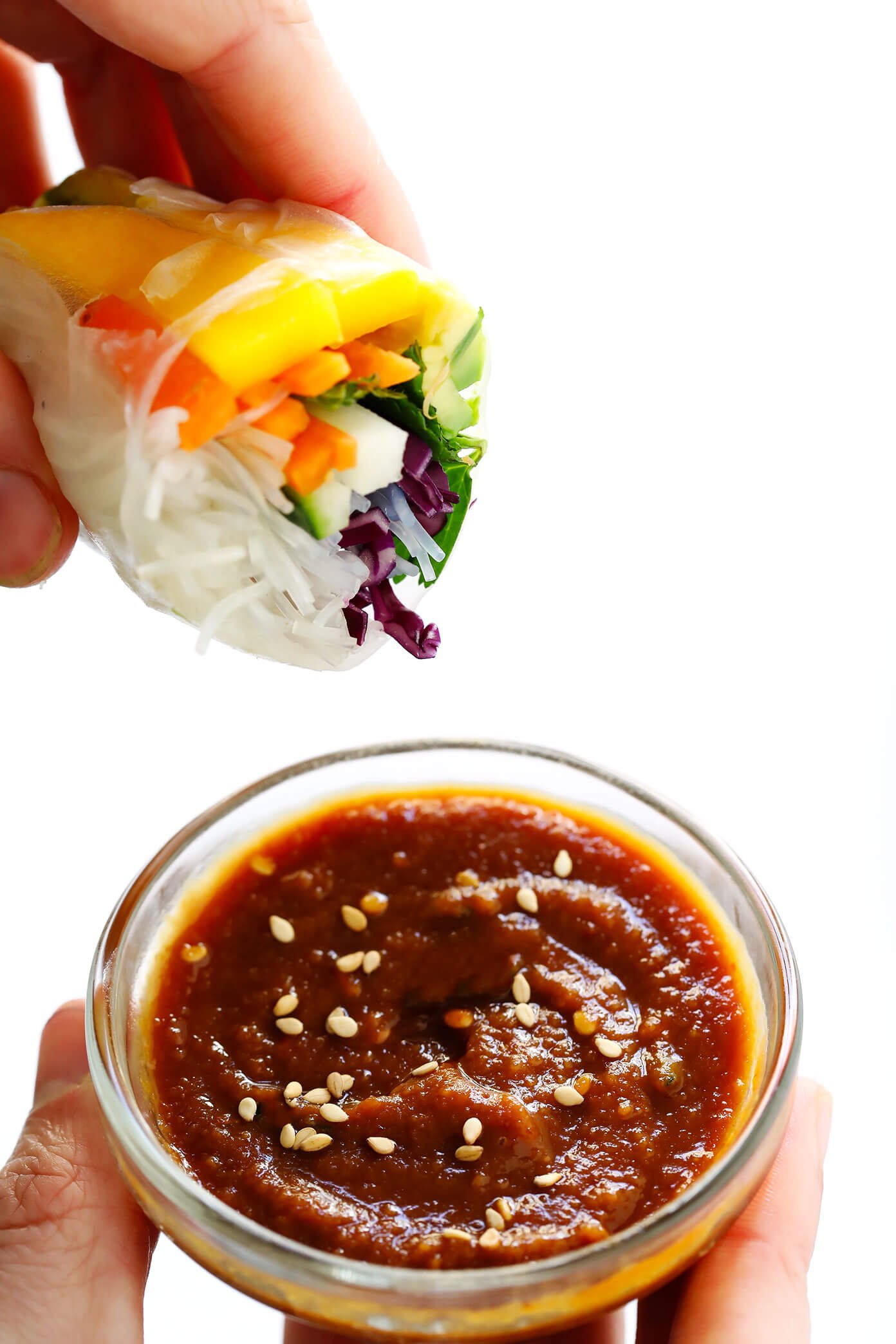 Vietnamese Spring Roll Ingredients:
As I mentioned above, spring rolls are totally customizable with whatever fresh ingredients you might happen to have on hand. I love the sweet and juicy mango paired with the soft and creamy avocado as a base in this recipe, paired with a handful of crispy veggies and herbs. But feel free to sub in whatever sounds best to you! I used:
mango

avocado

crispy veggies (cabbage, carrot and English cucumber)

herbs (mint and cilantro)

vermicelli rice noodles (I always love these in spring rolls)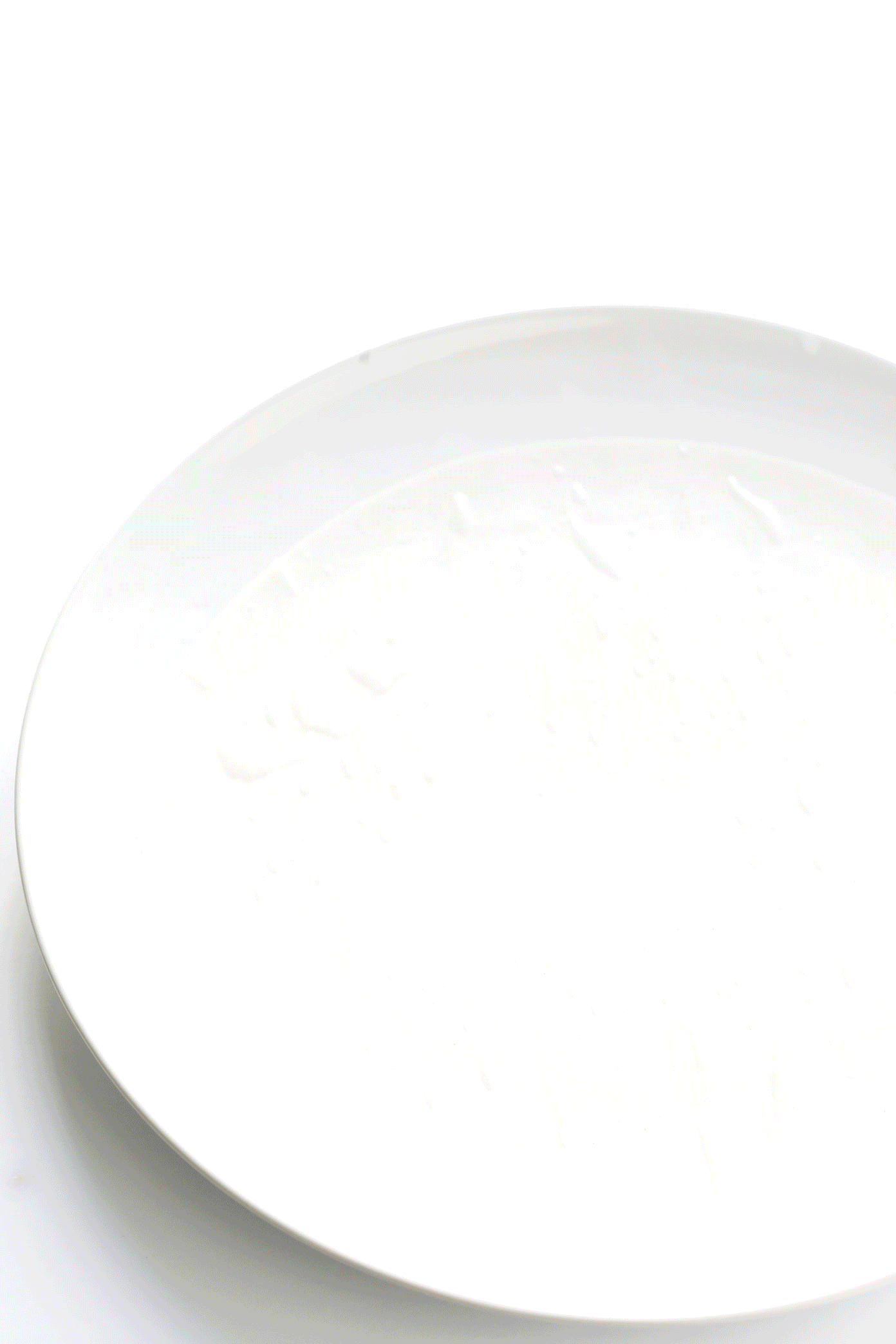 How To Make Spring Rolls:
Spring rolls require a bit of time and patience to make, but they are incredibly easy. So put on some music, pour a glass of icy lemon water (or a sauvignon blanc), and relax into the rhythms of chopping and rolling. I find these incredibly meditative to make, especially knowing how delicious the ending will be. 😉
Here's how to make spring rolls:
Prep your ingredients: It's important to have everything ready to go before assembling, so:

Cook your vermicelli rice noodles according to package instructions. Then rinse in a strainer with cold water until chilled, and toss with a bit of oil to prevent sticking.

Thinly slice all of your fruit and veggie fillings.

Prepare a large shallow pan full of warm water for your spring roll wrappers. (I keep a kettle of hot water on the stovetop to refill and re-warm the water while assembling.)

Soak your spring roll wrappers: To do so, gently lay a single wrapper in the hot water and wait for 20-30 seconds or so, until it is soft and pliable but not completely limp and mushy. Transfer your wrapper to a flat surface. (<– I photographed these on a plate, but laying your wrappers on a clean tea towel will make them even easier to work with.)

Add your fillings: Then, arrange your fillings in the middle of the wrapper in a short line. After making one or two spring rolls, you will get an idea of how many fillings will work for your size of wrapper. (My spring roll wrappers here in Spain were pretty small, so I couldn't add in quite as many fillings as I usually do with a 12-inch wrapper.)

Rock and roll: Then it's time to roll these up! Just follow the directions below, and try to tuck in your fillings as tightly as possible, which will help them not to fall apart as you are eating them.

Serve! Then once they're ready to go, you can either cut your spring rolls in half or serve them whole, up to you! I'm a big fan of this peanut dipping sauce for serving, maybe with a side of nuoc cham if you feel like having some options. 🙂

How To Make Peanut Sauce:
Speaking of sauces, let's talk about how to make that delicious peanut sauce. Simply whisk together some natural peanut butter, soy sauce, rice vinegar, hoisin sauce (my fave with spring rolls), sesame oil and hot water. Then if you'd like a slight kick to your sauce, I highly recommend adding in some chili garlic sauce or sriracha to taste as well. Feel free to add as much or as little water as you prefer to help thin out the sauce.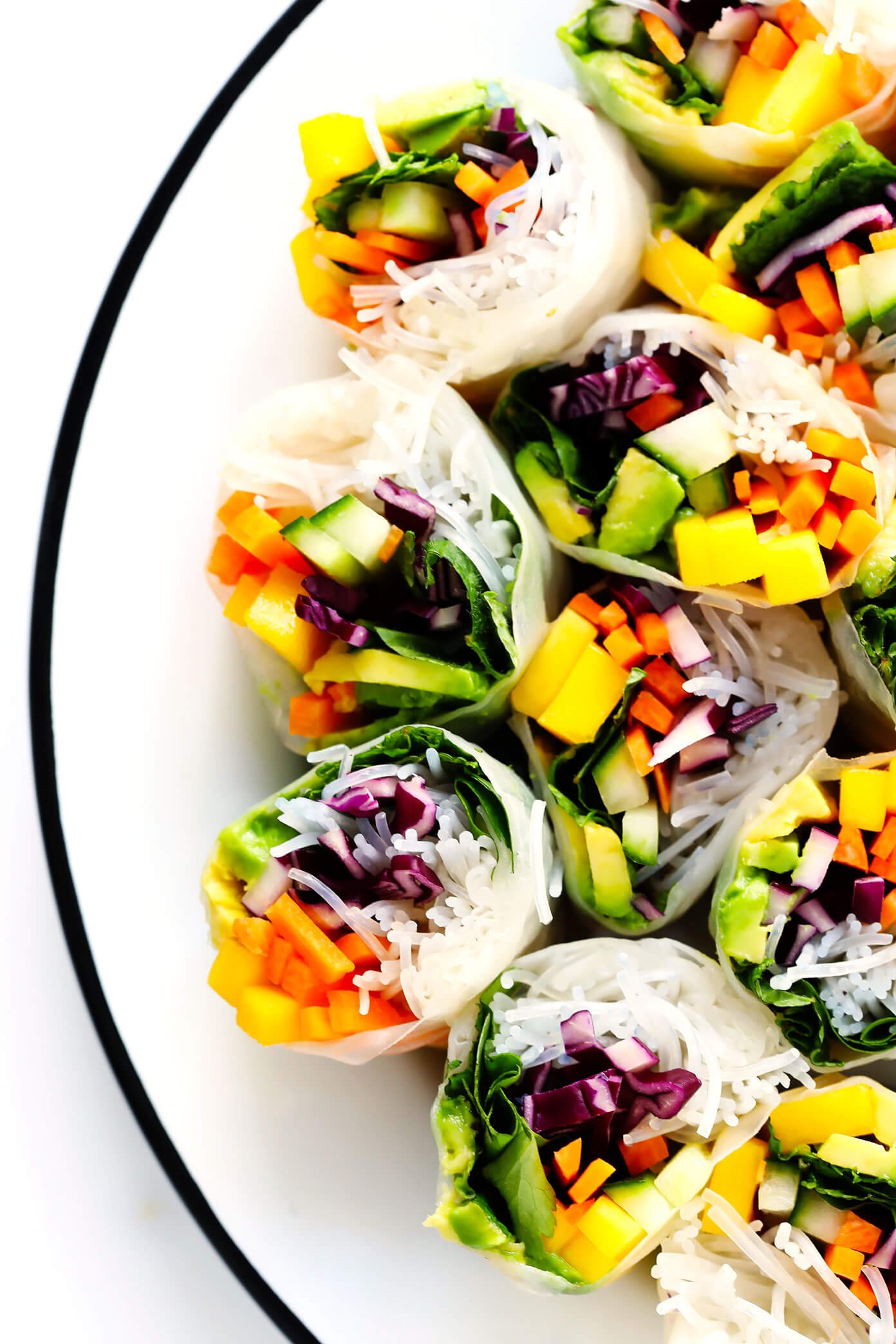 Happy Spring Rolls!
And that's it! Seriously, we couldn't get enough of these guys. So fresh, so sweet, and so perfectly spring-y.
Enjoy, everyone!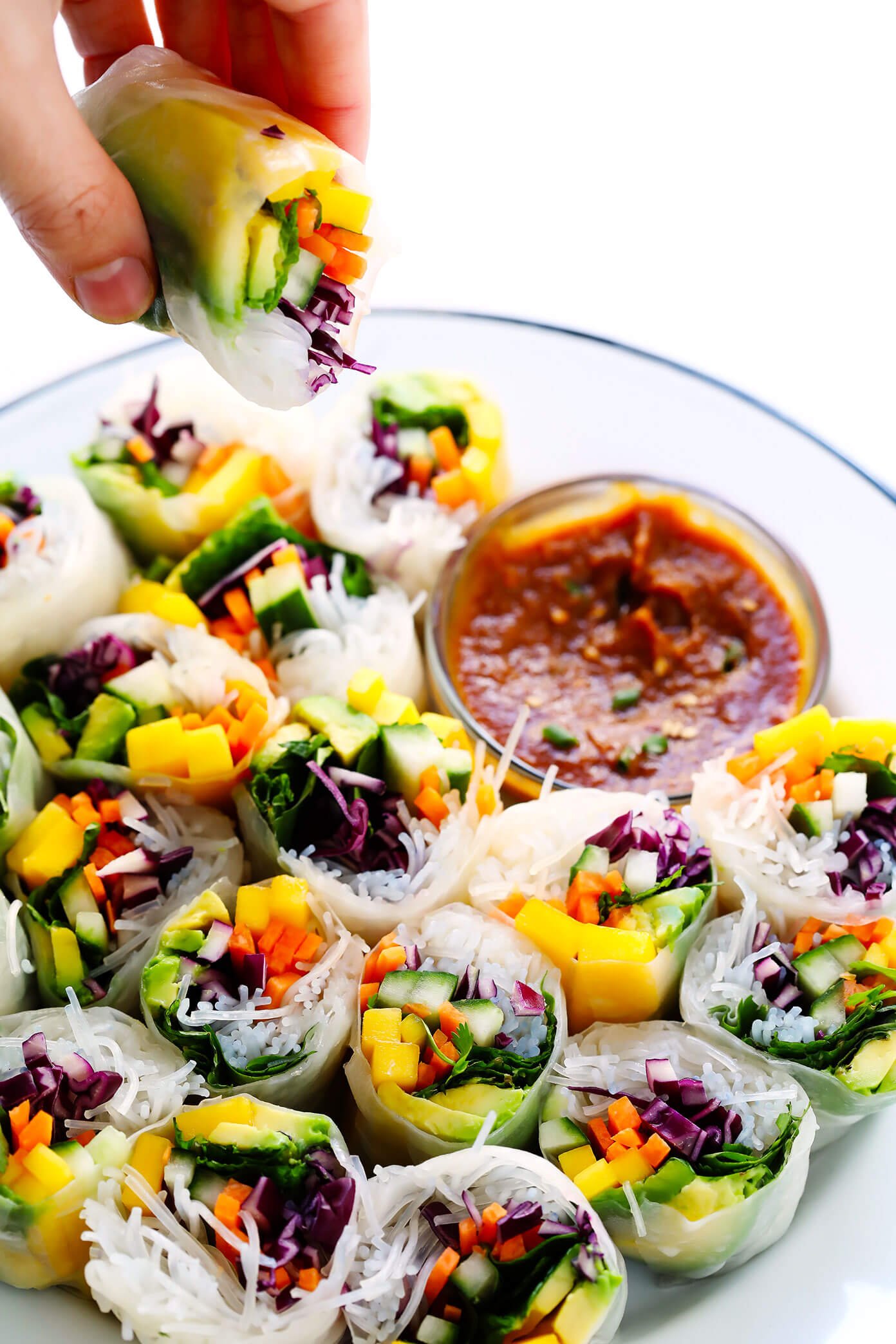 Print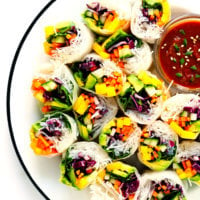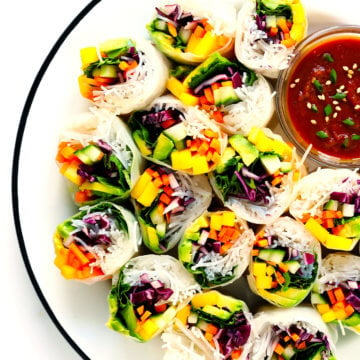 Mango Avocado Spring Rolls (with Peanut Sauce)

Prep Time: 30 minutes


Total Time: 30 minutes


Yield: 10 –12 servings 1x
---
Description
These Mango Avocado Spring Rolls are filled with a rainbow of fresh and delicious ingredients, and served with the most irresistible peanut dipping sauce.
---
Spring Roll Ingredients:
2 ounces

 rice stick (vermicelli) noodles

2

mangoes, peeled, cored and thinly sliced

2

avocados, peeled, pitted and thinly sliced

2

carrots, thinly sliced

1

English cucumber, thinly sliced

quarter of a small red cabbage, thinly sliced

1

bunch fresh cilantro leaves

1

bunch fresh mint leaves

10

–

12

spring roll wrappers
Peanut Sauce Ingredients:
1/3 cup

natural peanut butter

2 tablespoons

hoisin sauce

1 tablespoon

low-sodium soy sauce (or tamari)

1 tablespoon

rice vinegar

1/2 teaspoon

chili garlic sauce (or more, to taste)

1/4 teaspoon

sesame oil

1/3 cup

warm water
---
Instructions
To Make The Peanut Sauce: Whisk all ingredients together in a small bowl until combined.  If you would like a thinner sauce, whisk in more water.

To Make The Spring Rolls: Cook thin rice vermicelli noodles according to package directions.  Once they are al dente, transfer the noodles to a strainer and rinse with cold water until the noodles are completely chilled.  Toss the thoroughly with a drizzle of oil (I like using sesame oil) to prevent the noodles from sticking together.  Set aside.

Fill a large shallow pan with warm water (a sauté pan or pie dish works great).  Lay a spring roll wrapper in the hot water and let it rest there for about 20-30 seconds until soft, but not mushy.  Transfer the spring roll wrapper to plate (or a clean towel spread out on a flat surface, which will help the wrapper not to stick).

Arrange your fillings in the center of the wrapper in a vertical line.  Fold in the top and bottom sides of the wrapper.  Then fold over the left side of the wrapper, tightly tucking in the fillings, and roll the wrapper to the right until it is sealed.

Serve immediately with the peanut dipping sauce and/or nuoc cham, or refrigerate in a sealed container for up to 3 days.
---
Notes
*All of these ingredient amounts are general estimates.  Feel free to use more/less of your favorite ingredients.